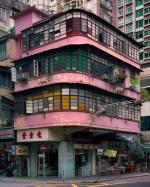 During the typhoon season, one suddenly realizes the practicality of Hong Kong old architecture. Indeed, street extensions of the 1950s composite buildings, help keeping your clothes dry during the heavy rain falls of July and August. Enclosed balconies also provide shadow during the hottest days of the year. This empirical architecture was developped to accomodate a booming migrant population and reminds us of our own middle-age houses, which also overlooked the streets, although the "rain" by then was a human one with throwing out the night buckets from the windows. Today, those iconic houses tend to be replaced by more symetric buildings, to meet security and hygiene standards, with direct consequence on street pedestrians who have to find cover in the subway or elevated passage-ways not to be soaked when they getting to work!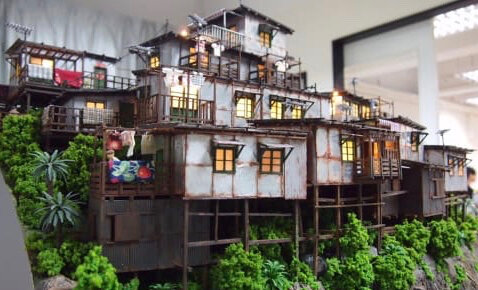 This dramatic change of the urban landscape has led a goup of nostalgic hongkongers to try and reproduce some of these iconic old buildings, which have already been torn down for some. I was lucky to meet with Tony and Maggie (video), two passsionate artists who spend their time recreating the Hong Kong of the past through highly detailed miniatures. Although it was difficult to exchange through email or social networks in the first place, as none of them is fluent in Mandarin or English I would discover later, I decided to go and visit them in person. I initially thought I would find some kind of exhibiting gallery but when I got there, I was surprised that their workshop was located in a former industrial building near Kai Tak, which had been converted into working spaces for small size companies. After hesitating, they finally introduced me to their Ali Baba cave, containing many reproductions of old pawn shops or Hong Kong early squatter huts.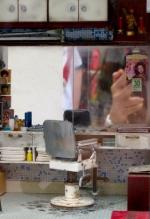 Both of them soon drew my attention on some of the stunning details of their creations, which include street food and dishes and, best of all, electronic devices like a working TV set (video) broadcasting popular programs of the 1960s and a pick-up record-player with old songs (video). Each of the buildings reproduction takes up to two months to complete and often requires the studying of old photo archives or field investigation. "The aim of making old Hong Kong models is to pass over the memories of the past to young generations", they say. Among my favourite scenes are indeed the interiors od tea restaurants, also called "cha chaan teng", where up to the brand of the condensed milk can be identified on the cans, or the Shanghai style barber shops pedal- chairs, like those who still survive in North Point today. Most of the creations have been documented on exhibition catalogues, social medias or TV programs but there is little left in Tony and Maggie's workshop. Most extraordinary pieces have already been sold, an indication of the success met by this initiative. After I have published the videos of animated models on Facebook, I was myself agreably surprised to receive connection requests from some of the artists many supporters, who include neighbourhood shop keepers and Chinese families living on the Kowloon side. Quite touching!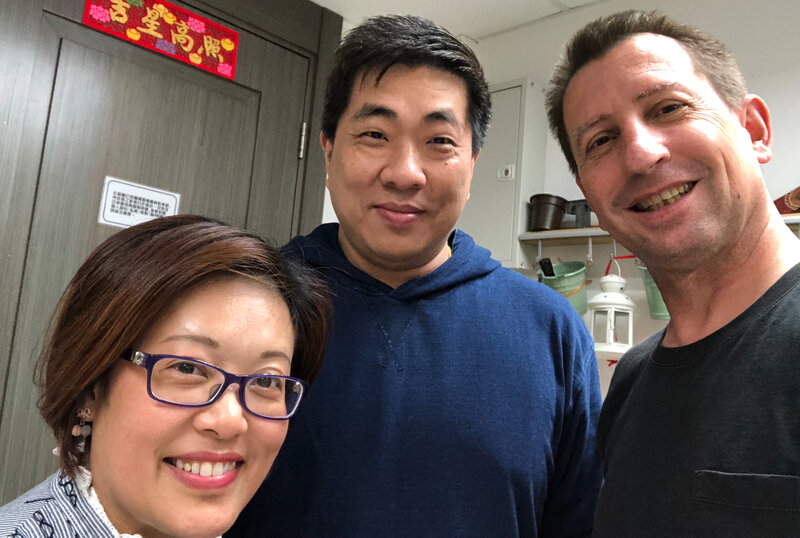 Further to this meeting, I wanted to know more and rapidly found out that other passionate hongkongers had started making reproductions of old Hong Kong. This is case of the company Tiny, whose staff average age obviously does not exceed 30, which manufactures diaoramas of classic street life, old garages or composite buildings (above). They founders of this brand are the pursuers of Hong Kong tradition for making toys which started in the 1960s, as an early type of industry in the striving city. Let us not forget that Li Ka-shing, the richest man of the former British colony, starting to work at making plastic flowers in the 1950s before producing the world-famous male doll G.I. Joe in his own factories. Today still, Hong Kong International Toy Fair is the largest event of this kind in Asia. Old Hong Kong miniatures can be found in almost every small neighbourhood toy shop in town, through internet-buying or even at the wonderful boutique of the History Museum, obviously meeting a large success!
The search for Hong Kong's past seems a reccuring concern, as I recently realized. My local language exchange partner, who grew up in Yau Ma Tei, indeed told me that he was participating in a Facebook group called "Hong Kong in the 60s", which exhibited vintage photos. When asked him why, he explained to me that he liked to recall of the pre-retrocession period. "Times were though but anyone had a fair chance to make it, whereas nowadays the future of the territory lies in the hands of small group of people with the right connections". I decided to check this group by myself and was amazed to discover some 14000 subscribers. When I posted a simple photo of the Beatles landing in Kai Tak in 1964, it immediatly attracted 150 "likes" during the night with additional 60 comments, showing how dynamic exchanges are on this site!
The recent efforts to document Hong Kong's past reveal today's people's fears of the future as well as their concern for preserving both culture and identity threaten by the fast changing environment.
References
Artists bring Hong Kong's past to life in miniatures, de Arthur Tam, article for CNN Hong Kong 28/6/2017
Hong Kong Corner Houses 街頭街尾, by Michael Wolf, Hong Kong University Press, 2010
Diamond Hill, memories of growing up in a Hong Kong squatter village, by Feng Chi-shun, Blacksmith 2010
The rags-to-riches story of Li Ka-shing, Asia's richest man, by Mike Bird, Business Insider 25/3/2015
Hong Kong Museum of History, permanent collections and museum boutique
Hong Kong in the 60s, Facebook group animated by Jonathan Ho
When you look for traces of Shanghai people in Hong Kong, a first place to check is North Point, which used to be labelled "Little Shanghai". Another one is definitley Repulse Bay. The name of it comes from a battle, allegibly fought against pirates who stationned in the bay and were eventully expelled from it by the English Navy. Let us note, however, that its Chinese name is more informative as Chin Seui Waan means "Swallow Water Bay", in comparison with the nearby Sam Seui Waan or Deep Water Bay in English. The recent history of the bay is that of a leasure venue, refering to the creation in 1910 of the present bathing beach. It was first equiped with low-rises and straw shelters for swimmers but was progessively completed with more prestigious buildings. Developpers would target the wealthy clientele of the Peak and their guests, as well as well-at-ease Hong Kong visitors in search of some seaside coolness.
The most iconic venue was inaugurated in 1920 in the shape of a luxurious 84 suits hotel called The Repulse Bay Hotel and belonged to the Kadoorie family, later owners of the Peninsula. In 1935, the Lido was created on the East side of the Bay, offering changing booths, a restaurant and a dancing room. In his memoirs, Col. Muro-Faure would describe it with a bit of excitment: I had always liked the place because of its informality. You could eat your dinner, and dance and talk, in shorts, and so keep cool, as compared with the stricter etiquette of the Repulse Bay Hotel. Its immediate success among visitors soon led to the opening of a floating version of it, also called "Lady Lido". Among the other striking buildings of the time was the Eucliffe, a kind of medieval castle with watch tower, defense walls and all, the 1933 erected property of Eu Tong Sen, a Chinese merchant from Malaisia. This curious estate dominated the view from Deep Water Bay road during more than fifty years (video).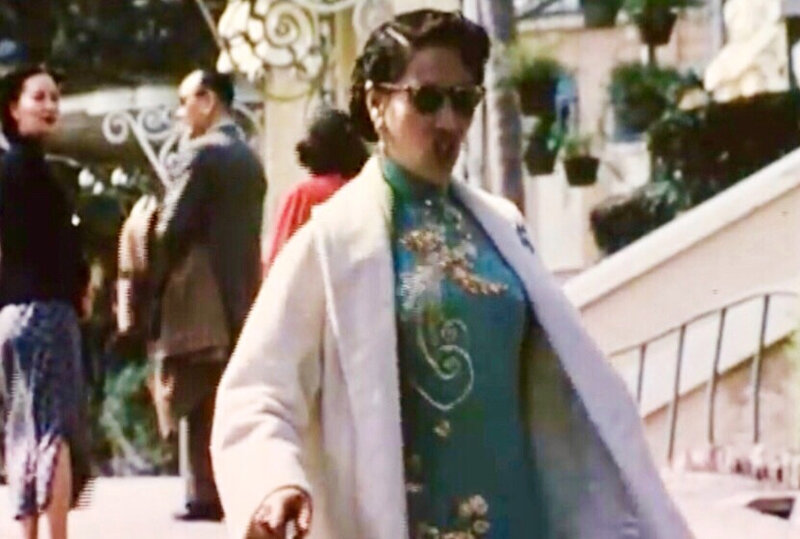 Always catching new trends, the wealthy Chinese and Shanghai elites in particular came to Repulse Bay. Starting from 1937, the Japanese had invaded China and rich Chinese were looking for a safe retreat. History repeated itself after 1950 when the Communists became in control of mainland. A 1953 guide map gives the following comment: Scenically, Hongkong's beaches are among the most beautiful in the world, and Repulse Bay, which is certainly the most popular with the Chinese, has more than once been likened to Hawaii's world-famous Waikiki. Footages of these years show elegant Chinese, exhibiting colourful cheongsam, the Cantonese name for the Shanghai-originated qipao, outside the Repulse Bay Hotel or playing Mah-jong games at the beach. The Repulse Bay Hotel had something of the French Negresco Palace when Russian nobles or Victorian families made the South of France the place to see and to be seen. Shanghai elites played the same role in Repulse Bay (video)!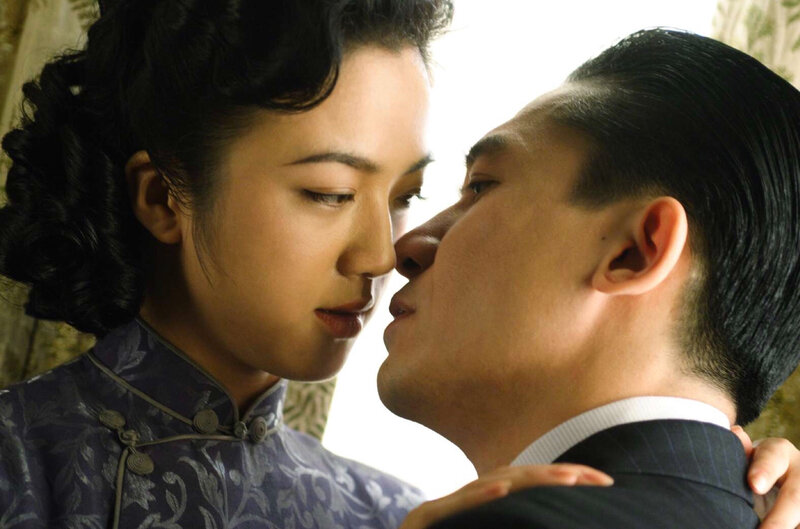 More than anyone else, Eileen Chang, early supporter of the "modeng nü" idea (modern woman), contributed to the fame of Repulse Bay among Shanghainese. She actually chose the prestigious Repulse Bay Hotel as the main set for the selfish romance of the two characters Fan Liuyuan and Bai Liusu of her world critics praised novel "Lost in a Fallen City" (video). The story was probably inspired by a couple of friends of her mother who stayed there. Eileen Chang was trapped herself in Hongkong during her studying at the University after the Japanese had invaded the city in December 1941. During the first phase of the sino-japanese conflict, Repulse Bay was visited by artists coming from Shanghai to seek refuge there. Those included the scandalous couple formed by American writer Emily Hahn and the poet Shao Xunmei, who came with other supporters of the "Tian Hsia" (the World) project, a magazine aiming at promoting the best of Western and Asian artistic influences.
Writer Han Suyin, born to a Chinese father and an English mother, equally fell in love with Repulse Bay. Her novel "A many Splendored Thing" relates her love affair with the Australian journalist Ian Morisson, who was married at the time. This unconventional story was put on screen by Hollywood in 1955 and includes some of the most passionate love scenes taking place in Repulse Bay (video). The main character William Holden, who played the journalist, used to stay at the Repulse Bay Hotel during the shooting (later, he also played the main part in The World of Suzie Wong). On 1950s films, we frequently spot athletic and suntanned bodies at the beach, which is a sign of the assumed modernity of the place. However, two worlds coexist as there are often traditional junks in the background. Those were used by fishermen, whereas Westerners practiced their yachting skills at the local base of the Royal Yacht Club. Today, the only boats anchored in Repulse Bay exhibit powerful engines and are almost entirely owned and manned by Chinese!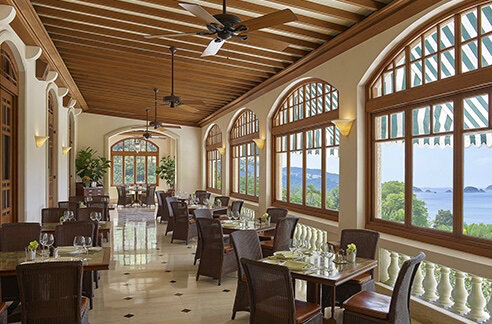 The property building craziness of the 1980s transformed the bay into a urbanized beach resort, the Repulse Bay Hotel was torn down and replaced by the "building with a hole", as the Chinese often mock it. Surprizingly, a decision was made in 2012 to rebuild a copy of the famous palace's restaurant.
On the terrace of the Repulse Bay, you can once again dream of yourself as a Hollywood star or a wealthy Shanghainese in exile. Coming from Shanghai myself and a true litterature lover, I actually feel a right to do so, ha ha!
Sources
Hong Kong Guide, with Comprehensive Street Text Index, 22 Maps and 20 Photos , K.Weiss Publisher, 1953
Memoirs of Col. PH Munro- Faure, 1941, post from the web site of David Bellis, 31/7/2009
From belle epoque Shanghai to occupied Hong Kong, the literti who broke down cultural barriers, Ian Gill article from Post Magazine, 17/5/2018
Love in a Fallen City, film by Ann Hui starring Cora Miao and Chow Yun-Fat, 1984, after the novel 倾城之恋 by Eileen Chang, 1943 (Mandarin)
Love is a many splendored thing, film by Buddy Adler starring Willian Holden and Jennifer Jones, 1955, from the novel A Many Splendored thing by Han Suyin, Jonathan Cape Publisher, 1952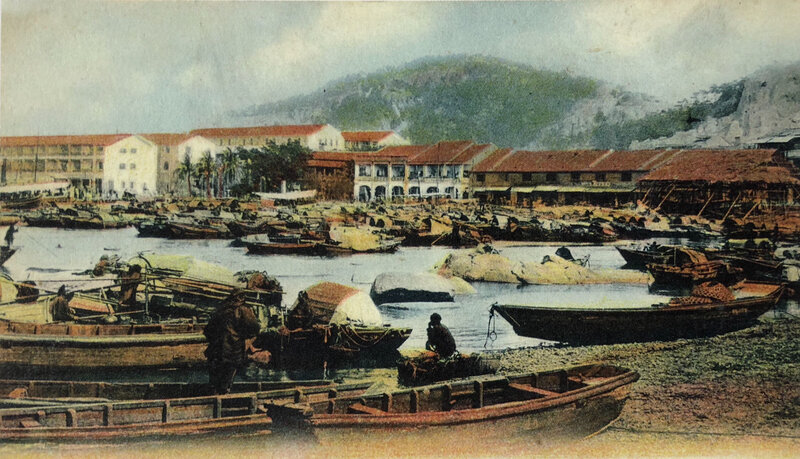 Yau Ma Tei is famous for its night market and seafood restaurants, giving visitors a very contrasted impression with the neat Victoria Island. Its history is even more tumultuous one, due to its lower class origins. In the 1860s, a police station, a market place and a licensed casino were built, using a regular ferry boat to Victoria. The coastline was then some 900 meters inshore from where it is today, along Shanghai Street. Hongkongers would even swim on Yau Ma Tei's beach, the longest of Victoria Harbour at that time (nearby)!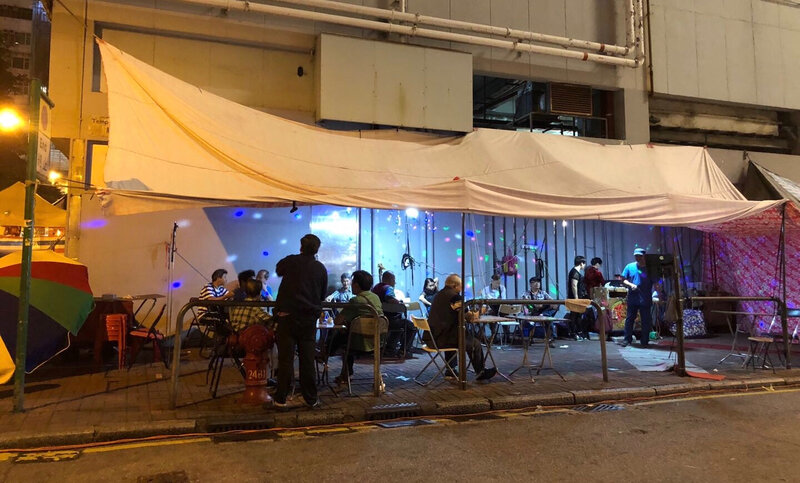 The large square next to Tin Hau temple was facing the sea, whereas fortune-tellers had already settled on Temple Street, yet not mixed with open-air karaokes like today. Around 1880, a large piece of land was reclaimed, setting the foundations for present Yau Ma Tei district. From the beginning, it attracted a sizeable number of brothels, becoming a continental version of Shek Tong Tsui. Upper brothels were called "two-four" as 2,4 Tael was the price for a night-stay. The prostitutes were often from the "Tan-ka" group or "boat-people" who used to live in the bay and looked-down by the Cantonese origin Chinese.
Salted water girls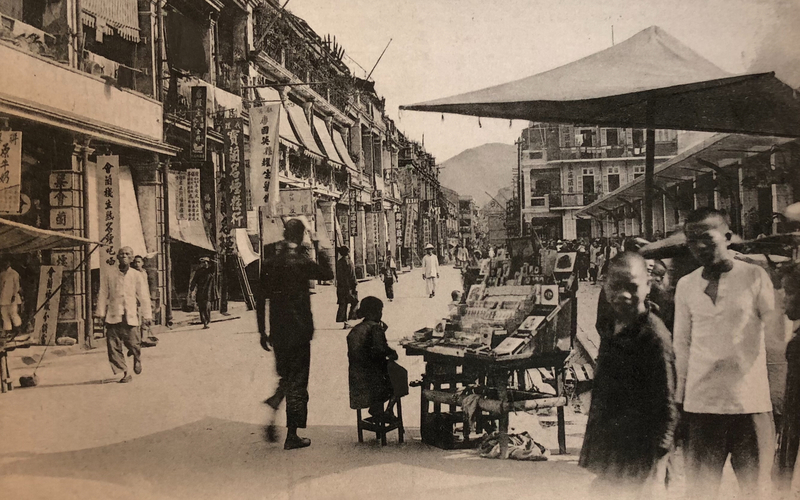 They would be nicknamed "ham shui mui" or "salted water girls" because they had sex intercourse with sailors. In 1925, however, the first prostitute strike in Hong Kong history took place in Yau Ma Tei when the Madams tried to increase their pourcentage of the girls business. Some 1000 women occupied the Tai Koon restaurant and with help of some of their customers finally won their case in justice. Prostitution developped all the way till now with a peak in the 1960s due to the influence of Honk Kong triads. In the sauna parlors of Mong Kok and Yau Ma Tei, it became possible to choose the nationality of hostesses, ranking from the Chinese which were the cheapest to the Russians, who were the most expensive. Coming from Shanghai, I was surprised to learn about this situation because it was the other way round back there. Destitute Russian countesses would actually occupy the lowest categories of prostitutes until the 1950s whereas Chinese mistresses were always the most valued!
In his memoirs which take place in Yau Ma Tei for one part (his family staying at the Fourseas Hotel on Waterloo Road, where today stands the Metropole Kowloon), Martin Booth mentions a very peculiar character, called "Queen of Kowloon" by the Chinese. She is a White Russian who fled the Bolchevik Revolution, her husband being killed. She stayed in Shanghai for a while, like many of her fellow countrymen. She worked as a piano teacher and occasionaly a courtisane, becoming the mistress of a Chinese gangster. When the Japanese invaded Shanghai, she traveled to Hong Kong. When young Martin met her, she looked miserable, dressed in ripped clothes. She asked his mother to handdle her two hundred Dollars in exchange of a small ball of tissue. The paquet would eventually contain a very valuable diamond. The old woman later exchanged Russian style jewels in a Yau Ma Tei pawnshop, attracting burglars' attention. Those however, never found the remains of her treasure.
Triad stories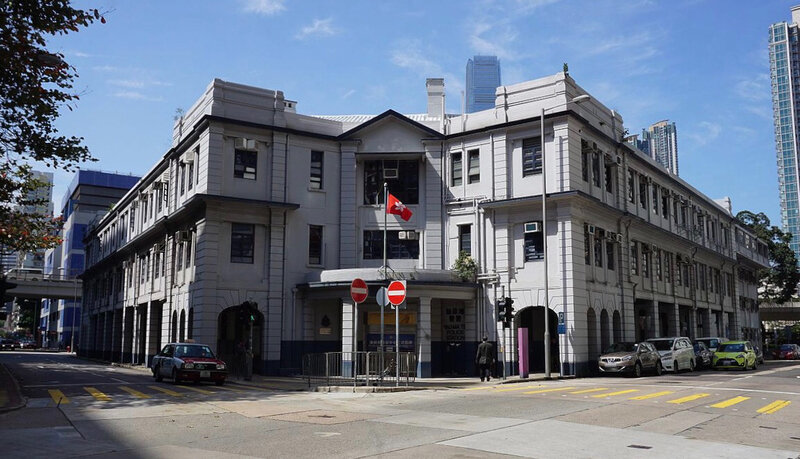 In 1922 a new police station was built at the intersection of Canton Street and Public Square Street in an Edwardian neoclassical style. Several few Hong Kong gangsters movies took place there, one of the figures associated with the police station being ill-reputed Lee Rock (Lui Lok in Cantonese 1920-2010), often portayed on screen by Andy Lau (below). He was first a rickshaw puller before joining Hong Kong police forces in 1940, then made his way up to the enviable position of Detective-Sergeant. In 1958, he came to Yau Ma Tei and later slowly extended his influence on other parts of Hong Kong by receiving bribes, or "tea-money" to turn a blind eye of the the triads crimes. "500$ Million sergeant", a reference to the amount of money he raised, will eventually spend the rest of his life abroad without turning back any of his booty.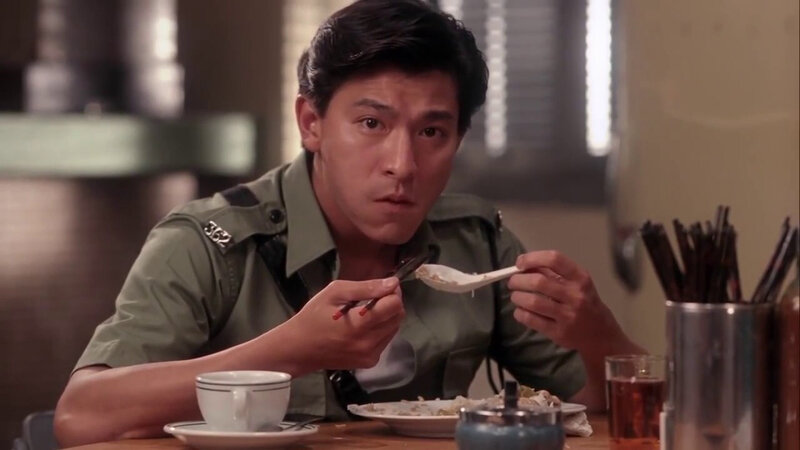 Triads would continue to racket shop keepers, control prostitution networks, gambling and drug traffics. In 1974 however, the creation of ICAC, the anti-corruption brigade blew a first hit at them, leading to several police officers to prison in the process. The development of video surveillance led to a further drop of illegal activities on the street. In February 2014, as well, 46 triad members were trapped in a Yau Ma Tei district building after some police moles had infiltrated their gang. In 2016 though, a spectacular knife attack took place in the famous 1913 Yau Ma Tei historical fruit market, known for its iconic Dutch style frontons but also for the heavy gambling and cocain trafficking in the 1970s. After investigation, it appeared one of the gang bosses involved in this affair was Kwok Wing-hung also called "Shanghai Boy"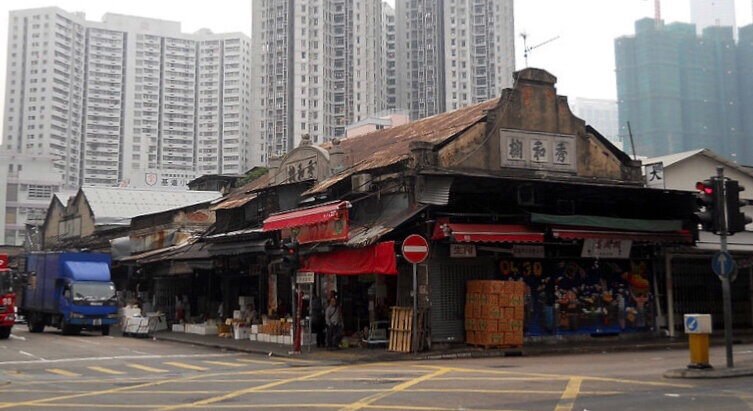 As fruit cages were manipulated by hooks, this lethal weapon was often used in fights, shop sellers remember, bringing memories of some of the most violent kungfu movies of the 1960s. This troubled heritage is threatened to disappear today as questions of moving the historical market from this area are raised in a concern of maling a better use of the space. Like Kowloon City, torn down a couple of years back to eradicate its illegal traffics and poor living conditions, the century-old arches of the fruit market could soon disappear!
In an article about early Hong Kong beaches, I found this quote from Paris May 1968 revolt "sous les pavés la plage". I guess if Yau Ma Tei cobblestones could speak, it might be highly instructive!
Sources:
Gweilo, Memoirs of a Hong Kong Childhood

, by Martin Booth, Bantham Publishers 2004

Early Hong Kong Brothels, by Cheung Po Hung, The University of Hong Kong 2005
Coastline of the Kowloon Peninsula(九龍海岸線) par

余震宇, Chung Hwa Books Co 2014 - mandarin

Lee Rock, movie by Lau Kock Cheong starring Andy Lau, 1991
By their fruits, you shall know them, by Ming Yeung, China Daily Hong Kong 20/12/2013
ICAC seeks frozen millions of dead corrupt officer, South China Morning Post article 22/5/2010
Brutal knife attack at Hong Kong fruit market linked to triads revenge hits, SCMP 22/5/2016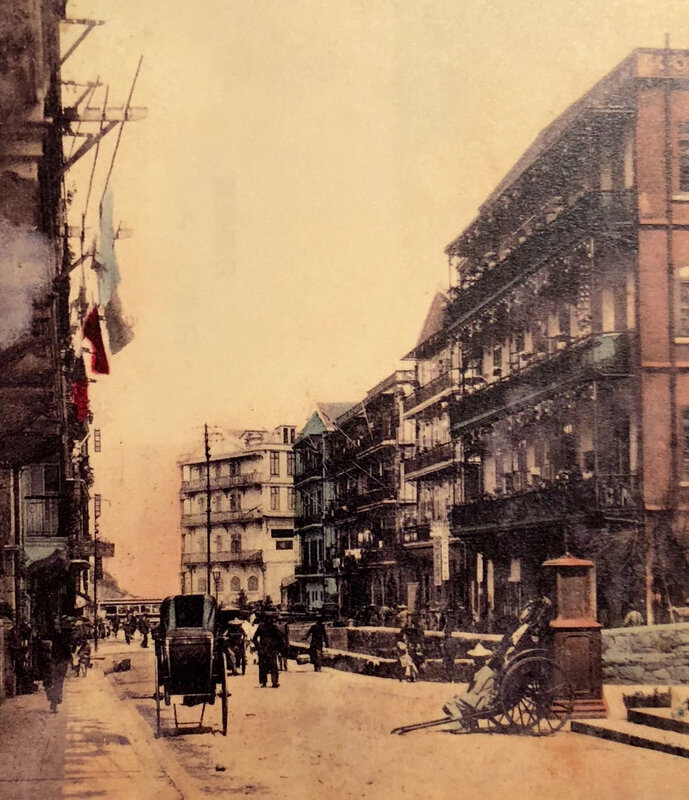 After my articles on North Point and Happy Valley, I take you to a journey West of Hong Kong Island, in Shek Tong Tsui. This district is located between Sai Ying Pun and Kennedy Town and was for a long time not well connected with transports. Until 1910, one would use sedan chairs or rickshaws to visit it, then there were motorcars and finally buses in 1923. The meaning of Shek Tong Tsui is "mouth of the rocky pond" and a Cantonese expression, "good times West of the pond" comes from this name. The reason is Shek Tong Tsui was famous for its brothels and restaurants. The four most high-class brothels in whole of Hong Kong were actually situated next to each other on Hill Road, at the crossing with Queen's West Road: Foon Tak, Choi Fa, Wing Lok and Yee Hung. Their story begins in 1903 when governor Nathan decided to move the prostitution industry away from Sheung Wan. The famous four brothels settled in brand new buildings (right on the photo nearby) near the existing Gas Works Co, which was supplying Hong Kong since 1864.
Next to the brothels stood restaurants in which Chinese patrons would launch lavish parties involving girls, musicians and singers. Smoking opium as well as drinking alcohol were part of the decorum, on the model of Shanghai singsong houses or the Geisha quarter of Kyoto Japan. Girls were called Young Grass, Golden Branch or Magnolia Flower, for whom clients would spend large sums of money to try to content them. However, they were never assured to ever share their couch. They sometimes received most exotic nicknames like "square hats" if they were finally unsuccessful with a courtisane, in a reference to a Chinese opera character. Some other were called "glutinous rice balls", meaning they were particularly easy to manipulate. With so much money flowing in, second class brothels soon flourished along nearby Queen's West Road. During the 1920s, the neighborhood employed up to 2000 prostitutes in fifty different brothels and more than 4000 workers in some twenty restaurants!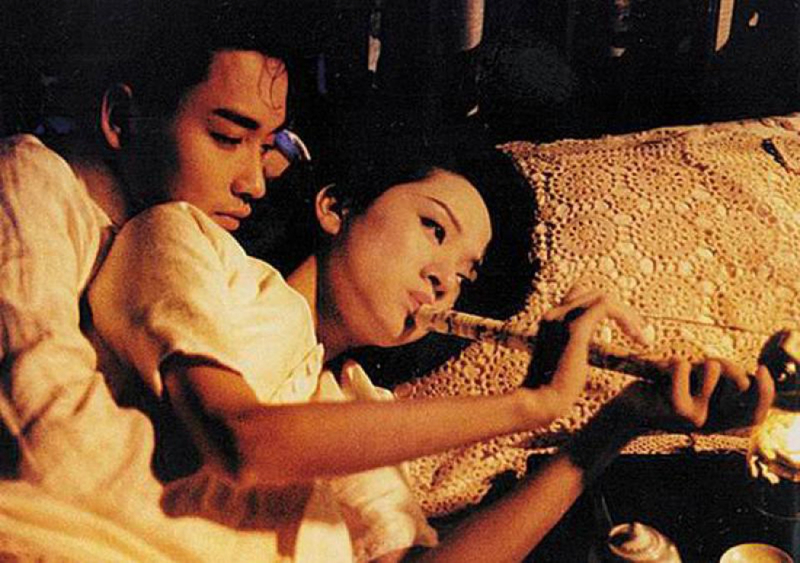 In the famous Hong Kong movie "Rouge" (胭脂扣) with Leslie Cheung and Anita Mui, the characters meet in Shek Tong Tsui Yee Hung brothel. The androgynous movie star plays the "12th master" (clients called themselves surnames, most of the time associated with the rank in their family), the heir of a merchants' family, falling in love with "Mui Fa", Prune Flower. In reality, there was a girl called Hung Mui, "red prune", working at Yee Hung, who might well have inspired the character of Mui Fa. Their relationship will end dramatically with Mui comitting suicide as her lover's parents object to their union and the young man abandoning himself into opium.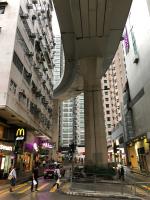 Mui's ghost will continue to haunt the streets of modern Shek Tong Tsui in a quest for her lover's lost soul. Where the houses of pleasures and dining halls once stood, she will find nothing but concrete elevated roads and supermarkets. Yee Hung brothel has indeed been replaced by Cheung Fat Mansion today and the Queen's West Road Mc Donald's restaurant (photo) stands right where a series of second choice brothels operated. The courtisanes era ended in 1935 when legal prostitution was banned by the British government, resulting in the closing of Shek Tong Tsui high class houses. A cheaper type of prostitution emerged on the harbour front of Central and Wan Chai, whereas Yau Ma Tei, which was always ranking behind Shek Tong Tsui, extended to nearby Mong Kok. American sailors after WWII also contributed to the development of prostitution along tram lines as well as "guided tours" on Hollywood Road.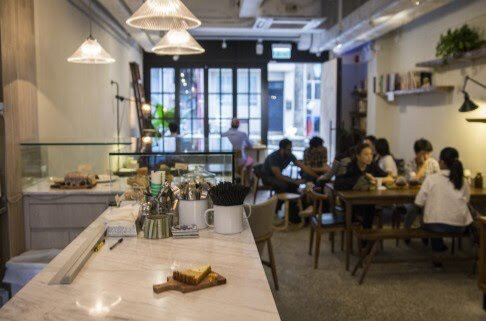 Joseph Kessel's book "Hong Kong et Macao" or Hollywood blockbuster "The World of Suzie Wong" both describe this miserable post-war situation, which is miles away from the lavish athmosphere of 1920's courtisanes world. Recently, however, the extension of the Island Line to Hong Kong University has shaken the sleepiness of Shek Tong Tsui. A new type of life style spaces and hipster trendy cafes for have attracted a well-off clientele in places like Ethos or Teakha. Finally, one can enjoy "good times West of the pond" again, even if the definition is slightly different today.
If one day, you find yourself having tea with courtisane Mui's ghost in one of Shek Tong Tsui cafe, like in the movie "Rouge", please make a selfie with her for me!
References
Early Hong Kong Brothels, by Cheung Po Hung, University Museum and Art Gallery, The University of Hong Kong 2005
Rouge (胭脂扣 in Mandarin), by Stanley Kwan, 1988 movie starring Leslie Cheung and Anita Mui
There goes the neighborhood: Hispter takeover in sleepy Shek Tong Tsui, by Christopher DeWolf, South China Morning Post article, 12th November 2015
Hong Kong et Macao, by Joseph Kessel, Gallimard 1957
Hong Kong Island Coastline(港島海岸線) by 余震宇, Chung Hwa Books Co 2014 - in Mandarin
The World of Suzie Wong, by Stanley Kwan, 1960 movie starring Nancy Kwan and William Holden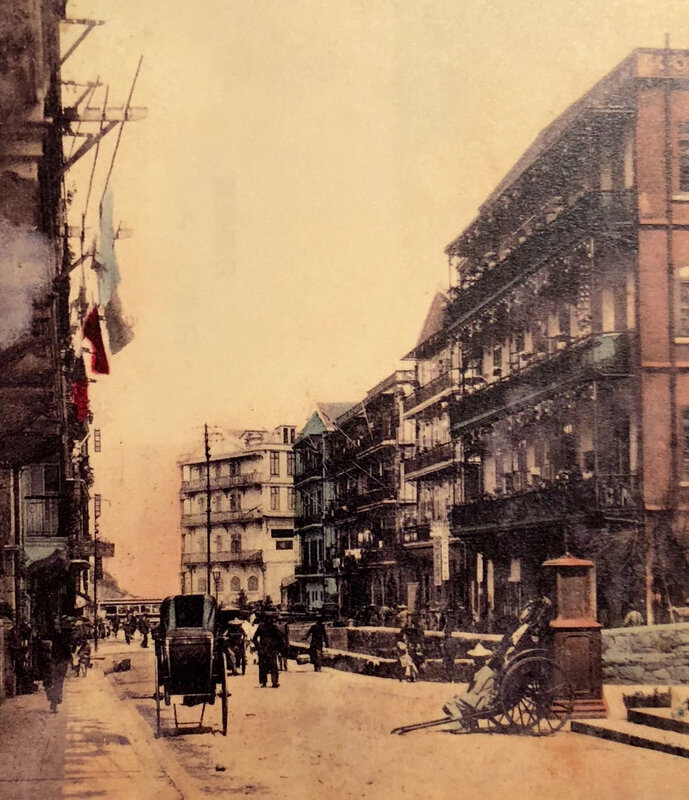 Après North Point et Happy Valley, nous partons à l'Ouest de l'île de Hong Kong avec l'histoire de Shek Tong Tsui. Marquant la limite entre Sai Ying Pun et Kennedy Town, ce quartier a toujours tenu une place à part, pendant longtemps mal desservi par les transports. On s'y rendait en chaise à porteurs ou rickshaw jusqu'en 1910, puis en voiture et enfin en autobus à partir de 1923. Signifiant "l'embouchure de l'étang rocheux", une expression en cantonais lui fait référence: "du bon temps à l'Ouest de l'étang". La raison en est que ce quartier est très tôt connu pour ses maisons de passe. Le long de l'actuelle Hill Road, au croisement avec Queen's West Road, se trouvaient en effet quatre des plus luxueuses maisons de plaisirs de Hong Kong: Foon Tak, Choi Fa, Wing Lok et Yee Hung. Leur histoire commence lorsqu'en 1903, le gouverneur Nathan décide de vider Sheung Wan d'une prostitution devenue un peu trop voyante. Les terrains disponibles jouxtent la Compagnie du Gaz, créée en 1864, et permettront de construire les hauts bâtiments abritant des maisons de grand standing (ci-contre).
On y trouve ce qu'un homme argenté peut demander de mieux. Les filles y sont belles et les maisons de plaisirs jumelées avec des restaurants où l'on va manger avec les hôtesses. Les riches marchands donnent de fastueuses réceptions, accompagnés par de jeunes beautés, des chanteurs et des musiciens. On est alors très proche du fonctionnement des maisons de sing-song girls de Shanghai ou des geishas du vieux Kyoto, les soirées s'accompagnant souvent d'opium et d'alcool. Les filles ont pour noms Petite Pousse, Branche d'Or ou encore Magnolia. Les clients dépensent de fortes sommes pour obtenir les faveurs de courtisanes mais ils ne sont pas pour autant assurés de partager leur couche. Leurs surnoms sont plutôt imagés: "chapeaux carrés" pour les clients éconduits, en référence à un personnage de l'opéra chinois ou encore "boules de riz collant" pour les clients particulièrement maléables. Sur Queen's West Road fleurissent des bordels de 2ème rang qui profitent de la notoriété des grandes maisons.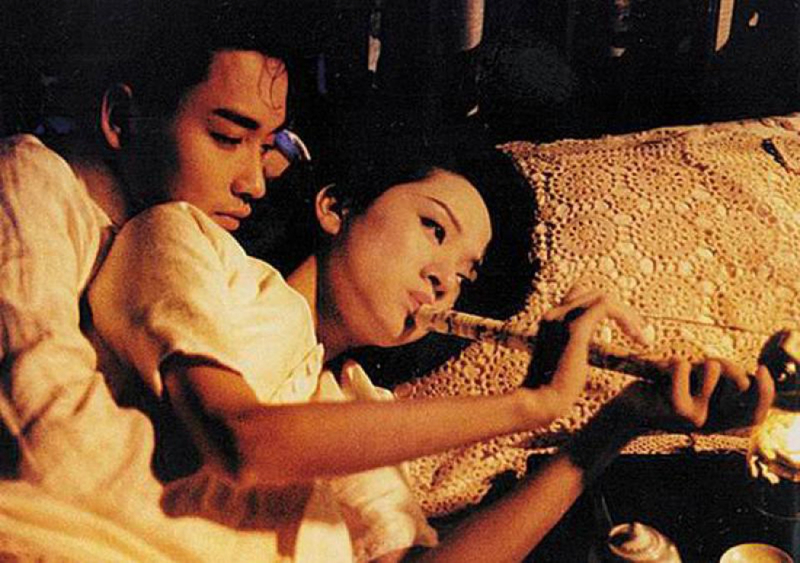 Dans les années 1920, le quartier compte près de 50 maisons de passe employant 2000 prostituées et 20 restaurants avec 4000 employés! Dans le film "Rouge" (胭脂扣) avec Leslie Cheung et Anita Mui, la maison Yee Chung de Shek Tong Tsui sert de décor à de nombreuses scènes. La star androgyne y incarne le "12ème maître" (les clients se donnaient des pseudonymes, en général liés à leur rang dans leur famille), héritier d'une dynastie de commerçants chinois, qui tombe amoureux de «Mui Fa», Fleur de prunier, (parmi les filles de Yee Hung on trouve une certaine Hung Mui ou "prune rouge", sans doute à l'origine du personnage de Mui).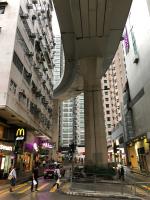 Leur histoire d'amour se termine tragiquement par la mort de Mui, dont le fantôme hante alors le quartier moderne de Shek Tong Tsui, le spectre ne trouvant alors plus que rocades et supermarchés. A l'endroit de Yee Hung se trouve en effet le building Cheung Fat et le Mc Donald's (photo) de Queen's West Road a été construit sur l'emplacement d'un bordel de 2ème rang. La fin de l'industrie des courtisanes est intervenue en 1935 avec l'interdiction de la prostitution officielle par le gouvernement anglais, conduisant à la fermeture des maisons et au développement d'une prostitution au rabais sur les docks de Central et de Wan Chai. Yau Ma Tei, parent pauvre de Shek Tong Tsui, se développe alors jusqu'à Mong Kok suite à l'arrivée des migrants de Chine. La clientèle des marins américains après la guerre accentue encore le phénomène de précarisation avec le racolage dans les tramways et les «tours guidés» sur Hollywood Road.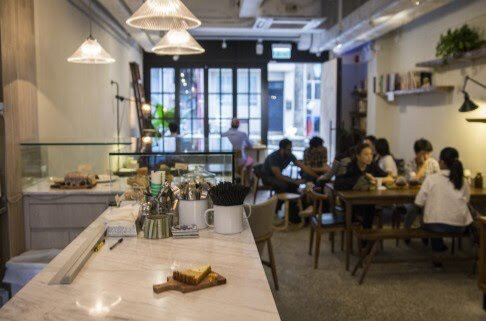 Le livre de Joseph Kessel "Hong Kong et Macao" ou encore le blockbuster Suzie Wong s'inscrivent dans ce contexte. On est alors bien loin des fastes des courtisanes des années 1920! Récemment, l'extension de la ligne de métro jusqu'à Hong Kong University est venu secouer la torpeur de Shek Tong Tsui, amenant cafés branchés et de lieux pour hipsters. Se pressent désormais dans les espaces lifestyle ou salon de thé tels que Ethos ou Teakha des étudiants aisés et la jeunesse dorée de Hong Kong. On goûte à nouveau au "bon temps à l'Ouest de l'étang", même si la définition a évolué.
Si un jour, vous vous retrouvez nez-à-nez avec le fantôme de Mui, la courtisane du film "Rouge", dans l'un des cafés branchés de Shek Tong Tsui, je compte sur vous pour faire un selfie avec elle.
Références
Early Hong Kong Brothels, par Cheung Po Hung, University Museum and Art Gallery, The University of Hong Kong 2005
Rouge (胭脂扣 en Mandarin), par Stanley Kwan, film de 1988 avec Leslie Cheung et Anita Mui
There goes the neighborhood: Hispter takeover in sleepy Shek Tong Tsui, par Christopher DeWolf, article du South China Morning Post du 12 Novembre 2015
Hong Kong et Macao, par Joseph Kessel, Gallimard 1957
Hong Kong Island Coastline(港島海岸線) par 余震宇, Chung Hwa Books Co 2014 - en mandarin
The World of Suzie Wong, de Stanley Kwan, film de 1960 avec Nancy Kwan et William Holden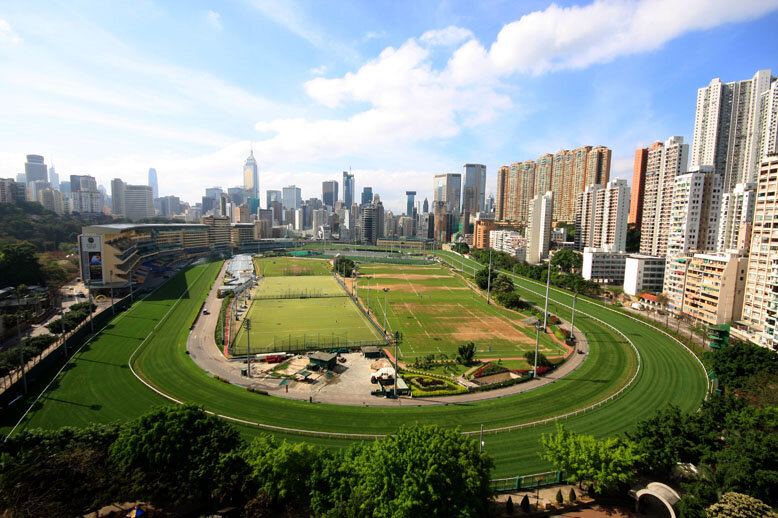 After publishing on Little Shanghai, I found it challenging to write about Happy Valley. This part of Hong Kong is indeed unusual, containing a race course and three cemeteries. The name Happy Valley is a British euphemism to name burial grounds, chosen after a sizeable number of soldiers had died from malaria in the 1840s. Then other nationalities like Portuguese, Indians and Chinese used it to burry their own dead. The former name was Wong Nai Chung (黃泥涌) meaning "yellow muddy river". This should have rung a bell about the sanitary risks but it obviously did not. This river was later canalized towards today's Wan Chai Canal Street, precisely.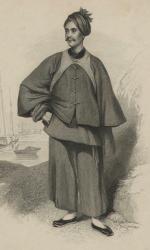 When visiting Hong Kong Cemetery (formerly Colonial Cemetery), where the protestants and military are buried, I found one of the oldest graves in Hong Kong bearing a familiar name: Karl Gützlaff (1803-1851 nearby). This German Lutheran missionary indeed gave his name to the signal tower on the Bund. He accompanied William Jardine's clipper ships along the coasts of South China as an interpreter during the 1830s, a rather controversial role when one knows that Jardine whom the Chinese called "iron-head old rat" by the Chinese and the others "prince of merchants", was illegally trading opium into China. The shrewd Scottish actually contributed to maintain two third of the Chinese population under opium during the first half of the 19th century and later pushed Britain into the First Opium War. However, Gützlaff found in this collaboration a way to convert Chinese populations to Christian faith each time ships went ashore in the numerous islands and bays of this part of China. His reputation was further stained when big sums got misused by native missionaries he had appointed.
In Shanghai, however, the column and time-ball built in 1907 by the French Jesuits missionaries wanted to pay tribute to his spreading of the Christian faith among the Chinese. Other famous Hongkongers buried in Happy Valley include Paul Chater (1846-1926, nearby with one of his horses at Happy Valley race course), the wealthy Armenian businessman who gave is name to the square in Central. Another big shot is Sir Robert Hotung (1852-1956). He was the first mixed-blood Chinese to become the head comprador at Jardine's. He also made remarkable contributions as a philanthropist, board member of the Tong Hwa Hospital and founder of the Chinese Club, which was a response to the colonial policy of excluding Chinese from the Hong Kong Club. Last but not least, Dorabjee Naorojee (1852-1898), the man who created the Star Ferry service in 1888, rests in the Parsee cemetery, right North of the Hong Kong one.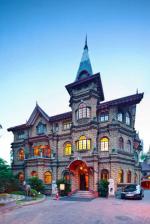 In 1846, the race course was created in Happy Valley, as this was the only available flat land was on Hong Kong island (the land reclamation policy had not started yet). This race course is very similar to Shanghai's one, on today's People Square, which opened just four years after Hong Kong (not in the present location). As in Hong Kong, Shanghai race course plaid the role of a green lung right in the middle of the city. Horses and owners would of course frequently travel from one place to the other to participate in derbies during the year. A 1910 observer noticed than the largest stable at Shanghai racecourse was the Jardine one, called Tartan. Hong Kong based Paul Chater was also member at the Shanghai Race Club. Shanghai tycoon Eric Moller, a Swedish origin shipmaker and great horse lover - his legacy is still visible today with the fairy tale villa (nearby) at the intersection of Shaanxi Road and Yan An elevated road-, became famous when his champion « Silkylight » won the Hong Kong Derby in 1938.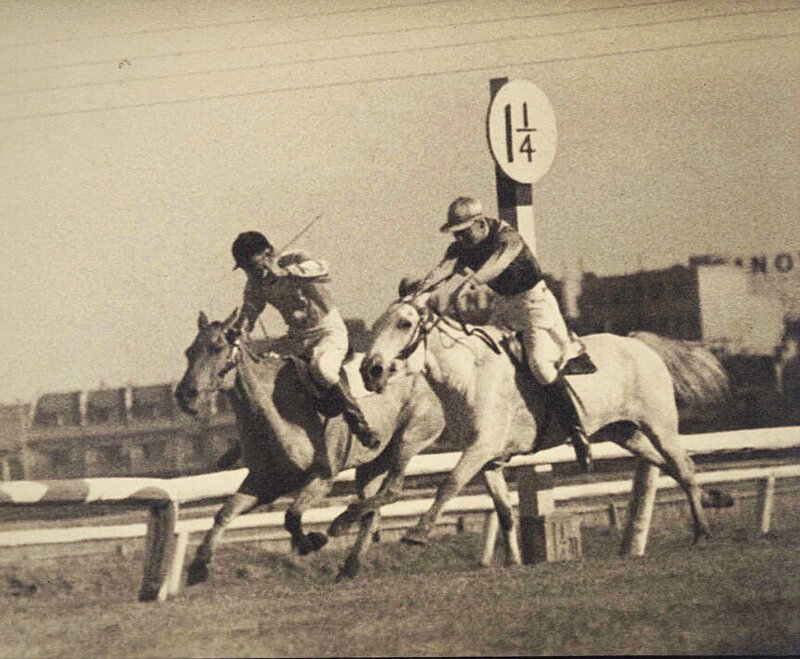 I haven't check if Victor Sassoon, the author of the nearby photo and another tycoon fancy of races, attended Happy Valley derbies as he often did in Shanghai or in Indian Pune, but he most probably did, as a lifelong competitor of Eric Moller. On 26 February 1918, one of Happy Valley's stands caught fire killing 614 people, mainly Chinese. As betting was equally popular among the Chinese in Hong Kong and Shanghai, the Happy Valley grand stand revealed too small to welcome all race lovers. It was decided to add a temporary bamboo structure. No need to precise that the poorest bidders were packed there whereas the best permanent seats were occupied by the elites. In Shanghai, however, Chinese bidders were simply deprived the right to sit in the main stand!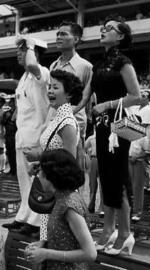 The largest share of bettings and therefore race course revenues, however, came from humble Chinese players, making it indispensable for organizers to accept them. Although 90% of the revenues came from Chinese, they were the only category that could only access the race course during derbies. This rule did not apply to Indians or Black people. Horse races ceased in Shanghai in 1949, being a strong symbol of the colonial system but they went on in Hong Kong until today. With gangs controlling Shanghai during the 1930s and 1940s, there are numbers of stories about fixed races like this one told by former Shanghai French Concession chief inspector Joseph Shieh in his memoirs: Starting from 1932, I began to get acquainted with horse races[...]. I had become friend with the head of jockeys nicknamed "Captain". When he saw me approching, he whispered to my ear " Bet on the 9!""but it is a wreck", I replied."No, it has been doped this morning..."[...]. I pocketed 6000 or 7000 yuans[...]. In those days, one could buy an imported car for 2000 yuans[...]. Of course I could not play this trick every Sunday. No need to say that with so much money at stake, excitement for horse races was massive!
It is not clear weither Hong Kong triads are involved in fixing races but they might well have been as recent Wong Jong's biopic "Chasing the Dragon" about drug lord Ng Sik-ho (Criplled Ho) suggests. At some point, the mobster bribes all the jockeys to make sure his horse wins a race. In 2007,the discovery of a sophisticated device to throw darts in the turf of Happy Valley bore the mark of the triads. However, Hong Kong Jockey Club contributes to community projects, which was not the case in Shanghai when investors took it all. Shanghai race season was Spring and Fall with events twice a week.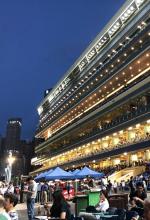 Hong Kong Jockey Club introduced a third venue on Wednesdays. As I was attending this year's French May's "Happy Wednesday" at the Hong Kong race course, I was amazed to see how popular horses races still are today. I was actually sitting next to a very simple kind of players, wearing flip flops, heavy smoking cheap cigarettes and anxiously reading the turf press. They most propably were small shop keepers, delivery workers or small employees. Excitement was visible on their faces when horses were unleashed and during the whole race. At the same time, on the top levels of Happy Valley stands, private rooms would accommodate a far wealthier type of guests, who throw parties or company events while using computer sweepstakes.
Like no other part of Hong Kong, Happy Valley takes us into a larger cultural and historical journey revealings its origins as well as part of its soul.
Références:
Hong Kong et Macao, by Joseph Kessel (French), Gallimard 1957
The heritage hiking guide to Hong Kong, by Pete Spurrier, FormAsia 2012
Foreign Mud: Being an Account of the Opium Imbroglio at Canton in the 1830's and the Anglo-Chinese War that Followed

, by Moris Collins, Faber 1946

Policing Shanghai 1927-1937, Frederic Wakeman Jr, First Edition 1996
Hong Kong Jockey Club Museum sweepstake tickets and photos
Around the race course, Cabarets, Christians and Champagne Day, by

Tina Kanagaratnam and Patrick Cranley,

Final Five Shanghai Walks 2017
Personal diaries and photos of Sir Victor Sassoon, De Golyer Library, Houston Texas from my 2017 visit
Dans le jardin des aventuriers by Joseph Shieh and Marie Holzman (French), Seuil 1995
Silky Light wins the turf classic, Hong Kong Daily Press article 22nd February 1938
Chasing the Dragon, by Wong Jing staring Andy Lau and Donnie Yen, 2017
A mystery at Hong Kong race track, by Keith Bradsher, The New York Times article, 27th March 2007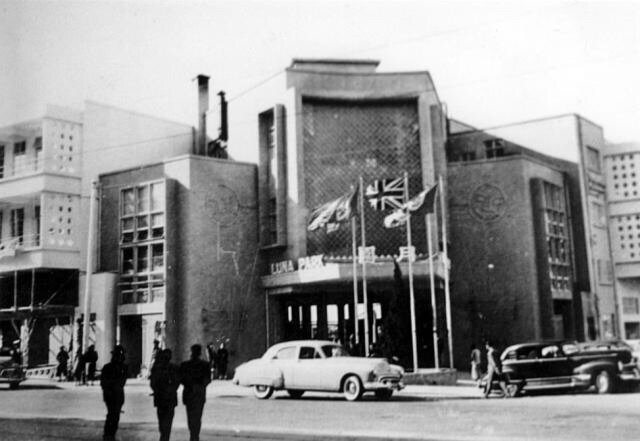 Among Hong Kong districts, the more related to Shanghai is undoubteddy North Point. After the 1937 Japanese invasion of China and during the solitary island episode, this part of Victoria city became the haven for thousands of wealthy and middle class Shanghainese emigrants. They recreated an entertainment industry comparable to their hometown including restaurants and dance halls, looking pretty much like today's Wanchai. For this reason, North Point was nicknamed "Little Shanghai". In the 1950s and 1960s, even more Shanghainese origin Chinese would relocate in North Point to escape communist rule.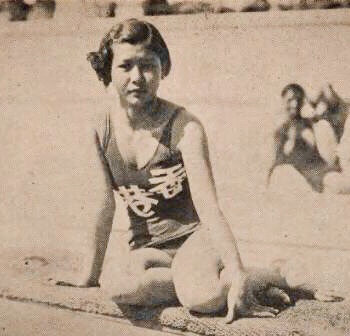 A less known and earlier connection of Northpoint with Shanghai comes with the Tsat Tsz Mui Beach Bathes opening in 1929. This place became famous when 15 years old "Chinese mermaid" Yang Xiuqiong, whom I have already wrote a lot about, broke four national swimming records in 1933. This Dongguan origin athlete used to train at the Beach Bathes complex in open sea. She later won three individual gold medals during the Manila Asian games. After these successes, she spent a large part of her fame years in Shanghai. As sports grew more and more interest in Chinese public, symbolizing modernity and "Jianmei" (healthy) type of beauty, champions like Yang Xiuqiong were used as national heroes by the Chiang Kai Shek regime. The Tsat Tsz Mui Beach Bathes were situated near King's Park and could be accessed easily by tram, attracting hundreds.
Tsat Tsz Mui literally means sevens sisters, a reference to deities venerated in Hong Kong. It was the name of the East part of North Point on early maps of the island. The place remained popular for bathing up to 1950s. Hong Kong Corinthian Yacht Club, dating 1906, was also located on the West side of North Point and remained active there till 1920 organizing sailing races. On the East part of the small peninsula, Taikoo Shipyards were built in 1881 by the Swire family, a dynasty of tycoons who set the basis of today's financial empire including Cathay Pacific and Coca Cola Asia.
Telling the history of Hong Kong always involves land reclamations. Whereas 1880s reclamations merely filled the existing bays, later programs created new polders by connecting warfs together. The Tsat Tsz Mui Beach Bathes were no exception when in 1950, they were deprived from open sea access. Today, only the name of a street still gives a clue about the former seashore line (compare the two photos above and nearby). During Japanese occupation, North Point was the sadly site of a prisoners camp, mainly the Royal West Brigade and Canadian privates who defended Wong Nai Chung Gap and Jardine's Lookout. Today, no trace remains of this iIl-memory camp at King's Road Playground.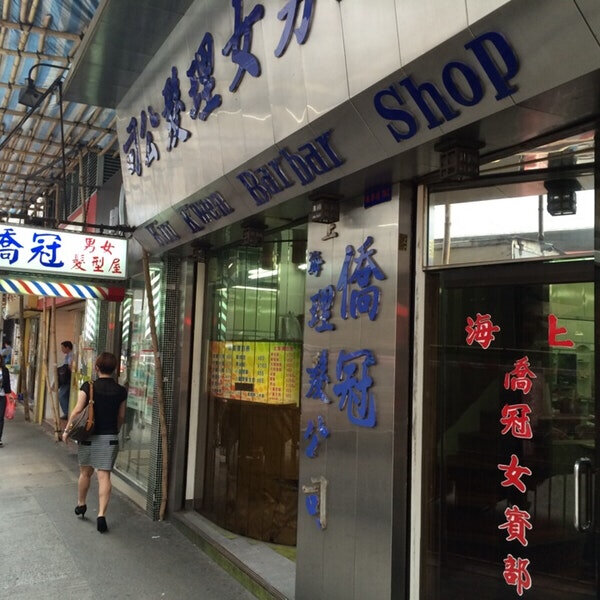 A few years before, when Japan invaded mainland China in 1937, many Shanghai Chinese had started to resettle in North Point. The most durable legacy of this community is the rather unusual one of the barber shops business. The Shanghai barbers had indeed forged themselves a solid reputation of modernity, introducing permed hairstyle. As Shanghai in the 1930s and 1940s was the playground for movie stars, influenced by the exemple of Hollywood, trendy Shanghainese ladies (modeng nü) adopted some of the western most sophisticated haircuts. The use of electric rolls to curl the Chinese straight hair as well as short haircuts became Shanghai trademarks. North Point Shanghainese style barber shops would also provide massage services, shavings and give magazines to read to their patrons. This brand new type of barbers were actually thousand miles away from the Chinese tradition of street hairdressers!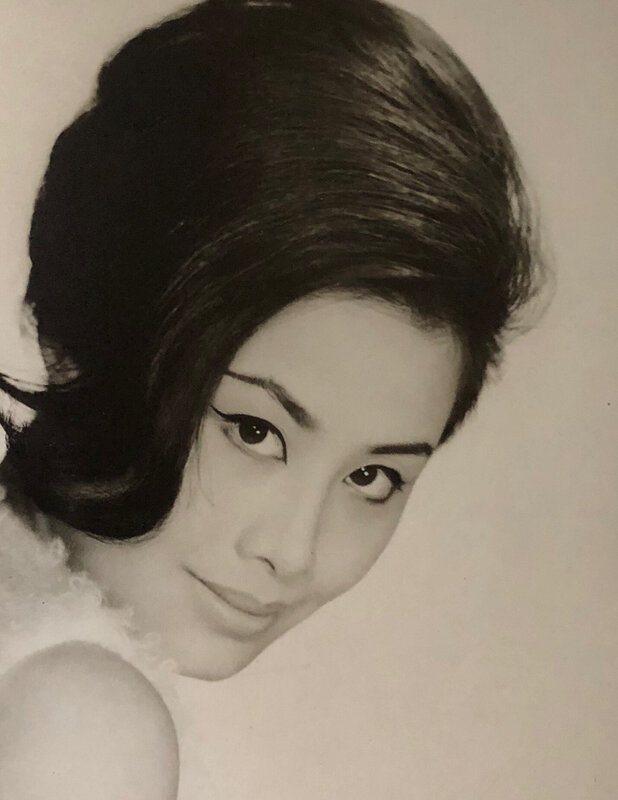 With time passing and access to the American press, North Point's barbers adapted to the international fashion. Pompadour style, Omega, Top Flat or Butch were part of the long list of available haircuts. Until the 1970s, nothing could beat a North Point barber for the wealthy patrons, sometimes driving from the Peak or Repulse Bay. During the Hong Kong cinema boom, their fame culminated, young starlets waiting on the client list. This is only recently that they have become associated with old times, unable to adapt the Hong Kong fast pace of this end of century. When crossing Northpoint today, not much of this heritage can be seen. No free style swimming anymore nore movie stars sitting in barber shops armchairs. I was surprised, however, to meet a group of hikers along one of Hong Kong mountain trails. When he realized I was coming from Shanghai, one of them suddenly turned to Mandarin to explain me that his whole family came from Shanghai to North Point. He proposed to share the same bus back to the city center, obviously happy to talk about his grandmother who had to thrive her way into Hong Kong. Cantonese was a challenge to her, he said, but she passed over the good memories of her teenage age in Shanghai to her children.
I guess there are more souvenirs to share with North Point old generations. Like most places in Hong Kong, culture is conveyed by personal stories more than architecture. One reason to stick to learning cantonese!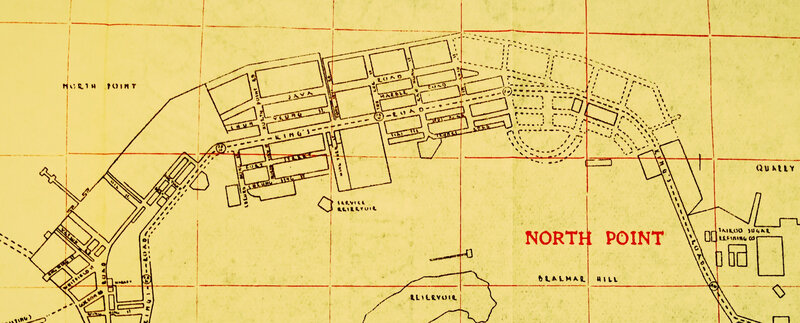 Sources:
Gwulo website by David Bellis
Hong Kong stories:1960s, original vintage prints by Yau Leung - Blindspot Gallery Aberdeen - nov 2017 photo exhibition
Sporting Gender: Women Athletes and Celebrity-Making during China's National Crisis 1931-45 by Yunxiang Gao - 2013
Hong Kong Island Coastline(港島海岸線) by 余震宇 at Chung Hwa Books Co 2014 - Chinese
Northpoint: A living history of Hong Kong by Franck Chen - Ejinsight 30th January 2015
Hong Kong's Shanghai-style barbers face the cut by Josh Ye - South China Morning Post, 31st December 2016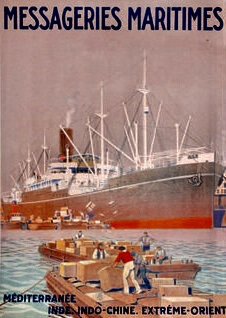 As many French people interested in history and desperate to find old documents in Hong Kong, I ended at Yves Azemar's Indosiam library. Among the treasures collected by Yves, one particularly caught my attention as related to Shanghai: the 1939 "Changhai" stop guide of the Messageries Maritimes. The Messageries Maritimes started their business in Shanghai in 1862 as a service to the French colonial troops which came to tame the Chinese rebellion. The need for a regular line of military supply, mail service and transportation made the French Empire grant extremely favorable conditions to the Marseilles-based firm, going as far as compensating for its losses. The increasing demand for the passengers services led a few years later to the creation of a luxurious ocean-liners fleet, in addition to existing freight. Passengers became the most profitable line of revenue for the Messageries Maritimes, with existing lines to Algeria and Indochina. Three different classes of tickets were available with absolutely no comparison between them. It was for instance in the most humble class that some 20000 Chinese workers were sent to France during WWI to help on building trenches. The wealthiest passengers, however, would enjoy a full room service and top end French cuisine on the upper deck level.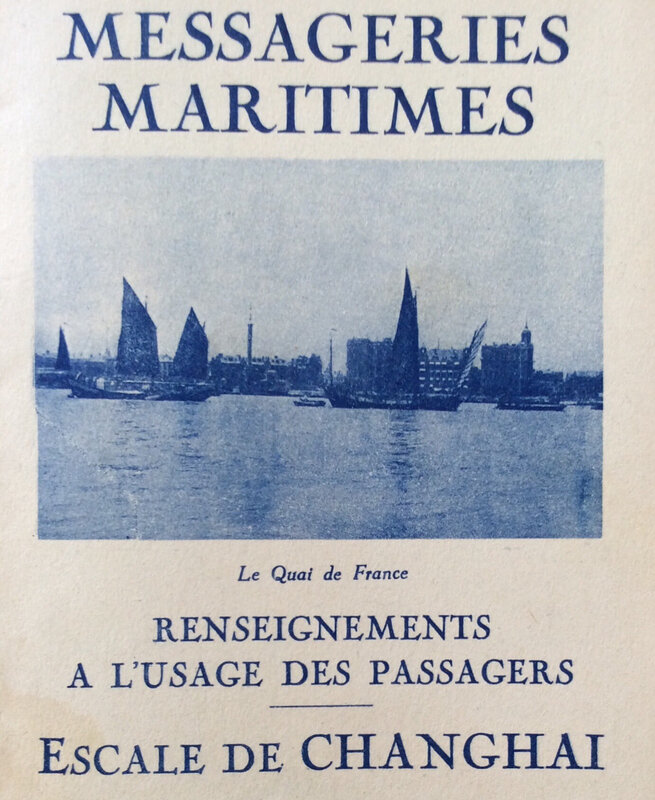 We also know from French historian Guy Brossolet that elite passengers would be separated from "easy" women, if this quality was ever mentioned on their passport as a base rule of the company. No effort would be spared to guaranty tranquility and comfort to high end customers. Pets had to be accompanied at all time and taken care of by the ship helpers. For all these reasons, many wealthy travelers to Asia chose the Messageries Maritimes Ocean Liners, when compared to their Japanese competitors, Nippon Lines. In 1939 in Shanghai, when the leaflet that I bought was issued, Jean Cochet was in charge of the company's destinies. He was a prominent figure in the French Concession, being the President of the Shanghai Chamber of Commerce and the French Club, the notorious Cercle Sportif Français. No need to say that the reputation of the Messageries Maritimes together with the absolute comfort of the passengers was of premium concern to him. Since 1937, however, the Shanghai stop had become a most sensitive one because of the occupation of China and outskirts of Shanghai Foreign Settlements by the Japanese army.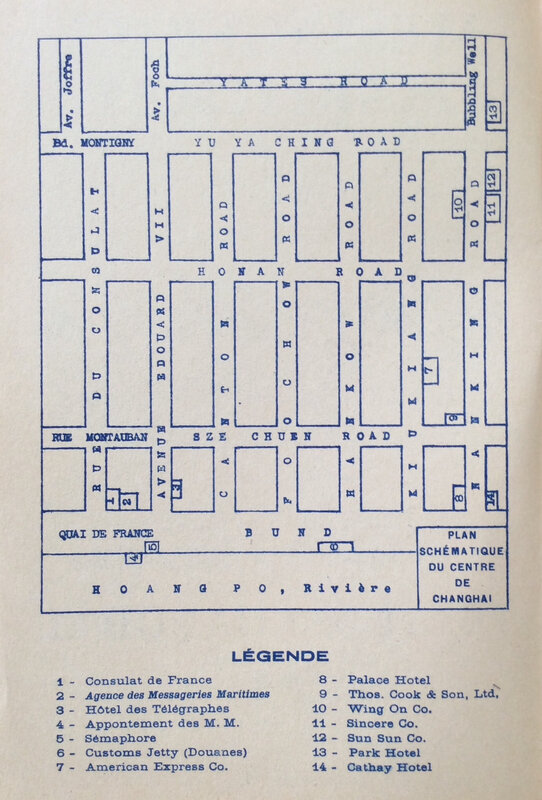 More than half of the city was actually under the rule of the Empire of the Sun and the puppet regime of Wang Jingwei, making circulation inside former safe zones like Chabei (Zhabei) or Hunjao (Hongqiao) hardly possible. We find interesting historical clues of this in the Shanghai stop guide which recommends to be accompanied by a well acquainted guide to cross to the North side of the Suzhou River. Adventuring to Kiangouan (Jiangwan), it continues, is banned, making it impossible to admire the recently created Great Changhai Civic Center which has been heavily damaged by the bombings of the battle of Shanghai. Then, the guide recommends the most luxurious venues, including of course the Cercle Sportif Français, close to Avenue Joffre. I guess that Jean Cochet being its president would make this tip inevitable. Interesting also is the advertising in French language on the back cover of the guide concerning Victor Sassoon's properties: the Cathay Hotel, Cathay Mansions and Metropole. The smart Jewish Sephardim entrepreneur had obvious reasons to target the wealthy passengers of the Messageries to become his guests in his top end Shanghai hotels. The last but not least point of interest is the guide city map. The meticulous selection of the streets to visit do tells a lot about the concern of the French Line for safety.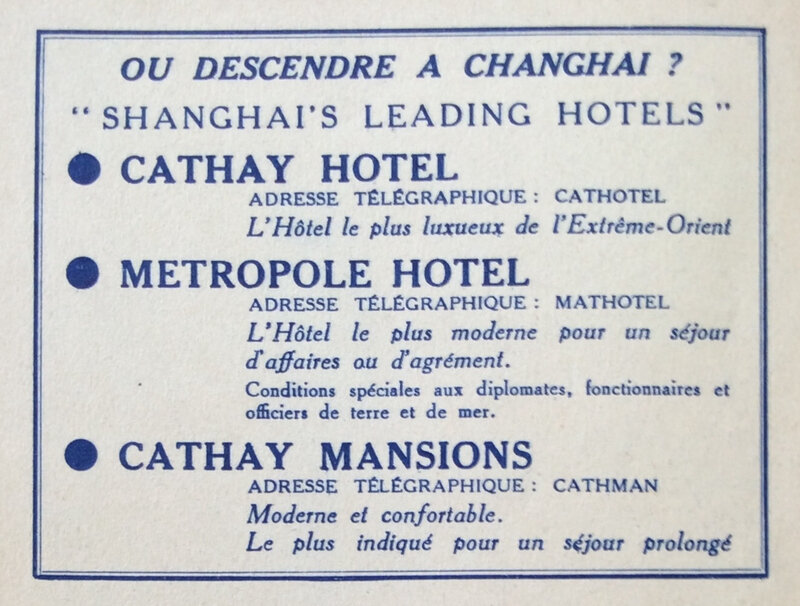 When one is aware of the crime rate in the late 1930s, this one recently reminded to us by Paul French's excellent novel "City of Devils", one realizes how creative the publicity agents of the Messageries Maritimes needed to be. Most striking to me was indeed that the infamous "Blood Alley" (Chupaosan Road), which was located right behind the Messageries Maritimes offices on the Quai de France, has simply been scratched off the guide to make sure that no passenger would ask rickshaw to take them there. I guess nobody wanted to find one of the company custoners bathing in his own blood at early morning, stripped off his clothes and money after having spent the night with the Russian hostesses of Jack Riley's Manhattan Bar!
Finding this book in Hong Kong came as a nice surprise and made the fresh memories of fascinating Shanghai come back to my mind. I suppose that one never really leaves this city!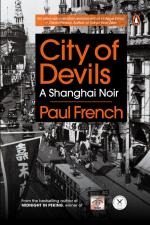 I was more than pleased to read Paul French's new historical novel "City of Devils" launched at the Shanghai Literary Festival (Thank you for getting a dedicated copy, Matthias). As I am a fan of Shanghai 1930s I definitely appreciated this book bringing a new stone to the house of the city's memories with focus on Japanese surrounded Shanghai period. I actually already commented the "solitary island" time, when Shanghai was blockaded within the Foreign Concessions and developed a new entertainment industry, including cinema and night clubs. Paul French takes us even further into the night landscape and world of gangsters, nazi and Japanese collaborators as well as smugglers. Main character is Jack Riley (photo below), a Colorado born American who served in the Navy in Manila before coming to Shanghai. Riley is famous for introducing the slot machines business in Shanghai and also ran a joint, the Manhattan, in "Blood Alley", the infamous bar street frequented by sailors.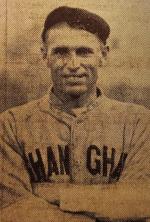 A new insight in Paul French's novel comes with the "Badlands" part, referring to the twilight zone of casinos, brothels and dance halls located West of today's Huashan Road. Young JG Ballard tells about some of these gambling dens in his self-inspired fiction "the Empire of the Sun" as his parents were living not far from this gloomy area. Author and searcher Katya Knyazeva also wrote about this area, mentioning the short living night club Gardenia of White Russian singer Vertinsky. This zone located West of the International Settlement was a lawless no-man's land since police forces from both French and International sectors could not intervene there. The Japanese rule starting from 1937 brought a new context to it, not only because the new masters of Shanghai needed entertainment for themselves but also for the profits they could get from its activities. Some venues for instance became real spy dens, allowing warring parties to collect first hand intelligence from the patrons.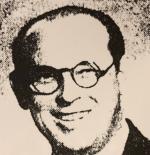 This was a dangerous game to play for casino owners who sometimes got arrested and even tortured by the Kempetai, the Japanese police, when those considered they had gone too far or become too greedy. The joints of the Badlands included the Del Monte, the Argentina, the Bolero, the Ali-Baba, the Six Nations or the Pai Loh, which were run by American Jewish, Macanese or even Swiss investors attracted by the huge profits of gambling, alcohol, opium and prostitlution. There were no legal taxes but only the under-table commissions to the officials of the Wang Jingwei puppet regime which strong arms were based at nearby 76 Jessfield Road.
The second important character of the book is Joe Farren (photo above). who acted as a straw man for Jack Riley while running for him the Badlands grandest casino, the Farren's, on Great Western Road (West Yan An today). "Farren Follies" chorus line was popular back then, Farren being nicknamed "Shanghai's Ziegfeld". The dance group was mostly constituted of White Russian ladies who had seized their chance in the entertainment business after they having lost everything in the Bolchevik Revolution. The troupe toured in every signle Chinese Treaty Port as well as in Japan under the leadership of Joe's wife, Nellie Farren. The book's frequent reference to gangsters like Du Yuesheng already make the description of Shanghai night landscape vivid but there was not only the Pootung originated boss to be feared in those years. Some extra white skin bad guys called the "boychiks" were led by Wally Lunzer, a Viennese Jew reconverted into the security business for casinos and working for Riley and Farren.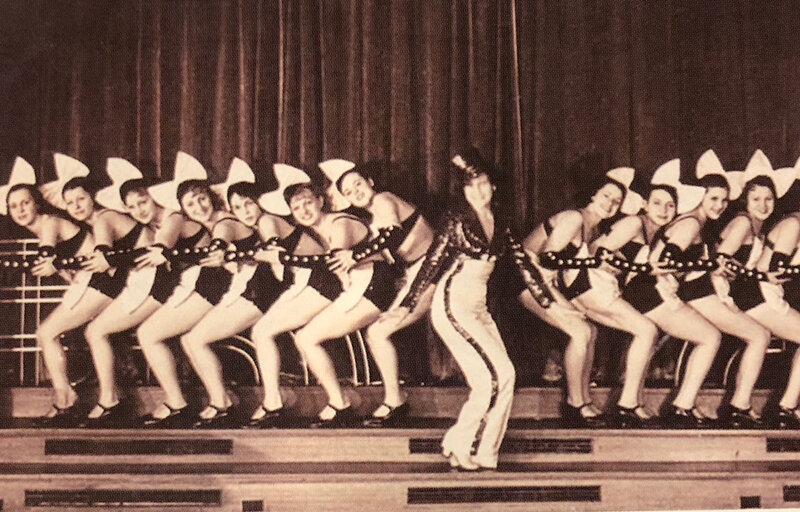 Among the colorful people depicted by Paul French, Buck Clayton (photo above), occupies a particular place. This black American jazzman was hired at Du Yuesheng's controlled Canidrome to bring upper class music right into the heart of Shanghai. Buck and his Harlem Gentlemen were probably the only black American in Shanghai in those years who did not suffer from racial prejudice, being even admired by Chinese people for being dressed elegantly, sometimes seen driving in luxurious convertibles. It was Farren who actually set up the show for Buck Clayton at the Canidrome.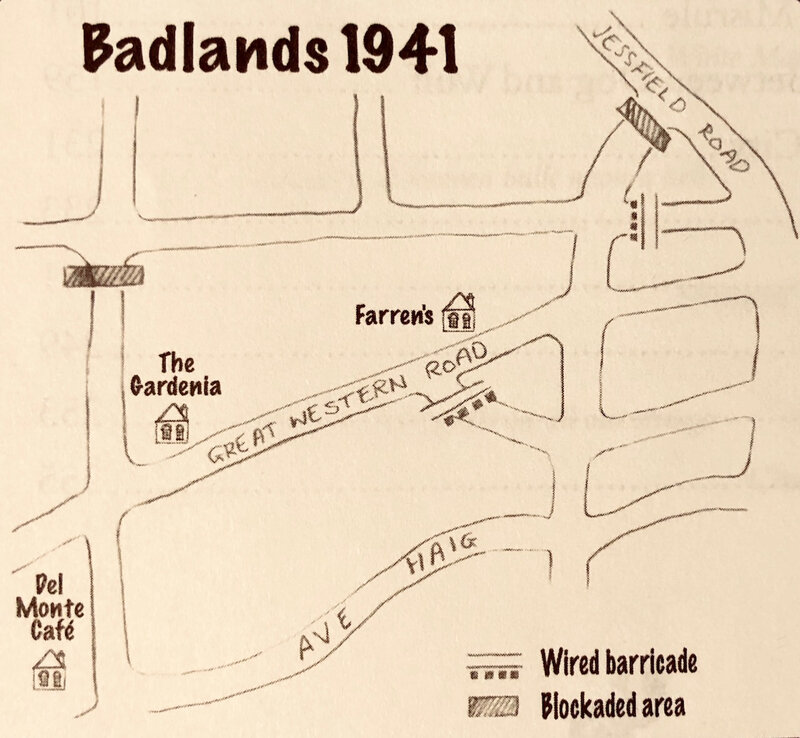 However, after crime level had risen too high, a special police squad was formed, the WASP (Western Area Special Police), which could also rely on the riot squad to confront with the toughest gangsters. They used bullet proof jackets and the Red Maria armored vehicle to enter and close down casinos. Such equipments were introduced in the 1920s by "Fearless Dan" William Fairnbairn, within the limites of the Foreign Settlement. In my article on Mark King, who was in the Shanghai Municipal Police in those years, I mentioned him working at the Bubbling Well Police Station which was close to the Paramount Dance Hall. This was the place where Nelly Farren and her girls used to dance, being called "The Paramount Peaches" (above) for the occasion. No doubt then that Mark King, a member of the vice squad, was also aware of the illicit activities of both Joe Farren and Jack Riley!
With focusing on the Badlands, Paul French's novel adds a new chapter of the Old Shanghai urban legend. This book is remarkably well documented and brings light on a whole bunch of new crime figures.
If you guys have seen "The World of Suzie Wong", a 1960 love movie taking place in Hong Kong, you might remember that the title character lived in a rather poor area, probably one of the slums on the hills South of Wan Chai, before the Hong Kong construction boom. In those years, Hong Kong got overwhelmed by Chinese migrants (750 000 in the 1960s, one fourth of Hong Kong population!) ), most of them coming from the South regions. As the British colony was not prepared to receive such a large number of refugees, the housing crisis was inevitable. Squatter villages rapidly emerged in different parts of the territory, mostly on the Kowloon peninsula or the New Territories, like near the Lion Mountain (remember the 1970s TV series "Below the Lion Rock" depicting the harsh life of migrants) or Tai Hang Tung. What is more unusual is the case of PokfuLam village, which population is largely constituted by migrants, is that it's history dates some 300 years before the British set foot in Hong Kong!
Founded around 1670, Pokfulam means the forest of the pokfu, a local bird, along one of the only natural streams of Hong Kong. For this reason, the focus of villagers were more farmers than fishermen, growing rice, ginger and vegetables. Early photos from British settlers show small farms there whereas the rest of the island was deserted, exept for small fishermen communities. Originally, the village was created by three clans, the Chan, the Lo and the Wong, who all fled after the Three Feudatories Rebellion against Qing Dynasty Emperor Kangxi. They settled along a single street and today's Pokfulam's oldest monuments like Bogong Shrine or Li Ling Pagoda (below), both dedicated to traditional deities,are still located along this original central street. At the coming of the British by 1850s, the population was merely 50. One century later, however, the village already included four quarters, contained three restaurants, three hairdressers, eight groceries and ... two opium dens (let us not forget that it was the Westeners who introduced opium in China). The situation of the village, near the stream of the Waterfall Bay was of major interest for the British, who soon decided to built there Hong Kong's first fresh water reservoir there in 1871.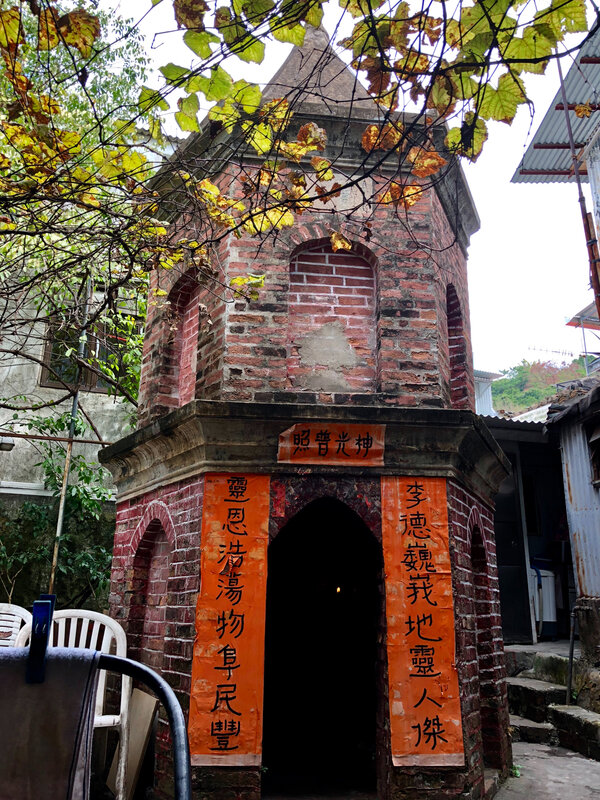 In 1886, a Scottish surgeon called Patrick Manson created a dairy farm, using the valley for cow pastures. Dormitories for the farm workers were then built with access through the village. In 1959, 721 villagers were employed at the dairy farm which had definitely changed the destiny of the once small but now flourishing community. Agriculture became limited to a few terraces to leave sufficient space for the dairy industry. With new regular revenues, Pokfulam developped into a small town. Children would still enjoy the newly built reservoir to cool down in summer and play in the tree covered hills after school. After Chinese takeover in China, floods of migrants almost tripled the initial population of Pokfulam but the presence of Dairy Farm (the name of the company) contributed to settle them more easily than in other areas. Temporary shacks were integrated in the original village, adding a few more streets to it. However, the most dramatic change occurred in the 1970s when nearby Chi Fu Fa Yuen complex was built. The village was suddenly surrounded by high rises with the consequence of fencing accesses to the surrounding forests and countryside paths, a sort of feeling of being caged in their own homes, some of the villagers remember.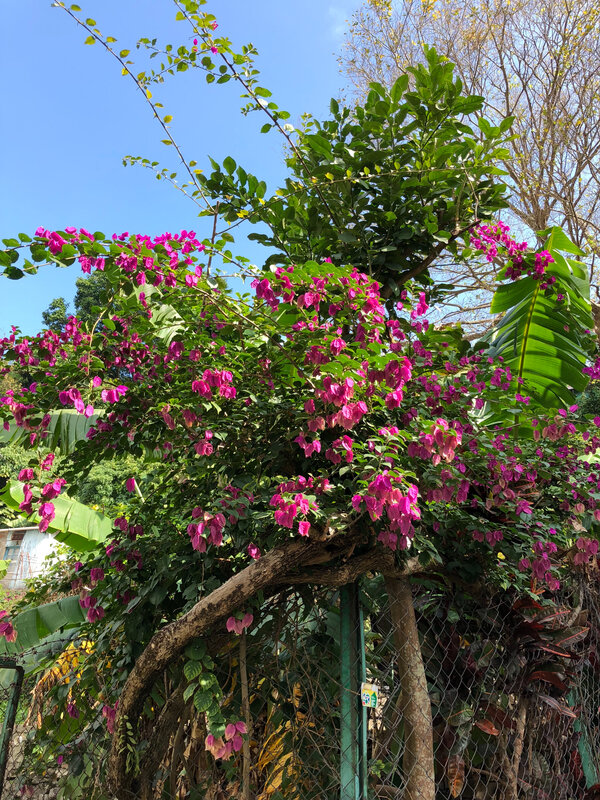 Another less obvious effect but still important was that the 400 years old village and its new illegal squatters was from then on qualified of "slum" compared to the modern standard of new wealthy neighbors. So people from Pokfulam started to fight for their ancestral access to the reservoir area and the accusations of staying behind. After 15 years of combat, they regained their original routes as fences were open against the promise of installing running water everywhere and giving access to visitors. In the 1980s, Dairy Farm had become an International group with production centers and subsidiaries all over the world. Consequently, the old Pokfulam farm got closed, bringing even more uncertainty to the village. However, locals advocate that there way of life is unique and more civilized in many ways than the high rise type, mentioning the community feeling and high level of security in the village. People would leave their doors open, trusting every single neighbor. Traditional festivities continue to be celebrated like Mid-Autumn Festival, an event which mobilizes the whole village with making a fire dragon. When you ask them, they refer to the Brazilian favelas, saying those are part of the history and culture of this country.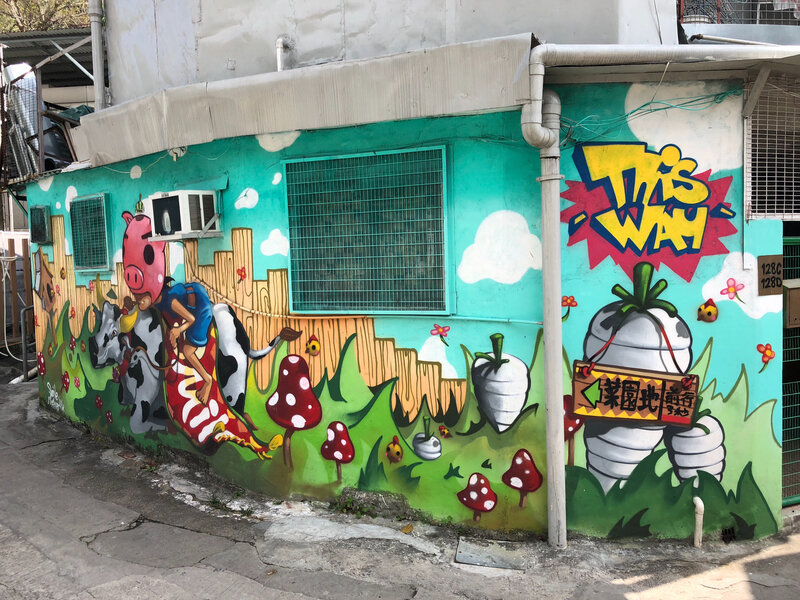 Many talented people originated from them and the feeling of freedom brought by those informal communities helps new projects to emerge. For this reason, one cannot help from thinking of this exemple when strolling in the alleys of Pokfulam village. Like their Brazilian counterparts, some walls are covered with paintings and colorful frescoes. Fences and gardens are sometimes decorated with children's toys and at every corner, people simply smile at you or help with directions.
Pokfulam village is a living testimony of Hong Kong history. Let us hope this urban miracle remains for a while, but nothing could be less certain!