When recently visiting Bund 18, I was impressed by French chef Joel Robuchon's bakery on the ground floor. Inside, most products, like sandwiches or cakes are delicately prepared, showing high quality and surprisingly affordable. A croissant would sell at 15 yuan only and a tart at less than 30, a far better price for value than in other fashionable shops. This new venue is one of the surprises of Bund 18! So let me introduce this amazing place.

History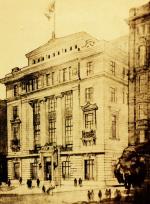 Bund 18 was built in 1923, designed by architect Tug Wilson and ordered by Chartered Bank of India, Australia and China. This bank is the oldest foreign bank in Shanghai, operating there since 1853! As many banks on the Bund, the owners took advantage of the opium trade and later from the real estate investments in booming 1920s Shanghai. At the end of the 1920s, almost every single country was representated on the Bund, a bit like in today's New York Wall Street. Shanghai was actually already competing with the famous American city at that time for the title of the most economically dynamic and attractive location. The change in political landscape during Mao era, however, froze the building in time for more than fifty years. Although it was used by various government offices, it was actually falling into pieces. Its renovation only started in 2004, together with the revival of the Bund. Italian designer Filippo Gabbiani led the project.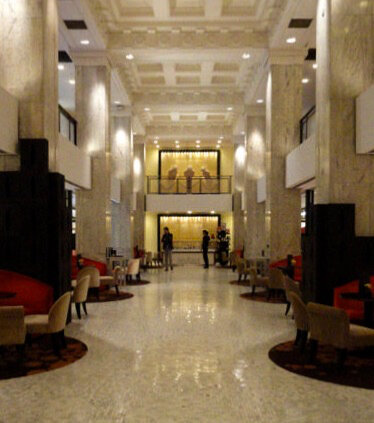 When entering Bund 18 today, one is surprised by the light, delicate though flourish fragrance. Like in a five stars hotel, nearby Peace Hotel for instance, a special perfume has been created, its recipe kept secret, to give guests the distinctive feeling of being familiar to the place, cultivate memories and entertain the impression of returning home after an afternoon of shopping. For a while, one could enjoy the sound of live classical music coming from the small balcony near the entrance, whîle having a nice cup of Swiss chocolate in the lobby, Hanging at the doorway ceiling, red Murano glass chandeliers remind us with the designer's Venitian origins (his family bought Marco Polo's house in Venice). The mosaics of the floor are original, also restored by Venetian craftsmen. Then, as one heads for the elevators, one notices the wonderful staircase balustrade on the left. It also dates from the original bank. No wonder, the renovation work was granted the UNESCO Heritage Renovation Award as one of the best exemples of combination between former glories and the latest trends.
Getting crazy
Most fascinating about Bund 18 is its ability to keep transforming itself. It is like Shanghai, a chameleon building, having its art galleries in perpetual move and changing regularly the activities within the different floors. A symbol of this modernity can be found with the long sculpture by controversial artist Ai Waiwei, right in front of the elevators. Ai Waiwei is known in the West for posting videos of himself standing naked on Tiananmen Square or filming his guards when at house arrest. His provocative style got himself into trouble many times with the Chinese authorities, since he uses his popularity to denounce corruption. However, this unusual citizen refused many times to leave China, claiming his love for the country and Chinese culture and prefering to raise conscientiousness from inside. Released from house custody, he was immediately accused of fraud by the tax administration! However, he still sells art in Bund 18, right in the heart of China's largest city!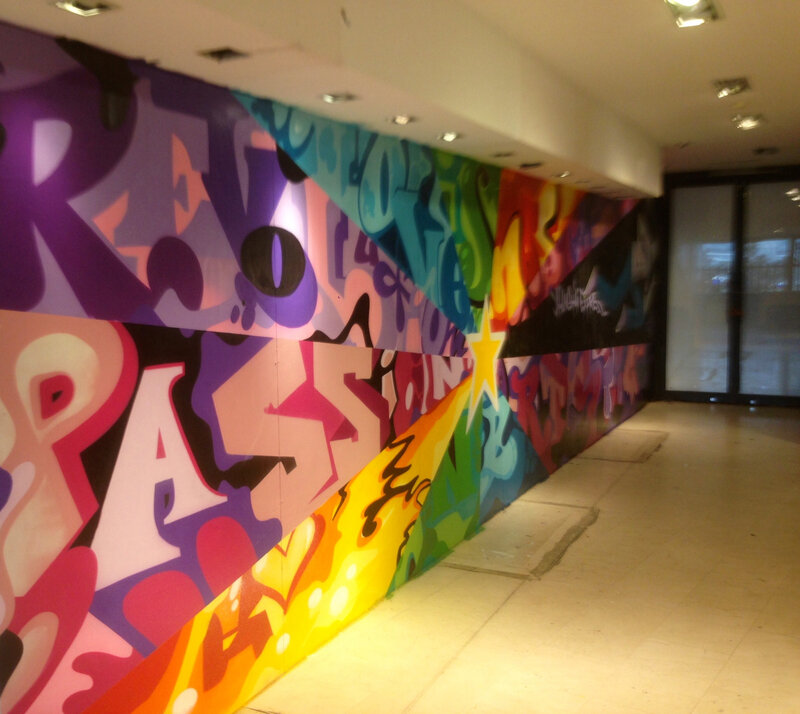 A couple of years back, I accidentally attended a most unusual exhibition on the ground floor, as one of the shops was under renovation. This was organized by Shanghai based street art expert Magda Denysz, and named "Look through Shanghai". Artists from New York, San Francisco and Hong Kong had been invited to make this available space a shining mirror of the world street art. During the two weeks of this great ephemeral expo, you had the impression that this usually luxurious space had been turned into a plain concrete artist's apartment of one of New York's alternative districts. Amazing experience! Today, in the same place now, a luxury bag shop displays Yves Saint Laurent or Gucci, reflecting the new Bund economic model. Most buildings actually get revenues from street level luxury industry, like expansive watches or leather bags. Trendy galleries or restaurants are most often situated in the middle floors and bars with views on the roof. This pattern is almost the same on the whole Bund as the attempt of the city to re attract the banks in the 1990 was stopped by the Asian financial crisis.
Piano and roof tops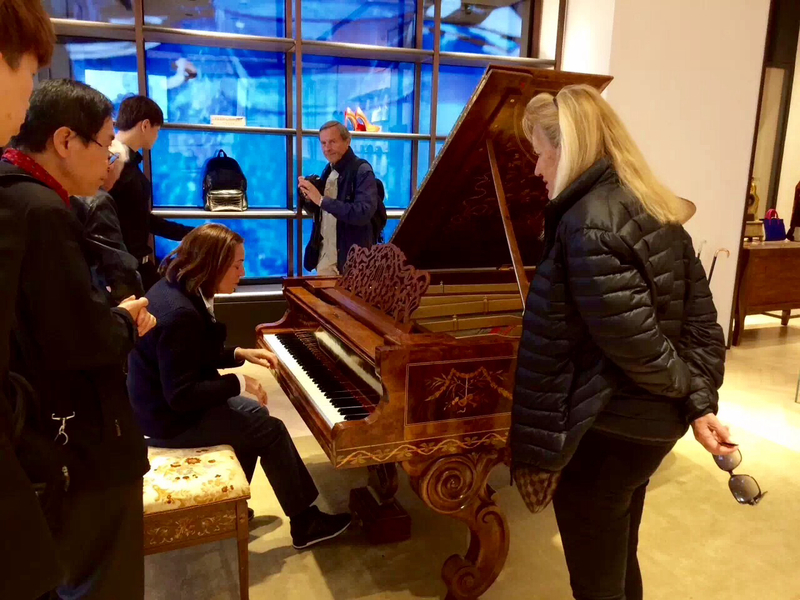 Interesting enough, in the same shop where you can buy (or torture yourself with not being able to afford) bags, you strangely find an old Steinway piano manufactured in 1866 in New York. Although this one is out of key, one of my visitors surprised me with sitting and playing "The Moonlight Sonate" by Debussy. If you saw "The Empire of the Sun", the 1987 Spielberg movie telling about a young English boy detained in Shanghai camps by the Japanese, you will probably remember this tune, as it is often used in the film staging the end of the colonial privileges. This performance was unexpected and my visitor was not aware of the connection between the melody and Shanghai. A unique moment!
Going back to the top floors, expat families are familiar the 6th floor French restaurant Mr and Mrs Bund, operated since 2009, by French chef Paul Pairet! Then the legendary Bar Rouge on top of Bund 18 is one of the most popular venues for young (or less young including me) people on the Bund. Apart from weekends, the most popular night at Bar rouge is Thursday lady's Night. In such an international city where loads of short-time assignment and sometimes single businessmen or internships, this kind of opportunities is rarely missed! Old timers like me, however, prefer enjoying sunsets at happy hour time with good friends!
Here ends my visit of one of the most interesting and also exciting buildings on the Bund. It is a perfect symbol for an ever changing and surprising city. Hope to see you there next time!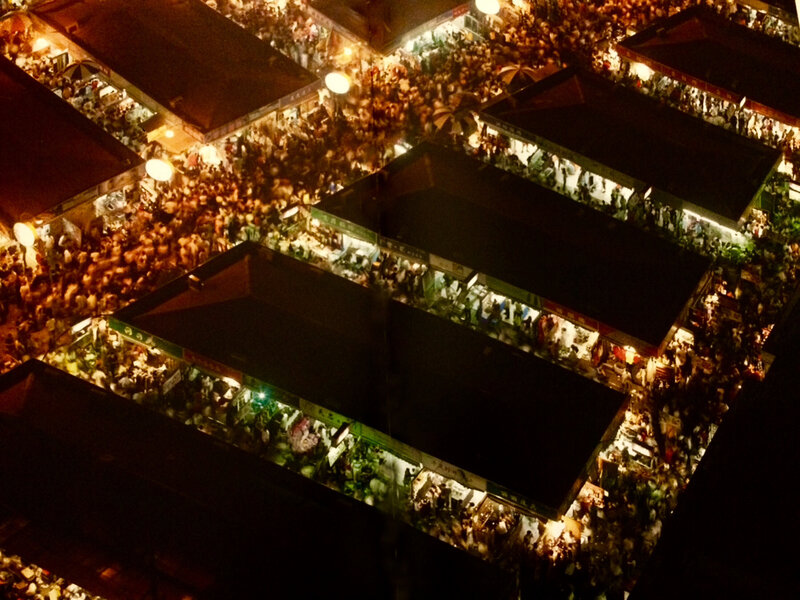 Halloween is coming, so let's talk about ghosts for a while. When I arrived I Shanghai, I bought a photo album in which there was a big night picture of the Xiang Yang market (photo left), a sort of open air market common in Asia where people get cheap clothes and copies. Unfortunately, at the time I bought the book, this place was already gone as construction of IAPM shopping mall had begun. This is one exemple among others of how fast Shanghai changes and how almost impossible it is to keep updated with its latest transformations when you leave it. Restaurants and shops keep changing names or owners. However, I think it interesting to focus on this part of the city for a while as it has a rich history.
Countryside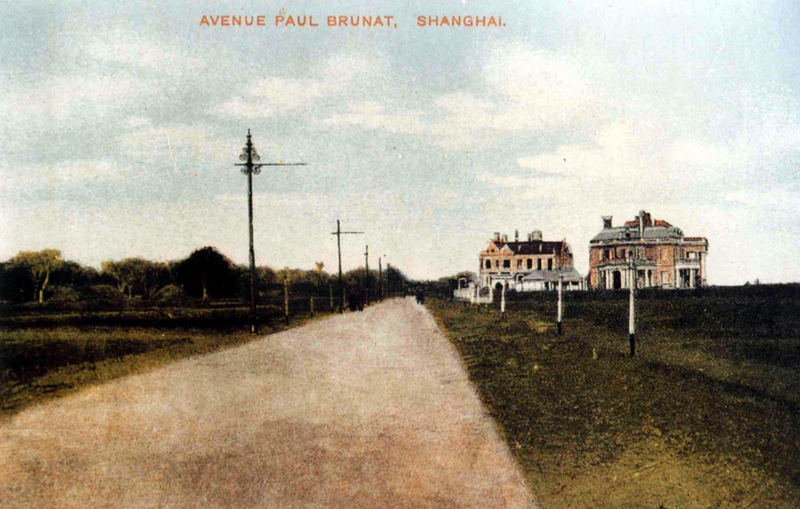 Let us go back to the early years of Western Shanghai and realize that there was no city at all there before 1914, the year of the last extension of the French Concession. At that time however there were country houses like the one of the Chinese Customs off Fenyang Road (still standing) or the German Country Club which was later replaced by the Cercle Sportif Français, today the Okura Garden Hotel. Close to today's Changle Road, there were a few private Chinese mansions and even farms, which some can still be spotted today, although there are now squeezed in narrow lilong alleys.
Little Russia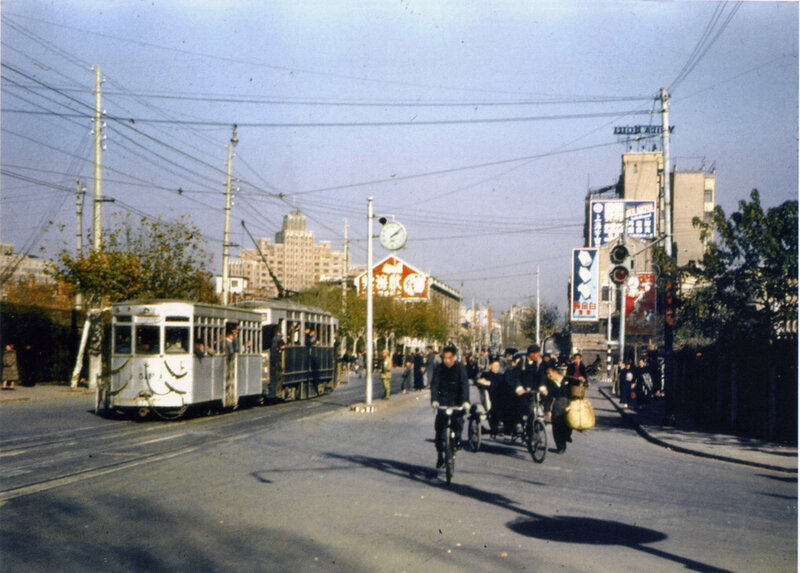 Then urban development really started in the early 1920s as loads of White Russians defeated by the Bolcheviks rushed into town. Most of the them could at least understand French which was spoken by the elites at the Czar court and therefore could easily adapt. This area soon became known as "Little Russia" and Avenue Joffre started displaying rows of wooden barracks on both sides including bakeries , beauty parlors, cafes or restaurants. In the 1930s, on the location of today's IAPM shopping mall, the Weida Hotel was built in Art Deco style by Chinese architect Paul Li Pan, also known for the Yangtze Hotel near the race Course (on the right on photo). It had eight floors, was decorated in elegant zigzag style, like style existing Yangtse Hotel and was famous for its both dancing hall on the first floor and the wonderful terrace overlooking Avenue Joffre. Most photos of this area in the 1930s 1940s were actually taken from there!
Entertainment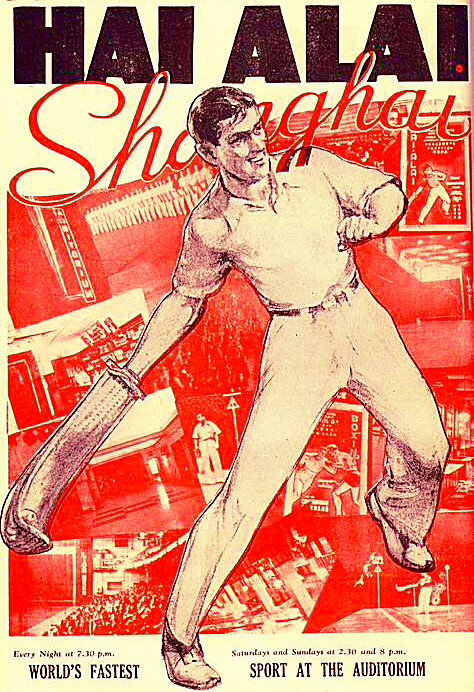 The main attraction of this section of avenue Joffre, however, was the Auditorium, a giant sports hall dedicated to Basque ball game also called Hai Alai and run by a French former accountant and now nicknamed by the British "The uncrowned French King of Shanghai", Felix Bouvier, who also owned the Canidrome, the dog racing track, today's Culture Square. This amazing place located at the junction with rue du Roi Albert (Shaanxi South Road) used to organize Basque ball games every single day of the week, showing Mexican, Filipino, Spanish or Basque players.The high speed of the hard ball, thrown with help of a chistera, a long basket (see on photo) and hitting the fronton made each game an exiting show for the large audience, protected by a high metal net from the potentially deadly projectiles. It attracted loads of gamblers, the most passionate being the Russians and the Chinese, who made the fortune of the owner. It has been later turned into a sports club and finally torn down to make way to "Paris Spring" (巴黎楚天)shopping mall some ten years from now.
Concerning Xiangyang Park, facing former Weida Hotel, I recently had online discussions with friends also passionated with Old Shanghai as this one has been renovated. On an historical sign at the entrance of the park, Shanghai authorities explain that there used to have tombs in it and that locals opposed the project of a children's playground by the French. The place was actually for long an open space in the middle of the expanding city. Late 1930s plans by the Conseil Municipal Francais to build there an administrative center designed by famous Shanghai architect Paul Veysseyre were stopped when Japan invaded China. There was indeed no more budget for new projects as uncertain times were ahead. It therefore remained a park during all these years, having its name changed several times according to the political context of the moment.
Like Jingan Temple area , this part of the city has definitely being turned upside down since the early years of Shanghai, to a point that it is hard to figure out its previous layout. However if you listen carefully, you might still hear the hammering sound of thick Hai Alai balls on the fronton under today's Paris Spring shopping mall or even the chanting of White Russians choirs coming from Mission Church on Xinle Road. Who knows? Ghosts are everywhere. Happy Halloween to all!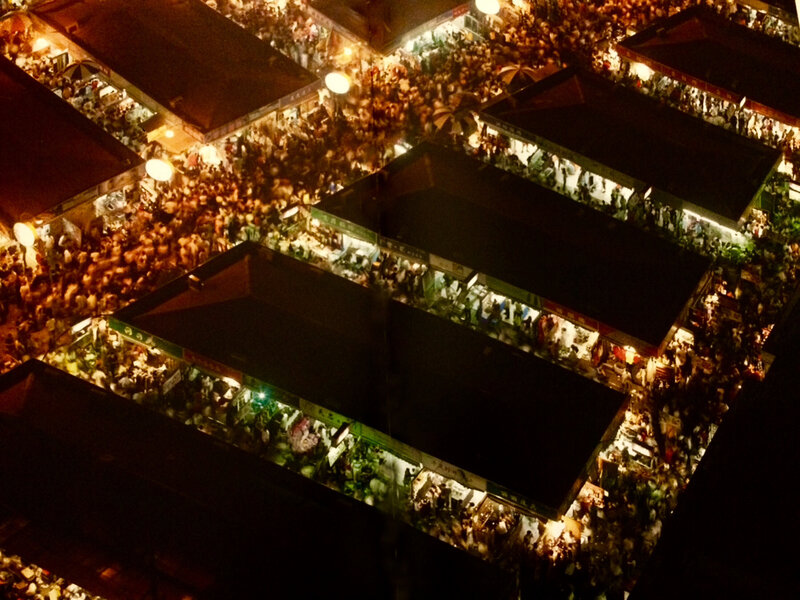 Halloween arrive, aussi parlons de fantômes. Lorsque je suis arrivé à Shanghai, je suis tombé sur un livre où se trouvait une photo de nuit du marché de Xiang Yang. Il s'agit de cette sorte de marché en plein air que l'on trouve en Asie avec des copies et des vêtements bon marché. Or, à la période où j'ai acheté ce livre, il avait déjà disparu, remplacé par les travaux du shopping mall IAPM. Ce n'est qu'un exemple des changements qui ne cessent de s'opérer à Shanghai et qui font qu'il est quasiment impossible de reconnaître certains quartiers après les avoir quittés. Restaurants et magasins changent de nom ou de propriétaires. J'aimerais pourtant m'attarder sur cette partie de la ville tant son histoire est riche.
Campagne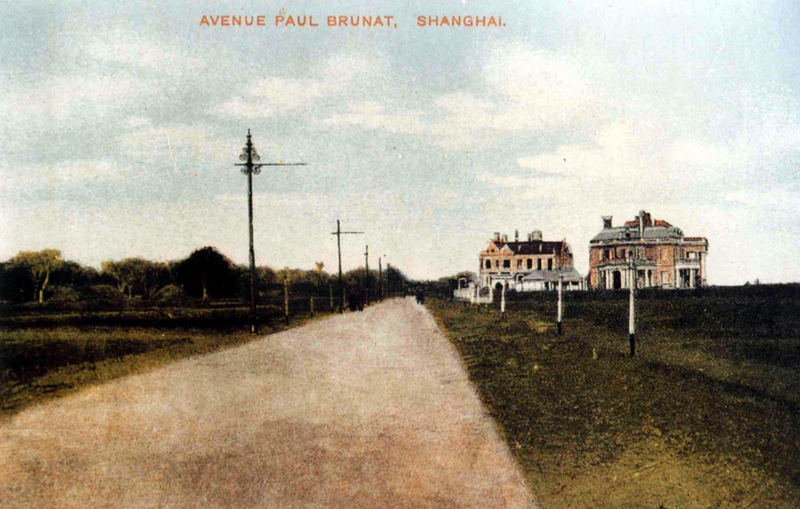 Si l'on remonte aux origines, on se rend compte qu'il n'y avait pas grand chose avant 1914, date de la dernière extension de la Concession Française. A cette période, seules quelques maisons de campagne rompaient la monotonie. Par exemple la maison de campagne, encore visible, des Douanes Chinoises, sur Fengyang Road ou le German Country Club, remplacé ensuite par le Cercle Sportif Français, aujourd'hui Okura Garden Hotel. Près de Changle Road, quelques villas Chinoises et même des fermes peuvent encore être admirées, bien que perdues dans les lilongs.
Petite Russie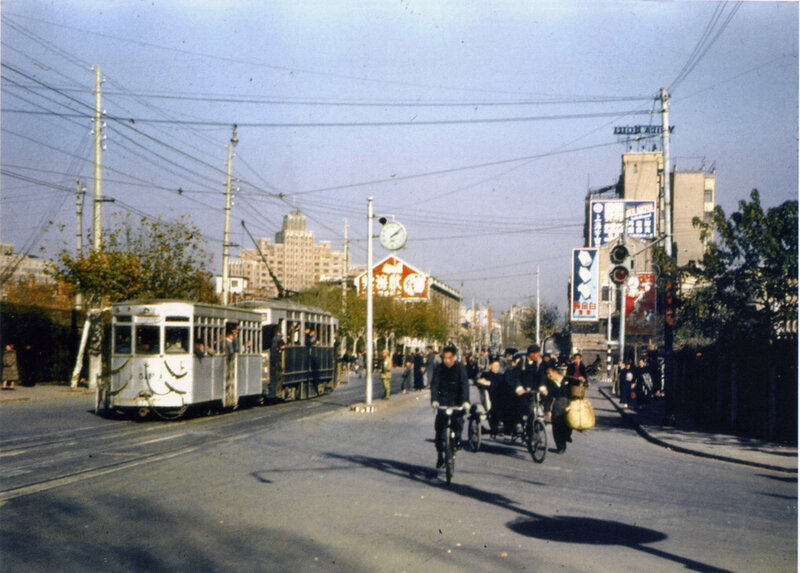 Le développement urbain a surtout commencé dans les années 20, lorsque les Russes Blancs vaincus par les Bolcheviks ont déferlé en ville. Comme beaucoup comprenaient le Français parlé à la cour de Tsar, il leur était facile de s'adapter. Cette zone devient alors connue sous le pseudonyme de "Petite Russie" car l'Avenue Joffre (Huai Hai Road) est rapidement bordée de barraques comprenant boulangeries, salons de beauté, café et restaurants Russes. Dans les années 1930, est construit à l'endroit même de la gallerie IAPM actuelle le Weida Hotel (à droite sur la photo), un batiment Art-Deco dessiné par l'architecte Chinois Paul Li Pan, connu aussi pour le Yangtse Hotel, près du Champs de Courses (People Square). Celui-ci s'élève sur huit étages, est décoré de motifs en zig-zag et devient réputé pour sa piste de danse au rez-de-chaussé ainsi que sa terrasse de toit qui domine l'Avenue Joffre. La plupart des photos de ce secteur prises dans les années 1930 et 1940 le sont de ce point haut!
Divertissement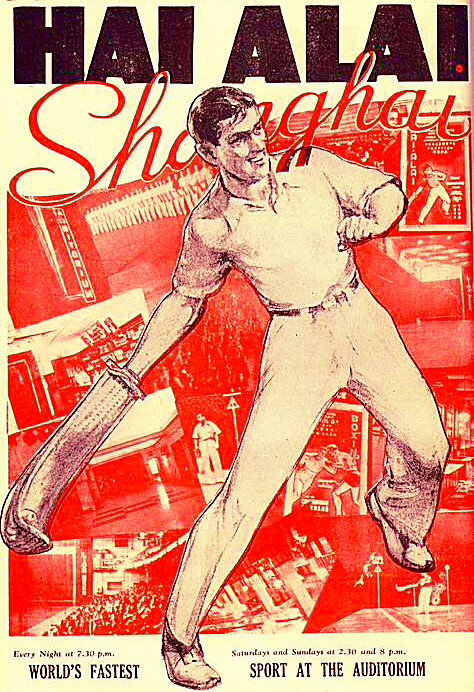 La principale attraction de cette partie de l'Avenue Joffre, cependant, est l'Auditorium, sorte de Palais des Sports à l'angle de la rue du Roi Albert (Shaanxi South Road) qui se consacre pour l'essentiel à la pelotte basque, appelée Hai Alai. Cet établissement est tenu par un Français, Felix Bouvier, un comptable reconverti dans les affaires et surnommé par les Anglais "The uncrowned French King of Shanghai", eu égard à sa nouvelle fortune. Cette salle aux dimensions exceptionnelles met en effet quotiennement en scène des joueurs Mexicains, Espagnols, Basques ou encore Philipins. La vitesse de la balle dure, lancée sur le fronton à l'aide de la chistera, sorte de panier long, produit un bruit sec et violent qui enflamme le public, principalement Russes et Chinois qui n'hésitent pas à parier des sommes folles. "La balle peut tuer", entend-t-on parmi les spectateurs massés derrière le grillage de protection métallique! Cet endroit deviendra par la suite un gymnase, puis sera remplacé, il y a une dizaine d'années seulement, par le magasin "Paris Printemps" (巴黎楚天).
Concernant le Parc Xiangyang, en face du Weida Hotel, j'ai récemment discuté avec d'autres passionnés du vieux Shanghai, rapport au fait qu'il vient tout juste d'être rénové. Il semble, si l'on en croit le panneau installé à l'entrée du parc, qu'il abritait autrefois des tombes et qu'à un certain point, les habitants Chinois se seraient opposés à la création par les Français d'un terrain de jeux pour enfants. En fait, cet espace est toujours resté vierge de batiments, au centre de la ville en plein développement. A la fin des années 1930, le projet d'édification d'une cité administrative par le célèbre architecte Paul Veysseyre pour le Conseil Municipal Français a du être abandonné suite à l'invasion de la Chine par le Japon. En effet, plus question de grandes réalisations dans un environnement devenu incertain. Cet endroit est donc resté un parc, changeant plusieurs fois de nom, au gré du contexte politique du moment.
Comme le secteur de Jingan Temple, cette partie de la ville a été complétement réaménagée depuis les origines de Shanghai. Toutefois, si vous écoutez attentivement, peut-être percevrez vous encore le claquement des pelottes basques et les cris des parieurs du Hai Alai dans le magasin Paris Printemps ou encore les choeurs des Russes Blancs provenant de la l'Eglise de la Mission Russe sur la rue Xinle. Qui sait? Les fantômes sont un peu partout en ce moment, alors joyeux Halloween à tous!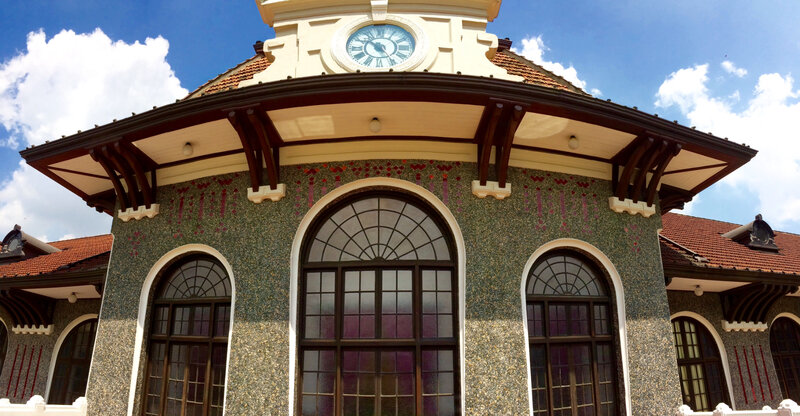 I sometimes wonder why I love Shanghai so much. This has probably something to do with nostalgia. Indeed when I compare Shanghai with other cities I equally (or let's say also) like, Istanbul will immediately come to my mind, then Tbilissi, Budapest, Paris, Rome, Mumbai, Berlin, Qingdao, Harbin,... quite a long list actually! All these amazing cities, although not as big as Shanghai, have all something in common: They tell us about history! In most of them, traces of the most often brilliant past still exist today and are part of a visible evolution, leading us to the future. I guess I like change but not the erratic kind. Integrating past culture heritage sites as a source of pride for the present in an harmonious way is what characterizes all cities.
When reading Orhan Pamuk's essay "Istanbul, Memories And The City", I noticed he frequently refers to the Turkish word "hüzün", which he says is definitely connected to the spirit of Istanbul. "hüzün" could be translated by "nostalgia" or "melancholy" but it has more to do, with memories of glory days. Definitely when you stroll in the streets of Yenikapi, on the southern side of Topkapi Palace, you feel the presence of the glorious past of the city while watching the wonderfully decorated, though sometimes falling into pieces, "yalis", those wooden houses built for noble families (photo nearby). Pamuk says that old Istanbulites like to think of themselves as invested of this past which they think will never return. The word "hüzün", coming from Arabic is often used in the Koran to define a feeling of a lost direction after a period of strong beliefs. This last aspect is probably specific to Istanbul.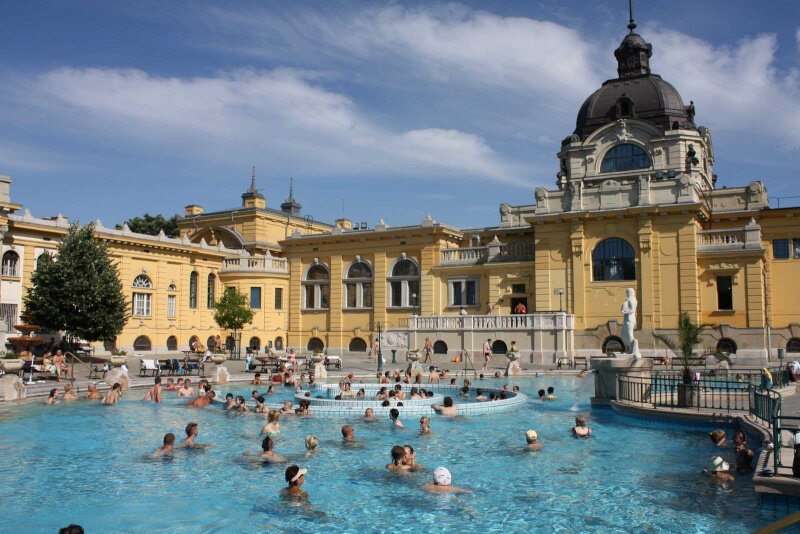 In Budapest too, you feel the past as a part of the daily life, when walking in the still bearing WWII bullet holes Art Nouveau buildings or when having a hot bath with friends at Széchenyi (left photo), this wonderful 1913 thermal resort. These places are definitely inspiring for today's Budapest residents as they are signs of their capacity to accomplish great things or stand up during difficult periods of history. At the same time, this past also brings beauty into their daily lives. Among the cities I recently visited, Tbilissi probably bears a specific status. Like Budapest or Shanghai, communist management tried to eradicate the city's specific history. Even the country of Georgia did not exist anymore at that time, being integrated in the Soviet Union and the names of the streets were all changed after Soviet heroes. However, It was not long for Georgian people to come over this episode and find again their identity. Georgian language was officially used again and many deteriorated monuments restored.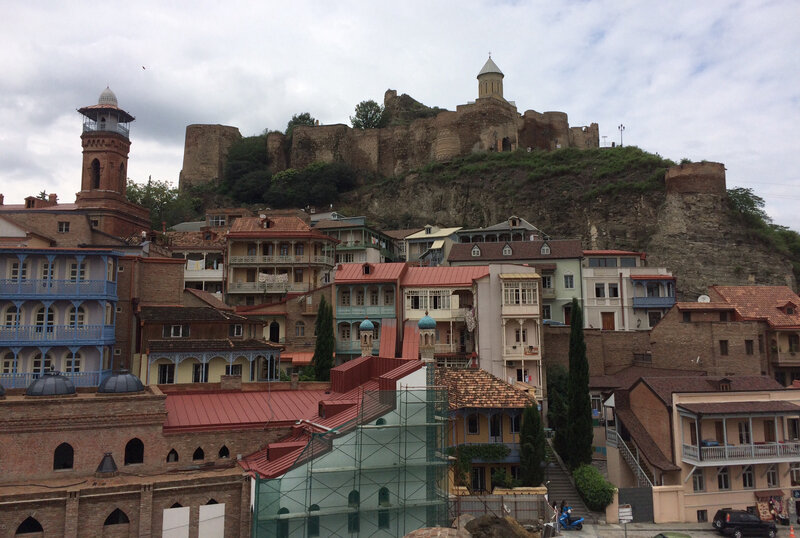 Today's Tibilissi is a confident and endeavoring city, where past, present and future do coexist. Old streets with caravanserails have been turned into pedestrians ones with cafes, open air jazz music, right at the the feet of the sixteen centuries old Nariqala fortress. Close to the oldest bridge in town on which Christians were thrown into the river by the Turks for refusing to convert to Islam, now stands a brand new computer-designed passerelle in the shape of a giant insect! Today, the "soul" of Tbilissi lies in the multiple churches, Armenian or Georgian, synagogues and old style stone houses on the hills as well as in the light and joyful way of life!
Coming back to Shanghai, I can see some dramatic changes, those not always to my taste, but I am still excited to live in a place where past is integrared into present. Peace Hotel on the Bund or Former French School (first photo) on Nanchang Road for exemple bring this old luxury beauty into today's nouveau riches environment. The city infrastructures of course keep improving for the benefit of all but this urban development preserves a large part of the existing historical wonders. Shanghai and the cities I mentioned are outstanding places where the newest trends and fashion can go together well with culture heritage.
So let's enjoy this wonderful feeling of mixture of nostalgia and excitement for modernity. As a good friend of mine who will certainly recognize himself here often puts it, "Nostalgia is not what it used to be"!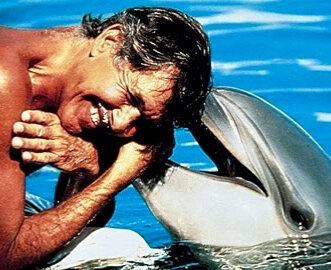 As the biopic on oceanographer Jacques Cousteau featuring Lambert Wilson in the main role, "L'Odyssée" is about to come out in France, I cannot help myself from thinking of another deep ocean lover who was born in Shanghai: Jacques Mayol. Jacques Mayol is known all over the world from Luc Besson movie "The Big Blue" (last photo) which was inspired by his life. He was the son of a French architect living in Shanghai, Laurent Mayol who used to work for the French delegation in the 1920s 1930s. I could not figure out if he was collaborating with famous French architect Paul Veysseyre who made the Cercle Sportif Français but they surely knew each other as the French community was a small one of merely 2000 people and the French architect group even smaller.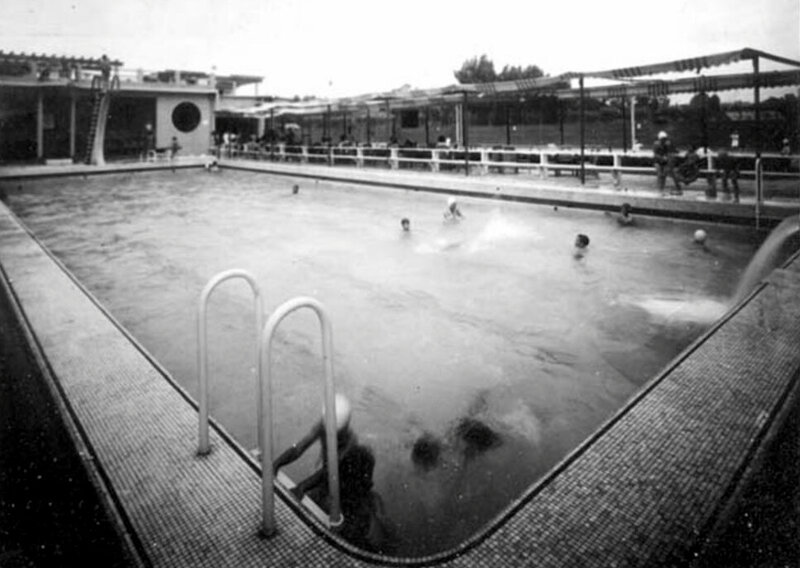 Jacques Mayol, the second son of Laurent Mayol, was born in 1927 on April Fools Day, which could be seen by some as a sign for his unusual character and destiny. As his family was making well, young Jacques Mayol was raised in a comfortable environment . He got his first swimming lessons at the age of 3 and used to train at the ASF Association Sportive Française swimming pool on 68 route Dufour (today Wulumuchi South Road, photo nearby) when this one was created in 1936. As I went there two years ago, all traces of it had disappeared and the former swimming pool had been turned into the basement of a brand new luxury residence. Jacques Mayol however discovered ocean diving at the age of six when his parents took him on holiday to Karatsu, a Japanese seaside resort, North of Nagasaki, where he would swim everyday at the long sandy beach bordering the Niji-no-Matsubara pinetree forrest.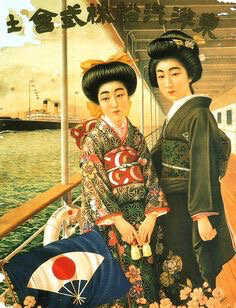 This is there that he saw his first dolphin as he was swimming near the seven caves of Nanatsugama. The Mayol family used to go regularly there as there was a regular ocean liner (see nearby poster) serving Shanghai and Nagasaki which was used by wealthy foreigners to visit cities in South Japan. The family used to rent a wooden ryokan-style room near the beach in Azuyama hotel. When the military regime became more unfriendly to Westerners in Japan at the end of the 30s, the Mayol however stopped going there.
In 1939 they went back to France, pushed by the Sino Japanese war, which made most of French administrative construction projects come to a standstill (the project of a new Conseil Municipal Francais building on today's Xiangyang Park was given up at that time). When they arrived in Marseilles, the final destination port from Shanghai in France, they had no other choice than stay there because of the war starting with Germany. Their life became much more difficult than during the Shanghai expats easy days. At that time, Jacques used to dive with his brother using old tires to make masks and bring back some fresh fish for the family. On these occasions, he got acquainted with Albert Falco, another experimental diver in Sormiou Callanque near Marseilles. This one would later become famous for being the Captain of the Calypso RV, Jacques-Cousteau's oceanic exploring boat.
At that time, Jacques Cousteau, 17 years older than young Mayol, was precisely sent to Shanghai on a mission as a French Navy Intelligence Officer. He then made it back to Marseilles to fight against the Italians on a French warship. I am particularly excited by the fact that the two cities of Marseilles and Shanghai that I love so much are connected to the destinies of two men I admire. In 1944, Mayol left France for Morroco to enlist in the Air Force and pursued his free diver career when the war was over. He lived in Sweden for a while where he met with his wife then in Florida where he experienced living among dolphins. He started to dedicate his life to research on connections between sea animals and men, discovering the "bloodshift", the capacity for human blood to resist high pressure without damage, just like dolphins and seals do.
He used yoga meditation techniques to improve his own body performances (he could lower his heart beat from 60 to 27 beats/min while diving, like sea mammals do by reflex), searching to develop the full potential of human aquatic origins. In 1976 he became the first man to reach 100 meters without air. It is not clear whether he ever returned to Shanghai but he surely went back several times to the ocean diving sites of his childhood in Japan. There, he became close to the local divers community. A memorial plaque is still to be seen in Yonaguni, where he helped on the exploration of a historical undersea site. Jacques Mayol comited suicide in 2001, in Elba, Italy, his last retreat. Those who met him remember a agreeable and patient character, fascinated by nature and dolphins which he actually could communicate with.
To become a homo dolphinus, as he used to call himself, Jacques Mayol pushed his physical and mental limits to a point that was never achieved since.
When famous journalist Albert Londres meets Father Jacquinot in 1932, this one is helping victims of the Sino-Japanese fights in Chapei (Zhabei today). The reporter is surprised by the unusual look of the priest. "Father Jacquinot wears glasses. His neatly cut beard has not the usual shape of missionaries. He has one hand missing. The shabby look of his cassock definitely indicates he has not only been in a church. I wonder if Saint Peter himself would accept him in such a miserable look." Albert Londres''s sharp eye got it right once more: Father Jacquinot is no ordinary priest: He is a headstrong! At the time of their meeting, Robert Jacquinot de Bessange is 54 years old and he has already been in China for 19 years. He actually did not choose and even was reluctant to come to China as reveals a letter to his superiors, explaining he would rather stay in France to look after his ill mother. She would finally decease just before he left for Shanghai. The fact is that during his 37 years staying in Shanghai, the Jesuit priest's restless work and assistance to the victims of disasters and wars will be decisive!
The Jesuits in Shanghai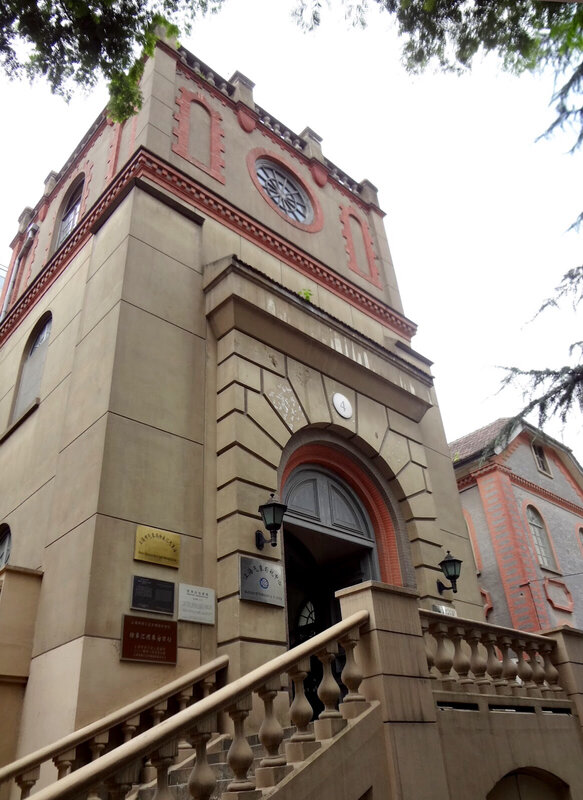 Jacquinot de Bessange is a member of the Society of Jesus, created in 1540 by Spanish origin Ignatius Loyola in Paris. The Latin motto of the Jesuits is "Ad majorem Dei gloriam" meaning "For a greater glory of God". This order will soon specialize into evangelization and education missions, especially in the newly discovered territories of the time (watch the Roland Joffé movie "Mission" with Robert de Niro). Compared to the usual training of a catholic priest, Jesuits receive a much longer formation including philosophy and science. This aspect became a source of debate and sometimes temporary ban of the order by the Vatican during its history. The approval of Galliean theories coupled with the refusal of Copernicus system for instance resulted into disputes among scientists along the 17th century. In China at the same time as Father Jacquinot, the Jesuit paleontologist Teilhard de Chardin wrote a book called "The Phenomenon of Man" which challenged some parts of the Bible. It was consequently banned by Rome! However, the contribution of the Jesuits to the development of China is huge! When Matteo Ricci, the first Jesuit in China, arrives in 1582, he is quickly considered as the equal of a Mandarin, as regard to his impressive knowledge. He will train many disciples such as Xu Guangqi, whose family will donate grounds in Zikawei (today Xujiahui in Shanghai) to the order. At the 19th century, Jesuits coming with the opening of Shanghai used these grounds to build an observatory (photo above), a scientific library with some 30000 volumes, a workshop, a university and a printing house. This center soon became as a small Vatican in South China! No wonder that Albert Londres was impressed by the independent and critical spirit of Father Jacquinot de Bessange we he met him. This was partly due to his Jesuit education, but not only!
An outstanding personality
Most people who actually met with Father Jacquinot mentioned his strong charism. He was a tall man who, unlike other Jesuits in China who wore Chinese style clothes with a small silk tiara (at least before 1920 in the cities), always showed out with the French beret on his head! He could be seen sitting in trams with humble Chinese and the minute after discussing with the city notables or political leaders. Another characteristic was his talent for languages. He was of course fluent in Shanghai dialect like other Jesuits teaching in Shanghai, but Jacquinot also spoke perfect English (we see him nearby as a chaplain for the Shanghai Volunteer Corps) and Japanese. These skills made him a key figure for solving humanitary crisis during the Sino-Japanese conflicts later. Actually Father Jacquinot was trained into languages early as he had to study in England when the Jesuit Order got into trouble because of the French secular policy of Minister Jules Ferry. He studied philosophy in Jersey and was finally ordinated a priest in Hasting, Sussex. When he eventually came to Shanghai, he took the head of the Holy Heart parish in Hongkou, which counted 7000 Macanese origin christians. This part of the city was also called "Little Tokyo" because of the presence of some 30000 Japanese. This is why the priest became familiar with the Japanese language. Between 1913 and 1921, he also taught at Jesuit Aurora University, in the heart of the French Concession. During a chemistry class, he blown his right arm up, while trying to make fireworks. He became then know in Shanghai as "the one-arm priest"

When discovering Shanghai Bund marvels, one is often told about the Shanghai Club Long Bar. This actually used to be the meeting place in the 1920s and 1930s for the British elites, but not only them, as the Club was open to foreigners. It was however closed to Chinese citizens and to women who were only invited once a year!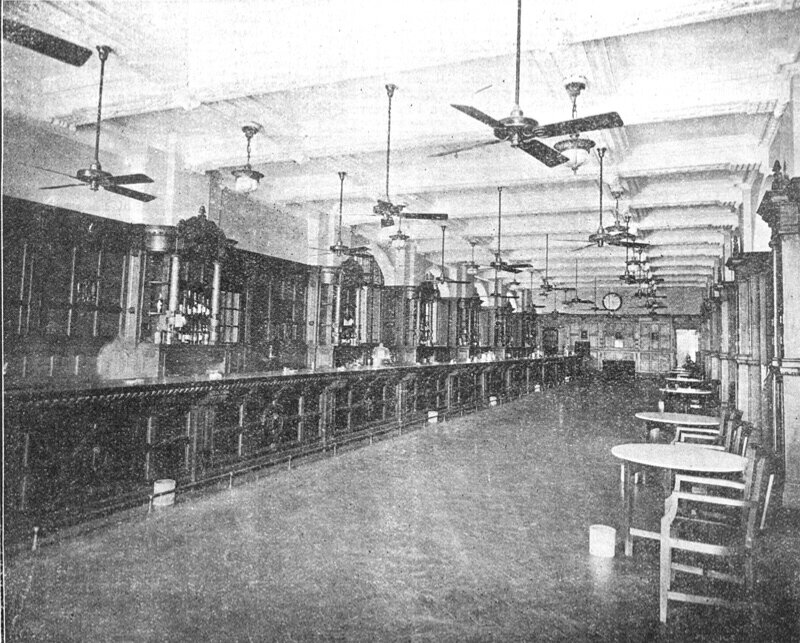 The first Shanghai Club, now part of the Warldorf Astoria Hotel, was built in 1864 to provide the newly arrived group of British businessmen with an exclusive place to meet and discuss current affairs, on the very model of clubs in England. Admission fee was not a fix one, which meant the higher you pay, the more chance you had to become a permanent member. Candidates had to submit three months in advance and be introduced by a minimum of two long time members. The ballot used white and black balls with one black ball in five excluding. The unlucky candidate was then "blackballed". One of these unfortunate, though very rich, applicants was Victor Sassoon, who finally preferred to put his money into a new type of venue, today's Peace Hotel.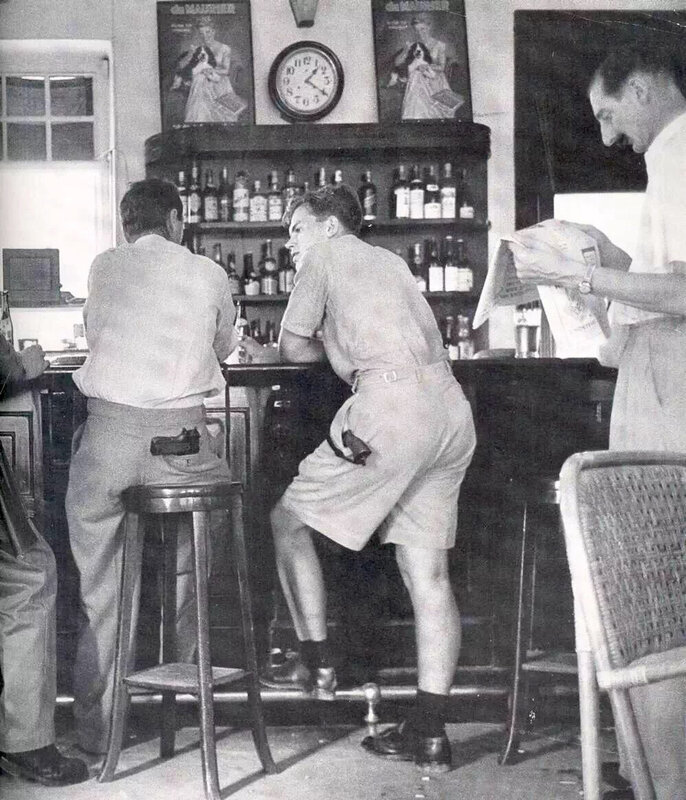 Let us go back to our long bar topic. This one was created inside the club house in 1911, when the new Shanghai Club was built. The oak paneled bar was extending its 110 foot 7 inches length on the whole South side of the building. It very soon became a social status barometer, as lower position executives or new comers in town called "griffin" had to in the dark remote side of the bar, the side facing the Bund being reserved for more senior members. The word "griffin" designated a Mongolian young pony horse, not tamed yet. The tradition was to wait one year, one month, one day, one hour and one minute to become a real "Shanghailander"! When traveling to Asia, I was surprised that the club and bar culture inherited from the British had survived. There is a famous long bar too in Singapore Raffles, similar bars in Tianjin Astor House, Rangoon's Strand Hotel, etc... In Kuala Lumpur, I found the Coliseum Cafe (photo right) quite typical. Most of these places still have their sometimes original ceiling fans, slowly bracing the air while you are having a nice evening drink. So it is rather easy to travel in time there!
The most popular drinks in those days were scotch or gin, as they were easy to ship long distance, although some old colonials claim they were meant to kill tropical germs! Above cartoon by Austrian Jewish immigrant Friedrich Schiff shows westerners at the Shanghai Club Long Bar with the title "the longest bar in the world". This slogan, as attractive as it is, cannot be less true. The longest bar in the world in the 1940, when this drawing was made, was probably the one of Mexicali Beer (last photo below) in Tijuana Mexico, stretching its 231 foot-length from the early 1920s already. In 1938, another serious competitor was the Mildura Working Man's Club in Victoria, Australia, with 299 feet, although this one was T-shaped! Anyway the Long Bar of today's Warldorf Astoria is far shorter than the original, since it has been cut in half in 1956 when the place became a Seaman's Club. The remains of the bar were then used to serve greasy chicken feet in 1990 at the opening of Shanghai first KFC (left picture of Chinese dressed in workers white shirt enjoying their first American food!). Still, there are many stories floating around the bar like reports of occupying Japanese troops having to shorten the Club billiard tables to play at ease or famous characters like John Keswick, the head of Jardine Matheson Company (now House of Roosevelt on the Bund), who used to come here. These are stories which still resound in modern Shanghai and confer the Long Bar the status of real urban legend!
Bibliography:
-Shanghai, a handbook for travellers, Darwent, Charles Ewart 1920
-The Bund Shanghai, China faces West, Peter Hibbard, 2007
- A last look: Western architecture in old Shanghai, Tess Johnston, 1993
- Site Virtual Shanghai, Christian Henriot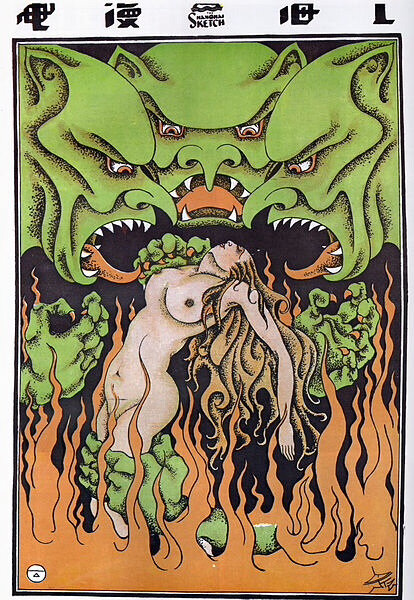 It's been a while I wanted to write about Shanghai Sketch, this Shanghai 1930's famous magazine. Shanghai Sketch (上海漫画 or Shanghai Manhua, nearby) was founded in 1928 by a group of eleven artists including Ye Quanyu, Huang Wennong, Lu Shaofei, Zhang Guanyu and Zhang Zhenyu. One of the sponsors was Shao Xunmei, the Chinese and highly controversial lover of Emily Hahn. From the very beginning, it used erotic pictures or dramatic scenes on its front page to attract readers' attention. Inside the magazine, one could find a very modern type of articles for that period, discussing contemporary art or depicting the Shanghai dancing scene. The influence of Surrealism or Freudian psychology is obvious on some of the magazine covers, reflecting a taste for western most unconventional forms of arts or scientific points of view. Articles on American-born singer Josephine Baker's naked performances or comic strips depicting the new Shanghai bourgeois-type life style also contributed to a vivid atmosphere of urban culture. In its particular way, this magazine stood for a symbol of its time. It appealed to the intellectuals elites of this fascinating period who looked for new references for their daily lifes. However, following a dispute, a large part of the initial team left the magazine in 1930 in order to create another one called Modern Sketch (时代漫画 or Shidai Manhua, below).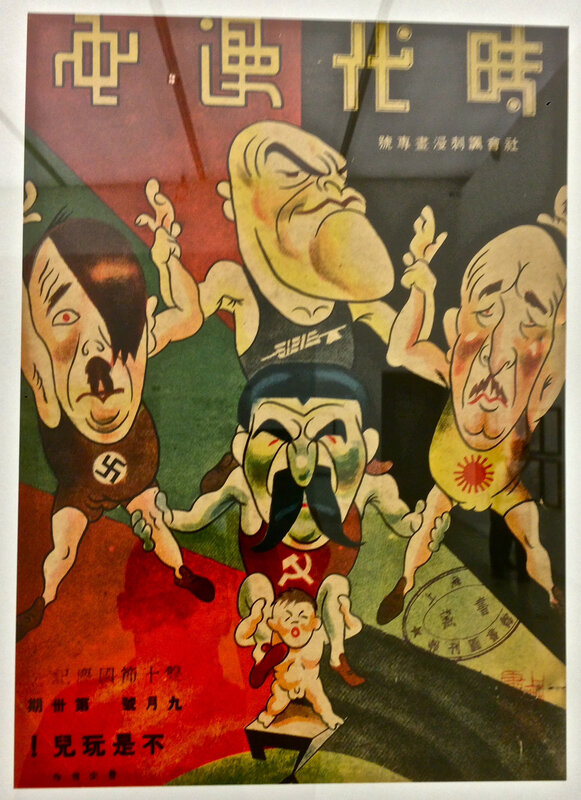 If I were to find a French equivalent to this Chinese magazine, I would quote "Hara Kiri", although this one was born in a quite different period, in the years following the 1968 student revolt in Paris. However, the focus was the same: to present the readers with rather unconventional articles, use hand sketches to catch the attention and challenge the morals of the time. This period was also one of profound renewal in France when younger generations were eager for social and cultural changes. Quite like Chinese intellectuals in the 1930s! However, the artistic value of Shanghai Sketch is by far higher than this French satirical magazine. Its Art Deco covers were indeed a manifesto in favor of modernity and they are often used to illustrate books and publications about Shanghai crazy years. The world of dance and the power of "wunu" (dance hostesses) on male partners was part of the exciting background of this very innovative and colorful magazine.
So after decades of standardization in Chinese society, flipping into 1930s Shanghai Sketch copies is still a rare and exclusive pleasure! Real modernity is not a matter of time or period, it is an attitude which is never out of fashion!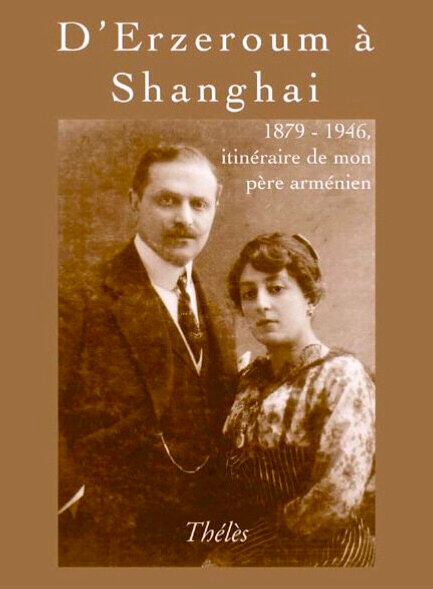 After traveling to Yerevan Armenia this summer, I got extensive information about the Armenian genocide occurring from the end of the eighteenth century in Turkey to the early nineteenth century. During this period some 2 million Armenian people were slaughtered, walked to death and tortured by Turks and Kurd militias working with them. The peak of this period was 1915 corresponding to the rise of the Young Turks party in the former Ottoman Empire. This very sad episode is still denied by many countries which sometimes want to preserve their relations with Turkey. Among the famous Shanghai merchants in the Former French Concession was a company run by one of these families having to flee the Turkish massacres. This famous brand was called Tchakalian Brothers and was held by Pierre Tchakalian and relatives. Located in many strategic spots in town, there were fine bakeries providing delicate cakes as well as prepared food. The most famous of the Tchakalian shops was the one located right in front of the Cathay Cinema, as original photo bellow shows, on today's Maoming Road. For three decades of Shanghailanders, the Tchakalian Bakery was the indispensable stop after an afternoon of shopping on Avenue Joffre (today's Huaihai Road) or a movie at the Cathay Cinema.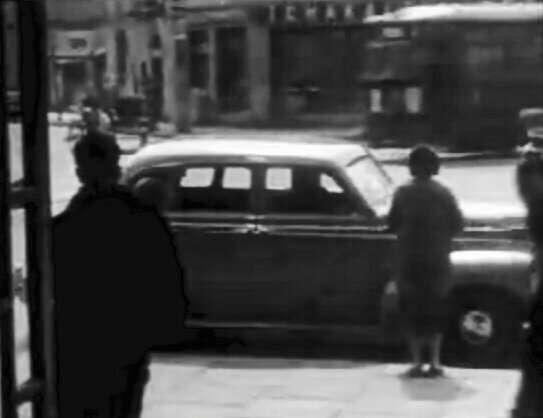 It was somehow an equivalent of today's Hediard in Paris Place de la Madeleine. When attending class at the College Municipal Français on Route Vallon in the 1940's, author Liliane Willens recalls meeting two of the sons of Pierre Tchakalian, "one of them was rather good in sports she says although he was older than me". I long asked myhelf if there were some traces left in today's Shanghai of the Tchakalian bakeries. Actually the former Tchakalian bakeries are still opened, except may be the one on Huaihai Road which is now replaced by Uniclo Shop. They are still called "Lo Da Chang" (老大昌) their original Shanghainese name and also propose western recipes like the fruit cake or palm shaped biscuits, actually tasting very much like the Parisian ones.
The reason for these bakeries being still operating is explained in the book written by Pierre Tchakalian's son Jean, who had his name changed into Chaland to sound more French. He writes that his grandfather Krikor had to leave his bakery in Erzurum in the East of Turkey in 1896 to escape the massacres led by the new Sultan Abdul Hamid against Armenian Christians. The family could reach Ekaterinbourg, in the Russian Empire which was less hostile to Armenian people. They stayed there for a couple of years, Krikor working as accountant to sustain the family. Then they could reunite with a cousin who had a flour mill in Harbin along the Chinese Eastern Railway.

In 1903, Krikor's son called Bedros was 24 and made his way to Shanghai, then a promising developing city. He got a job in a French company, Mondon & Co, which imported French fine wines and champagne. In 1911 however, he left Shanghai for France where his employer retired and later returned to Russia. There, he got married and had a first son. In 1917, the Bolchevik unrest pushed the family to head for Shanghai again. Bedros, now called Pierre, started his own business of bakery which became rapidly successful.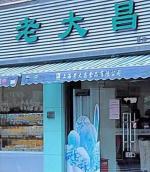 The family extended to three more sons, who were all educated in French and Pierre received himself the French nationality in 1932. As his health was declining, he started an association with cousins, freshly installed in the French Concession. This association turned to be a disaster, ending with the sale of the company to Chinese debtors. Pierre died from illness in Shanghai in 1946 and in 1949, the business was naturally seized by communist authorities. Today, Lo Da Chang is still renowned among Chinese who often queue outside the shop on Nanchang Road for "Old Shanghai style yogurts". While doing this, they also pay tribute to an once Armenian immigrant called Pierre Tchakalian!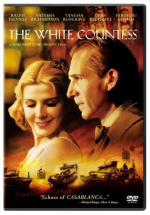 I recently watched the movie called "The White Countess" with one of my preferate actors, Ralph Fienes (Voldemort in Harry Potter, The English Patient, The Constant Gardener, Schindler List...). This movie is about White Russians in Shanghai 1930s, telling the story of a former Russian noble lady obliged to work as a bar hostess. Although the story itself is of little interest, it is probably the first time I watch such a precisely and well documented movie about Shanghai 1930s. The background is the White Russian immigration that followed the Russian revolution which led some 20000 destitute czarist Russians, most of them coming from Harbin to find refuge in Shanghai. Their condition was often quite miserable, former military men working as hotel doorkeepers, bodyguards or police assistants. Women sometimes became prostitutes to survive, which somehow damaged the status of the ruling white race.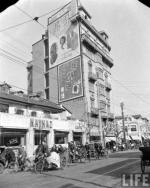 At that time Huaihai Road, former Avenue Joffre in the heart of the French Concession, was called "Little Russia" as most of the shops, bars and restaurants were named after Russian names (nearby photo credit Katya Knyazeva). Today still we can find traces of this heritage through former Russian orthodox churches (St Nicolas in Gaolan Road or the cathedral on Xinle Road) or restaurants like Deda Cafe still serving borscht. Maoming Road has also kept the tradition of Russian taylors from the 1930s who used to maintain dresses from Saint Petersburg up to the fashion of the day. Today the street however mainly sells Chinese dresses or suits. Seldom shown character is singer Alexander Vertinsky represented in the famous role of "Black Pierrot" (photo bellow) singing traditional romantic Russian songs, although this costume was probably an earlier one.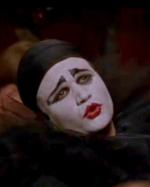 The effort of the director James Ivory to quote night life existing cabarets is remarkable. Evocation of the Jazz dancing scene with the first Chinese or black American orchestras is also admirable. The famous Chinese singer Yaoli even sings "Rose rose I love", an hymn to Shanghai nightlife in the 1930s during one of the bar scenes! At some point, Shanghai race course (today People Square) is shown. The French, although caricatured like in most American movies are also represented. Jewish families mixing up with Chinese locals, the Bund British companies civil servants, etc...Movie decoration fits the Art Deco style of those years and many scenes have been shot in real places like the ballroom of former Cathay (now Peace Hotel), the French College Municipal existing lilong alleys. Rest of the action was set at Shanghai Film Park.
The movie depicts the night life of Shanghai with focus on the political struggle involving Japanese, communist Chinese and the Kuomintang. Japanese spies running in the city add spice to the plot and we can definitely feel the tension of coming war during the whole movie. So if you like Ralph Fienes like I do and want to have a flavor of Shanghai actual life in those years, I recommend you find yourself a copy of this movie. Forget about the poor scenario and indulge yourselves into the fascinating atmosphere of multiethnic Shanghai 1930s!