If you guys have seen "The World of Suzie Wong", a 1960 love movie taking place in Hong Kong, you might remember that the title character lived in a rather poor area, probably one of the slums on the hills South of Wan Chai, before the Hong Kong construction boom. In those years, Hong Kong got overwhelmed by Chinese migrants (750 000 in the 1960s, one fourth of Hong Kong population!) ), most of them coming from the South regions. As the British colony was not prepared to receive such a large number of refugees, the housing crisis was inevitable. Squatter villages rapidly emerged in different parts of the territory, mostly on the Kowloon peninsula or the New Territories, like near the Lion Mountain (remember the 1970s TV series "Under the Lion Rock" depicting the harsh life of migrants) or Tai Hang Tung. What is more unusual is the case of PokfuLam village, which population is largely constituted by migrants, is that it's history dates some 300 years before the British set foot in Hong Kong!
Founded around 1670, Pokfulam means the forest of the pokfu, a local bird, along one of the only natural streams of Hong Kong. For this reason, the focus of villagers were more farmers than fishermen, growing rice, ginger and vegetables. Early photos from British settlers show small farms there whereas the rest of the island was deserted , a part from small fishers communities . Originally, the village was created by three clans, the Chan, the Lo and the Wong, who all fled after the Three Feudatories Rebellion against Qing Dynasty Emperor Kangxi. They settled along a single street and today's Pokfulam's oldest monuments like Bogong Shrine or Li Ling Pagoda (below), both dedicated to traditional deities,are still located along this original central street. At the coming of the British by 1850s, the population was merely 50. One century later, however, the village already included four quarters, contained three restaurants, three hairdressers, eight groceries and ... two opium dens (let us not forget the that British pushed the Chinese into opium). The situation of the village, near the stream of the Waterfall Bay was of major interest for the British, who soon decided to built there Hong Kong's first fresh water reservoir there in 1871.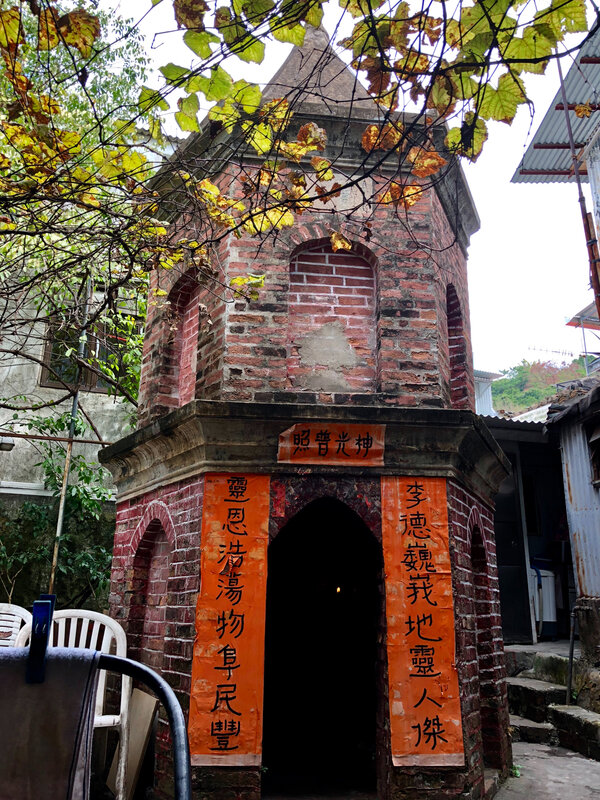 In 1886, Scottish Patrick Manson started a dairy farm, transforming the river valley into a place of pastures for cows. Dormitories for dairy farm workers were built with access by a village path. In 1959, 721 villagers were employed by the dairy farm which had definitely changed the destiny of the once small but now flourishing community. The agricultural part of the village was then limited to terrace-type rice fields to leave sufficient room to dairy activities. With stable revenues coming from the dairy farm, Pokfulam developed into a small town. Children would take advantage of the newly built reservoir to bath in summer and played in the tree covered hills the rest of the time. In 1949, floods of migrants coming from China almost tripled the initial population but the presence of the dairy farm contributed to settle them more easily than in other areas. Hills temporary shacks soon became part of the rest of the village, only adding a few more streets to it. Big change occurred in the 1970 when nearby Chi Fu Fa Yuen complex was built. The village was suddenly surrounded by high rises with a sad consequence of fencing all accesses to surrounding forest and countryside paths, a feeling of being caged in a prison, some villagers remember.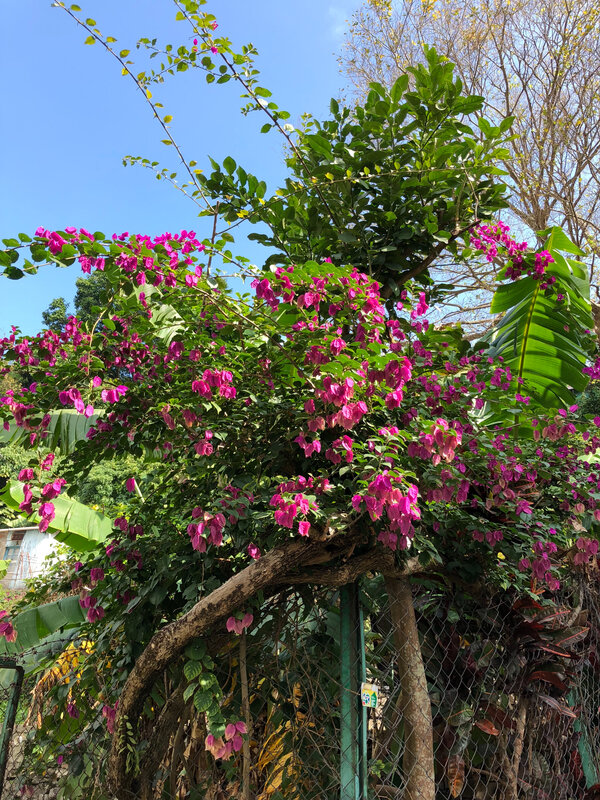 Another less obvious effect but still important was that the 400 years old village and its new illegal squatters was from then on qualified of "slum" compared to the modern standard of new wealthy neighbors. So people from Pokfulam started to fight for their ancestral access to the reservoir area and the accusations of staying behind. After 15 years of combat, they regained their original routes as fences were open against the promise of installing running water everywhere and giving access to visitors. In the 1980s, the Dairy Farm had become an International group with production centers and subsidiaries all over the world. Consequently, the old Pokfulam farm got closed, bringing even more uncertainty to the village. However, locals advocate that there way of life is unique and more civilized in many ways than the high rise type, mentioning the community feeling and high level of security in the village. People would leave their doors open, trusting every single neighbor. Traditional festivities continue to be celebrated like Mid-Autumn Festival, an event which mobilizes the whole village with making a fire dragon. When you ask them, they refer to the Brazilian favelas, saying those are part of the history and culture of this country.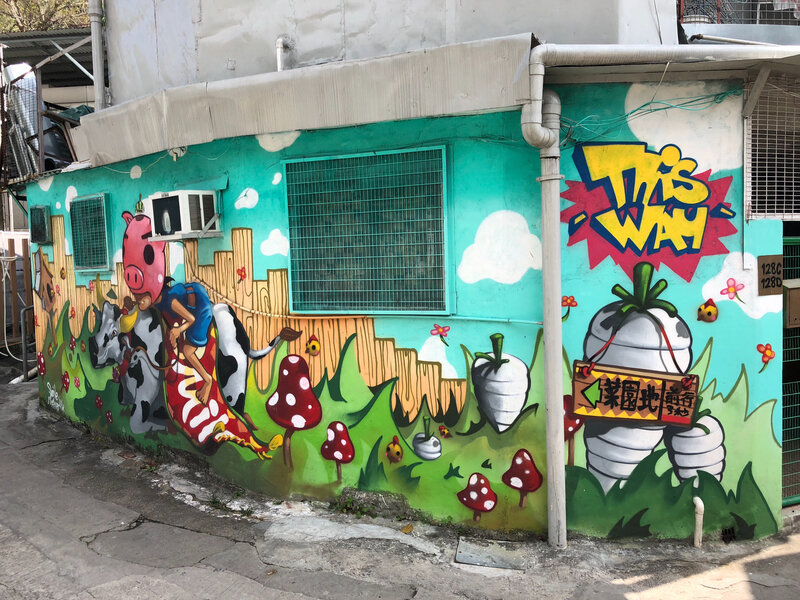 Many talented people originated from them and the feeling of freedom brought by those informal communities helps new projects to emerge. For this reason, one cannot help from thinking of this exemple when strolling in the alleys of Pokfulam village. Like their Brazilian counterparts, some walls are covered with paintings and colorful frescoes. Fences and gardens are sometimes decorated with children's toys and at every corner, people simply smile at you or help with directions.
Pokfulam village is a living testimony of Hong Kong history. Let us hope this urban miracle remains for a while, but nothing could be less certain!
Other Hong Kong walks here
Built in 1927 by the Kadoorie family, Hong Kong Peninsula Hotel is actually not located in Hong Kong Island but in Kowloon for a good reason. It was there that most of travelers who ended there journey on land would wait for the ferries to cross the Hong Kong strait. The lavish palace was precisely facing the railway tracks of the Trans-Siberian, next to another place of memory for long distance travelers or migrants, the Kowloon YMCA. Stories of migrants are many but not everybody, by far, could afford the prices of the Kadoorie splendor. Most of the former Shanghai movie stars and Kuomintang supporters who fled the Communist regime in 1949 would probably not stay there.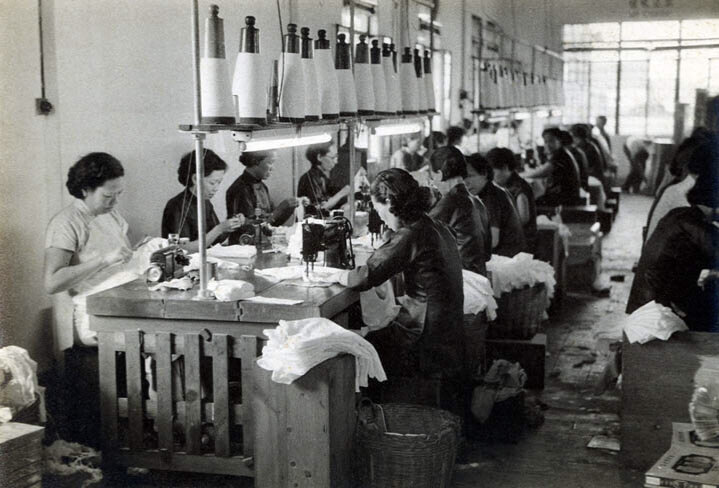 Tales of decay of Shanghai kings or cinema queens sometimes even involve the ballrooms of Hong Kong, another name for brothels in the British controlled island, or even worse, the sordid dance halls inside Kowloon, a few blocks away from the Peninsula Hotel. For some of these refugees including famous movie star Hu Die and swimming champion Yang Xiuqiong, Hong Kong was merely a few years stop before traveling to Canada, as Chinese immigration quotas would make the American dream impossible for them. Actually, most post 1949 refugees had to cross the border on foot, Westerners being only allowed carrying a single 100 dollar banknote and for this reason being thoroughly searched by the PLA soldiers at the border. In her memoirs, Liliane Willens tells of her double-back suitcase to hide enough money to start her life again after leaving China. After meeting with Carlos Lubeck descendants in Shanghai, I got a similar account of this former Macanese Shanghai family, hiding successfully bank notes in the baby diapers, a place soldiers would definitely not search!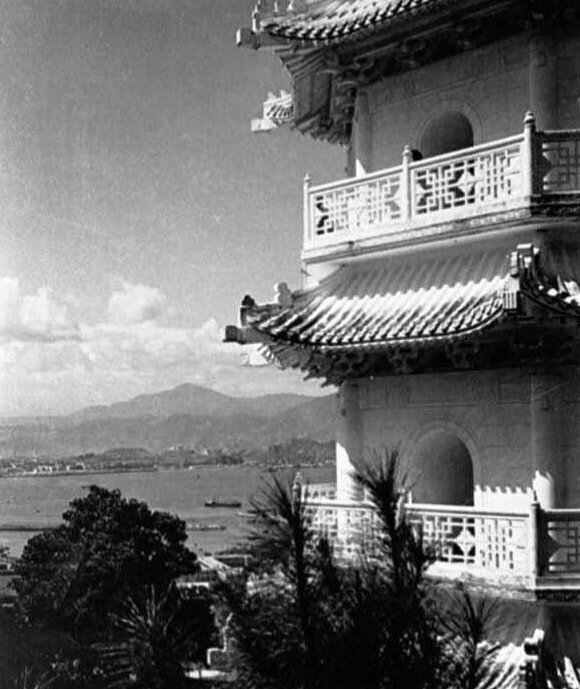 However, the biggest flow of migrants were mainland Chinese who did not make it onto the British Island. This one concentrated offices of companies like Jardine, founded by William Jardine who had once dragged the British Empire into the opium war, or colonial administration. Hong Kong island was also the home of white elites who built mansions on the Peak to ensure both sea view and fresh air. It also welcomed powerful Chinese personalities like Sir Robert Hotung, the first Eurasian settling down on the Peak in 1906 or Aw Boon Haw, the head of the "Tiger Balm" empire, who built a wonderful mansion and garden in Wan Chai in 1935 (nearby). In the 1950s and 1960s, mainland Chinese immigrants had sometimes no other choice than staying in Kowloon and work in the textile sweat factories located there (above), for the benefit of foreign companies, exactly on the same model than Shanghai, 40 years before! This time however, the British would not let communism poison turn the situation to their disadvantage. No wonder now you can get such cheap prices for clothes in the still very industrious Kowloon!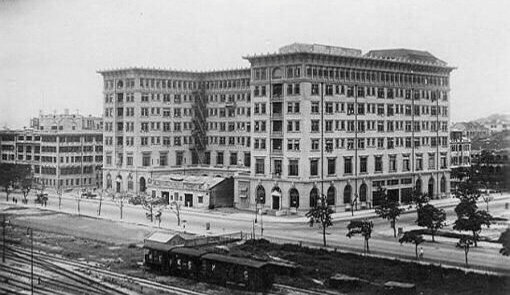 When building the Peninsula hotel, the Kadoories intended to make it the "finest hotel East of Suez", using a more New York renaissance and Indian palaces inspired architecture type than the more trendy Art Deco style that had already spread in the rest of the world. The Elly Kadoorie marble palace in Shanghai, although built earlier, also shows the massive facade type of the Peninsula, obviously designed to impress. When visiting the city in the late 1950s, Russian Jewish origin French reporter Joseph Kessel would tell about the most Victorian type of city he discovered, with still standing two to four storeys buildings with colonnades, probably referring to the Marine Police Headquarters (now Hullet House Hotel below) also built close to the ferry terminal or the Hong Kong Club and Prince's building on the other side of the straight.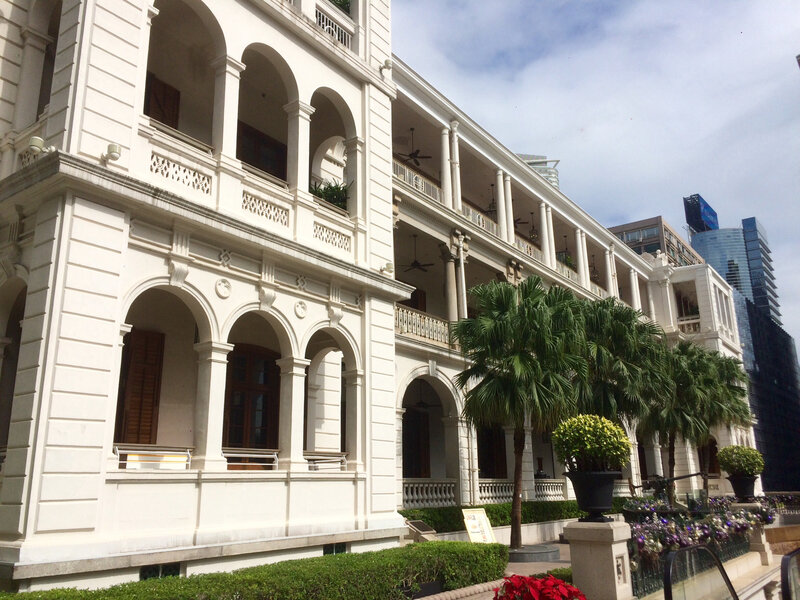 Near the Marine Police Headquarters, one can still see the timeball tower built to help ships to adjust their navigation instruments at the exact fall of the ball at noon. This system was still to be found in most harbors of the world in the first half of the 20th century like on Shanghai Bund (today Gutzlaff Tower). At the time of its construction, the Peninsula investors probably did not realize that two years later, in Shanghai, Sir Victor Sassoon would definitely out fashion them for the next twenty years, with his Cathay Hotel, Shanghai becoming far more attractive in those years than the aging Hong Kong colony. When Shanghai decayed however, the retreating Westerners would find a harbor of familiar fine luxury at the Hong Kong Peninsula. This was an ideal place to stay before making plans into the island itself, offering an easy access to Central District by ferry. The fifteen minutes crossing, Kessel explains, "most surely connects the island to the continent as a solid bridge, adding the pleasure of the fresh sea breeze on traveller's faces. When landing, one would be joyful and relaxed to pursue the day activities, unlike commuters of most other big cities in the world!"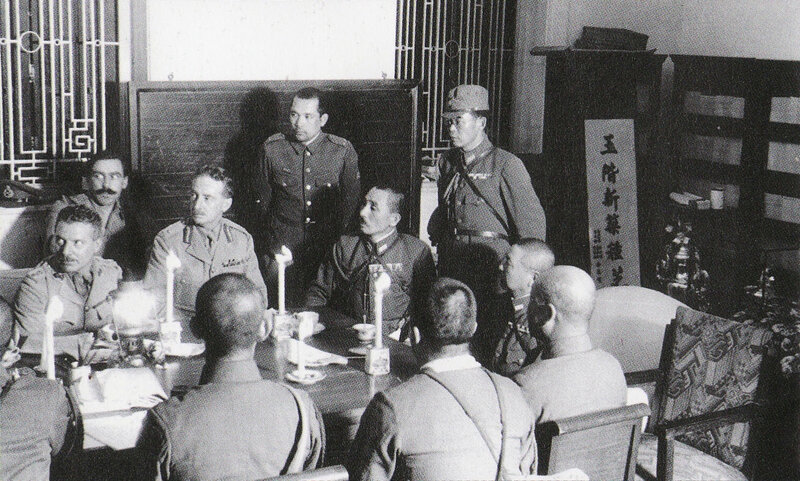 After the 1994 renovation and 30 storey extension, only the lobby and the front part of the building remained in their original layout but this is good enough to imagine the atmosphere of the early years of the hotel. It is just grand, with exquisite golden decorated Victorian columns siding a monumental staircase to the water-view bars upstairs. During WWII, the surrender of the British governor of Hong Kong was signed at the Peninsula (photo nearby), causing him to stay for one month and a half in custody there, which revealed far more comfortable than the following years in Japanese prison camps! The Japanese themselves stayed in the hotel during the rest of the war and for this reason, the palace became the target of a daring P40 fighter attack in 1942 which damaged some of the top floors where the officers rooms were. Closer to us, several scenes of the James Bond movie "The man with a golden gun" were shot here, including a mention to the hotel legendary fourteen green Rolls Royce Phantom fleet.
Many lives would start or end at the Peninsula Hotel, on the exact model of Hong Kong playing the role of entrance door or an emergency exit to China. However, this is a golden door not everyone could use!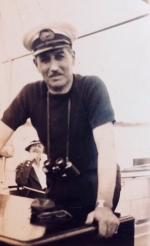 A lot of things have already been said or written on Victor Sassoon, the founder of the Peace Hotel in Shanghai. Recently the wonderful book by Taras Grescoe "Shanghai Grand" gives an extensive account of his love relationship with American author Emily Hahn, a woman he had to share with Chinese dandy and poet Shao Xunmei. After reading this amazing story, I wanted to know more however, about this extravagant character and decided to travel to Dallas to dig into his personal diaries which are kept there. Elice Victor Elias Sassoon (EVE are the initials he also used to name his many houses, cars and horses) remained a bachelor almost all his life but he eventually married with his Texan nurse in the Bahamas where he stayed at the end of his life. After his death in 1961, his diaries were donated to the DeGolyer Library of Dallas Southern Methodist University. They were 35 of them, including photos taken by Sir Victor himself, multiple notes commenting them as well as collected newspaper articles, depicting both his socialite life and the historical events he went through.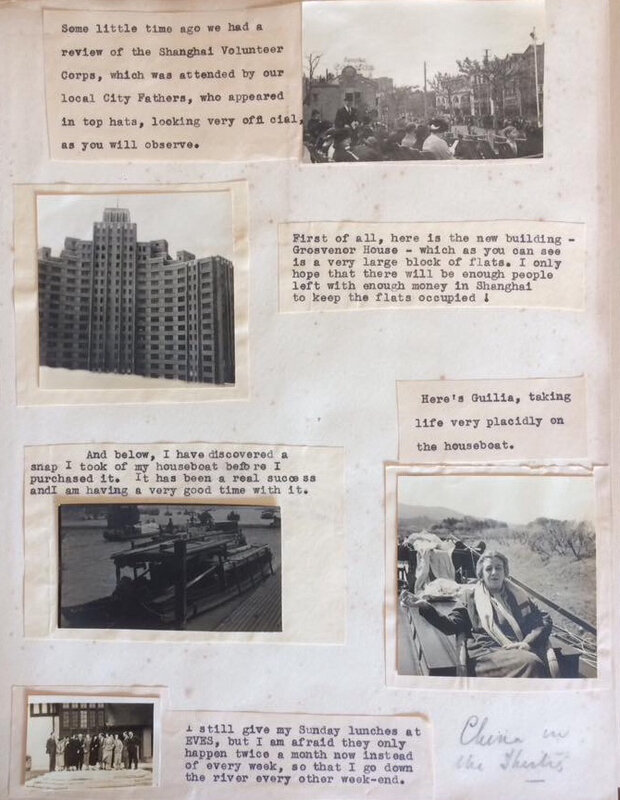 The great grandson of David Sassoon, once the treasurer of the Bagdad sultan and later living in India, Victor was educated in England before moving to Shanghai in the early 1920s. At the head of the colossal fortune built on opium and textile by his family, he decided to invest into real estate after the ban of opium trade by Republican China. His most notorious architectural legacy comes with the Peace Hotel on Shanghai Bund and other great Shanghai buildings like Broadway Mansions, Metropole Hotel or Cathay Mansions in the French Concession of Shanghai. Launching lavish parties at the Cathay Hotel ballroom or his country cottage in Hongqiao, his personality remains a mystery for many, his social extravaganza probably hiding his inner shyness. A clue for this might be his learning acting and his taste for masquerades. So the reading of his personal notes was a way for me to try to know him more intimately. The other interest of those diaries is to get an eye witness testimonial of the historical episodes happening in the 1920s and 1930s. Most important events came with the Japanese violent agression bringing war in the heart of an incredibly prosperous city competing with New York for the leading economic role.
A great traveller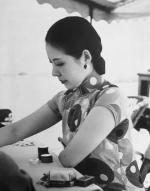 The first impression from Sir Sassoon journal is that he kept travelling during all his life, meeting movie stars in Hollywood or attending race horses in Indian Puna. When we know how travels could take long in those years, we get a sense of his commitment to the world discovery. He obviously was familiar with plane travels as we have comments of several airport arrivals but most journeys were by boat as sealiners tickets and collected menus indicate. Of course, every time, he would take precious photographs, documenting landscapes and people as well as parties with famous guests. Let us not forget that Victor Sassoon was quoted as the fourth largest fortune in those years, which explains that he was always staying in the most luxurious hotels of his time. Photos of the Copacabana Palace or the Taj Mahal Palace in Bombay give a flavor of the upper class type of life.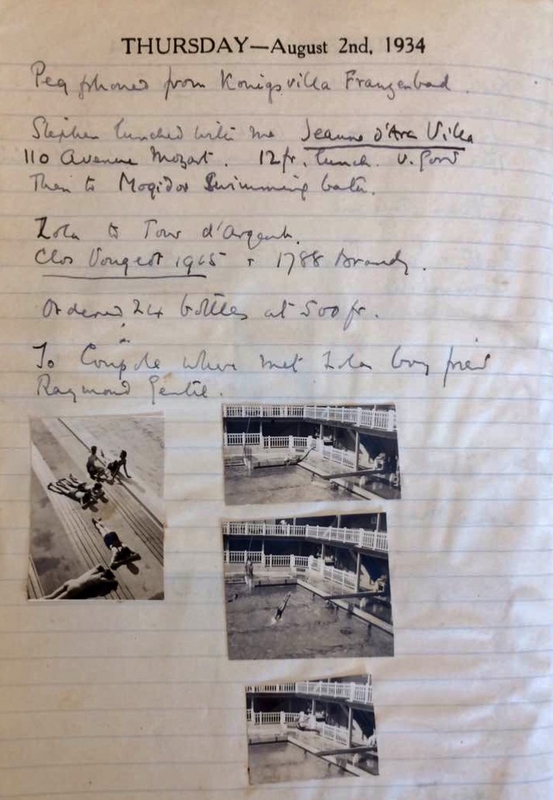 In his diaries, Victor Sassoon gives precise comments on every single person he met, probably a way not to forget names and circumstances of encounters. Some names are underlined in red or blue, depending on it was the first time they met or if there was a running debt with this person. Precise sums that he spent or lent are also recorded. In addition to travels, horses were of premium interest to him. He was often to be seen on the world race course and he took many photos of horses he was keen to buy, wether in India or in England. In Shanghai, his horses often won races, along his competitor Eric Moller (Moller Villa on Shanxi South Road), another horse addict.
Last but not least, women are Sir Victor's life long passion. In his book, Taras Grescoe explains that he was denied marrying his young age love, a British girl, as her parents did not find him fitting their standards. For this reason, he never really committed himself to further female partners and basically collected adventures during most of his life. Talking about photos, the passion for female beauty is obvious as most beautiful women he met got their portrait in his album, some taken during mahjong plays or dinners and other posing for him. Some of his models would pose nude for him, so that we find in his journal very professional pictures of them.
One day with Victor in Paris
Then among the hundreds of pages I read, one particularly caught my attention as it narrates Victor Sassoon's one day in Paris on 2nd August 1934. The pictures of this page are very familiar to me as they show Molitor swimming pool (above). This place was inaugurated in 1929, symbolising the Parisian way of life of those years, a very light type of! World swimming champion and actor Johnny Weissmuller, who got famous for playing Tarzan on the screen, was hired to promote this new swimming pool to attract the elites. It looks like Sir Victor Sassoon made no exception. In his story of his visit to Paris, en route to Lyon and Switzerland as the next pages indicate, our socialite also dined at famous restaurant La Tour d'Argent with a lady called Lola, who later accompanied him to La Coupole. Interesting to me is his reference to the wine, a Clos Vougeot 1925, which he obviously liked as he ordered 24 bottles at the price of 500 Francs. I suppose he would recommend this wine to his captain at the Cathay when he would be back in Shanghai. I am pleased to see that Victor and I have the same type of priorities for spending time in Paris, even if he was on a higher budget!
A real estate anecdote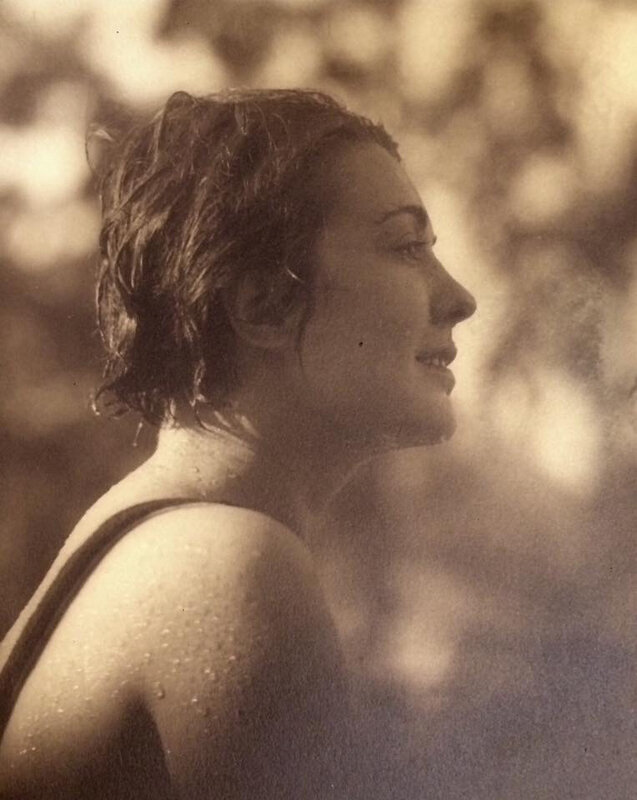 Another funny story by the famous tycoon comes with a letter (second picture) telling about his building Grosvenor House, one of the most luxurious apartment buildings in the heart of the French Concession. Lavish wood floor decoration can still be seen today in some of the large state owned flats, offering a full view on the neighborhood and overlooking the Cercle Sportif Francais (today Okura Hotel). Sassoon writes that he is not sure "there will be enough people with enough money left in Shanghai to keep the flats occupied", as the military pressure of Japan on the city was deterring investors. In her fiction "My Shanghai 1942-1946: a novel", British author Keiko Itoh imagines that a Japanese family lived there in 1942, right after Japan had invaded the International Settlement. In the Hongs adress books, we definitely find many Japanese names in town in those years! Sassoon's prediction revealed right just after he left Shanghai in April 1941. Three months later, Japan would start the Second World War, meaning the end of a complete era, the Sassoon Shanghai golden years! In a late newspaper clipping glued in his diary, the tycoon calls for England to stand against the Axis powers. After WWII, however, the world would never be the same again.
DeGolyer Library curator says that Sassoon diaries will be progressively digitalized, allowing more people to read them. Still, touching the pages written by Sir Victor gave me the feeling of living history from inside!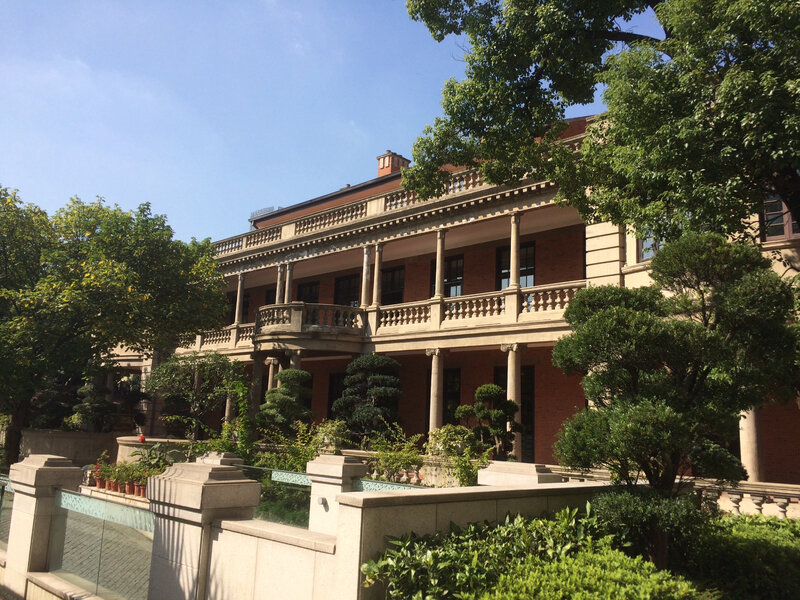 Among the iconic places I still had no opportunity to visit during my years staying in Shanghai was the legendary Ezra Mansion at 1209 Huaihai Middle Road.
Surprisingly this house is located right near where I live but it was never visible from the street until these a few weeks. On the occasion of the moving of the Redleaf International Hospital to Songyuan Road, the front part of the compound has recently being demolished, revealing one of the most legendary residences of Shanghai to strollers on Middle Huaihai Road. Built by the Jewish tycoon Edward Ezra, the house long stood for one of the architectural gems on Avenue Joffre, definitely intending to impress visitors. Inside the house, the owner had built a lavish ballroom meant for 150 guests and music salon fully decorated with Louis XIV style furniture which could accommodate up to 80 people.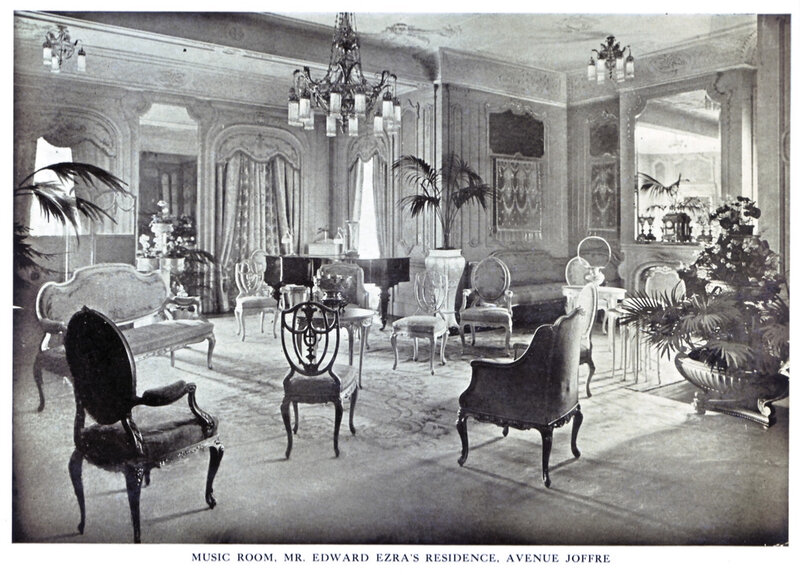 The South side of the house definitely pays tribute to Versailles with its full length balcony and French windows overlooking the gardens. Born in Shanghai in December 1882 of Jewish Sephardim origin, Edward Ezra made a fortune with opium trading and later real estate investments. Owner of several companies including Shanghai Hotels Limited, Shanghai Gas , Shanghai Motors, China Press and the Evening Star newspapers, his most famous property was probably the Astor Hotel, which became highly profitable under his management. As most of the wealthiest Sephardim Jews in those years, the Ezras had connections with other rich Jewish families. They were specifically related to the Sassoons through wedding links. When I travelled to Dallas last summer to read Victor's Sassoon's diaries, I actually saw the mention of Mrs Ezra Robinson's name at different places, either as a guest of Sir Victor or herself host at the Ezra Mansion.
Edward and Victor, however, probably never met as Edward died at 39 in 1921, more or less the same time when Victor Sassoon settled in Shanghai. His widow survived him fifty-eight years and their two sons Cecil and Denzil stayed in the family house in the 1930s when Victor Sassoon was around, as testified by the Hong Books. The house was close to the villa of the Mayor of Shanghai Fu Xiao An and the German style former residence of Xi Dejun, comprador of Hongkong and Shanghai Bank, forming a kind of upper class golden triangle. To tell more about Edward Ezra, he belonged to the Shanghai Club, the Masonic Club, the Shanghai Race Club and the Cercle Sportif Français. He tried to revive the Jewish community of Kaifeng, on the model of David Sassoon with Kochi "Beni Israel" Jews, though less successful than his predecessor!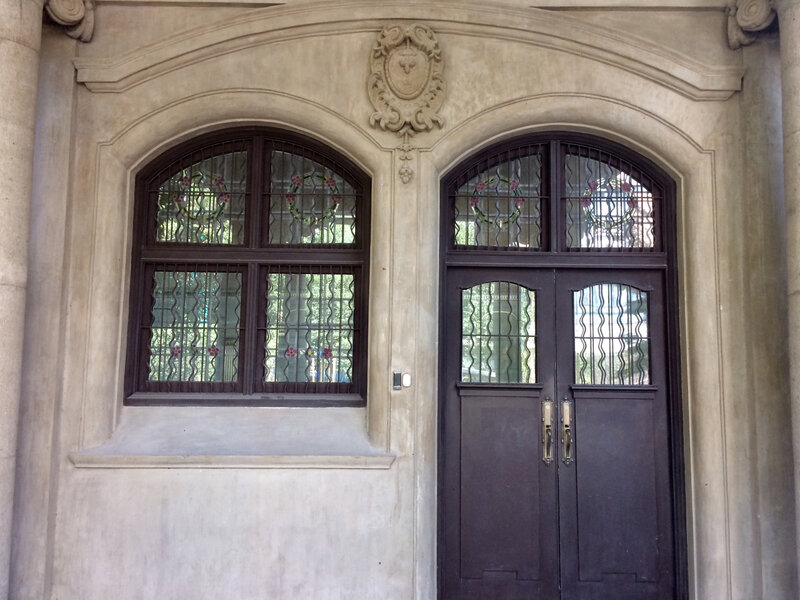 His greediness was probably the reason for his downfall as Edward Ezra got involved in illicite drug traffic into the US, under the protection of Chinese Guomingtang, as well as tricking sports competitions. When those facts went public, his former partners and investors turn their backs on him sothat when he died from cerebral hemorragy, he had practically gone broke. When flipping into Tess Johnston wonderful "Shanghai Architecture, A Last Look" or "Shanghai Walks", I realize that the mansion was used by the People Liberation Army for a while and that for this reason, photos were almost unthinkable when she published her books I therefore consider myself lucky being able to sneak into the construction site to make pictures .
From my visit, it seems that most former luxurious rooms have been emptied with no trace left of the French Louis XIV past glories. Still I am happy to share outside pics of the mansion. So please enjoy, just like I did!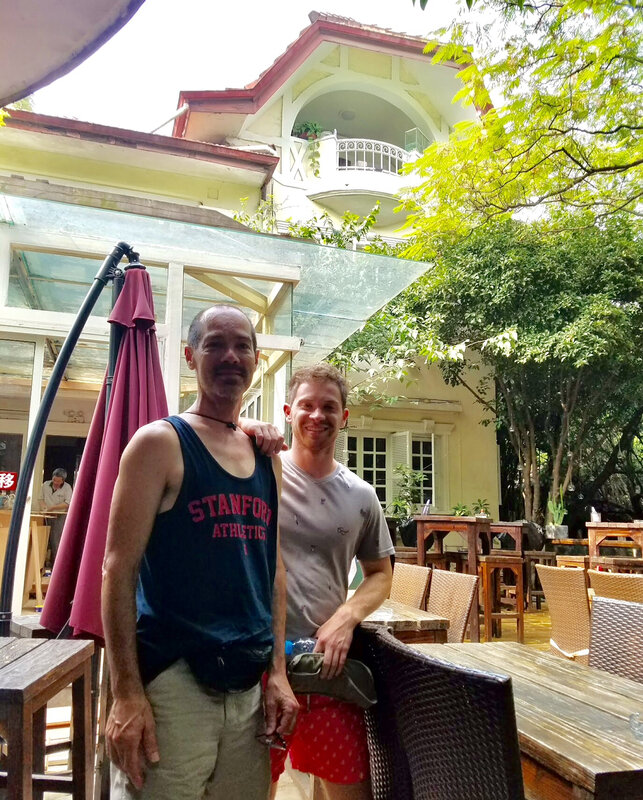 When I received a message from James McCabe, asking for help into tracing his family roots in Shanghai during a visit with his son Andrew, I was more than excited.
James lives in Santa Fe New Mexico but his Portuguese origin family used to live in Shanghai from the 1880s to 1949. Of course, I knew that many Portuguese migrants had settled in Hongkew at the end of the 19th century, following the opening of Shanghai treaty port. There might have been some 1300 "Macanese", as the Macao originated Portuguese were then called, living in Shanghai at that time. However, the growth of this community came at a relative standstill at the beginning of the 20th century, compared to the loads of Japanese flowing in the North part of the city. Then, I knew that Father Jacquinot, the daring French priest who saved hundred of thousands Chinese lives during the sino-Japanese war, worked as the leader of the Sacred Heart parish of Hongkew between 1914 and 1924. His signature can still be found on baptism acts of former Shanghai Portuguese families. This is the first time, however, that I met with descendants of this community.
James' grandfather, Carlos Lubeck, was baptized in the same parish of Hongkew Sacred Heart on 8th September 1892. His father, Henrique Lubeck, was son to a Swedish sailor who settled in Portuguese colony of Macao, but he was raised by a Portuguese family after this one died during a typhoon. He came to Shanghai in 1880, after a first period living in Hong Kong where he got married with his Portuguese wife. In 1914, Carlos joined the French Concession based Compagnie Française de Tramway et d'Eclairage Électriques de Shanghai, the largest French company in Asia at that time. The company employed 80 foreigners including 40 French, 15 Russians and an identical number of Portuguese. There were also 1700 Chinese affected to field execution tasks. The company ruled over 25 kilometers of tram lines, power stations and water supply equipments in the entire French Concession. Within ten years, Carlos made his way to the head of the secretary department, changing position almost every four years. In 1922, his family was able to build a villa in the wealthiest part of the settlement, by famous architect Paul Veysseyre at 132 Kaufman road, today's Cotton's Bar.
Life in the French Concession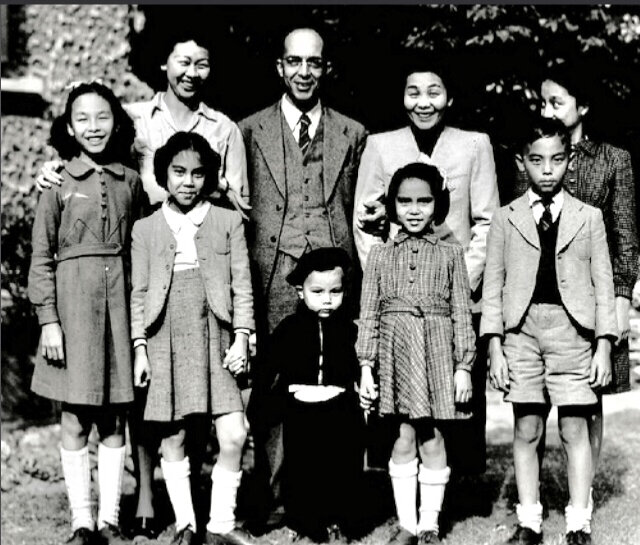 Carlos was married twice, the first time with Lucy Zi and later with Chinese Yang Te-di, James' grandmother, after Lucy had died of typhoid fever. The family altogether had four sons and six daughters, including Dympna, James' mother (second left on photo). Mixed mariages were not common in those years, so Carlos and Te-di's families first hesitated to give their consents. However, both were Catholics and Carlos position was steady enough to silence remarks. He prefered, however, to ask his colleagues' opinion before making his official demand, which gives a taste of the atmosphere back then. Dympna was born in September 1937 at Hopital Sainte Marie maternity (today inside Ruijin Hospital on the photo we took with James below) as war with the Japanese was raging in Shanghai.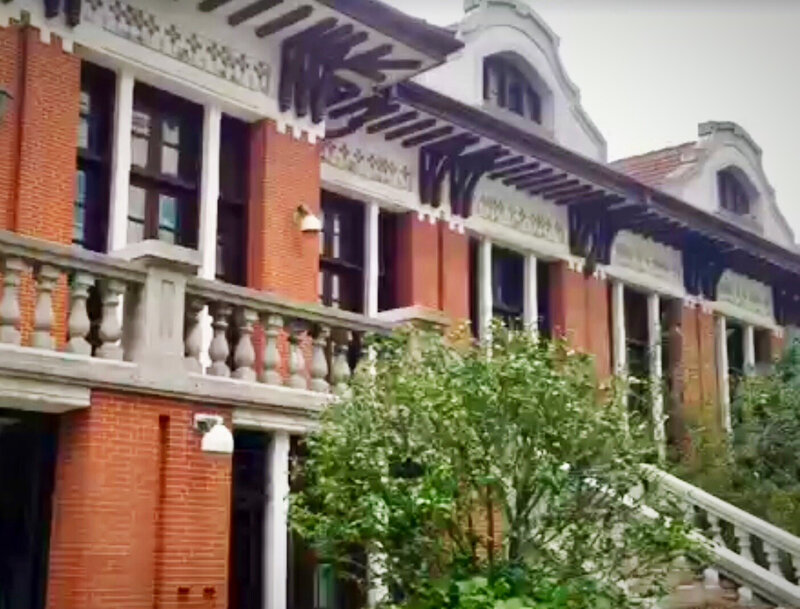 One month before, a bomb accidentally fell from a plane in Nanjing road and another one in front of the Great World, killing 2000 civilians. At this period, one of Carlos' elder daughters was inspired by Father Jacquinot's example and decided to become a nun. In 1940, she left Shanghai to join the Sisters of Loretto in Kentucky, which revealed decisive when the family wanted to leave China in 1949. At that time, she could intervene to allow everyone to move to Denver. This is in this city that James's mother married with Bill McCabe, descendant from early American settlers. Today, James' child memories are split between his Chinese grandmother stories and the cowboy culture from father's side.
Looking for memories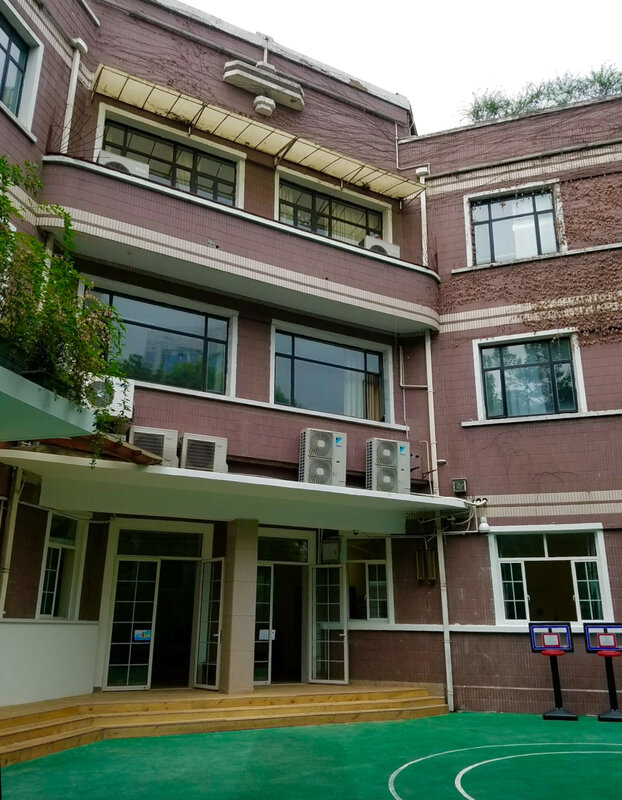 Our first stop was at the family house on Anting Road (first photo). As renovation work was underway, it was possible to visit the entire building. The inner layout has remained identical to the original blueprints by Veysseyre. The original light yellow color of doors and frames can still be seen in the kitchen. Then the search for Carlos' office building was more tricky as the 1935 maps and other adress books I used all mentioned the tram depot at a location which is now the new Shanghai city bus parking! Light came by accident as I remembered old photos from a French engineer, Henri Cordier, working for the French tram company in the late 1940s (above). When we had almost lost every hope, I suddenly recognized the Art Deco building of the picture above the thick canopy of the plane trees on Jiangguo Road. It appears that the company office building is now used as the administration building of a school complex. I realized that this structure was probably built in 1935, just after my map had been published! Encouraged by this discovery, I spent more time comparing maps with aerial views and could finally locate the former Hongkew Sacred Heart parish (below and last).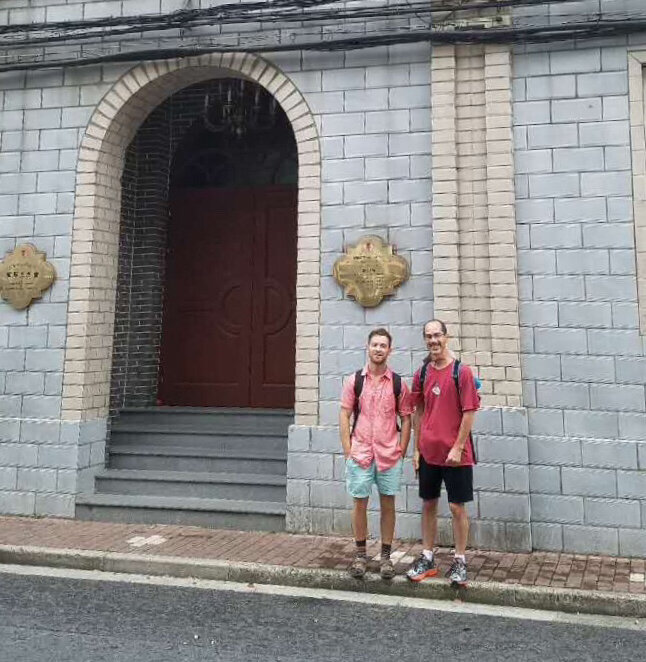 Surprisingly, it had not being bombed as I initially thought or even destroyed during the recent modernisation of the quarter. The church is still used as such and the school frequented by Chinese children. We were even more thrilled when we realized that the next day was the exact 125th anniversary of Carlos baptism, this news coming as a divine sign to us! Our other walks would take us to Saint Joseph Church, near Jingling Road, where Carlos and Te-Di were married and to Dongjiadu Cathedral, which is Te-Di's baptism place. This church now stands in the middle of a field of ruins as the entire neighborhood is facing transformation. The South bank of the Huangpu River was long populated by Christian Chinese, those often involved in the boat business like Te-Di's parents, originated from Wuxi. In this area is still to be found the Boat Merchants Guild Hall, built by Fujian merchants during the late Qing dynasty to represent their corporation.
Later James told me that in the American rancher culture, possessing the land if you cultivate it, makes you feel belong to the place. Still, Shanghai appeals to its remote children as another part of themselves!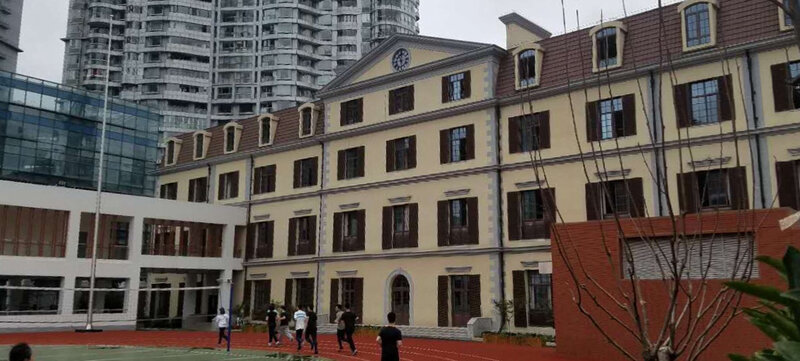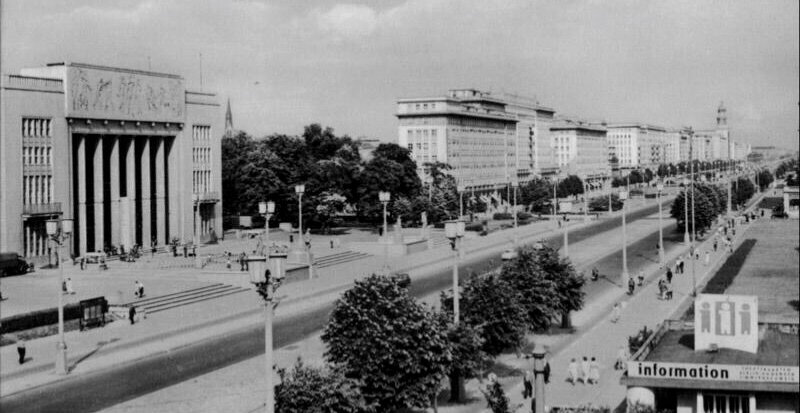 When I was young, as Internet simply did not exist, there was no such thing like fast search engine or knowledge sharing sites like Google or Wikipedia. The best way for me to learn about the rest of the world was a Larousse dictionary. Apart from the common names section, it included a short illustrated encyclopedia telling about countries, famous people and cities. At that time, the Cold War between the West and the Soviet Block was officially over but the Eastern part of Europe was still separated from us by the Iron Curtain and little did we know about it. I was particularly curious about black and white pictures showing USSR and East Germany as they looked so different from my direct environment. Among them, I still remind East Berlin Karl Marx Allee. On the same page of the encyclopedia, another illustration showed Kurfürstendamm, the iconic avenue of West Berlin. The West photo was a familiar type, American brands on the shops and many cars on the street. The other picture however was a source of profound concern. The buildings were very tall and the size of the avenue unusually large with so few cars in it! Clear cut à chitecture lines and not a single advertising sign. This Stalinist creation, I recently learned, was designed by a 1930s Shanghai German refugee by the name of Richard Paulick.
A Bauhaus architect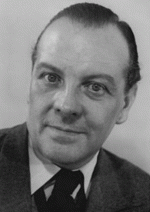 Richard Paulick was born in 1903 in Rosslau, the son to a prominent leader of the German socialist party. After studying in Dresden and Berlin, he joined the Bauhaus Institute in Dessau in 1927 as the assistant its founder Walter Gropius before starting his own design office in Berlin in 1930. Bauhaus was created in 1919 under the Weimar Republic, in an effort to modernize the art of public building. This national institute shoke the traditional rules by associating different arts and techniques to provide more efficient and convenient shapes. Interior design, house appliance, urban signalisation as well as construction materials should converge in the same effort to simplify daily life of the masses. New disciplines like photography, weaving, or wood carving were integrated in the Bauhaus workshops. Painters like Wassily Kandinsky or Paul Klee also contributed to the Bauhaus school.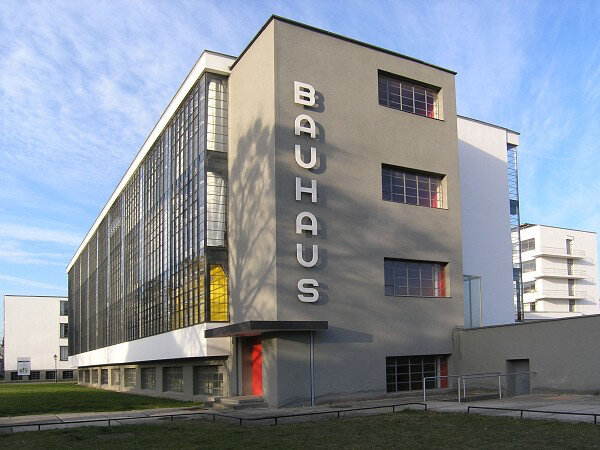 Among the famous creations, the B3 chair by Breuer or the Torsten estate in Dessau are still considered as revolutionary today! During the time of Bauhaus school, an intense artistic life took place, celebrated in theater plays and special collective performances.
 As many socialists or communists took part in the Bauhaus at different periods, the rising German nazi party qualified it of "cultural bolchevism" or "degenerated art". They finally succeeded in having it closed down no later than August 1932, even before they came to power. Many Bauhaus members left Germany at this time, most of them for US, where they participated in designed skyscrapers like in Chicago. Gropius founded Harvard design school and later taught at MIT. As for Richard Paulick, because of his father's commitment to the socialist cause, he was eventually deprived of his German citizenship by the nazis. He then chose to exile himself in Shanghai, like many other stateless refugees would do, most of them Jews and before White Russians. Shanghai was indeed a place where you could stay without any passport.

The Shanghai exile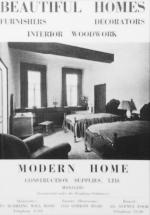 Paulick arrived in Shanghai In 1933 and started his design company called "Modern homes" on 871 Bubbling Well Road (Nanjing West Road today). During this period not only did he designed furniture and interior decoration for bars (the Silk Hat nightclub), restaurants or hotels, but he also worked for theatre stage decoration. This ability to work in different environments and combine artistic techniques most probably came from his Bauhaus period when he collaborated in the theater workshop. His main achievement while in Shanghai is probably the design of the Park Hotel ballroom for another famous refugee, Laszlo Hudec. This design showed pure round shapes, very representative of the Bauhaus style. He also collaborated with Victor Sassoon for the interior decoration of rooms of the Peace Hotel. When the Japanese invaded shanghai, however, work became scarce, so he worked as a teachde at St John University.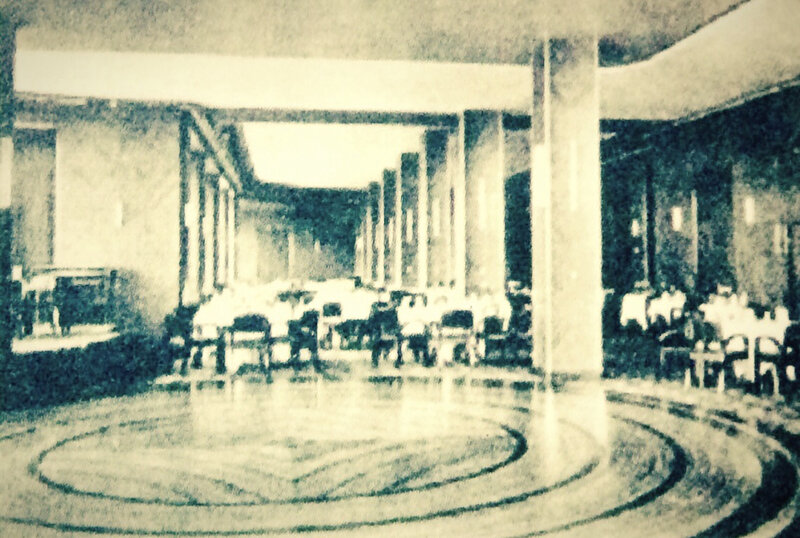 His scholastic projects caught the attention of Chinese people and influenced many young architects so that when Chiang Kai Shek came to power again in 1946, Paulick was asked to take responsibility of the urban planning project of Shanghai. With a local team, he designed the city master plan, this one never being implemented since Communists took over the city in 1949. Some of his ideas of separated quarters for industry and living sections as well as large green spaces between buildings, however, were later used by the new leaders in experimental quarters like Caoyang New Village. Paulick never stopped to communicate with Gropius, even though this one stayed in US, keeping him posted with economical and political changes of the situation in China. So when Berlin was liberated, he asked him what he thought about helping of the reconstruction there. Gropius strongly advised him not to come back, telling him about the most disorganized situation of post war Germany. Paulick did not follow his advice and chose to join the Soviet zone of Berlin in October 1949.

Back in the GDR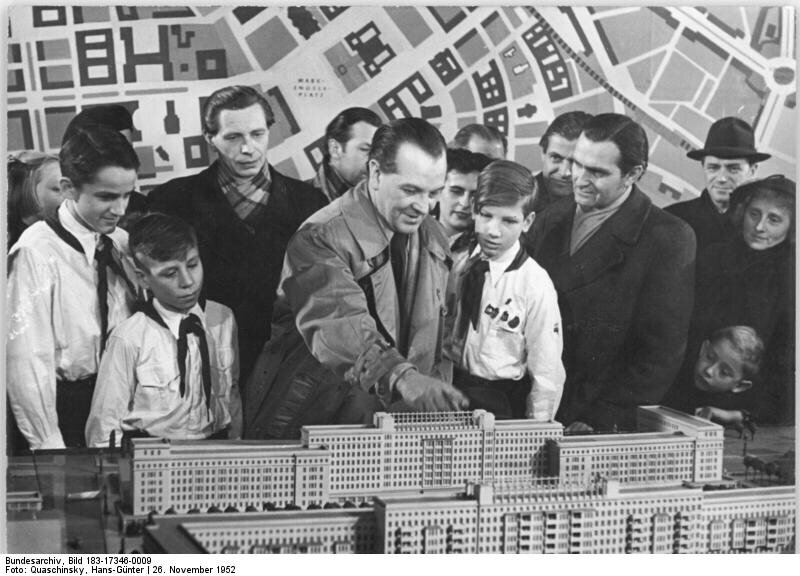 With reconstruction startIng in East Berlin, Paulick renovated Berlin State Opera in 1952. His main project however was the famous Stalin Allee, later renamed Karl Marx Allee. Along with other East German architects he designed the iconic avenue and its bordering massive buildings, personally taking responsibility for central C block. Large green spaces were dedicated to to allow Berliners to stroll in the front alley with a priority to living quarters. On the many propaganda pictures of those years, when the East wanted to challenge capitalist modern cities, the pleasant view of socialist citizens having ice screams right at the corner of Block C of Karl Marx Allee is a classic! Paulick was awarded many prizes by East Germany for his urban projects. He even designed East Germany president Erich Honecker's office, getting back to his core skill on this occasion. He died in 1979, long before Germany was reunited, definitely siding the socialist views.
When Shanghai played served as a hub for refugees, it was still not clear what would become of the world. No surprise then that unusual characters like Richard Paulick also found inspiration there.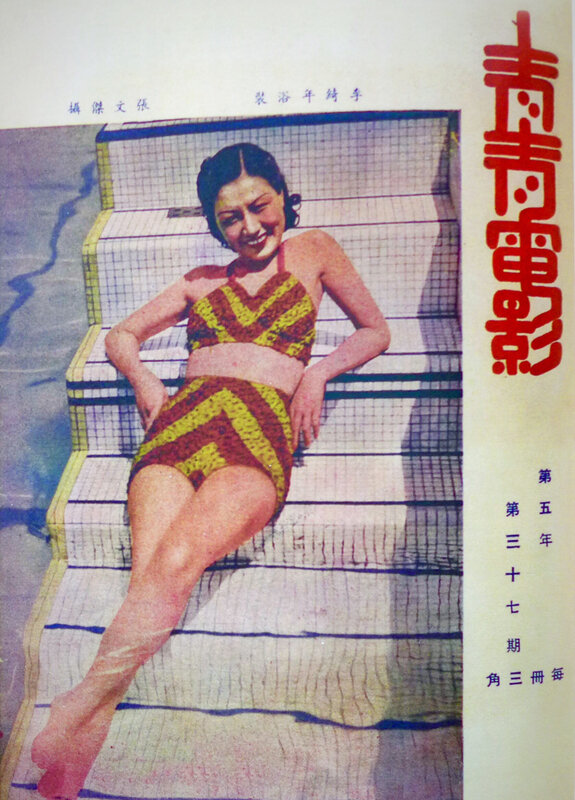 As I was flipping in the pages of "Chin chin" (青青电影), a Shanghai late 1930s cinema magazine, I was attracted by the many pictures of movie stars photographed at the swimming pool. I have already written the story of Yang Xiuqiong, the famous Chinese mermaid, who won swimming competitions during the 1930s. I did not realize, however, how much swimming was in style in those years. Actually almost every life and culture magazine had a section dedicated to pool activities, portraying young beautiful ladies in swimming suit or even male celebrities at the pool.
After China organized the 6th national games in 1935, olympic-sized equipments were available in Shanghai. I finally discovered that Yang Xiuqiong in my previous article was pictured at the 1935 Jiangwan swimming pool, this one still operating today. After indulging myself with a 50 meters long swim there, I was pleased to climb up the original copper ladder to get off the pool. Art Deco depth signs were still visible on the two sides of the pool as well as the iconic three arches. strictly identical to their 1935 shape. Such a treat! Only difference is the pool is now covered by a roof whereas it was an open air one back in the 1930s.
The "Isolated island"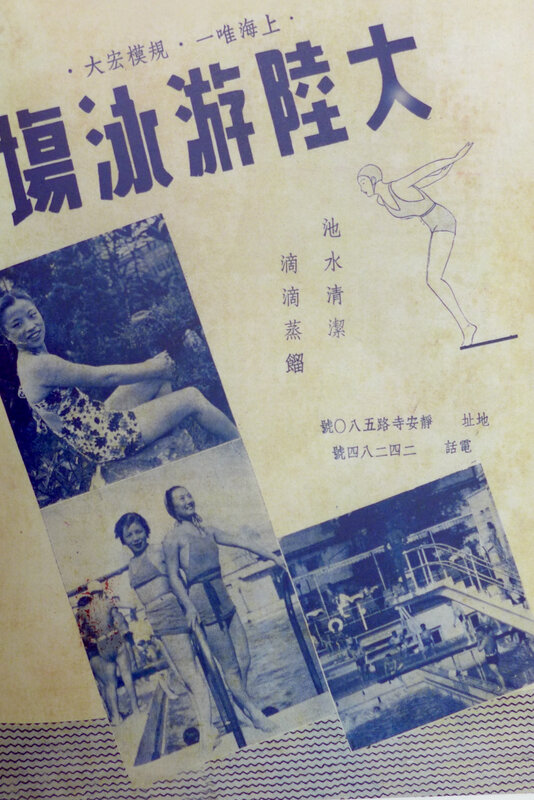 In late 1937, when Japanese invaded China, most of these equipments were in the Shanghai occupied part and therefore used by the Japanese themselves. Chinese cinema industry suffered from the war when filming studios were destroyed during the bombing of Zhabei. Some more lucky filming companies, however, were located in the foreign settlements like Xinhua Studios of Zhang Shankun (张善琨). The period was later called, the "Isolated Island" ("gudao" 孤岛), as all of Shanghai was occupied, except for the foreign settlements. With less competition and an urging need of the Chinese people to forget about war hardships, Xinhua activities simply boomed. In the sole year 1939, they produced 24 films!
New movie stars emerged like Bai Yang, Li Hong or Li Zhuozhuo. In order to promote their films, cinema studios sponsored a new type of press dedicated to this industry, film fanzines telling about movie stars gossips and featuring a dream world very much inspired by the American exemple of Hollywood. Luxury cars and new sports like golfing, horse riding and swimming were definitely part of this decorum. In August 1938, the Head of Shanghai Municipal Police Chinese Squad and Green Gang member Lu Liankui (陆连奎) launched a swimming pool right in the middle of the settlement at 580 Bubbling Well Road, today Nanjing West Road.
Paramount on water
Lu Liankui logically called it Dalu or Dalo swimming pool (大陆) in Shanghainese, after his own name, meaning "Great Lu" and also "Continent". (Advertising above). The swimming pool was a lavish one, equipped with a diving platform, 50 meters long and 20 meters large, bordered with a restaurant, a concrete stand able to accommodate 400 people, two round shaped shallow water areas with fountains and a large piece of grass to lay in the sun. The policeman and gangster, whatever you name him, survived only two months to his creation as he was stabbed to death, victim of his most dangerous activities. His son inherited the swimming pool but was such a bad manager that he had to sell it in June 1941 to Zhang Shankun, the Xinhua Studio tycoon, who made it a natural extension of his existing businesses. Zhang renamed the place "Zhang Garden" (张园)and added to the existing premises a dance floor to launch parties till five in the morning. This new trendy venue was inaugurated by "Chinese movie queen" Chen Yunchang (Nancy Chan).
She wore high heels and heavy make-up for the occasion, her bodyguards said to protect her even in the swimming pool! The place soon became nicknamed "water Paramount" in a comparison with the famous ballroom located in "Shanghai badlands", the western limit of the international settlement. In the pages of Chin Chin magazine, I found several photos of swimming female film stars and also male celebrities exercising on the diving platform. Interesting enough is a photo of a young White Russian photographed there in Hennie Warinner's bio. This is obviously the Dalo Swimming Pool diving plateform but the 1934 date seems incorrect, so I will have to check this later. Among other fashionable swimming pools of the time was also the Lido, located 306 Medhurst Road (today Taixing Road), which opened in July 1936. We find many photos taken there too in cinema magazines of the "isolated island" period of Shanghai. After the Japanese had taken over the International Settlement, the Dalo Swimming Pool remained open for two more years but Zhang Shankun filming company was merged into in a Japanese propaganda group. This led to his arrest by the Guomingdang in 1946.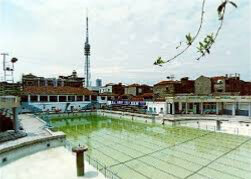 Zhang eventually emigrated to Hong Kong. In 1953 the swimming pool reopened under communist rule. It was available for public use in very different conditions. Students could swim there during summertime if they presented "health coupons" for one hour time and it was only filled with only to the half. No need to say that the shallow areas were not covered nor the fountains working. The concrete stand had disappeared and the restaurant turned into a ping-pong hall. The former glory of the place was long gone! In 1993, it was definitely destroyed to make way to a commercial building, until recently the Nanjing Road fake market! Last year, the fake market was closed and the future project is still unknown.
Shanghai is always full of interesting surprises for one eager to dig them out. There, personal stories do meet with larger history, making every single destiny a reflection of changing times and cultural habits.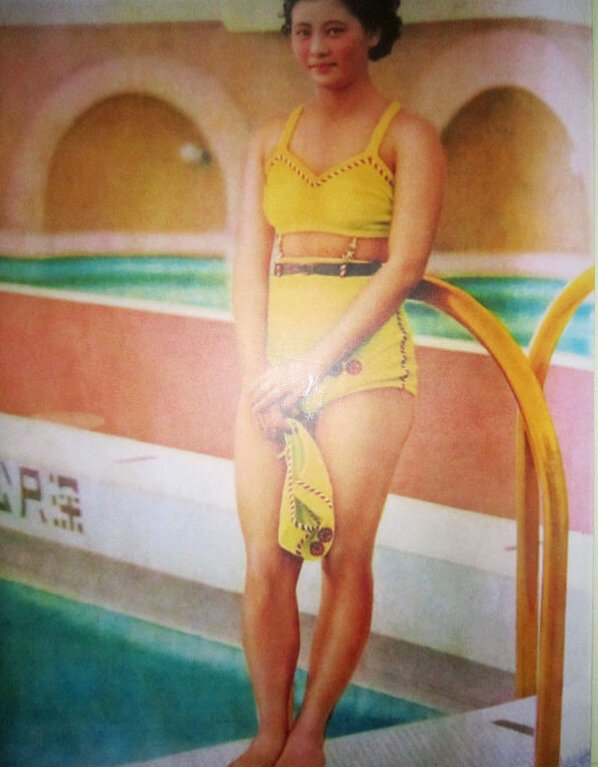 As I was having xiaolongbao, a Shanghai type of dumpling, in a tea house called Lao Shanghai on East Fangbang Road, my attention was caught by an exhibited 1930s Art Deco magazine cover. It showed a young lady wearing a bikini-type swimming suit. This outfit is not common on Shanghai magazines as ladies often wear qipaos. However, swimming was quite fashionable, representing modernity in the 1930s. So I thought that this cover was just another way to attract the readers attention with the new type of healthy beauty (jianmei), a mark for woman emancipation, influenced by Hollywood. At this time, Tarzan movies, starring olympic swimming champion Johnny Weissmuller, were very popular. His female partners playing Jane on screen also wore bikinis. Considering the swimming pool in the background, I was intrigued as I had been looking for historic pools but could not recognize this one. From the floor tiles and the Art Deco letters behind the girl, I first thought of the YMCA near the race course, but when I compared with the photos I took there, those would not match. Then I realized that this could be an outdoor pool, from the balustrade on top of the arches.
Hongkou swimming pool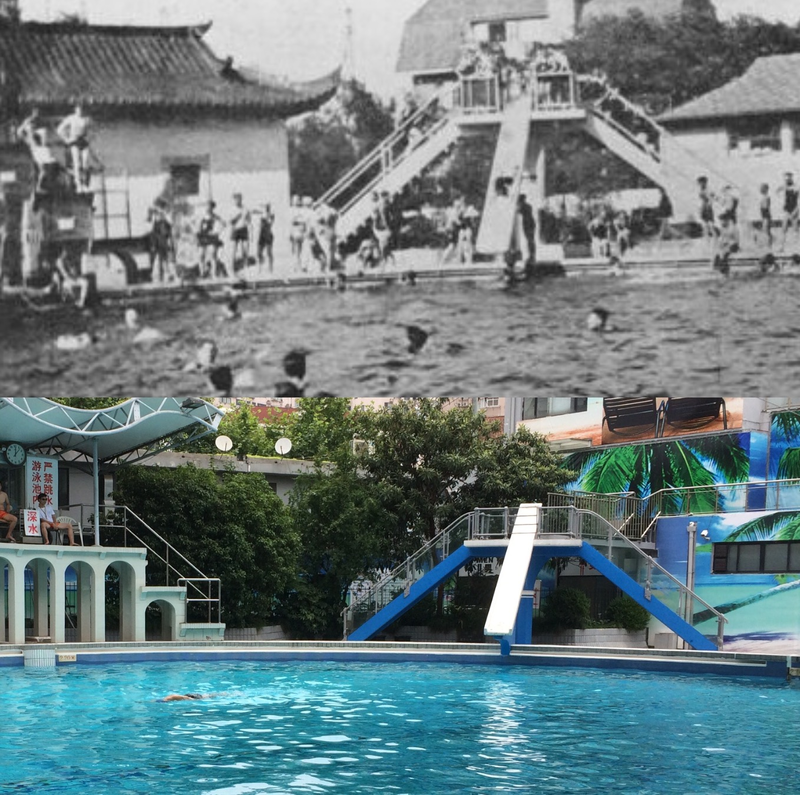 Coincidentally this week, I had the opportunity to discover the only remaining historic outdoor swimming pool in Hongkou, dating 1922. Hongkou swimming pool was initially built by the British and called Municipal Council Swimming Pool. There were two swimming pools in this area, the other one located on North Sichuan Road. A famous story tells us a lot about the atmosphere in those years. One day, two Chinese youngsters tricked the British guards with speaking Japanese words at the entrance. They were expelled later from the pool because of shouting at each other in Chinese. There was indeed a harsh racial prejudice against the Chinese, which apparently did not apply to the Japanese. From 1937 on, the Japanese army precisely took the swimming pool for themselves after invading China. In 1946, it became the territory of the Chinese Republican bourgeois elite before opening to a larger public with the New China era.
The Hongkou swimming pool remained for a long period the largest open air swimming pool in Shanghai and also a famous place for athletes to train. When I was swimming there, it reminded me of my visit at the Piscine Molitor in Paris, although the latest renovation transformed the place into a far more luxurious venue than Hongkou. However, they have in common the large size, the fact that both were turned into ice skating rings during the winter season and that many famous athletes showed up in both pools, including Johnny Weissmuller in Paris where he was a swimming teacher! Unluckily for my research, the configuration of the site did not quite resemble the one in the swimming goddess picture.
China's little mermaid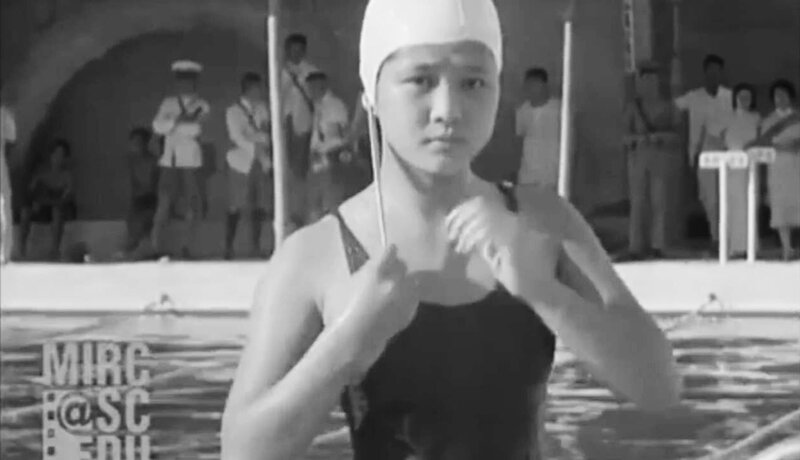 The mystery was partially elucidated when I found the name of the lady: Yang Xiuqiong written in small characters below the picture. Yang Xiuqiong was born in Dongguan near Canton in 1918. Her father taught her swimming, for which she showed some talent. She moved to Hong Kong in 1928 where she could improve her training and won two gold medals with 50 meters and 100 meters freestyle at the Hong Kong Swimming Open in 1930. In 1933, she participated in the Nanjing fifth national games and set four new national records.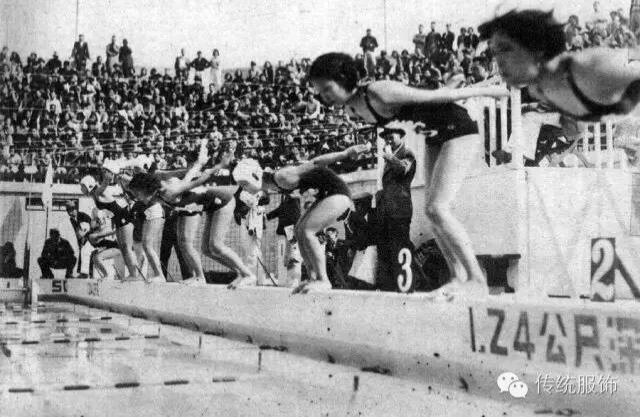 She was then only 15 years old and made such a great impression that she was invited to meet with Chiang Kai Shek and wife Soong Meiling, who adopted her as foster daughter. She had already earned the nickname of "China's Mermaid" (meirenyu), spread by media, looking for symbols of national pride. Her fame was at its utmost the next year, when she participated in the 10th Far Eastern Games in Manila. There, she won three individual gold medals and one together with her team. She got her picture on the front page of Liangyou, popular among the new bourgeois-type Republican elites.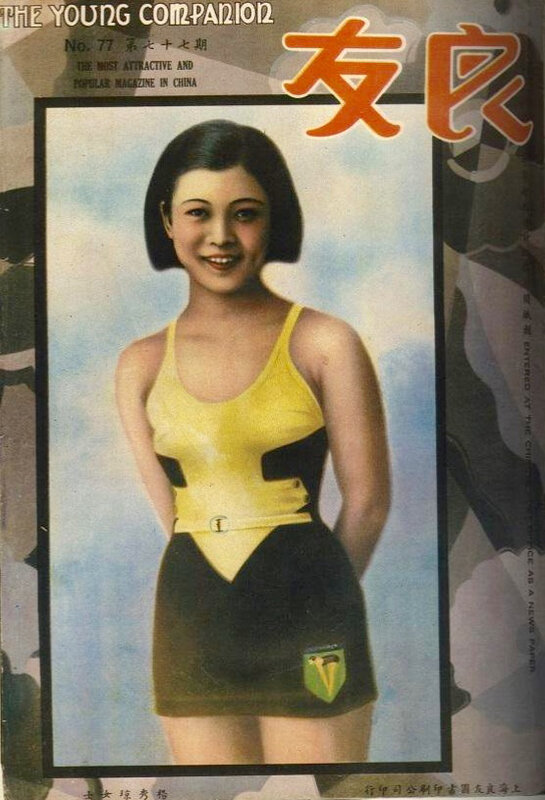 She was quoted as one of the ten most outstanding women of the day. The year after, she participated in demonstrations in Nanjing, Nanchang or Xiamen for Chiang's New Life Movement. The monthly magazine Zhong Hua on which I spoted her picture was issued in October 1935. My final guess is that the swimming pool is in Nanjing (fourth picture). In an online Chinese article however, the Art-Deco depth sign is visible on a photo (above), taken at the Manila games, they say, which I doubt would have used Chinese characters! The luck of the little mermaid was about to change however. In 1936, she set out from Shanghai for the Berlin Olympic Games. As the journey took her 17 days, she had no time to train on arrival. The outcome was a series of failures. On her return to China, the same press that had made her a national hero, bashed her, angry at her results. With war starting with Japan, her carreer was put to a halt. However, she could join a competition in Chongqing where she won eight gold medals! Unfortunately, this performance attracted a warlord's attention, who forced her into becoming his 18th wife! Unhappy with this union, she went into opium to the point that her body became unrecognizable. This led her husband to abandon her. She lived in Shanghai (photo at Hongkou pool below) before leaving for Hongkong then Vancouver, where she died in 1982.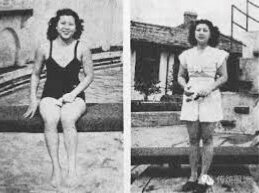 This sad story reminds us of those of other female celebrities of these years, the most tragic being film star Ryan Lingyu committing suicide at only twenty-five years old after the Shanghai press had damaged her reputation. Another similar destiny is actor Hu Die, forced into a sex relation with Chiang Kai Shek's head of secret police Daili. She eventually immigrated to Vancouver, exactly like our "China's mermaid".
Those stories show how ephemeral was the fame in those years and the rising role of mass media. Just like in Hollywood, 1930s Shanghai press could make stars in one day and throw them away the minute after!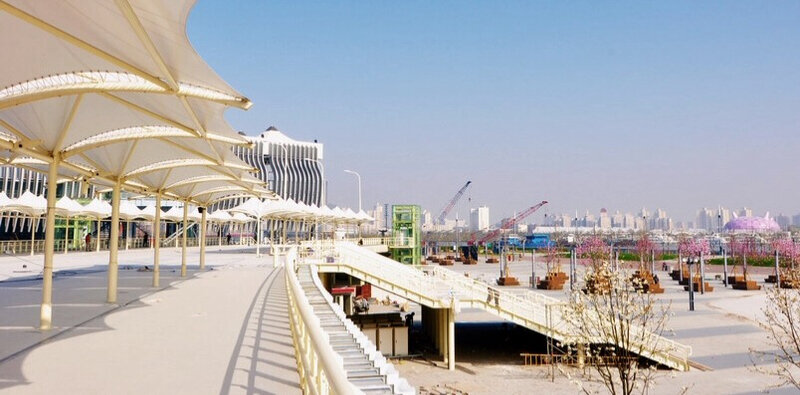 When I first came to Shanghai in 2010 for the World Expo, I remember being impressed by the remastering of the Huangpu banks from a messy industrial area into a modern and clean designed visitors park. At some point, I crossed to the West side D zone to see pavilions dedicated to technology. Then I walked on an elevated pathway overlooking a plaza containing three longs dry docks. I could not imagine at that time that those were the last traces of one of China's earliest shipyards.
History of the arsenal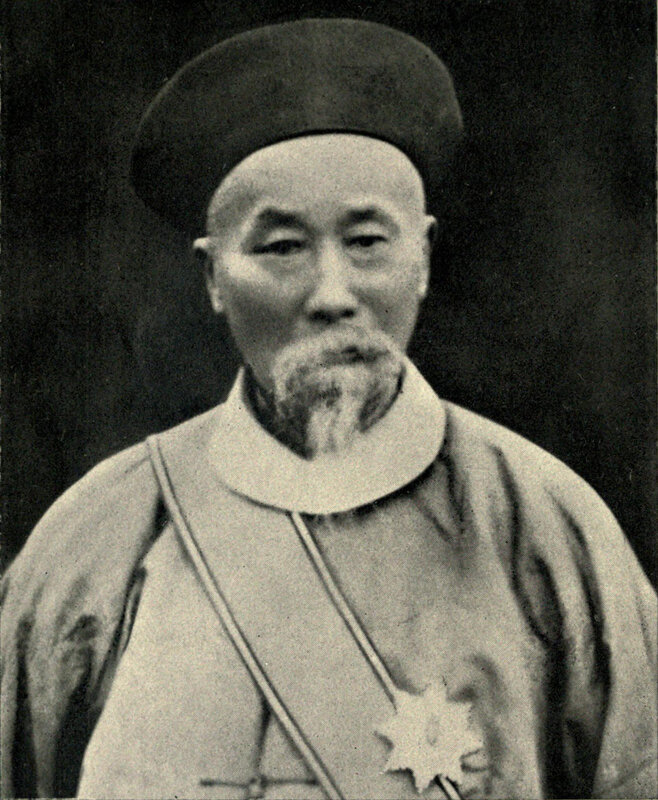 When the Westerners won the Opium War in 1842, they surprised the Qing Dynasty army with their overwhelming firing power. This gap became even more obvious when the Empire faced the Taiping Rebellion in 1850 and would have most probably collapsed if the Western powers had not helped them out. The British indeed chose to secure their positions in China by standing at the Emperor's side against the Taiping. So they authorized the Qing to recruit experienced Western military mercenaries like Frederick Ward or Chinese Gordon who lead some of the Emperor's armies into battle. This elite corp was nicknamed "the Ever Victorious Army", due to its successes at war. Those soldiers were equipped with British riffles and trained into Western military discipline and helped raising consciences about the need for China to modernize. Among the promoters of technical cooperation with the West was Li Hongzhang (nearby), a prominent figure during the second part of the 19th century. In 1861, he joined other local officials and launched, with tacit agreement of Beijing, a policy called the "Self Strengthening Movement".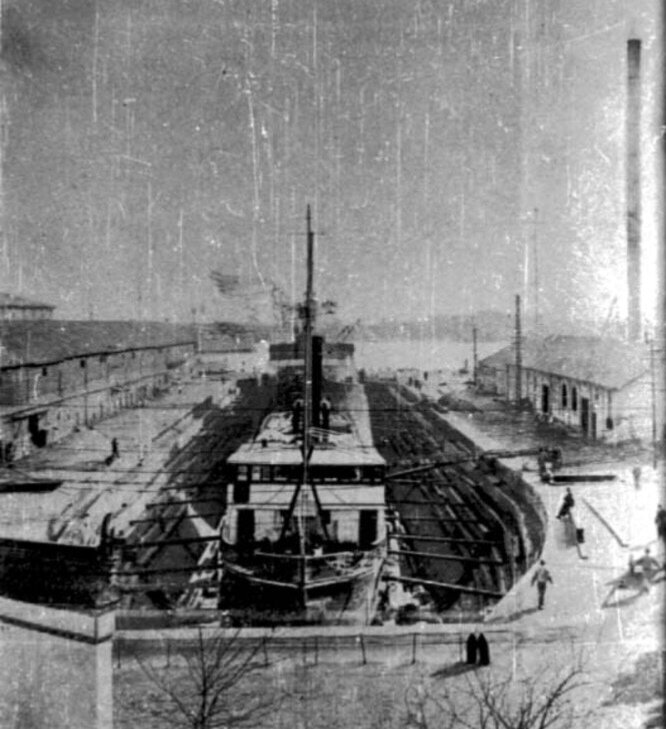 This was an attempt to fill China's gap with the West in terms industry, with priorities given to military arsenals and shipbuilding dockyards. In Shanghai, the Jiangnan arsenal was created in 1865, with a production of 4200 Remington type rifles by 1873. Chinese warships came out from its initial two dockyards, which become five in 1900, accommodating ships up to 500 feet long and 25 feet deep. The site covered 800 000 meters square. However, Chinese weapons and ships could not rival their Western competitors both in cost and quality. Reasons were the heavy bureaucracy and the plethoric use of foreign experts, who were not always skilled and could not be challenged by the Chinese. The failure of the modernization policy was completed by the rise to power of the conservative wing supported by Empress Dowager Cixi. This missed opportunity led to the fall of the Qing at the beginning of the following century, consecutively beaten by Japan and Russia before been overthrown by the 1912 revolution.
Republican and Mao eras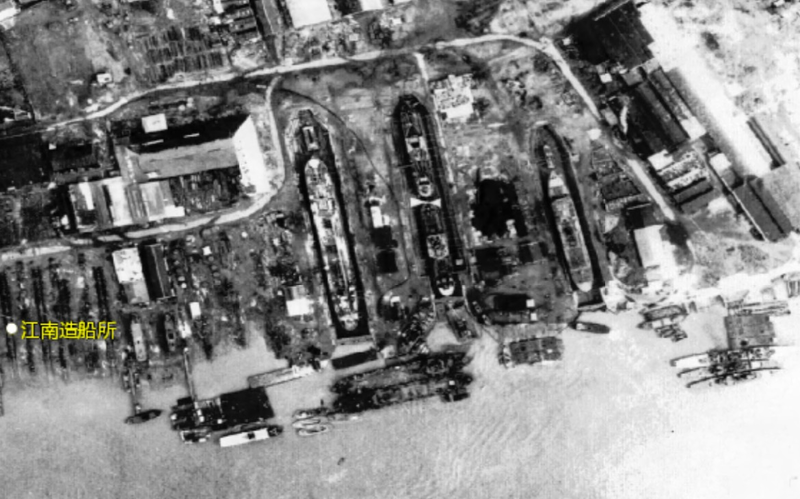 During the 1920s, the Jiangnan arsenal was run by the new Chinese Republic, with help of private foreign investments, and considered as a strategic asset by the new Chinese leaders. In 1937, the Japanese took over the premises although most of the production had been transferred to Chongqing by retreating Chiang Kai Shek. With the founding of "New China", the Jiangnan Shipbuilding Yard became one of China major ship production sites, then integrated in the state-owned CSSC Group. They produced numerous military destroyers, tracking ships but also gas carriers, bulk carriers and crude oil tankers.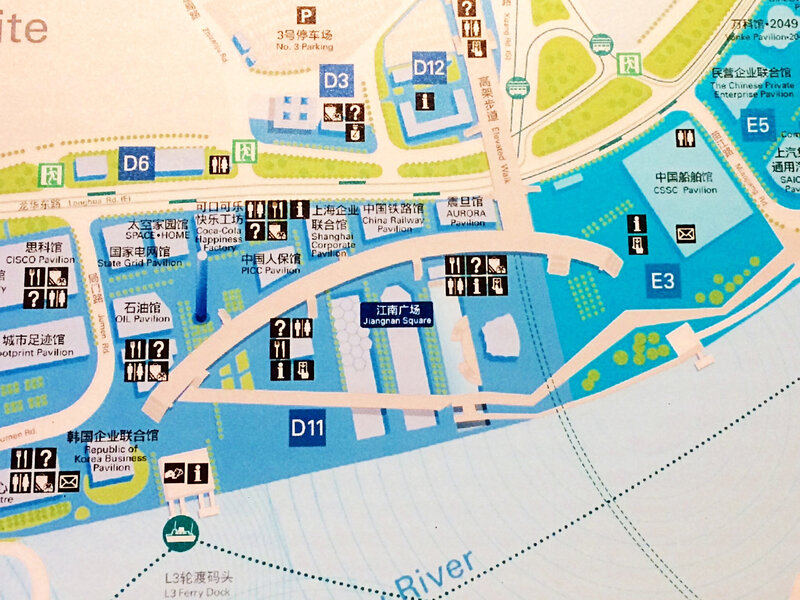 For the 2010 Shanghai Expo, production was transferred to Changxing Island, at the mouth of the Yangtze. The area was redesigned and named "Jiangnan Square", dedicated to companies like Coca Cola, China Railway and of course CSSC. A theatre was built in one of the docks and a children space in the other. The main purpose of the square was to connect the pavilions to ferry services and subway to the other bank. The three dry docks were circled by the elevated pathway that I used on the day of my visit, giving a unique view on the China Pavillon and the rest of the pavilions. When the Expo was over, however, I was never able to access again this site as it was closed to the public until 1st July 2017!
Rediscovering the old shipyard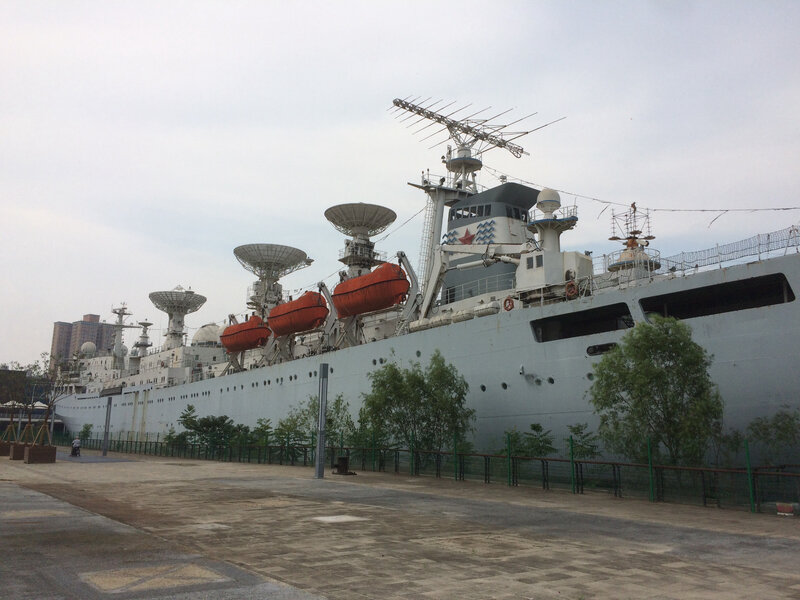 For some time now, there was something going on in this area with a new alley for pedestrians and bikes ready to open but under constant surveillance of security guards. When talking with some of them, I learned about the official opening of the path. No need to say I wanted to be among the first to go there and discover the new site. I was definitely pleased with this brand new public space. The interesting aspect of this new urban project is that the whole West Bank of the Huangpu River is now accessible for walkers, runners or cyclists, going from the West Bund Cool Docks complex, to the other side of the Olympic Water Stadium, way down South, along what used to be the Longhua airport.
The new promenade runs over some ten kilometers in a continuous river view. At the level of the former arsenal, the three remaining dry docks are visible at short distance from the top the 2010 Expo passerelle connecting them. In one of the docks, there is a military observatory vessel called Yuan Wang 1, which was built here in 1977 and reminds us of the industrial past of the site. This one is not open for visit at the moment but it migh well be one day, who knows. This type of ship is part of a series of seven military boats aiming at tracking intercontinental ballistic missiles and the course of military and communication satellites. The latest of this series were used for China's first man inhabited space program.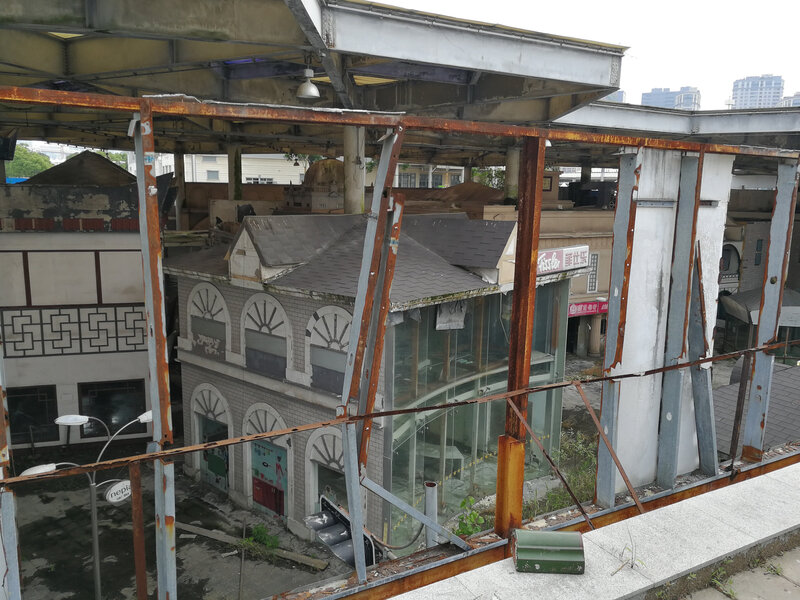 Inside the other ship slide, some of the 2010 Shanghai World Expo booths are stored like in a cemetery, giving another insight of the history of the site. The last dock is still in its Shanghai Expo configuration, showing access staircases to an inner theater. If you complete the view with the circling elevated pathway still around the former dock, you get a good feeling of the atmosphere of the 2010 Expo. If you want to know more about this event, you can always visit the nearby Shanghai 2010 World Expo Museum. It is a fantastic evocation not only of the 2010 Expo but of the expos ever taking place around the world. The 2010 thrill still floats there, reminding us of those exciting moments.
Walking along the new pathway along the Huangpu, I was impressed by the capacity of Shanghai to reinvent itself. The Jiangnan arsenal site is a perfect exemple of a this amazing energy into the future.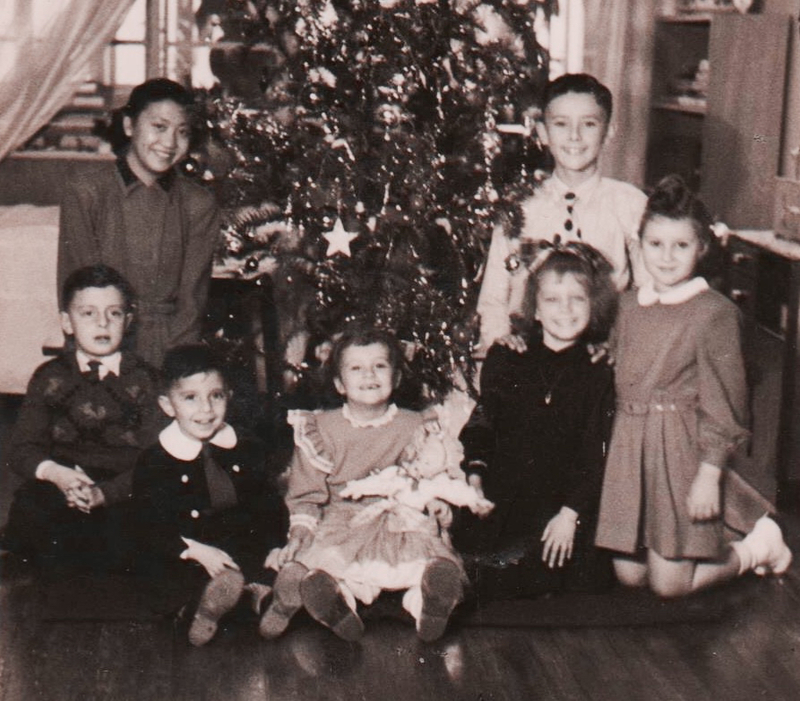 If you are still not convinced that Shanghai is a lifelong love, then you should read the story of Anna Michaels-Gaudreau, a New Yorker who spent her childhood in wartime Shanghai and now teaches to Chinese students there. Anna was born on 11st February 1943 at Shanghai Country Hospital, a masterpiece by Hungarian architect Lazlo Hudec, now Huashan Hospital. Her father, Franco Montanaro, was an Italian Merchant Marine Captain and her mother Lidia Teimoffov, presumably of Jewish Russian origin, although Anna herself was baptized, was singer and dancer. Lidia was born in Harbin in the 1908 and left it for Shanghai in the mid 1920's. She first married with a Harbin German Jewish merchant named Carl Fritz Wittsack. who created a company in Shanghai. Together they had a son, George, fifteen years older than Anna.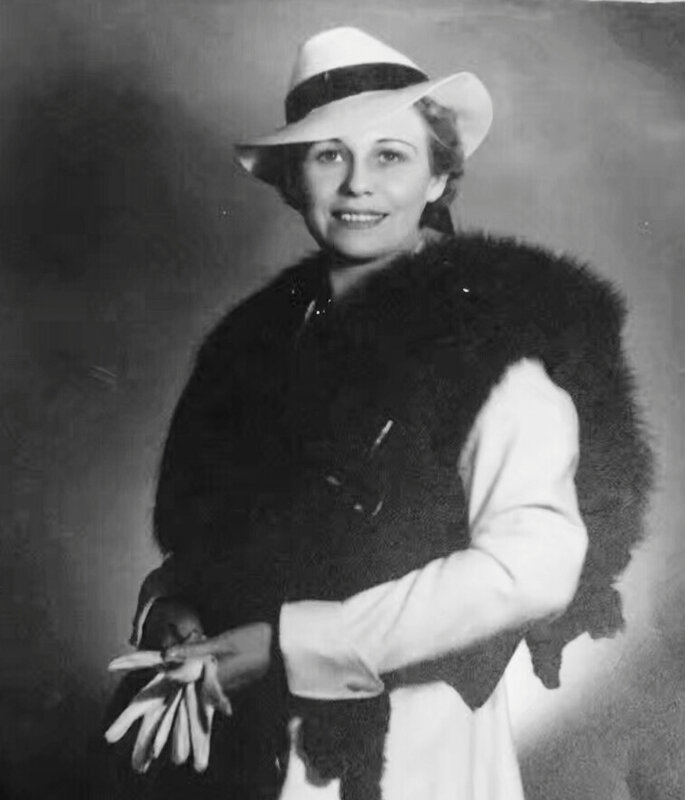 As a singer, Lidia performed all over China. After remarrying Franco Montanaro in 1937, the couple lived in Tower Apartments at 1033 Avenue Joffre (Huaihai Road), right in front of today's Xiangyang Park, near the Weida Hotel. This building was torn down in the 1990s and replaced by today's IAPM shopping mall. It was ideally located in the part of the French Concession labelled "Little Russia", or "Boulevard Moscow", a nickname for Avenue Joffre, as the quarter was densely populated with Russian immigrants. The situation of Anna's father was an enviable one, as he had a steady job. Franco was familiar with the nearby Cercle Sportif Français, where Anna remembers celebrating her sixth birthday with an afternoon cake. At the same period, Anna also attended the trendy College Municipal Français on former route Vallon, had already been renamed Nanchang Road, as the Chinese had already retaken the area. However, the family could not avoid the hardships of these troubled years. Let us remember that the world was at war with the Japanese invading China in 1937, those eventually attacking Pearl Harbor in 1941.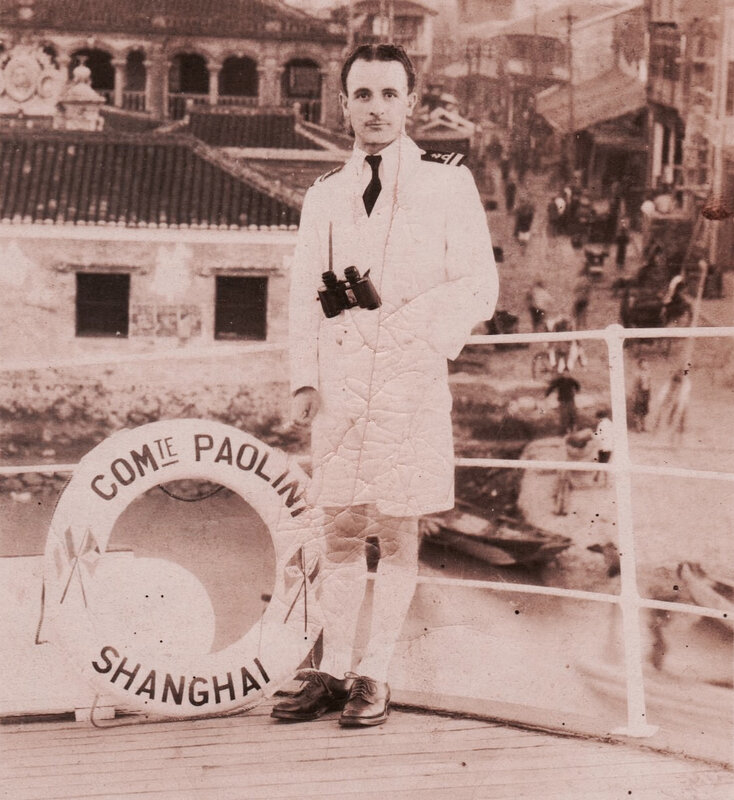 After Italy capitulated on 9th September 1943, Anna says her father was taken off his boat in Dalian, and sent to a Japanese prison camp in Manchuria together with other Italian crew members. It is not quite clear when and how he regained liberty as part of the region was reconquered by Soviet troops but when he eventually returned to Shanghai, he was very weakened, according to Anna's brother's memories. Then after the war, most probably because the financial situation of the family had seriously deteriorated in this context and additional difficulties to get employed by American shipping companies for Italian citizens who previously worked with the Axis, they stayed a couple of years in Hongkou. The family stayed near Seymour Road tells Anna, in what used to be the Japanese administrated "Designated Area". This place had indeed become the temporary home of many Central European Jewish refugees coming to China after 1937 to flee Nazi Germany. Most of them waited there for visa opportunities.
At some point, probably by 1948, they returned to the former French Concession, Anna's brother leaving for US. When the Communists entered Shanghai in 1949, the rest of the family stayed for a while, before leaving for Hong Kong in 1950 and San Francisco in 1951. Later, Anna became an actress. She even started a theatre company in Hollywood and directed plays in Los Angeles and New York. Today, she teaches psychology at the New York Institute of Technology and often comes to Shanghai to train Chinese students.
Anna Michaels-Gaudreau recently published a course book called "Acting Drama in English" with a grant from Tongji University, a tribute from Shanghai to a remote family member, she humorously comments.