Harbin's Russian heritage architecture has often been praised. The city which was founded along the Chinese Eastern Railway by czarist Russia was indeed known as the St Petersbourg of the East because of its resemblance to the capital of the former Russian Empire. There are still many orthodox style churches in town today, though some of them have been turned into catholic churches or even museums (see Saint Sophia on the left). The Chinese Cultural Revolution in Mandchuria however destroyed a few of those previous beauties. In the main city artery, one is also fascinated by rows of buildings in the Russian baroque style, most of them shops like "Churin" famous Russian brand introducing the Harbin sausage in 1903 or restaurants like "Moderne" where you can still enjoy a bowl of borscht today at the sound of live classical music. Exactly like in the 1920s when some 50000 White Russians dominated the Harbin cultural life!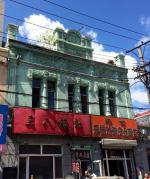 However, Daowai is less often mentioned
by visitors. In Daowai, which literally means "out of the road", as a mention to the Russian concession given by the Qing Emperors (the Russian city is then called Daoli, meaning "inside the road"), one can feel the authenticity of former Chinese workers living in alleys, a bit like
Shanghai lilongs
. The other characteristic of this quarter are the
wonderful facades
of the buildings (example of photo right) which look like those you find in Canton, Taipei or even Melbourne Australian. They are two storey merchants houses of various styles which aims at impress the potential buyers. Most of them are from the 1920s period when Chinese business was booming, using the newly built railway line and the Songhua River which connects with the Amur on the Russian border.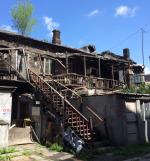 Textile and food industry attracted a large number of workers from all Northern parts of China. They used to live in the alleys connected to the workshops. Some of those houses are now in bad conditions but there are still many people staying there. Facades can be in Chinese baroque style or "comprador" style, just like those in Xiamen or Kaiping. Some Art Deco can also be found, though those are Japanese firms premises from after 1931 invasion of Mandchuria by the Japanese Empire. Most interesting patterns can be seen in some inner courtyards resembling Beijing siheyuan or even caravanserails along the former Silk Road.
Courtyards and alleys bordering workshops are been renovated at the moment in order to allow tourists to enjoys the many local specialties. However I prefer the street side with its colourful facades, some of them with wild grass growing within the bricks and always small shops at the ground floor. Those are really authentic! Close to the main street of Daowai, you can find a large open air market selling birds and pets as well as fresh food. This one is not far from the Songhua River where runners and walkers add to the already lively picture of this part of the town!

This first visit of Harbin gave me the same impression as when I came to Wuhan for the first time: A combination of culture, history and a great deal of Chinese charm. So I strongly recomend you visit it!
On a souvent vanté l'architecture russe de Harbin. Il est vrai que la ville fondée le long du chemin de fer de l'Est chinois par la Russie tsariste est tellement marquée par l'héritage culturel de la Sainte Russie que la ville a longtemps été surnommée la Saint-Petersbourg de l'Est. Les églises orthodoxes, transformées en églises catholiques pour certaines ou en musées pour d'autres (comme Sainte Sophie ci-contre), subsistent encore nombreuses, et ce malgré le déchaînement de la Révolution Culturelle dans cette région. La rue principale restaurée depuis la fin des années 1990 impressionne par l'alignement de ces batiments de style baroque russe. Ce sont souvent des grands magasins ou bien des restaurants comme le "Moderne" où l'on consomme encore du borscht au son de la musique classique. Un mélange que n'auraient pas renié les quelques 50000 russes blancs qui dominaient la vie culturelle dans les années 1920!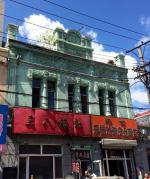 Pourtant on parle assez peu de Daowai
, (la ville du dehors en Chinois, Daoli étant la partie russe, la ville du dedans). Or, on trouve dans cette partie de la ville toute l'authenticité des vieux quartiers ouvriers regroupés en allées, un peu sur le même modèle que les
lilongs Shanghaiens
. Ce quartier est caractérisé par de
magnifiques frontons
(photo ci-contre)
qui rappellent ceux des quartiers commerçants de Canton, Taipei ou encore le quartier Chinois de Melbourne. Il s'agit d'une architecture marchande sur deux étages aux références architecturales nombreuses qui vise manifestement à impressionner les chalands. La plupart de ces batiments datent des années 1920, période où la communauté Chinoise est la plus florissante, venue profiter de l'économie ferroviaire et fluviale (la rivière Songhua, affluent de l'Amour, donnant directement accès aux produits russes!).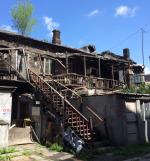 Les industries locales textiles et alimentaires employaient une main-d'œuvre importante venue de tout le Nord de la Chine. Celle-ci était logée directement dans les allées qui jouxtent les lieux de travail. Beaucoup d'entre elles tombent aujourd'hui en ruine mais y vivent encore de nombreuses personnes. Les frontons sont soit de style baroque chinois ou de style "comprador" sur le modèle de Xiamen ou de Kaiping. Certains batiments sont auss Art Deco, souvent des fabriques japonaises postérieures à l'invasion de la Mandchourie de 1931. Point intéressant: les cours intérieures sont un mélange de la cour carrée pékinoise (Siheyuan) et du caravansérail tel qu'on en trouvait sur la Route de la Soie.
Les cours et allées entre les ateliers sont en cours de restauration pour permettre aux touristes de goûter les nombreuses spécialités locales. Personnellement, je préfère les façades sur la rue, certaines encore envahies par les herbes sauvages et dont les échoppes au rez-de-chaussée sont décidément plus authentiques! Tout proche de Daowai se trouve un grand marché aux animaux et produits frais de plein air. Celui-ci borde la riviere Songhua (ci-dessous) où se regroupent promeneurs et sportifs, achevant de donner de la vie à cette partie de la ville déjà très colorée.

Aussi cette première visite à Harbin est un peu à rapprocher de mes premières impressions de Wuhan: Un mélange de culture, d'histoire et surtout un charme très très chinois . À voir absolument donc!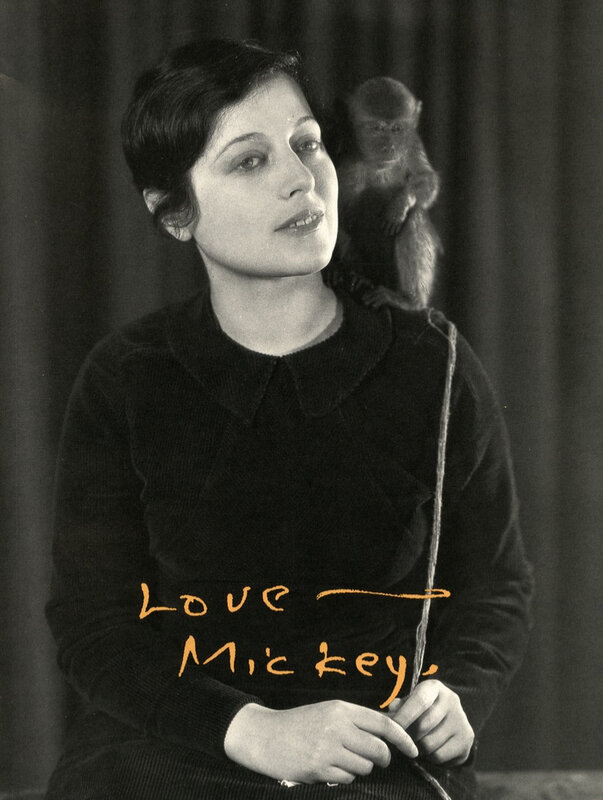 As I was flipping again in Peter Hibbard's excellent book about the Bund, my attention was caught by one of Victor Sassoon's love stories. The one with Emily Hahn, a most fascinating character!
American journalist and adventuress
, considered by many as the first American feminist, Emily Hahn, whose friends and family knock named "Mickey", arrived in Shanghai in 1935. Emily left the United States a couple of years earlier for Africa when she extensively commented
Belgian Congo pygmies
. The first women graduated from a mining engineering school, she was quickly bored with this career and had decided to discover the world for herself. When arriving in Shanghai however she did not imagine China would have such a strong impact on her life. As a new comer in the city, she was invited by some of the finest elites of the time, including flamboyant billionaire Victor Sassoon. It was not long before they started an affair and Mickey is said to be seen with the tycoon in his box of the Shanghai Race Club (on today's People Square) or the Cathay Hotel, the present
Peace Hotel.
She was always accompanied by
a small gibbon called Mr Mills
, which added to the odd of her appearance. As Sir Victor Sassoon was found of photography, Emily Hahn later said he like to take her photo naked.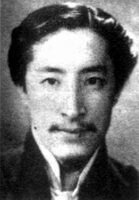 However Mickey's most remarkable love affair was the one with Chinese poet Shao Xunmei (pronounced Zau Sinmei at that time). This one was a perfect symbol for the intellectual dandy type of Chinese elites of the time. Brought up in a rich family whose fortune was connected with Chiang Kai Shek regime, he studied in Cambridge as well as Paris. So he was equally used to taylor made western suits and Confucian scholar robe. Shao Xunmei is often compared to French poet Verlaine as he stands for a kind of hedonist decadent style of art. In those years, Shao Xunmei owned a magazine called "Shanghai Sketch" (Shanghai Manhua), which cover often featured naked bodies to attract readers into the more intellectual and even political content. At that time, a love affair between a Chinese man and a Western women was unthinkable, since society was driven by most colonialist ideas. Emily Hahn was nevertheless attracted by the 31 years old poet whose life style definitely fitted her own aspiration for freedom. Shao Xunmei even introduced Mickey to smoking opium, an addiction that took her efforts to get rid off later.
The couple decided to live on Kiangse Road
(today Jiangxi Road), in the heart of the Red Light District of Shanghai. This place soon became the headquarter for their artistic collaboration in those years. Thanks to Shao Xunmei extensive relations in the Kuomintang, Emily Hahn could
interview the Soong sisters
, the daughters of Charlie Soong who married Sun Yatsen for one, Chiang Kai Shek for the other and the rich banker HH Kong for the last one. She wrote the first biography about them. In addition to writing, the couple also published artistic reviews. After the Japanese invaded Shanghai in 1937, some of these magazines where banned by the new rulers and they had to move into the French Concession to seek protection on Avenue Joffre (today Huaihai Road). To allow Shao Xunwei to flee with her, Mickey married him in the only possible way of the time, declaring herself "second western concubine" of the poet. Quite a scandalous title to the white elite of Shanghai! On a first trip to Hongkong, Emily Hahn met with Charles Boxer,
a British Intelligence Service officer
. He was married but they started an affair and had a daughter with him. On the opposite of the time habit, she decided to proudly publicize this birth. When the Japanese took over Hongkong, Charles Boxer was detained in a camp and she had to escape to the US with their daughter. After the war, they finally got married but Mickey preferred to live in New York when her husband stayed in England, a way for her to pursue her carreer as an independent woman.
Emily Hahn died in 1997 at 92, having written some 54 books and more than 200 articles. Topics are as diverse as life of monkeys or cooking recipes, showing her appetite for novelty. Her partial memories called China to Me catch the energy of Shanghai 1930s and bring back to life her unique destiny in a most exciting period of history!
Among the outstanding characters who lived in Shanghai in the 1930's was undoubtedly William Ewart Fairbairn. Being a member of the Shanghai Municipal Police, for 30 years, Fairbairn got himself involved into hundreds of street fights, most of them implying use of knifes. At the end of his carreer, Fairbairn's body was covered with all kind of scars, even on hand palms.

Knick-named "Fearless Dan" or the "Shanghai Buster", W.E. Fairbairn arrived in Shanghai in 1907 to join the Police force. When on duty, he was confronted to street crime, some related to opium smuggling by the local Green Gang, prostitution activity on Fuzhou Road Red Light District or political unrest. In 1925, the Shanghai Municipal Police had to deal with a riot launched by Communist students known as 30th May Incident. Unfortunately it ended by shooting in the crowd as the Shanghai Police was not trained at all to face such situation. Therefore, it was decided to set up a special "Reserve Unit" led by Fairbairn, integrating modern techniques and training in the field of riot control and hand-to-hand combat.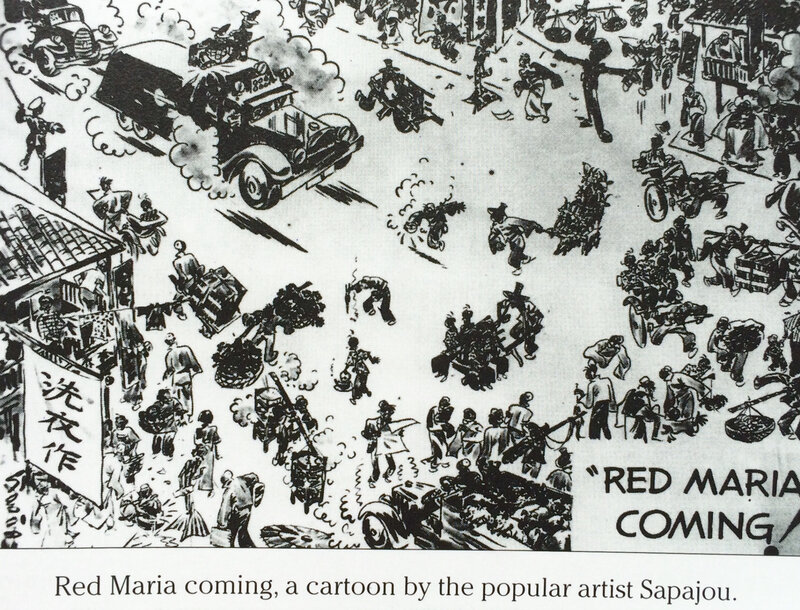 At the head of one hundred highly trained men among whom 14 Foreigners, 26 Sikhs and 60 Chinese, Fairbairn made the Shanghai Municipal Police enter a new era. They could for instance rush to zones of riot in their "Red Maria", a most frightening fully armed car painted in carmin color and equipped with screaming siren to scare trouble makers. Special Reserve Unit members could also speak some Shanghai dialect, were trained to precision shooting, knife fighting and wore bullet proof jackets at some point, like today's modern SWAT units. Fairbairn himself was expert in many martial arts like Chinese Kungfu or Japanese Judo and he eventually created his own fighting techniques to gain efficiency.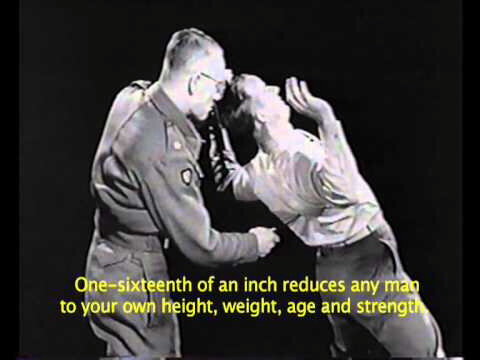 This way of fighting (click nearby image for video) was called "Gutter Fighting" and was focused on giving fast kill or damage to avoid being killed yourself. Fairbairn could design a new type of knife, meant to change hand easily and therefore disorientate the aggressor. This most lethal weapon is still known today by every commando unit around the world as the "F-S Fighting Knife" (F-S standing for Fairbairn-Sykes). When Britain entered WWII in the 1940's, W.E. Fairbairn actually proposed his skills to the British Special Forces, the SOE. He instructed the first British elite commandos into efficient body fight and hand-to-hand combat. This training proved useful when preparing the D-Day invasion by Allied Forces.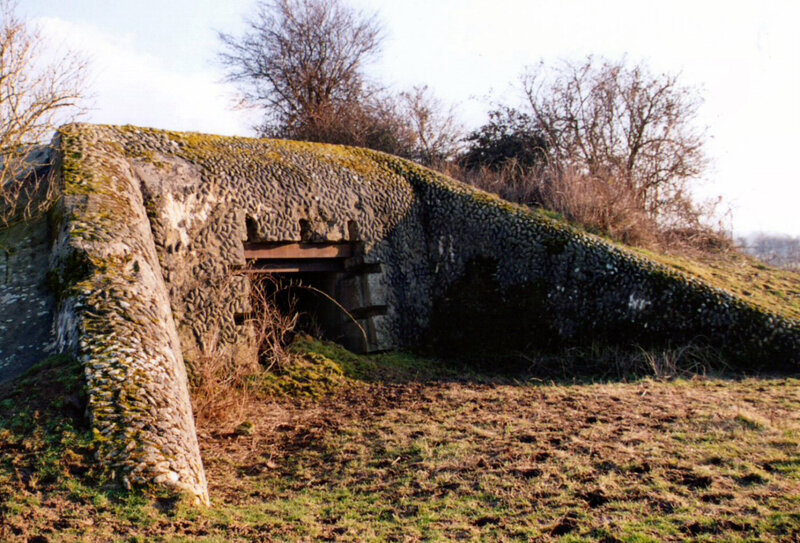 On 5th June 1944, it revealed crucial to silent some German batteries before landing could take place. On that night and the following days, Fairnbairn-trained commandos stroke in many strategic positions, right behind enemy lines. The most famous victory came with the taking over of Merville canon unit (nearby photo), overlooking the Orne canal. This event did not come without casualties and many commandos died that night but all experts agree that none of the landing operations would have been possible without the help of these daring commandos.

When I am back in Normandy to visit my family now, I cannot help but thinking of Fairbairn role in the liberation of my country. Definitely another strong link with Shanghai!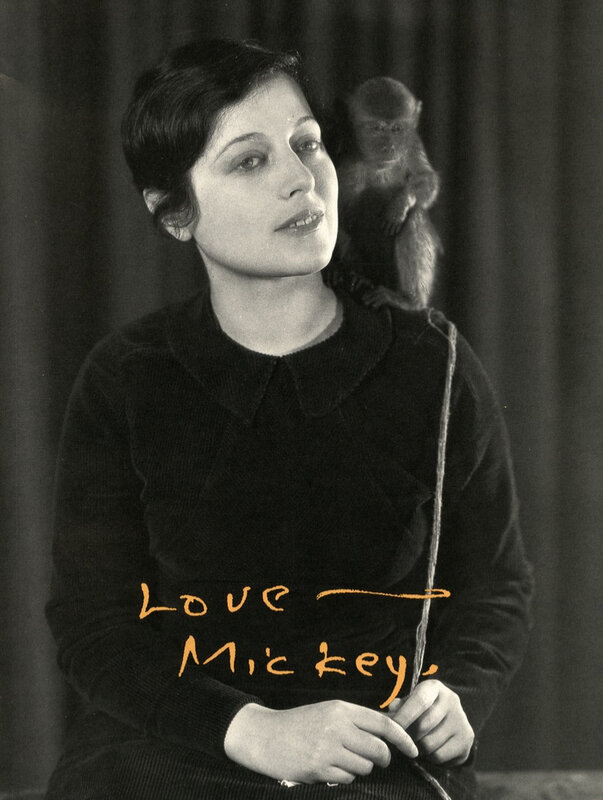 Récemment, en relisant le superbe livre sur le Bund de Peter Hibbard, mon attention a été retenue par la référence à l'une des liaisons de Sir Victor Sassoon. Celle avec Emilie Hahn (ci-contre), un personnage tout aussi fascinant que lui.
Emilie Hahn
est une journaliste américaine
qui arrive à Shanghai en 1935. Surnommée "Mickey" par ses amis et sa famile, elle se déplace souvent en compagnie de Mr Mills, un petit singe gibbon. Véritable incarnation de la femme libre, "Mickey" a quitté les États Unis par ennui, non sans avoir passé avec succès son diplôme d'ingénieur des mines, métier auparavant exclusivement masculin.
Elle part alors au Congo Belge
et vit quelques temps au milieu d'une tribu de pygmées. Shanghai ne devait être qu'une étape découverte de quelques jours dans son parcours aventureux. Elle y restera pourtant plus de deux ans et plus encore en Chine, période qui marquera durablement sa carrière de journaliste et d'écrivain prolifique. Personnage haut en couleur, elle ne manque pas d'être invitée à son arrivée par le Tout Shanghai dont le flamboyant millionnaire Victor Sassoon avec qui elle noue une liaison. Elle raconte plus tard que celui-ci, grand amateur de photos, aimait particulièrement la photographier nue. Elle sera souvent vue à ses côtés dans son box privé du champ de course sur la Place du Peuple actuelle ou encore lors de des réceptions organisées au Cathay, le
Peace Hotel
aujourd'hui.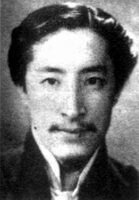 Pourtant, le séjour Shanghaien de l'égérie féministe sera surtout marqué par sa liaison tapageuse avec le poète chinois Shao Xunmei (Zau Sinmei selon la prononciation originale, photo de droite). Celui-ci est la parfaite représentation du dandy intellectuel chinois tel qu'en fleurissent dans les années 30 en ville, sous l'influence grandissante de la culture Européenne. Il vient d'une famille bourgeoise riche, ayant prospéré dans le commerce alors florissant à Shanghai dans les années Chiang Kai Shek. Ayant à la fois étudié à Paris et à Cambridge, il est à l'aise aussi bien dans un costume Européen taillé sur mesure que dans la robe de lettré confucéen dans laquelle on l'aperçoit de temps en temps. Rapidement il s'illustre par la publication d'une revue décapante dont les couvertures modernes aux femmes dénudées n'ont d'autre but que d'attirer le lecteur vers les points de vues plus politiques ou des manifestes sur l'art moderne à l'intérieur: "Shanghai Sketch" (Shanghai Manhua, couverture ci-dessous). A l'époque, une relation entre une Européenne et un Chinois est totalement scandaleuse, dans un monde encore empreint de préjugés colonialistes. Emily Hahn sera pourtant envoûté par le charme du jeune poète de 31 ans , parfois comparé à Verlaine et dont le style de vie décadent correspond en tout point à son propre besoin de liberté. Elle décide de s'installer rue Kiangse (rue Jiangxi actuelle), en plein cœur du Red Light District de Shanghai et fera de son appartement le cœur battant de sa collaboration artistique avec Shao Xunmei.
Ensemble, ils publieront plusieurs revues
et les nombreuses relations mondaines du poète avec les élites chinoises nationalistes donneront accès à la journaliste à de nombreuses personnalités. Elle écrira notamment
la première bibliographie des
soeurs Soong
, les filles de Charlie Soong dont l'une est l'épouse de Sun Yatsen, fondateur de la Chine moderne, l'autre la femme de Chiang Kai Shek et la dernière celle de HH Kong, un riche banquier. Pendant les années de sa liaison sulfureuse avec Shao Xunmei, Emily Hahn s'adonnera à l'opium, accessoire des intellectuels hédonistes. Elle ne quittera son addiction qu'en partant pour Hong-Kong après l'invasion Japonaise. Dès 1938 en effet, la plupart des publications tombent sous le coup de l'interdiction de la police japonaise et la proximité de Shao Xunmei et de ses amis avec le parti nationaliste oblige le couple à déménager pour se réfugier dans la Concession Française, rue Joffre (actuelle Huaihai Road). Lors d'un premier séjour à Hong Kong, Emily fait la rencontre d'un nouveau personnage exceptionnel qui deviendra son deuxième mari (elle a fini par signer un certificat de "concubine européenne" de Shao Xunmei pour le protéger des Japonais ).
La nouvelle rencontre d'Emily est
Charles Box
er, officier de renseignement britannique
, alors régulièrement marié. Celui-ci sera plus tard interné par les Japonais lors de la prise de Hong-Kong mais le couple se mariera tout de même après la guerre.
La suite de la vie de "Mickey"
est à son image de femme libre. Bien que mariée à Charles Boxer et mère d'une fille avec lui, elle mettra un océan entre eux, préférant poursuivre sa carrière de journaliste à New York alors que celui-ci résidera en Angleterre.
Emily Hahn décède en 1997 à l'âge de 92 ans et aura publié en tout plus de 54 romans très éclectiques dont certains sur la vie des singes ou des recettes de cuisine, reflet de sa curiosité et de sa passion brûlante pour la vie. Son ouvrage "China to me" reste un témoignage exceptionnel sur le Shanghai des années 30 et sa formidable énergie!
If you get a chance to visit a Chinese Market in Shanghai or the rest of China, you probably notice that in addition to raw eggs, another variety will be on sale: the "One Century Eggs", also called "pidan"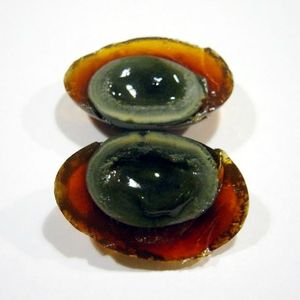 This sort of preserved egg has nothing in common with the fertilized duck eggs that one finds in the Philippines ("ballut" in Philippino) or in Vietnam. It is actually more often used as a condiment than a single dish. There is no reason to fear this kind of egg: it contains nothing that can hurt either your stomach or your sensibility. This black coloured egg is often cut into small pieces and mixed in a congee (hot water with rice) or with tofu in some Shanghainese dishes. The dark transparent colour is actually obtained by maceration of the egg in a mixture of clay, salt, lemon juice and ash to preserve it. For this reason, it is too salty to be eaten alone and is used to add flavour to some simple dishes.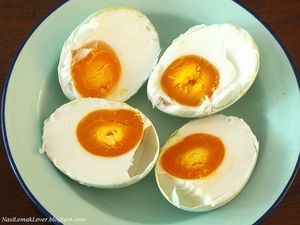 There are other kinds of eggs sold in China, such as tea-eggs, most of the time sold in parks or local shops, next to the boiled corn or hot fish balls. The last very famous preserved egg is called "Xiandan" (salted goose eggs) and can be bought on Shanghai markets. As they are high in cholesterol, you should not be eaten them too often.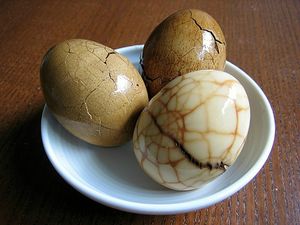 To know more about Chinese culture and its its daily treats, feel free to join one of our Shanghai Culture Tours. I will be delighted to take you on the streets, talk with locals and discover together some of the Shanghai secrets. I wish everybody a Happy Easter!
To receive our articles register to the newsletter
Feel free to catch up with our Facebook page or visit our internet
Cultural and Historical visits of Shanghai: didier.pujol@chinaworldexplorers.com or +86 15021769130
There are moments one would never like to experience. To stroll along ravaged Shanghai lilongs is definitely one of them. For some three years now, the lilongs situated along the Suzhou River or near the Huangpu are actually regularly destroyed (read my article "Goodbye Old Shanghai").
When looking at half torn down walls or missing glass windows, one cannot help rememberping some happier moments enjoyed there. There used to be entire families living in those houses not long ago (read my article about sunny lilongs and listen to my radio interview in French about them). It was only yesterday that children ran in those narrow alleys, with rejoicing faces. It was the time of community life. Old people used to mend broken chairs or peal off the skin from vegetables in the morning sun rays. There was happiness everywhere. The fresh products bought on the local market or the daily exercise on alley machines were the subjects of the discussions between neighbors. In the afternoon some of the habitants played mahjong as the others had their hair cut. At three thirty, it was time for grand-parents or parents to go and pick up their children at the local school. Most of them hurried to make sure to be the first at the school gate. When they came home, they helped the children with their homework, often made at the house threshold. Finally supper was taken together before a last digestive walk in pajama. This daily routine was only interrupted by pedlars on carts or repairmen offering their services. A real flavor of old Shanghai!
However, when I compare some of the pictures I have taken three years back with recent snapshots, I realize these days are now gone forever. Once more, Shanghai has changed in a glimpse, leaving me stunned and helpless. New buildings erected on the side of Suzhou River are clearly meant for different social classes than those living in former lilongs. Some of those residences are designed like those in San Francisco or Sydney. A clear indication of the search of the new upper classes for a more international way of life!
Former habitants of the numerous Suzhou River lilongs will probably be offered new homes elsewhere, but it will be far from the city center. This location has now become the exclusive territory of Shanghai nouveaux riches. Alas!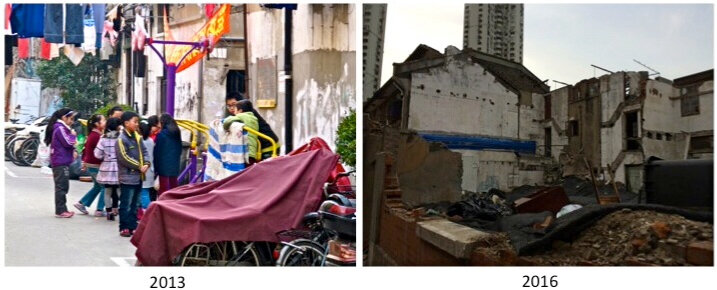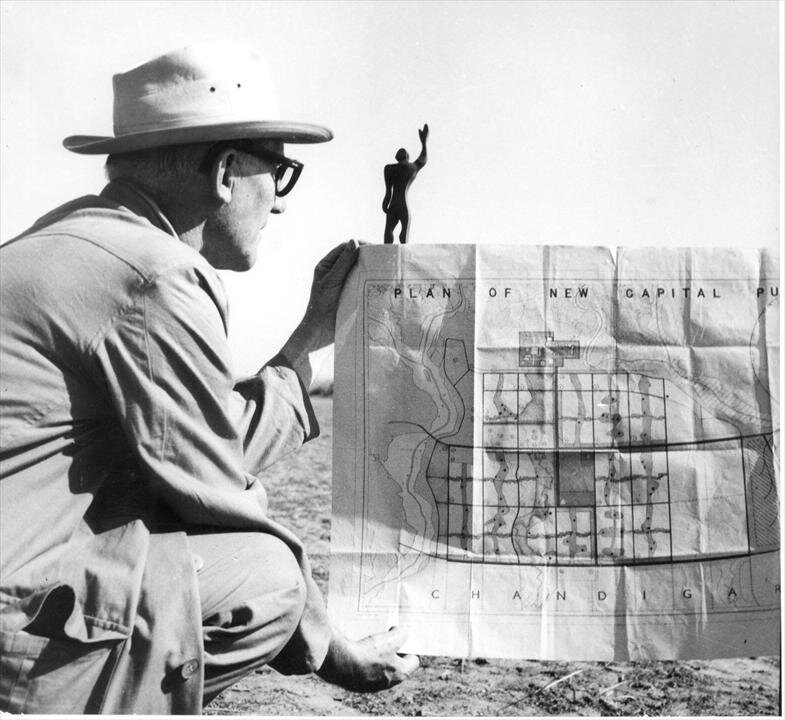 I was recently traveling to the Indian city of Chandigarh and I was very much impressed by what Indian describe as of the most comfortable city in the country.
At first sight, this statement is not obvious as Chandigarh is a 100% concrete modern city, entirely built by controversial architect Le Corbusier to become the capital of Indian Punjab after Partition. However, compared to other dense traffic and crowded cities of India, one soon realises Chandigarh is a heaven. Traffic is fluid and trees can be seen everywhere. Actually the whole city is designed along the idea of nature, including "green lanes" allowing to cross it (see bellow). The initial project even created a Bureau to manage tree species over 50 years, those having to be higher than the houses.
When wandering deeper in inhabited areas, one is surprised by the calm and "human" environment (third photo). The vision of Le Corbusier was indeed to create seven levels of roads, from avenues to simple paths in order to concentrate car traffic on larger avenues. The result is "sectors" smaller than usual American "blocks", containing every commodity: cafes, food markets, administrative services…When people mention Le Corbusier, the first image coming to mind is made of concrete and rather tall buildings, a turning point with pre-war architecture. Detractors also refer to the architect's profound love of straight lines and sympathy for facism. Although these facts are real, Chandigarh is far from an inhuman city.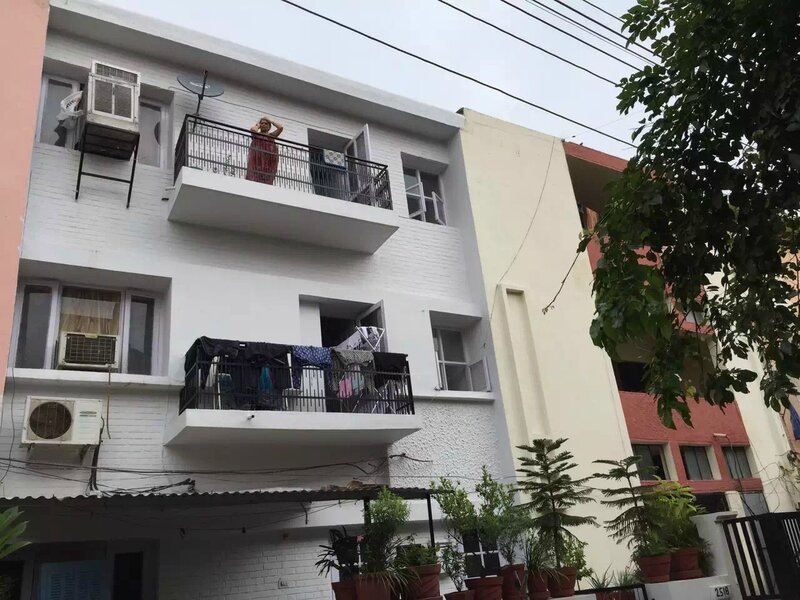 Le Corbusier vision is one of the city itself as a human body. A city must have a head, a heart and limbs. The other leitmotiv of famous Swiss master is the use human scale as general reference called "Modulor" to measure everything (see first photo).The "head" of Chandigarh is the "administrative forum". The "heart" is the market area. The limbs consist of large avenues leading to parks or to communication hubs. The choice of an "administrative" head for Chandigarh is linked to the history of the city, founded as a capital as well as Le Corbusier dream the dream of a modern Acropolis. As for the heart, market zone copes with the need of Indian people to secure daily life after Independance. Limbs refer to the idea of communication.
What parallel can be drawn with Shanghai?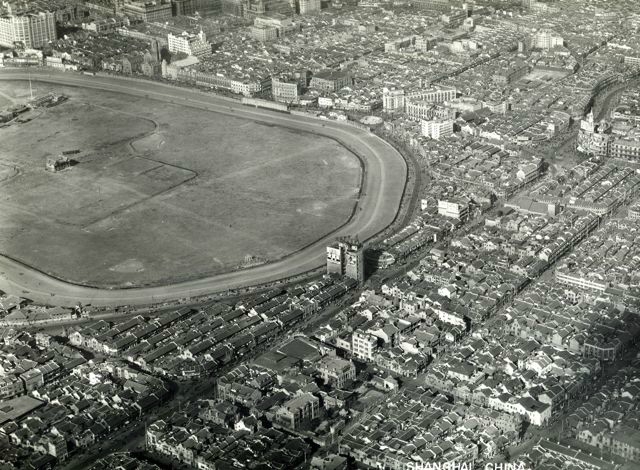 First of all, I keep referring to Shanghai as a most "human" city, which is contrary to the western idea of a concrete jungle. Indeed, since the 2000 Expo, elevated roads support the larger part of Shanghai car-traffic. Exactly like in a Le Corbusier city, you can walk or bike in Shanghai streets, without meeting cars in many parts of it. This is not of course in the initial project of Shanghai. Shanghainese refer to a noisy and messy city but at least now, we get closer to the vision of Le Corbusier. The other common point between Shanghai and Chandigargh is that both cities where built almost from scratch, enabling modern ideas to influence urban design.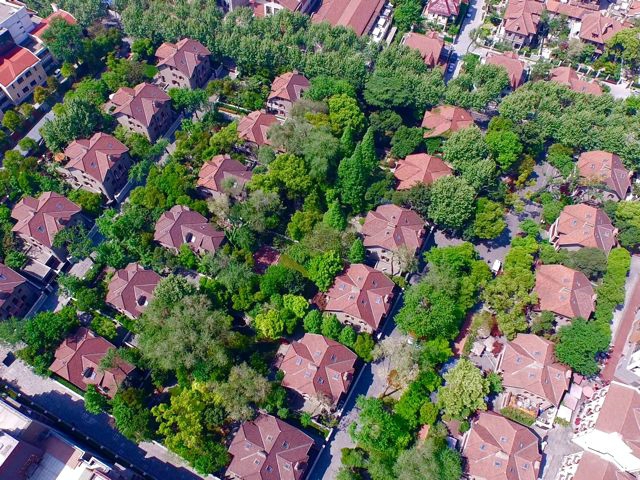 The main illustration of it is the "lilong", very close indeed to the idea of "sectors" of Le Corbusier. Inside a lilong, almost every commodity can be found too: hairdresser, fresh vegetables, police, laundry, etc… Those were designed to protect the habitants in the first place but it also meant insuring their basic needs of a large number of residents. When you cross a lilong, you definitely are separated from traffic and can have a calm and neighborhood based life. What about the "Shanghai body" then? Actually the Bund was in the 30s, the nevralgic center of Shanghai, mainly based on the idea of business, starting with opium then banking, insurance and real estate activities.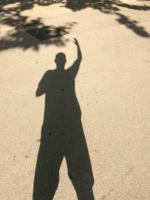 This is characteristic of the "semi-colonial" city design, meant to ensure dominating powers long term and substantial revenues. The "heart" then? It was today's People Square, initially the Race Course and Entertainment District (see photo above of Race Course surrounded by lilongs in the 40's). A symbol for "Shanghai, gambling hell city", with its superficial way of life which is still part of Shanghai identity, the "haipai". The limbs? The Former French Concession with opium smuggling and the Suzhou River, linked to manufacturing activities were two powerful engines of Shanghai wealth during those years. To conclude, when I look at the Former French Concession skyline (above) or newly created green zones, I definitely think Le Corbusier could have designed Shanghai. Villas and 3 storeys houses of the historical Shanghai would probably fit into the "Modulor" idea (see nearby photo in Fuxing Park)
Modernity is meant for people. Shanghai and Chandigarh both stand for strong symbols of it!
Shanghai Garden Bridge (Waibaidu Bridge) on the Suzhou River is a major landmark of the city. When the weather is nice, many photographers would choose to make wedding photos there, as the bridge is a perfect symbol for the blend between old and modern Shanghai. Let's understand why this bridge is so important when talking about Shanghai and what key role it played in Shanghai History.
A strategic location
When the British settled in 1842 at the intersection of Suzhou Creek and Huangpu River, this piece of land was deserted. This was a most secure location however, away from the turbulent Chinese city and easy to protect by the neighboring ships. The first British Consulate was built in 1852 (photo bellow). It is actually the oldest building of the Bund and can still be visited although transformed into a luxury watch shop. At that time, very few Westerners would use the ferry to cross the Suzhou River. But the lack of space in the British Settlement lead to the construction of a first wooden bridge, the Wills Bridge in 1857 (photo nearby). This was built by merchants who would collect toll fees!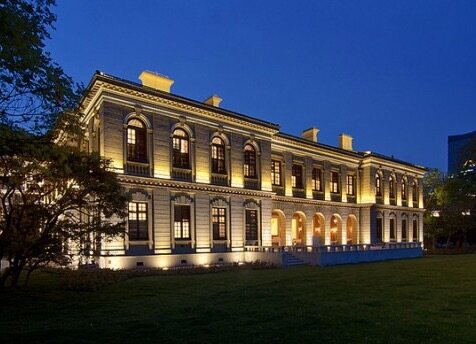 On both sides of the Suzhou Creek, many public or companies would build their offices such as the Shanghai Waterworks, Siemssens and or the first modern hotel of the city, the Astor House Hotel in 1858. The British Consulate was followed by the installation of other foreign legations on the North side of the Suzhou Creek: The German Consulate, the American one and the Japanese. The last of them would be the Russian Consulate which was completed in 1917, the year of the Bolchevik revolution! As citizens got tired of paying to cross the river, the Shanghai Municipal Council decided to build the first Garden Bridge, in wood in 1873 then in iron in 1907. It would support two crossing trams. As electricity was spreading, the Garden Bridge became a symbol of modernity, just like the Eiffel Tower in Paris!
The rich meet the poor

At the feet of the Bridge, two worlds would confront themselves. The loads of migrants boats rushing into the city from the inner canals and stationing under the Bridge on one side (photo nearby). They came to work in Shanghai and would find more convenient and cheaper to live on the river. Old Shanghainese would remember this part of the city as so dirty that only the local speciality "Chou Doufu" (or "stinky toufu) could cover the smell of the river! On the South side of the Suzhou Creek though, the elite of the British society would practice rowing at the British Rowing Club by occasionaly taking long boats into the river. The nearby British Garden was also denied access to the Chinese. This rather colonial policy would later be exploited by the communist propaganda in History books, telling that foreigners did put signs banning "Dogs and Chinese" from their parks. There was actually no such sign but it is true that dogs were not allowed in the parks regulations. As "dog" is one of the worst insults in Chinese, this belief still persists today in many Chinese minds!
Defense of the International Settlement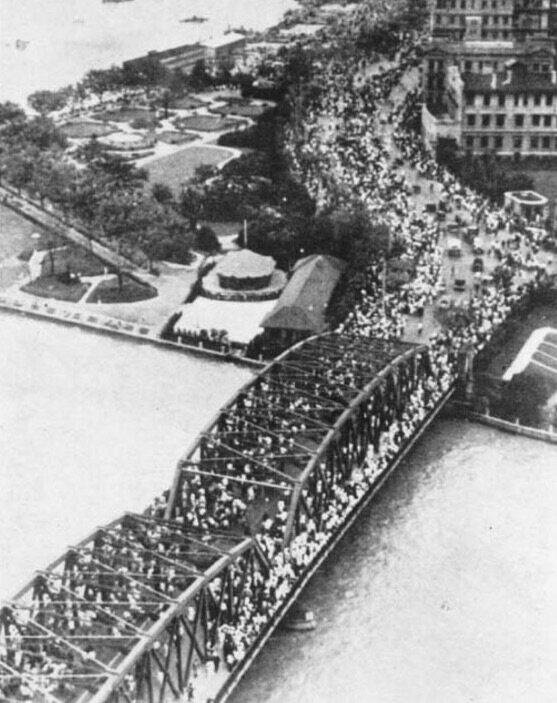 The growing influence of Japan on Shanghai affairs in the 20's would confer the Bridge a new role. The Japanese side of the city initially started North of the SMC Slauterhouse with extensions along the North Sichuan Road. With a population outnumbering the British by three times and the coming to power of military, there was much to fear for the British hegemony on Shanghai. In 1932, the "28th January Incident" opposed the landing Japanese marine corps to the defying Chinese population in Hongkou. This unnamed war lasted one month and happened just on the North side of the Bridge, on Broadway Road. In 1937, the second Sino-Japanese war resulted in a fierce battle, right North of the Bridge too with heavy bombing of Hongkou and Yanpuqu. The Westerners then decided to defend the Foreign Settlements South of the Suzhou Creek (refugees on left photo). This status quo lasted after the victory of Japan so that the bridge became a checkpoint controlled by both Shanghai Volunteer Corps and Japanese army (photo bellow). You had to bow in front of the Japanese guards or face harsh beating!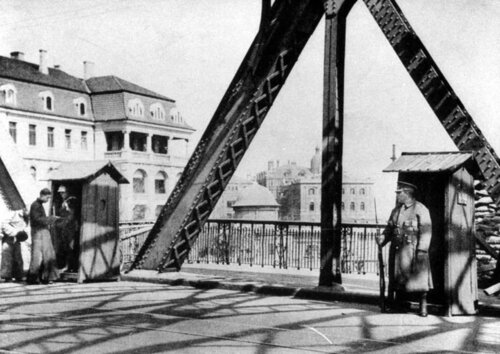 In 1941, as war was declared on US by the Empire of Japan, Japanese tanks crossed the river on the Garden Bridge to occupy the International Settlement. The British Army had long left the city, judging it undefendable against the overwrelming Japanese force. Little resistance was offered by the British ship "Petrel" which was sunk in less than one hour by Japanese canons. In 1945, the same Japanese soldiers had to peacefully wait for Chiang's troops to come as Japan had already surrended to US. This is only four years later, when Mao's troops arrived in Shanghai that the bridge was the scene of a last short battle to get rid of the Republican snippers in Broadway Mansion!
A landmark in new Shanghai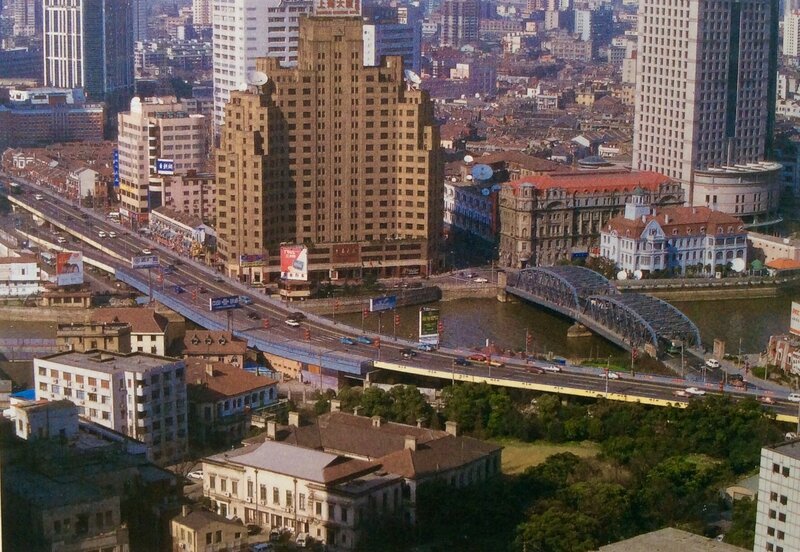 Ever since, the bridge had been one of Shanghainese favourite places to shoot photos, with view on Broadway Mansion or the Russian Consulate in the first place and view on Pudong in more recent times. During the Renaissance period, the bridge zone was almost forgotten as a high speed elevated road was erected on top of it (left photo). The down part was occupied by various government properties in a messy urban landscape. Only for the Shanghai Expo, the bridge was valorized with taking down the elevated road. The whole area was redesigned by Xintiandi's guru Ben Wood adding green spaces to it (photo bellow).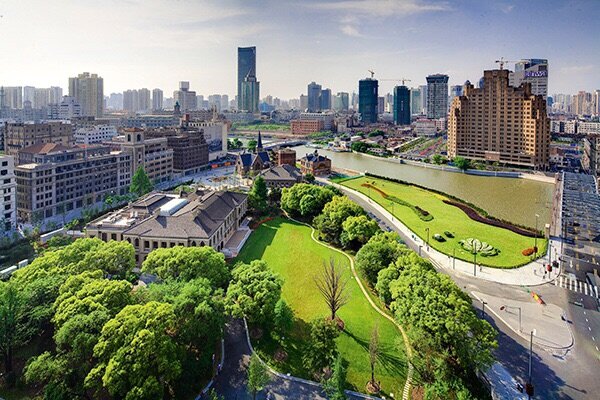 Today's Bridge is on almost every picture from Shanghai's visitors as the new photographic battle is declared between the best overlooking terraces around (Hyatt, Katleeen's, Peninsula, etc…). It is a highlight of the night light show on the Suzhou River (photo beginning of article) . Not to mention that the Suzhou Creek has now been cleaned and cleared from former stationning boats too. So no need to have chou doufu there anymore!
Internet website: www.chinaworldexplorers.com
Email: didier.pujol@chinaworldexplorers.com
Tel: +86 15021769130
Bilbliography and photos:
Peter Hibbard, "The Bund", Ed. Odyssey Books and Guides 2008
Tess Johnston and Deke Ehr, "

A last look: Western architecture in old Shanghai"

, Old China Hand Press 1993
Christian Henriot, "Virtual Shanghai" database