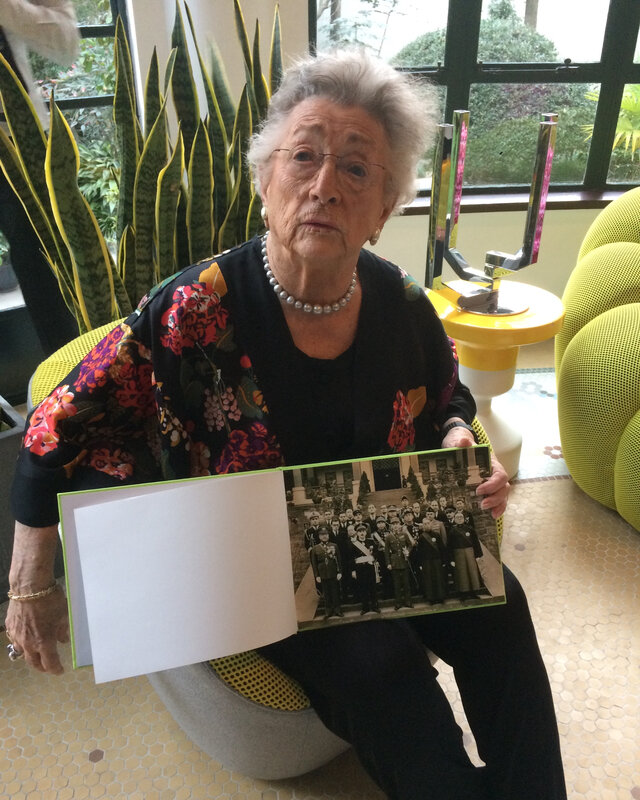 Among the people who actually knew Shanghai 1930s, my recent meeting with Jacqueline Meyrier, the daughter of Consul General Jacques Meyrier, is a special one. We did had the opportunity to discuss with the 90 years old lady who specially came to Shanghai to celebrate her birthday after more than 67 years of absence. This unique event happened at the Villa Basset, the French Consul General residence.
Villa Basset (last photo) is well-known by the French community in Shanghai as it is the place to celebrate the 14th of July. This wonderful house was built in 1921 for a French Exchange Broker named Lucien Basset in a Basque Art Nouveau style. The lovely tiles representing flowers under its flat roof, looking like one in the Collège Municipal Français definitely make this place a great piece of architecture. It became the residence of a famous American-born crook in 1931, Franck Raven, who stole millions from the local missionaries. After the scandal was eventually revealed, the house was seized but only restituted to France, long after diplomatic relations with New China were restored.
Consul Meyrier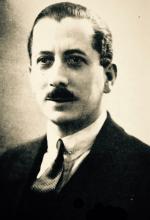 Consul Jacques Meyrier was born in 1922 in New Orleans, the son to famous diplomat Gustave Meyrier. The latter was Deputy Consul in Turkey then in Armenia where he alerted the world opinion on the shameful Turkish massacres. This is precisely in Constantinople that his son Jacques started his carreer as Deputy Consul in 1916. Then he was appointed to China Shanghai with the same position in 1924 before becoming Consul in Tianjin in 1929. In 1932, the French authorities granted him with the mission of replacing Shanghai Consul General Koechlin, whose collusion with local Green Gang boss Du Yuesheng had become notorious. His task was then to clean up the French Concession from opium trafficking as well as replace corrupted officers within the French Police (read this story fom my other article about Inspector Joseph Hsieh). He would eventually leave Shanghai for Beyruth in 1936 then Rabat in 1942, under French Protectorat, in an effort to restore Free France authority. In 1945 however, he came back to China as the French Ambassador where he frequently met with Chiang Kai Shek and was even made friend with Zhou En Lai. When we met with Jacqueline Meyrier, she proudly showed us her father's photo standing with General Chiang and his Ministers on the steps of Nanjing Government House (first photo). In 1950, like many foreigners, he had to leave China and became eventually the French Ambassador in Spain. Jacques Meyrier died in 1963.
Chinese memories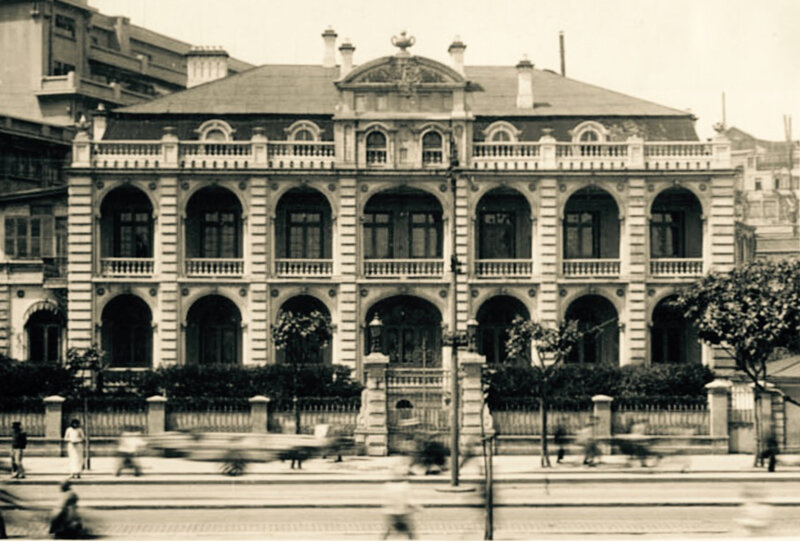 At the time when Jacqueline Meyrier was born, at Shanghai Sainte Marie Hospital Maternity on 6th February 1927, her family stayed at the French Consulate near the Bund (photo next). She remembers going to church on Sunday's at nearby Saint Joseph Church or attending school at the Charity Sister's Institute. "I did not have many friends", she admits, as diplomats' children's life is often a seclude one. She remembers the noise coming from the Quai de France which was always filled with coolies carrying loads off the boats. Her most vivid memories come however with the smells in those years, when "cities were far thilthier than today". This explains why when her family landed after the war on an American DC3 at Chongqing airport, located in the middle of the Yangtse River, she bursted out with a :"This smells like we are back in China!".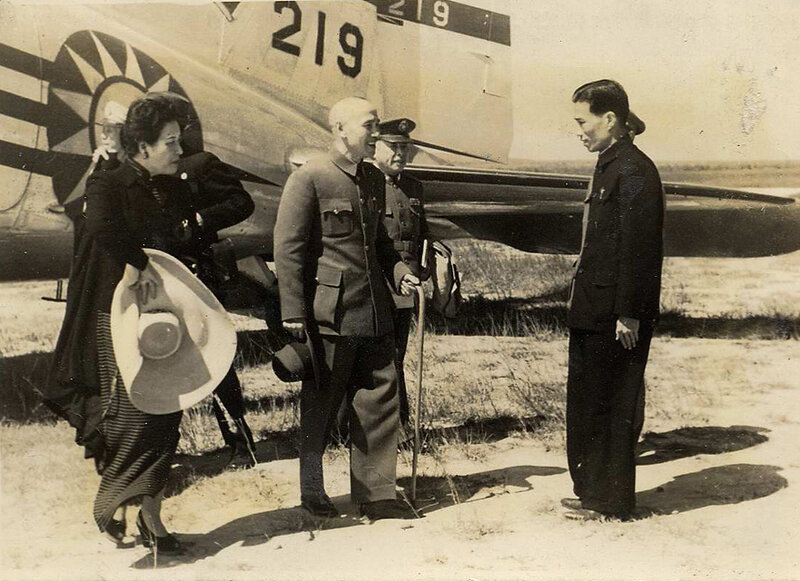 There were rats running around, she adds, and those could be found in our humble bamboo house back then. When the Meyrier family came back to China, Jacqueline met with her future husband, a Dutch executive working for the Nippon Line ocean liners company. He would eventually make a diplomat of himself. One of Jacqueline's strongest memories was when Chiang Kai Shek's wife, Soon Mei Ling (nearby photo with husband), offered to have her personal taylor to make her wedding dress. This was a long collar qipao, with short sleeves and slit on the leg! Soong Mei Ling told her: "You were born in China like me and now also marry in China, so you are half Chinese!". In 1946, Jacqueline left China to follow her husband, this one eventually becoming the Dutch Consul General in Belgian Congo, among other countries! She only stayed two years in France in her entire life, including one in 1944 at the Liberation of Paris, an unforgettable moment she says, as French people were so happy to regain their freedom. She moved up to 23 times in total!
Not surpringly when she is asked about why she never returned to China till now, she answers she was simply too busy visiting her children living in Italy or Argentina. For her 90 years birthday, however, she could not resist to see her childhood place again. When staying at the Okura Garden Hotel, she suddenly realized she used to come there as a child, then the Cercle Sportif Français. Aged six at that time, her "amah" used to take her in the garden as adults were enjoying lunch or dinner inside. From China, she also recollects the taste of "baijiu" which she had during official venues in the 1940s. She decided to have a glass of it for her 90th birthday. So happy Shanghai birthday Jacqueline!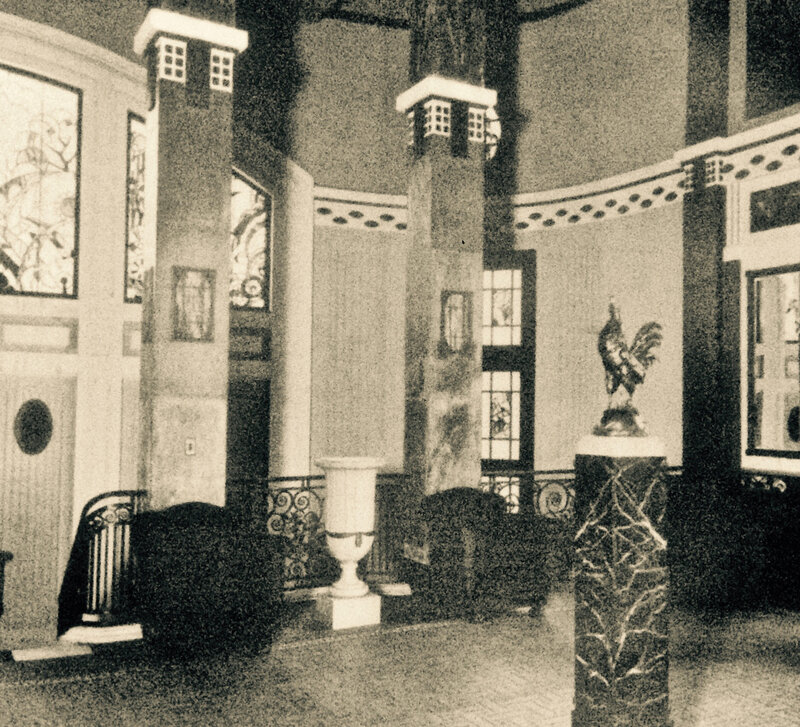 On the occasion of the coming of the Chinese Year of the Fire Rooster, I would like to remind my dear readers that the rooster is also the French national emblem. For quite a long period in Shanghai, it was associated with the French Sports Club , today's Okura Garden Hotel located on today's Maoming Road, previously called rue du Cardinal Mercier by the French. Completed in 1926, this wonderful building is the masterpiece of two young and talented architects Alexandre Leonard and Paul Veysseyre who launched their career on this specific occasion. Veysseyre was actually 27 years old when Minutti, the architect design office who employed him, was awarded the contract in 1923 by the French Municipal Council which also employed Jacques Mayol's father, Laurent. Very soon, members of the Municipality were impressed by his ingenious skills, ended the contract with Minutti and handed it over to the pair of brillant employees. For a time, it was still possible to find cutlery in the antique and flee markets of Shanghai bearing the French rooster of the Cercle Sportif Français. A friend of mine who is antique collector, recently got rid of a menu with this sign. When someone was actually joining the Club for the weekend dancing parties, they would climb the stairs, once surrounded by Art Deco stained glass and be welcome by a statue of the French rooster.
Chicken stories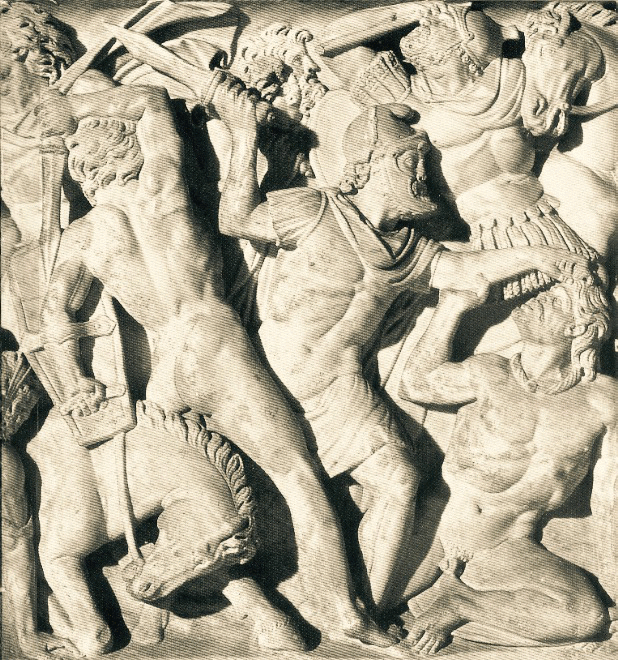 The first person to associate the French with the rooster was Julius Caesar in his Commentaries. At that time the Celtic tribes staying in today's France kept fighting each other, giving a great opportunity for the ambitious Roman general to look for fame. He sent his legions across the Alps and and finally defeated everyone in the town of Alesia. During his campaign, Julius Caesar wrote his own self-aggrandizing version of events. To ridicule the Celts, he called them "Galli", meaning chicken, an Latin insult for cowards! This word actually became the only one to describe the French tribes based on the then conquered territory and therefore known as the "Gauls". This reputation, however, was anything but true, as Gauls were fierce warriors, whose only superstition was the fall of the sky as funnily described by the cartoonist Uderzo in his famous series Asterix. The Gauls were actually known to fight naked, a way to show they did not fear enemies, and usually ran onto them with a single sword, yelling at them!
Another often reference to the rooster in France comes from Christianism, as most French churches have a small rooster shaped wind sign - weather cock- on their steeples. This symbolizes Christ finding his way against contrary winds, the choice of the rooster as announcing the daylight after the night, an image of truth and good triumphing over darkness and evil. The tradition for early Christians was also to gather for the first prayer at the morning crowing of the rooster. For my Belgian friends, I would like to mention this joke about the French reputed for being infatuated with themselves. The reason, Belgians say, to select the rooster as their national symbol: an animal able to sing everyday with their feet on a stinky pile of, er, let's call it compost - an another image of a declining country and still proud of itself! We, the French, of course, don't mind one bit. Indeed, we currently confront our international competitors with little or no clothes on. Not litterally of course! Another cocktail?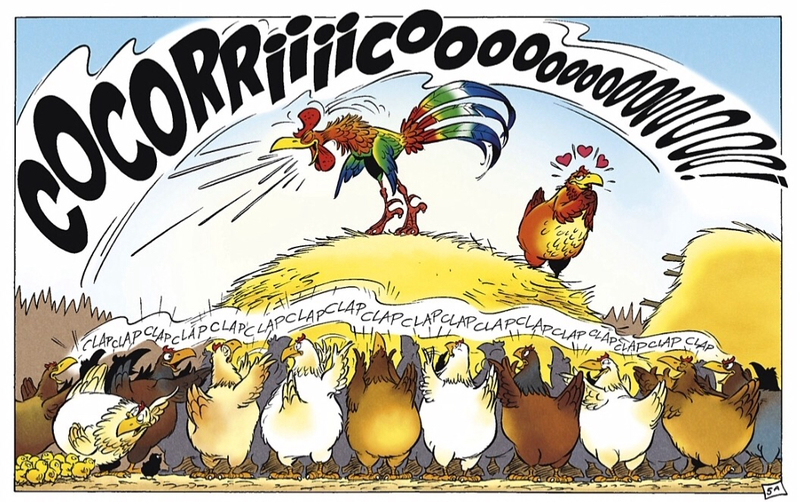 Sources et photos:
Shanghai's Art Deco Master, Paul Veysseyre's Architecture in the French Concession, authors Spencer Dodington & Charles Lagrange: Earnshaw 2014
Commentarii de Bello Gallico, author Julius Caesar, 50BC, TheLatinLibrary.com, 2008
Asterix the Gaul, authors René Goscinny and Albert Uderzo, Dargaud 1959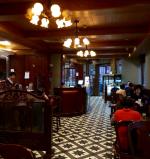 There are many places in Shanghai that definitely feel like Europe. However, some are so much part of the local history that even the Shanghainese feel at home there. This is the case of Deda Cafe (德大). The original cafe was founded by Russians in 1897 at 177 Tanggu Road in the Hongkou district of Shanghai. In 1949, the cafe was relocated in to 359 Sichuan North Road, which was the most popular location in old Shanghainese memories. There are two Deda Cafes today. One is in on Nanjing West Road at 473, dating from 2007 and the other is located on Yunnan Road, right at the intersection with Yan An elevated Road. This is in the latter where I happened to have a cup of coffee.
Old time memories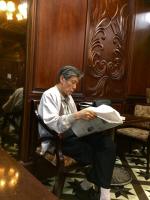 First I was surprised by the ambiance: a mixture of a Central European cafe and Shanghai old-timers' meeting place. It is very unusual to see people speaking Shanghainese dialect and reading the newspapers in a cafe decorated with wooden panels, 1930s-style floor tiles and a cashier resembling those American candy stores. Not too different either from my French memories when I was ten and my grandfather took me to the café-tobacconist to buy his cigarettes, sip a coffee and buy me one of the small Dinky Toys cars sold at the counter. I remember the smell of heavy smokers there and the many retired people playing cards or chatting. I also remember the smell of freshly milled coffee beans, as the expresso-type coffee was not yet popular. At the that time it would take more than 5 five minutes to be served with a real fragrant cup of coffee as it was hand-made by slowly pouring water onto the freshly milled powder.
You get a very similar feeling indeed when taking a break at Deda Cafe. They have no modern equipment to make high-pressure expressos or complex latte. The coffee comes in an old-style thick porcelain cup, just like those in my grandmother's kitchen, and the milk is there for you to pour yourself from a can of condensed sugared milk. These kinds of cans were also common in the past when people were not used to buying fresh milk and would store the more easily conserved condensed milk. As you slowly sip from your cup, flavours close to Turkish coffee come to your mouth, probably due to the selection of the beans used by the Deda brand. At the the entrance of the cafe there are more old objects on display, further strengthening the impression of stepping into the past.

Russian heritage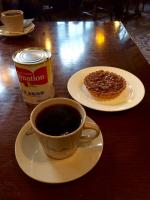 Russian origin cafes, restaurants and bakeries were common in Shanghai as the population of Russian immigrants was large in the 1920s and 1930s. The first émigrés came at the end of the 19th century to escape the pogroms in Russia, because of their Jewish religion. However, the vast majority of the Chinese Russian population were the White Russians who fled their country after the 1917 Bolshevik Revolution. In total, there were around 20,000 Russians living in Shanghai between the two world wars, most of them in the French Concession, where for some, the language was familiar as it was spoken at the Court of St Petersburg. They arrived with hardly any money, destitute and had to start from scratch, capitalising on the expansion of the French Concession to create small businesses. The cafe culture became very popular among the Russians who went to DD's or Arcadia, both near Avenue Joffre (today's Huaihai Road) to drink and listen to Russian music (read my article on Vertinsky). There were also famous bakeries like the ones founded by the Tchakalian Brothers, who fled from Armenia then settled in Russia before ending up in Shanghai. These bakeries still exist today under the Chinese name of Lao Da Chang (老大昌). Many of today's Chinese cake recipes are of Russian origin, as the Chinese bakers were originally trained by the Russian founders. But for the Shanghainese, those old bakeries are full of childhood memories since they continued to run during the Mao era.

A family venue
When I talked to my Shanghainese friends about my experience in Deda, they immediately associated the place with borsch (luosong tang 罗崧汤), the famous Russian soup. They actually often go there with their family, just to enjoy this dish. Funny enough, the menu in Deda, like in other restaurants of Russian origin, serves borsch but with French fries or Italian pizza, looking like Western food to the Shanghainese but not really Russian. This is an international city after all!
So, if you are like me, not totally Chinese and sometimes nostalgic for old fashioned flavours and Central European tastes, Deda is the place for you.
I just finished the memoirs of Joseph Shieh (Xue Gengxin 薛耕莘 in Chinese) written with help of French journalist Marie Holzman. This is actually the kind of readings that leaves you with dozens, not to say thousands of questions.
Hired by the Shanghai French Police in 1930, Joseph Shieh made his way through those troubled years marked by the control of gangs on the French Concession, the fierce fight between Communist Party and Kuomintang party and later the Japanese invasion. He ended his life in 2008 at the age of 104, having passed 25 years of his life in Mao's prisons due to his "support of colonialists and Kuomintang", although he claims his role also benefited to many communists hiding in the French Concession.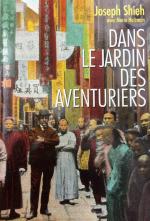 Educated in the catholic faith by the French Jesuits in Zikawei (read my article about Father Jacquinot and Chang Chongren to know more about them), his mother was half English half Chinese, which contributed to his multicultural background in the first place. He was particularly skilled to bear with the Shanghai multiracial context of those years. To describe the French Police, Robert Jobez, who was its Vice-Director in 1933 writes in his book "Être Français libre", it was composed of 244 French staff, 3 Russian squads, a battalion of Anamites coming from the Indochina Native Guard, mainly composed of Thos, and some 1800 Chinese agents, translators and secretaries. When looking at the names of the French Police officers in the 1936 Hong Book, one clearly realizes that no Chinese was on the list, mostly used as field detectives. Their role, however, was decisive in the handling of the various situations that the French could not cope with within the complex Shanghai underworld, both for language and cultural reasons.
A good exemple can be given with Green Gang boss Huang Jinrong who acted at the same time as chief detective in the French Police, a good way for the Foreigners to maintain public order through the use of such powerful allies. Of course the counterpart was to keep a blind eye on the running opium traffic, gambling houses and prostitution. About the collusion of Police and gangs, Joseph Shieh writes in his memoirs : It was impossible to be absolutely honest if you were a policeman in Shanghai 1930s. Not long after I joined, I was contacted by some emissaries of the mafia bosses who gave me 80 Yuans per month as "opium and gambling house indemnity". I received this indemnity for five months. Then M. Fiori was replaced by Colonel Fabre and the situation got a little cleaner.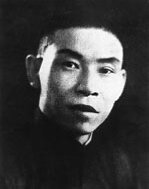 The main interest of Joseph Shieh's memoirs is that he tells a lot about the methods used to solve the problems in the French Concession. A major difficulty came with the replacement of Capitaine Fiori by Colonel Fabre (read about it in my article about Albert Londres). This latter decided to close gambling houses and ban opium from the French Concession, which was a direct attack on Green Gang boss Du Yuesheng. Du first tried to bribe Fabre who refused and asked Du to publicly admit his attempt, which meant a lost of face for a Gang boss. Instead of that, the Green Gang chose to start a strike in the French Tramway company which blocked the French Concession for two months. A solution had to be found. Shieh writes that he persuaded Fabre to renounce his public apology in exchange of a promise from Du not to trouble the public order any more.
Thanks to Shieh's initiative, the famous gangster eventually put an end to the strike within one day and remained grateful to the inspector for helping him saving face. This is a typical exemple of the Chinese way of solving problems, very different from the tougher methods in the International Settlement (read my article about Fairnbairn). Many others cases are mentioned by Joseph Shieh, who had to deal with personalities' security or even privacy as well as large scale robbery from corporations. Each time, the soft way was prefered!
In 1937 things became different with the Japanese invasion of Shanghai and the set up of the Wang Jingwei puppet regime. Secret or private armies were at work in the Foreign Concessions, including assassins based on 76 Jessfield Road working for the collaborationist government or Chiang Kai Shek's violent Blue Shirts (read the Auxion De Ruffe affair). It became even more difficult for the French Police members to maintain the public security as political crimes had become a daily routine. At some point, even our inspector feared for his life after refusing, he said, to help Wang Jingwei. He then became member of the Green Gang, who was allied with the Blue Shirts, in order to be protected.
We have then interesting details on the admission rites within the Chinese triads given by Shieh. In 1943, as the French lost control of the Concession, Joseph got promoted as Chief of Security of Police Station number 3 then Head of Poste Mallet. He had to work closely with the Japanese commander Goto. In 1945, Chiang Kai Shek came back to power and things turned out badly for him with a first 3 years in Tilanqiao jail. Eventually released in 1948, the truce was short as 1951 Mao's anti rightist movement sent him to labor camps for 25 years!
Joseph Shieh got released in 1976 but his full honor was only regained in 1990, clearing him from all previous political accusations. His late life pride was to be become member of the prestigious Shanghai Cultural and Historical Institute after translating some Zicawei bibliotheca Jesuits manuscripts into Chinese. Joseph Shieh remained until his death one of the latest eye witnesses of the former Police of the French Concession with a unique point of view on daily interaction with Shanghai underworld. So his memoirs are a must-read!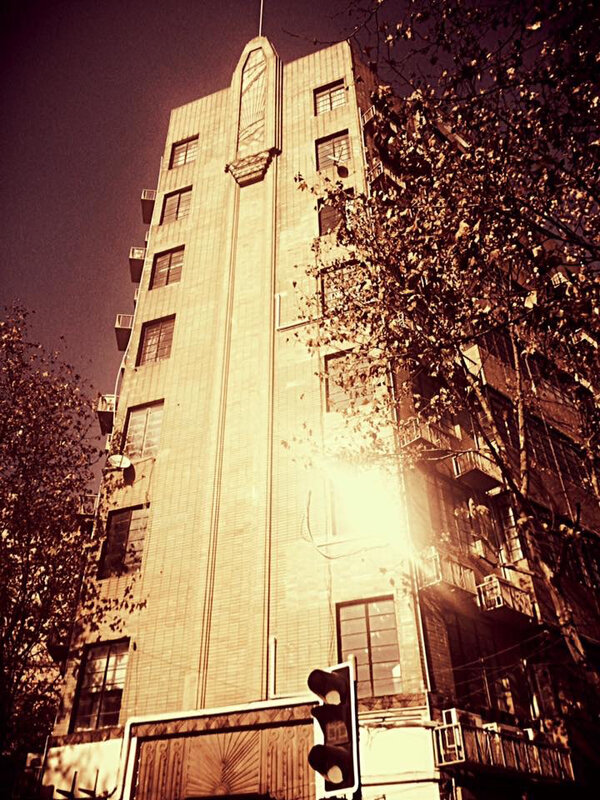 Art Deco is a word coming from the 1925 Paris Salon des Arts Decoratifs. This architecture trend is deeply related to the Shanghai landscape where Western influencies met with Asian culture. This style describes a way of life too, reflecting 1920s eagerness for modernity, speed and lightness. As WWI was over, fashion designers, artists as well as architects looked for a brand new way of shaping daily life of people. As Shanghai was a the midth of an economic boom, it immediately adopted the new wave as a strong symbol of its ambitions
Although it is difficult to pick a choice between the many buildings still standing in Shanghai showing Art Deco features, I tried to make a selection to help short term visitors in the city. The huge variety of the constructions in the "Paris of the East" include from early-stage Art Deco like in the Cercle Sportif Français to Modern Style, used for the Green House by Le Hudec on Tongren Road. My good friend Hugues Martin even thinks there is a last trend called "Frankenstein Art Deco", represented by Communist era buildings which designers had been earlier influenced by Western Art Deco from the 1930s 1940s! So you can make your own choice!
N°1 Peace Hotel, the most luxurious one
Built in 1928 for magnate Victor Sassoon, the materials used for the former "Sassoon House" include marble and cristal glass. The interior decoration is particularly sophisticated like for instance on the 8th floor ballroom, leading experts to rank the building in the top list of the world Art Deco gems. I also like the Bund galery which used to be the hotel entrance, for its wonderful geometric shapes. One says that the ego of the proprietary was such that he added a roof extension when nearby Bank of China was finished to remain the highest building on the Bund!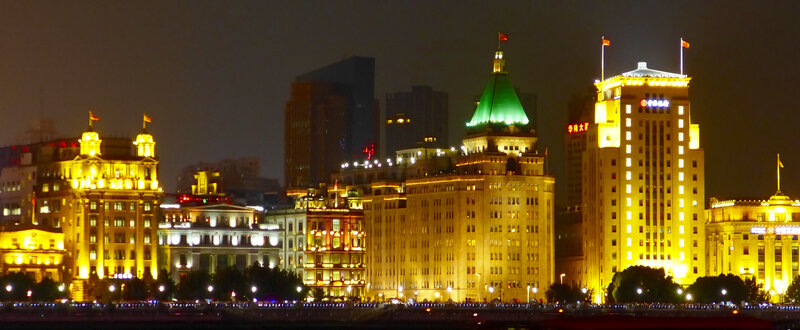 N°2 Okura Garden Hotel, the French splendeur
The 1926 Cercle Sportif Français, which is used by the hotel today, aimed at impress the Foreign community with the French way of life. One could swim in 54 meters long swimming pool, the city's longest, play cards or snooker and enjoy delicious French food in the restaurant rooms. The place was also famous for its large day-light ballroom, which floor was supported by thousands of small springs and ceiling is still decorated by a 15 meters long piece of stained glass. In the original entrance on Maoming Road, the wonderful mosaic decored wall can be seen today.
N°3 Bank of China: Chinese Art Deco
This symbol of Chiang Kai Shek regime on th Bund was completed in 1937 by Chinese architect Lu Qianshou. It is a combination of Western Art Deco and typically Chinese shapes, such as the roof one, the "zhong" character inside the windows on the facace or the stylized lions at the gates. Many Chinese designers like Lu Qianshou were actually trained in Amercican architect offices before creating their own vision of Art Deco.
N°4 Peninsula Hotel: The Art Deco Revival
I did not always fancy the Shanghai tendency to copy Art Deco features within modern buildings, also called Fako and The Peninsula on the Bund (2000) was no exception. However, I progressively got used to it and even started to appreciate the interiors of the luxury hotel. The main hall dining room for instance is quite similar to the 1935 French ocean liner "HSS Normandy" and the large wall panels in it could also remind you of the views of the Cercle Sportif Français initial decoration. Zigzag motives are very characteristic too. If you add the exquisite atmosphere of afternoon teas, you can definitely think you back in time at the haydays of Shanghai 1930s.
Dating 1934, Park Hotel is inspired by the American Building in New York Manhattan. It is the masterpiece of Hungarian architect Lazlo Hudec. Until the 1990s, it remained the tallest building in Shanghai measuring 84 meters. Using modern techniques of steel skeleton to overtop the nearby race track and the rest of the city, it was a great venue in the 1930s offering a removable roof facility for dancing unders the stars!
N°6 Hamilton House, the lighest
This is another Sassoon property, built in 1932 on the model of Fritz Lang's "Metropolis" film (read Vertical village). In order to save time and materials, Palmer and Turner architects decided to use aeroconcrete, a special mix of concrete and ashes, further diminishing the overall weight of the structure. The symetry of the arches and fluid lines of the structure make the crossroad quite impressive as the opposite Metropole Hotel and Commercial Bank of China shapes are rather similar. Hamilton House was composed of offices together with luxurious apartments.
N°7 Grand Theatre, Hollywood in Shanghai
Hudec's sense of esthetics and technical genius can definitely be seen in this 1933 cinema. The trianglar shape of space available to build this cinema made this project a real challenge for the Hungarian architect. He succeded however by combining cubes on different levels and creating an harmonious perspective from the street. Renovation has been completed recently in the building and even better underlined Art Deco details like copper monograms on the ground or wonderfully twisted ballustrades in the staircases!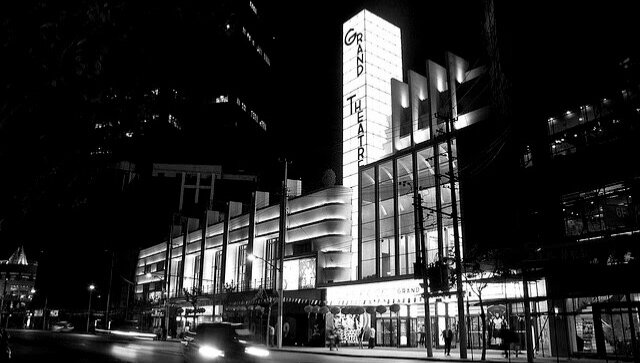 N°8 Gascogne Apartments, French Art de Vivre
Architects Veysseyre, Leonard and Kruze signed this 1935 building, which pure lines and light yellow color can be seen from former Avenue Joffre, (today's Huaihai Road) at number 1212. Each floor had only three occupants so that each flat got windows on all sides of the building. Unfortunately, the recent "ruinovation" of the original lobby. On the North side however, one can get an idea of the former glory looking at the bright mosaics in the doorways.
N°9 Cathay cinema, the landmark
At the heart of the Former French Concession, Cathay Theatre was built in 1932 by another Hungarian, C.H. Gonda. Speed lines as well as the roof arrow are distinctive feature of Art Deco. This was the largest cinema of the French Settlement with 1000 seats, showing American comedies and action movies. During the Cultural Revolution era, it was used for propaganda purposes. The 2013 renovation work brings an additionnal Californian touch in the lobby and a connection with the Shanghai Tang clothes shop willing to anchor their image in the roaring 1930s!
N°10 Astrid Apartments, the Egyptian
Sunrays at the entrance of Astrid Apartments (first photo) situated at the intersection between Nanchang Road and Maoming South Road are definitely inspired by Ancient Egypt. This reference is often used in Art Deco since jewelers were influenced by the 1922 discovery of Tutankhamun tomb in the first place. Then similar shaps were used in architecture design. Egyptian haircuts was another trademark of 1930s fashion! Built in 1932 by Russian origined Levin, Astrid Apartment is the first of the tall Art Deco buildings in the Former French Concession, showing bright yellow and green colors on its facade.
However this selection is based of my own taste and perception of most caracteritic Art Deco buildings in Shanghai, I hope it gave you the envy to check it all by yourselves!
Didier Pujol, Shanghai Culture Tours
didier.pujol@chinaworldexplorers.com
+86 15021769130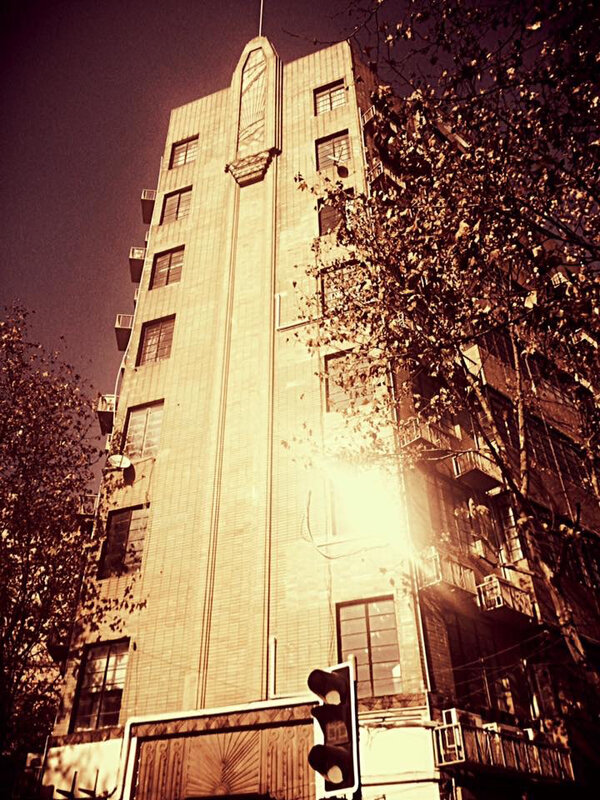 L'Art Deco, ce mouvement architectural né du Salon des Arts Décoratifs de Paris en 1925 à marqué durablement de son empreinte le paysage de Shanghai en y apportant le mélange unique entre influences chinoises et occidentales. Plutôt qu'une série de critères bien définis, ce style est plus un mode de vie. En effet, au début des années 1920, la tendance générale est à l'optimisme et à la modernité. Le premier conflit mondial achevé, le monde cherche en effet à se refonder dans le domine des arts, du design et de la mode. Shanghai est alors en plein développement et adopte massivement cette nouvelle vague qui symbolise ses ambitions.
Bien qu'il soit difficile de choisir vu le grand nombre de bâtiments et leur extrême variété, allant de l'early art-deco (Cercle Sportif Francais) au Modern Style (Maison Verte de Le Hudec rue Tongren), ou encore certains bâtiments tardifs de l'ère communiste influencés par l'école Art Deco (Frankenstein Art Deco Style selon le terme de mon ami Hugues Martin), voici ma sélection des dix bâtiments les plus représentatifs de l'Art Deco à Shanghai, selon moi. Une possibilité donc d'aller à l'essentiel pour les visiteurs de courte durée!
N°1 Le Peace Hotel, le plus luxueux
Construit en 1928 pour Victor Sassoon, les matériaux utilisés sont particulièrement luxueux et la richesse de la décoration intérieure comme par exemple dans la salle de bal du 8ème en font l'un des bâtiments mondiaux Art Deco de référence. Votre serviteur goûte également avec joie l'ancienne entrée et sa galerie du côté du Bund où les formes géométriques sont harmonieusement associées. On raconte que quand la Banque de Chine a été achevée, Victor Sassoon a fait rajouter le clocheton sur le toit de l'hôtel afin de rester le bâtiment le plus haut du Bund!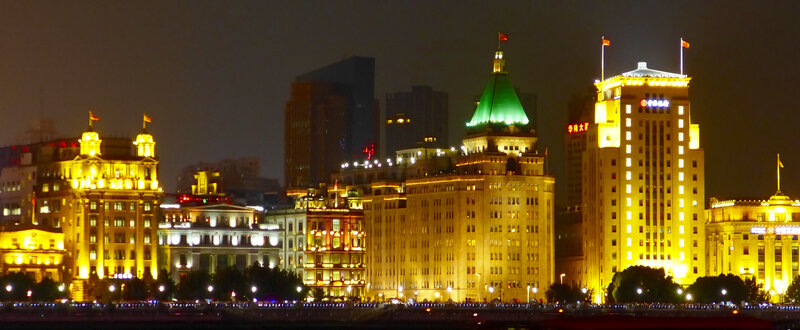 N°2 L'Okura Garden, le joyau français
Construit en 1926, le Cercle Sportif Français qui sert de base à l'hôtel actuel se voulait la vitrine de l'art de vivre à la Française. On y trouvait la plus grande piscine couverte de Shanghai (54m) ainsi que de multiples salles dédiées à la restauration et au jeu. La somptueuse salle de bal en lumière du jour faisait aussi la renommée du lieu avec un parquet monté sur ressorts et un plafond, encore visible, orné d'une verrière de 15 mètres aux motifs géométriques multicolores. L'entrée se trouvait côté Maoming Road et comporte toujours son élégante vasque en mosaïque.
N°3 La Banque de Chine ou l'Art Deco Chinois
Symbole de la puissance du régime de Chiang Kai Shek sur le Bund, ce bâtiment achevé en 1937 est l'œuvre de l'architecte Chinois Lu Qianshou. Il intègre les techniques occidentales de l'art deco avec des formes typiquement chinoises comme celles du toit rappelant les temples, les embrasures de fenêtres en forme de "double bonheur" ou encore les lions de l'entrée stylisés de façon moderne. De nombreux architectes Chinois ont été formés dans des cabinets AmeriCain avant de créer leur propre vision de l'Art Deco.
N°4 Le Peninsula: Art Deco Revival
Je n'ai pas toujours goûté cette tentative récente (année 2000) de reprendre les standards de l'Art Deco (on utilise souvent le terme Fako) dans un hotel ultra moderne. Pourtant il faut bien avouer que le résultat est très convaincant. J'apprécie tout particulièrement la salle à manger qui aurait pu se trouver sur le paquebot Normandie en 1935. Les immenses panneaux muraux rappellent aussi ceux qui ornaient autrefois le Cercle Sportif Français et les décorations en zigzag sont caractéristiques. Ajoutons le service délicat lors des afternoon tea et l'illusion d'un voyage dans le temps aux années d'or de Shanghai est absolument parfaite!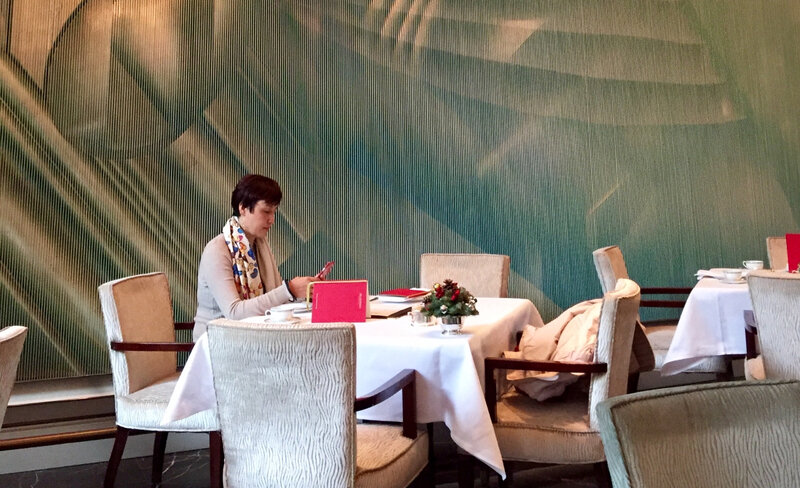 N°5 Le Park Hotel, le plus haut
Achevé en 1934, le Park Hotel est inspiré de la American Buidlding situé à Manhattan et le fruit du génial architecte Hongrois Lazlo Hudec. Le bâtiment reste jusqu'au début des années 1990 le plus haut de la ville avec 84 mètres d'élévation. Cette tour résolument moderne utilise les techniques d'ossature métallique américaines pour s'élever bien au dessus de la ville avec vue sur l'hippodrome (aujourd'hui People Square). On trouve dans le hall le point zéro de la ville de Shanghai, un peu comme à Paris sur le parvis de Notre Dame. Le dernier étage disposait d'un toit amovible pour permettre aux élégantes de danser sous les étoiles!
N°6 Hamilton House, le plus léger
Voici encore un bâtiment du patrimoine Sassoon, construit en 1932 un peu à la manière de la cité imaginaire de Fritz Lang dans "Metropolis" (lire mon autre article "Le village vertical"). Pour gagner en hauteur et en vitesse de réalisation, le cabinet Palmer et Turner va utiliser de l'aeroconcrete, un mélange de ciment et de cendres de charbon, diminuant l'emprise au sol. Les lignes du bâtiment ainsi que les arches sont très élégantes, créant la symétrie au carrefour par réplication des formes de l'Hotel Métropole et de la Commercial Bank of China voisins. L'ensemble comprenait bureaux et appartements de luxe aux surfaces inédites.
N°7 Le Grand Theatre, les fastes d'Hollywood
Avec ce bâtiment de 1933, le génie esthétique et technique de Le Hudec s'exprime pleinement. Aujourd'hui encore, après une rénovation de grande qualité, l'éclairage nocturne souligne les lignes et les cubes de la façade dans un spectacle tout à fait hollywoodien. Les balustrades intérieures et les incrustations en cuivre de monogrammes dans le sol de marbre noir sont splendides. Le pari n'était pas gagné d'avance pour Le Hudec qui parvirnt finalement à imbriquer les structures sur plusieurs niveaux dans un terrain triangulaire!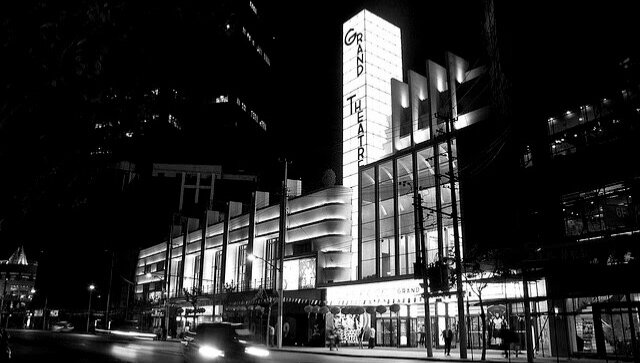 N°8 Le Gascogne, l'art de vivre
Réalisation de Veysseyre Léonard et Kruze, cet immeuble de 1935 se distingue par son élévation et ses lignes pures le long de l'ancienne avenue Joffre (Huaihai Road aujourd'hui au numéro 1212). Destinés à capter la lumière, les étages ne comportent que trois logements à l'époque, chacun occupant toute la largeur de l'édifice. La dernière "ruinovation" du lobby en particulier ne laisse malheureusement que peu de trace des superbes finitions initiales. On peut cependant en avoir une idée dans les cages d'escalier Nord encore délicatement ornées de leurs mosaïques aux couleurs chaudes.
N°9 Le Cathay, quel cinéma!
En plein cœur de l'ancienne Concession Française, ce cinema est l'œuvre d'un autre Hongrois, C.H. Gonda en 1932. Les formes de la façade combinent lignes de vitesse et flèche de toit. C'est à l'époque le plus grand cinéma de la Concession Française (1000 places assises) où l'on projette comédies et films d'action américains. Pendant la Révolution Culturelle, on continuera d'utiliser le cinéma pour programmer les films de propagande. La rénovation de 2013 apporte une nouvelle touche californienne de bon aloi au hall et signe la volonté de la marque Shanghai Tang d'ancrer son story telling autour des années 1930.
N°10 Astrid Apartments, l'Egyptien
Les rayons solaires qui ornent l'entrée de Astrid Apartments (première photo) au croisement de Nanchang Road et Maoming South sont inspirées de l'Egypte antique. C'est un thème que l'on retrouve beaucoup dans l'Art Deco car les joailliers ont tout d'abord été influencés par les bijoux trouvés dans la tombe de Toutankhamon en 1922. Cette mode s'est ensuite transmise à l'architecture. La fameuse coupe de cheveux carrée des femmes des années 1930 est aussi issue des motifs égyptiens. Construite en 1932 par l'architecte d'origine Russe Levin, la résidence Astrid est le premier des grands immeubles Art Deco de la Concession Française et s'impose par sa flèche caractéristique et les couleurs vives vertes et jaunes de sa façade.
Bien entendu, cette sélection est toute personnelle car il y a bien d'autres bâtiments Art Deco intéressants à Shanghai. J'espère cependant vous avoir donné envie d'aller voir par vous même pour vous faire une idée.
Didier Pujol, Shanghai Culture Tours
didier.pujol@chinaworldexplorers.com
+86 15021769130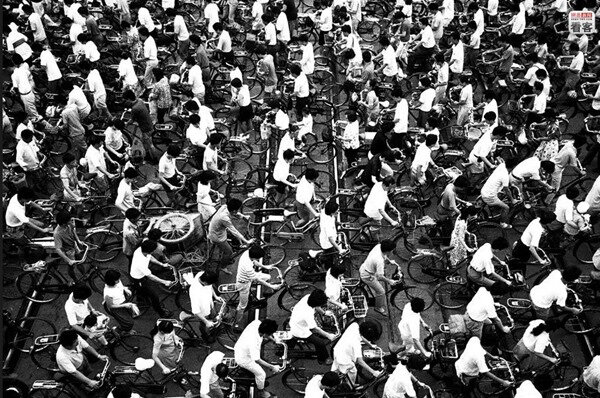 Among the first images I got from China, the thousands of Chinese workers riding bicycles is probably one of the most vivid of my teenage memories. In the 1970's, China was just waking up from the Cultural Revolution and was known in the world as the "Kingdom of bicycles" (自行车王国), representing 60% of the whole world production. Even after Mao's death in 1976, the dream of every family was "san zhuan yi xiang" (三转一响), meaning 3 spins and one sound, to describe a wrist watch, a sewing machine, a bicycle and a radio. In the 1980s, most workers had to pay the equivalent of four months salary to buy one bicycle, among which the 1936 founded brand and leader "Flying Pigeon" or the 1958 Shanghai based "Phoenix". Deng Xiaoping used to define prosperity as "A Flying Pigeon in every household". In 1995 China's fleet peaked at 670 million bicycles (430 today)!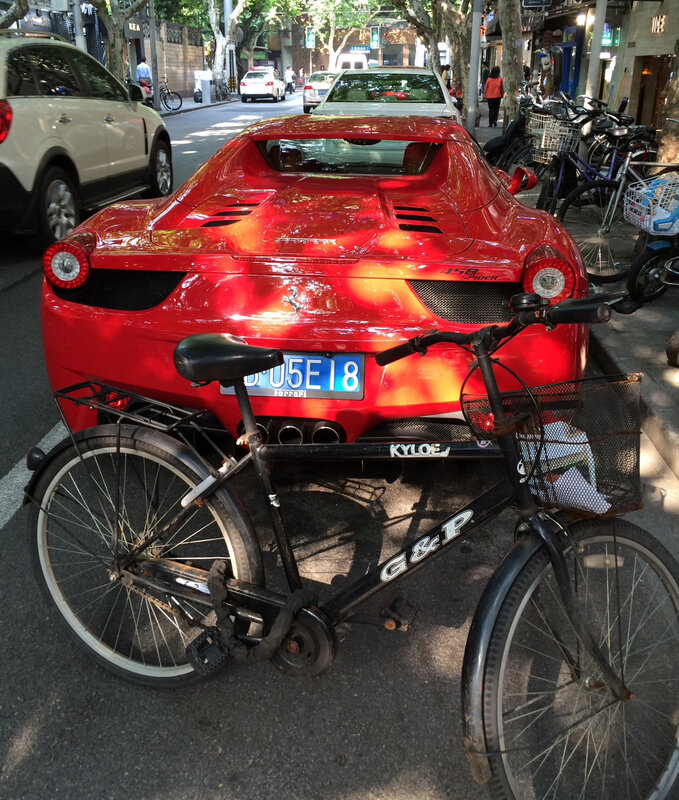 When I got to Shanghai, I wanted to fulfill my vision of Chinese dream by buying me one of the local little queens, a way for me to get closer to Chinese daily life. Shanghai, however, like most big cities, had already fallen into the car era by the time I settled there. Electric bikes had been long preferred to bicycles by Chinese who could not afford a car. Still, I was happy to ride my first bike, a Phoenix, discovering every single corner of Shanghai on it. When waiting at the traffic lights, I enjoyed to see surprise on people's faces at the view of a Westerner riding this traditional Chinese model. Some of them dared to tell me they considered "bicycles are for poor people". Nothing could make me happier however than to overtake one of the pretentious Ferraris when those were stuck by traffic in the narrow roads of the Former French Concession. The next minute, I could disappear into the hazy atmosphere of a local Chinese market. Another source of satisfaction was to change every part of my bike for almost nothing and within a minute at my repair shop in a Shanghai lilong alley. Today, I guess only the frame is original!
However I remained a resistant in a mechanized urban landscape, until recently. Who could indeed anticipate the traffic revolution that started during the last six months in Shanghai. For those who carefully observed, there were a few signs of the coming changes. Official reports on the exploding number of cars in big cities, causing more and more accidents, worsening air pollution and blocking the traffic during peak hours started to come out. The Shanghai Police engaged a tougher policy regarding enforcement of traffic regulations. Bad car drivers were charged heavy fines and electric bikes who had made a habit of using car lines were no exception. One day, I was even surprised to see a bike hanging at two meters high in a tree and I immediately posted a photo on Internet, thinking this was a joke made by a group of friends. I discovered later, when my own bike was turned upside down, that this was a new clever (and humorous) way for the Shanghai Police to indicate that you locked in the wrong place!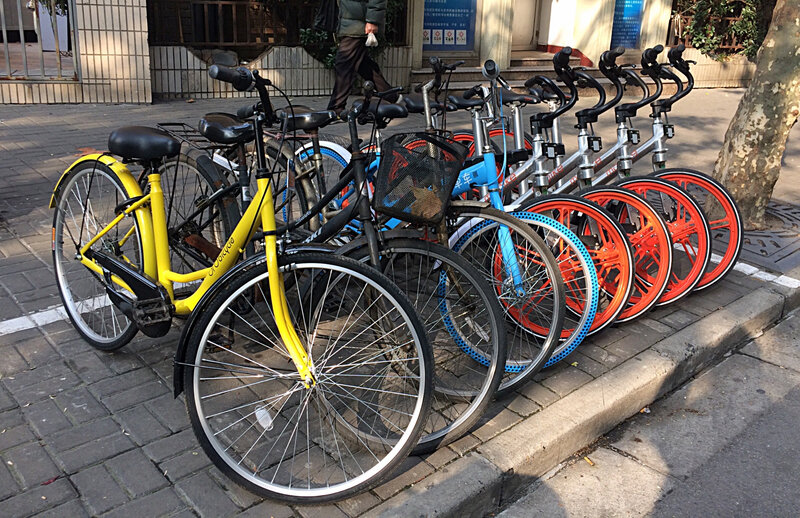 Times had definitely started to change, I said to myself. A few months later, there was this message from a good friend in a hurry to join me for a drink (you probably remember that Hugues) who told me he used for the first time a "shared-bike", Mobike, to be on time. He commented on how easy it was to find a bike, localizing it the with his phone from its GPS chip and paying as little as one yuan for the ride. Since this episode, shared-bike services have literally invaded Shanghai, with an even fierce competition between renting companies like Mobike (orange), Ofo (yellow) and Xiaoming (blue), on the same model as Uber (Youbu) and Didi Dache in the field of shared-car service. We now see students and even old Shanghainese riding those colored bicycles all over the city, sending selfie photos on Wechat with their trendy (and very cheap) new means of transportation.
Shared bicycles have become very popular, changing dramatically the scene on Shanghai streets in such a short period of time. Mobike declares 100 000 shared bikes in Shanghai for the end of 2016, Xiaoming 400 000 in Shanghai and Guangzhou, Ofo 200 000 for the whole of China. I am suddenly and surprisingly not considered as a "poor Westerner", but on the contrary, a rare specimen of bike owner. Although I am sorry to tell I have no sewing machine nore wrist watch, I am now part of the new Chinese dream!
Having tea in the "Da Ke Tang" is one of the most authentic experiences I had (and still have) in Shanghai. Da Ke Tang is an old Art Deco villa, which belonged to a top member of Chiang Kai Shek's Kuomintang party in the 1930s. Hidden in the back of an alley on Xiangyang Road, this is the kind of place you would never find by accident.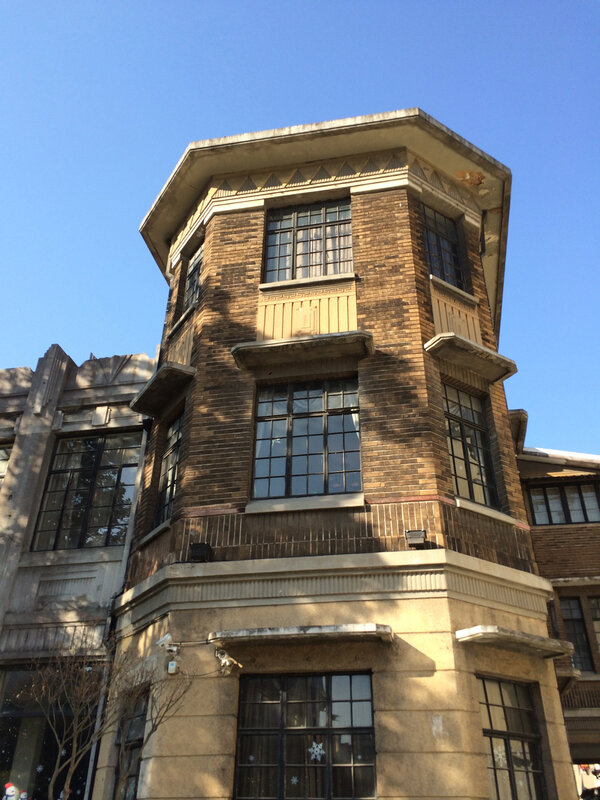 On the first time I went there, I could not believe my eyes: none of the original luxurious wood decoration had been changed. The floor, ceilings and door panels were all from the 1930s with pure Art Deco features! This was actually the first time I saw an untouched or nearly untouched villa dating from those years. Wood door panels are decorated with refined zigzag style patterns. Staircase plain wood balustrade is rounded on three floors, giving a light and smooth sensation when you climb up the stairs. Geometric shapes within the stain glss windows are definitely typical from the 1930s fashion. Young ladies welcoming you will introduce you the history of "Puer", the only kind of tea served there here. Puer tea is famous for its digestive properties. It was initially used as the only source of vitamins on Tibetan plateaus, as people living there lack vegetables for a large part of the year. Dried cakes of Puer are carried by horseback along dangerous trails from the Yunnan valleys. Horses had even to be tied with ropes to cross three major rivers. Some of the old teas are aged for more than one hundred years and therefore cost more than gold, just like the best wines! Hanging on the wall are pictures of famous clients among whom Jacky Chan and TV celebrities.
A VIP treat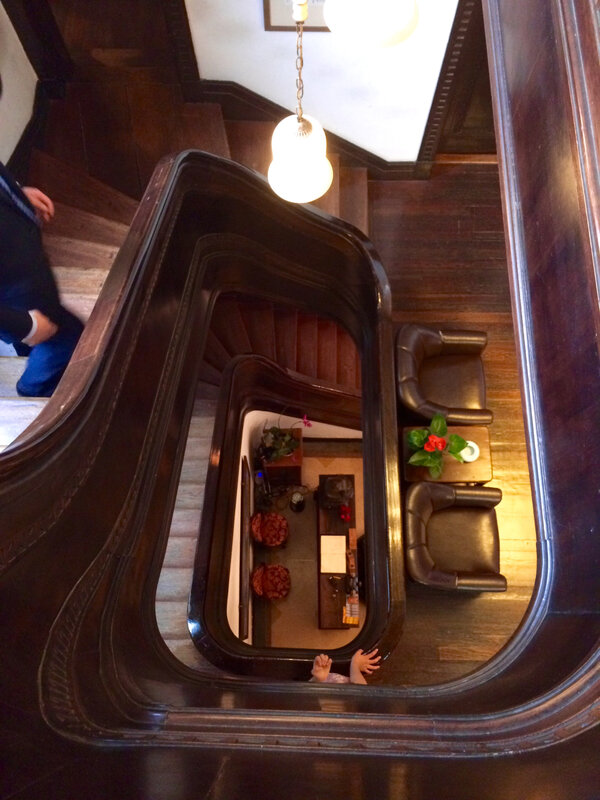 When having a look again he few dark black cars (black Audis are the trade-mark cars of government officials), parked in the wonderful garden of this architecture architectural gem, I really had the impression of being an intruder in an unfamiliar, even slightly unwelcoming, world. However, like the rest of Shanghai, you have to scratch below the surface to get to know the real character of a place. After a general visit of the villa, you are seated in the veranda to enjoy tea with some peanuts. After selecting your tea and checking its colour and smell, a little bit like testing a wine, the serving ladies, all dressed in 1930s' style qipaos (the famous Shanghai long dress with high collar and slit sides), returned again and again to pour hot water on the tea leaves. A fantastic feeling of slow-pace luxurious delight! Time definitely slows down to the point where you simply forget where you are. Like being in a deserted place where you hear no noise other than your own footsteps, so you then start focusing on yourself and the other person's words. New ideas come out in a clean and untroubled environment. You have the impression that conversations are never long enough, an idea bringing another one in a most relaxed atmosphere. Such a wonderful sensation of appeasement!
A travel in time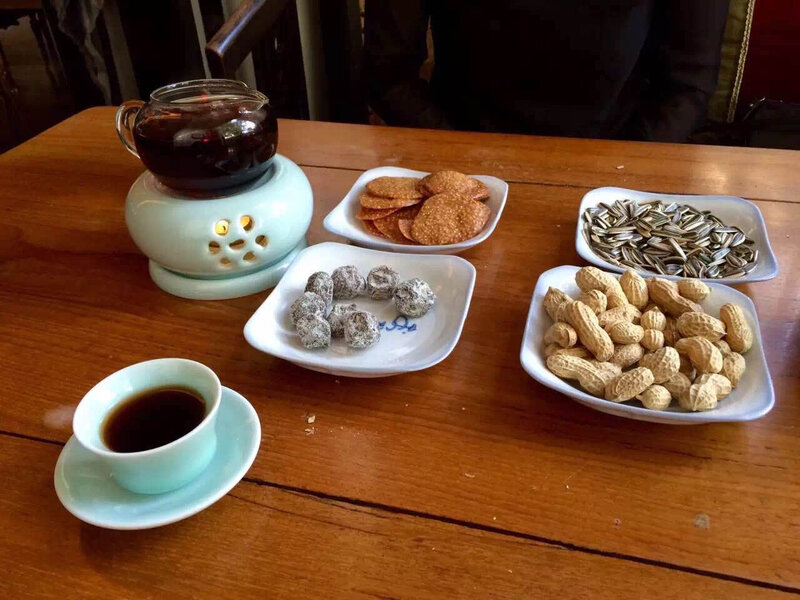 Then considering the place where you are seated, nothing seems to be really different from how it was in Old Shanghai times, as though you had been suddenly transported into the past. And what a past! A dream of the Shanghai 1930s elite, enjoying real Chinese traditions in a most exclusive place. Back to reality, this place has always kept its unique atmosphere of a mysterious clientele. On the day of my visit, some rooms where occupied by some special guests, listening to live performances of Chinese traditional music, while having tea. The hostesses were quite nervous as I accidentally opened that door and could nearly see who was there. However, afer a while, I did not feel at all uncomfortable anymore as it quicky appears that each client can find his comfort zone in this beautiful place. You soon become now part of the whole thing, enjoying the same refinement as the other mysterious guests or probably the Kuomintang top ranking politicians who built the house in the first place.
Once more, I could feel how Shanghai history still resonates in the present. I hope you have this chance too.
Da Ke Tang (大可堂) Tea House: XiangYang South Road 388 Lane 25, Shanghai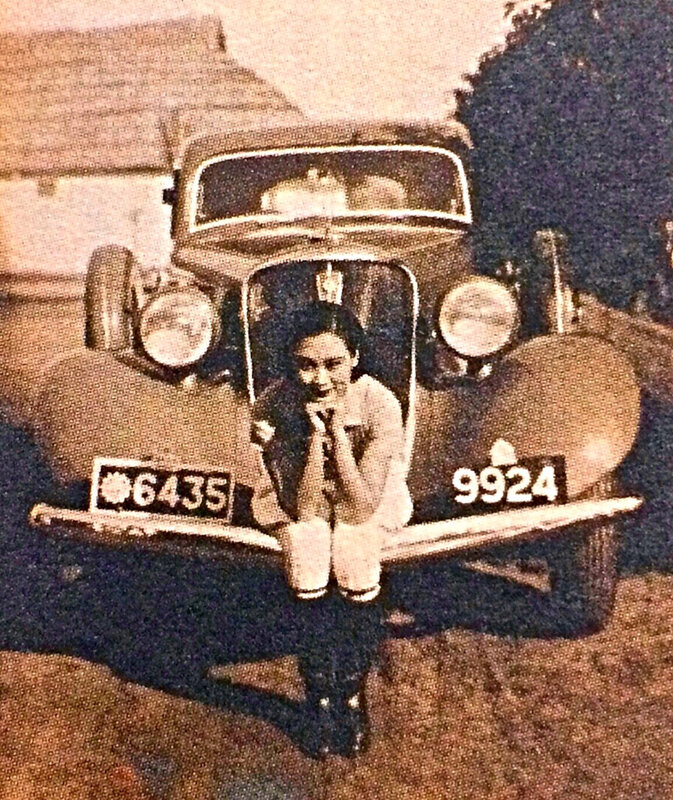 When recently flipping into Lynn Pan's wonderful book "Shanghai Style", I saw a picture of a lady sitting on the bumber of an elegant 1930s luxury car. She is gorgeous, staring at the photographer. She is dressed with Western clothes although she is undoubteddy Chinese and her hair is curled. She wears leather boots, in the maneer of an English Lady returning home after a fox hunt. This photo is the one of Hu Die, a prominent film star of Shanghai 1930s!
Hu Die (meaning butterfly in Chinese) or Hu Ruihua, her real name, was born in Shanghai in 1907 to a Manchu family. For this reason, she was able to speak perfect Mandarin, which was useful later to participate into the first speaking movies. When she was young, she accompanied her father, as a merchant first, then a railway inspector in several cities of Northern China. When they returned to Shanghai in 1924, she joined the first film school in China (Zhonghua), also being their first student. It was not long before she participated in her first movie called "Success", a predestined name in her case.
1930s Shanghai cinema scene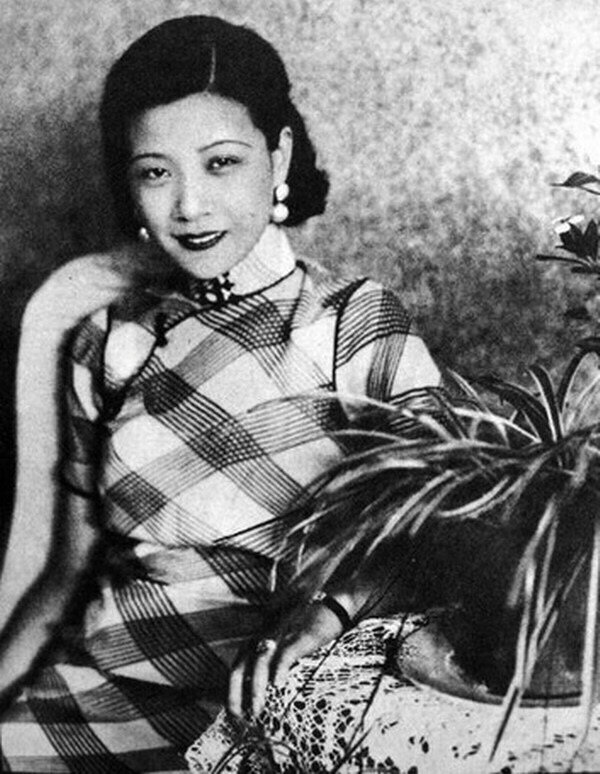 At that time, the cinema industry was thriving in Shanghai. First movies were shot in China in 1896, representing a Beijing opera scene, only one year after the Lumière brothers first world movie was seen in Paris. However, this is only in 1916 that the cinema industry developed after Chinese operators and film technicians had been trained by American film makers. At the beginning of the 1920s most Shanghai movies represented Shanghai city life. This was a rather new phenomenon in the history of cinema to promote a new way of life, driven by the idea of modernity. Actresses were soon associated with the idea of "Modeng Nü", a phonetic translation of the English word "modern", dressed in qipaos, the traditional Chinese gown which had become shorter and sexier than the original model. A specific press emerged at that time, making their cover with film stars and using the Art Deco letterage (another landmark for modernity) and layout to attract the readers' attention. This same industry used those images to denounce modernity in the mid 1930s with the emergence of Chiang Kai Shek New Life Movement, showing then the dark sides of prostitution or search for artificial paradises.
The rise of an icon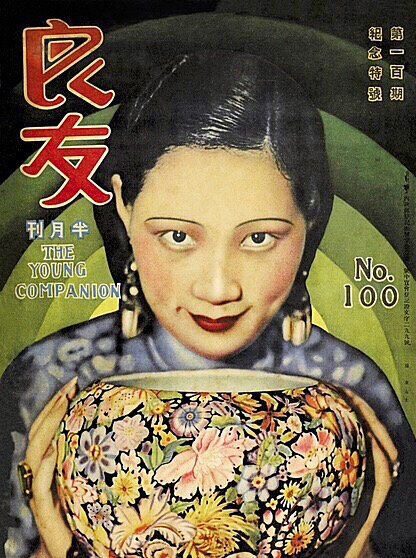 In 1928 Hu Die joined the famous Mingxing Film Company and signed for a monthly income of 1000 dollars, which was a considerable sum of money for the time. She played in "Tower in the White Clouds" and became friend with another famous star of these years, Ruan Lingyu (photo above). She starred in the Chinese first sound movie called "Sing-Song Girl in Red Peony". However she reached the stardom with the role of the Red Girl in "The Burning of the Red Lotus Temple"(click to watch), an early martial movie dating 1928! The year before, a jury of readers of the Star Daily (明星日报) had crowned her the "China's first movie queen". In 1934, she played the double role of twins with two different personalities in "The Twin Sisters"(click to watch). In 1935 she joined a European tour which included Moscow and London, where she met Charlie Chaplin accompanied by Opera singer Mei Lanfang.
Her unprecedented fame was followed by an emerging tabloid press which made it almost impossible for actresses to keep any secret on their personal lives. In 1931 for instance, rumors about her dancing with warlord and dandy Zhang Xueliang on the night of the Mukden incident, preventing him from responding to the Japanese attack, led her to buy pages in Shanghai Shenbao to try to restore her damaged reputation. Later this year, reports on her mariage with Pan Yousheng, an employee of a trading firm, became the news of the year for many, commenting the lavish wedding ceremony involving the whole of Shanghai movie industry. The same year, however, her 24 year old friend Ruan Lingyu's love affair with Cantonese tea merchant Tang Jishan created so much noise that she finally committed suicide (according to the official version) leaving the denouncing essay entitled: "Gossip is a fearful thing".
Advertising world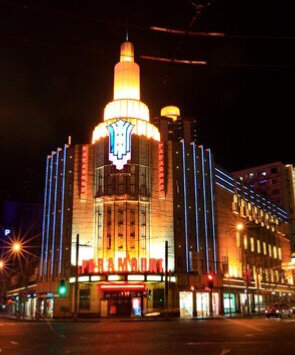 Hu Die is probably one of the most vivid exemple of the rising star system which implies that public image of movie stars is used in advertising. For fans of those years, it is still possible today to find thousands of advertisements for soaps (Lux), department stores (Sincere) or cigarettes showing Hu Die's face on them (Miss Butterfly). At some point too, trendy ballrooms would pay her to participate into special venues to position themselves as high class night-clubs. Paramount ballroom (nearby) near Bubbling Well road or Casanova, on avenue Edouard VII, were famous for welcoming movie stars. Magazines of course would tend to create a dream world around film stars. No wonder then that I was attracted by the westernized image of Hu Die posing with luxury car in the first place. Advertising professionals still consider 1930s Shanghai the world laboratory for almost every single modern selling technique, incuding neon signs and consumer credit.
When war occurred with Japan in 1937, however, Hu Die and her husband exiled themselves to Hong Kong. There they had one son and one daughter. In 1941, the Japanese also invaded Hong Kong and when they asked her to play for propaganda, she refused. She then undertook a land trip to Chongqing, the war capital of China, which took her two years to reach. She met with Chiang Kai Shek head of Secret Services Dai Li, which she started a relationship with. In 1946, she went back to Hong Kong to help her husband with his company till his death in 1959. In 1966 she retired, got married for the second time and joined her son in 1975 in Vancouver Canada where she remained till her last days in 1989. She was living a discrete and peaceful life under the humble name of Pan Baojuan, willing no publicity or reference to her past fame.
Today's legacy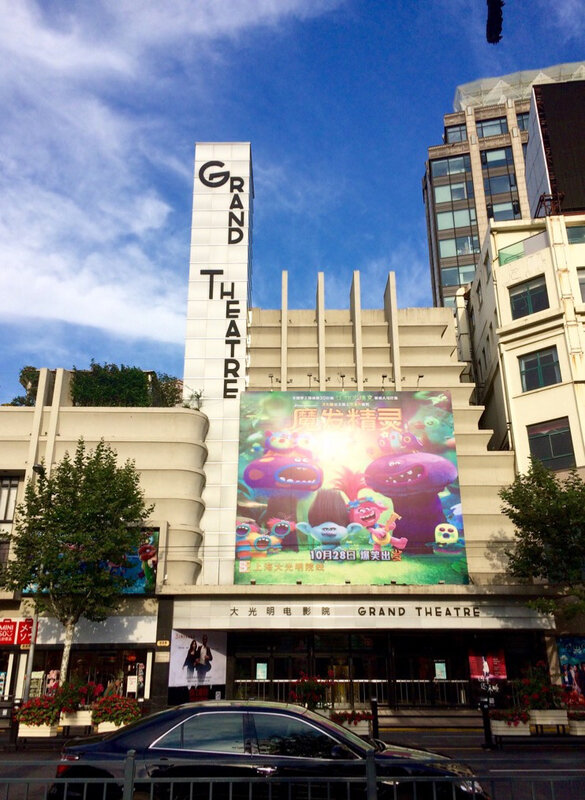 When visiting today's Shanghai, it is still possible to have an idea of those cinema years. Many Art Deco cinemas still stand , giving testimony of the entertainment industry of those years . Many of them have been renovated, sometimes in a better condition than the original one like Cathay Cinema on Huaihai Road, Grand Theatre (photo) on People Square, the Majestic, North of West Nanjing Road or the Huangpu Theatre on Beijing East Road. Some have been transformed like the Lafayette on Fuxing East Road (now a metro station), the Nanking Theatre (today's Shanghai Concert Hall) or the Capitole on Sichuan Road (offices now). Some others like the Metropole on Xizang Road, Chekiang Theatre on Zhejiang Road or Strand Theatre on Ningbo Road have more or less kept their original condition, making the visitor feel like a travelling in time.
In the field of film making, Shanghai has come back on the front scene after decades of Hongkong leadership . Directors like Ang Lee now make films in China mainland, sometimes shot in the 1930 decors of Shanghai Film Studios, like for instance Lust Caution, adaptation of Zhang Aileen novel, a fair return of things and tribute to Shanghai former glory incarnated by stars like Hu Die.
Sources:
- Shanghai Style, Art and Design Between the Wars, author Lynn Pan, Joint Publishing Co HK 2008
- Shanghai Dancing World, Cabaret Culture and Urban Politics, 1919-1954, author Andrew Fields, The Chinese University Press 2010
- The History of Chinese Film, website foreigncn.com, 15th March 2011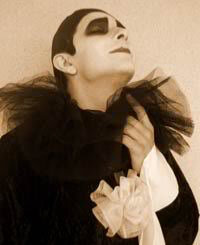 Among the famous characters who happened to live in Shanghai 1930s, one quite particular is Russian singer Alexander Vertinsky. Born in 1889 in Kiev, Vertinsky started his singing career as a in 1916 with a most memorable performance as "Black Pierrot", embodying Russian melancholic soul with an expressionist version of the famous Comedia Del Arte character. At that time, other European artists like Sarah Bernhardt used to dress in black and white to emphasize the expressions of the face and hand moves and then convey more emotion. Later, famous French singer Edith Piaf and mime Marcel Marceau will use black and white colors on stage for similar reasons.
Vertinsky was very popular during last years of the Csarist era for singing Russian love songs like "Tango Magnolia" (click to listen), which transported the listeners in a sort of pink-tinted exotic dream world. When WWI started, soon followed by the 1917 October Revolution, most of Vertinsky clientele, mainly the Czarist elites, left the country for other European countries and so did the singer in 1918. After touring in different European countries including Turkey, Poland and Germany, he finally settled down in Paris in 1923, where he performed in the numerous Montmartre cabarets. The Russian noble and rich merchants émigré community was indeed huge in 1920s Paris. French arts scene was actually very much influenced by Russian painters like Soutine, Kandinsky or Chagall or music composers like Chaliapine. No wonder than that Vertinsky stayed nine years in Paris, being assured of a regular audience in the group of nostalgic Russians. In 1926, he made one of the early recordings of "Dorogoi dlinnoyu", which was sung later under the title "These were the days".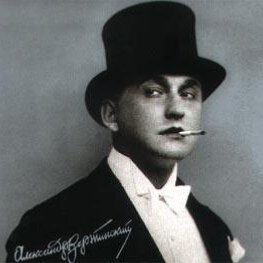 In 1932, he decided to follow the pack of his well off clientele to New York. There, he got close to the artistic circles of the time which included Rachmaninoff and Marlene Dietrich. The Great Depression of the early 1930s stopped his American dreams and carreer. He left for Shanghai in 1935 to join the large Russian community who had left the former Czarist ruled Harbin and Vladivostok in 1920 after the final victory of the Bolcheviks. The economic boom of Shanghai of the time gave those stateless Russians (they had no Russian passport anymore as their country had become the Soviet Union) an opportunity to make it again. In the French Concession, along the Avenue Joffre or in the neighboring roads, a new type of business thrived under the White Russian leadership, made of bakeries, beauty parlors and restaurants. The numerous cabarets and of "Little Russia", as it was called, included DDs, the "Renaissance", Arcadia or Tkachenko's.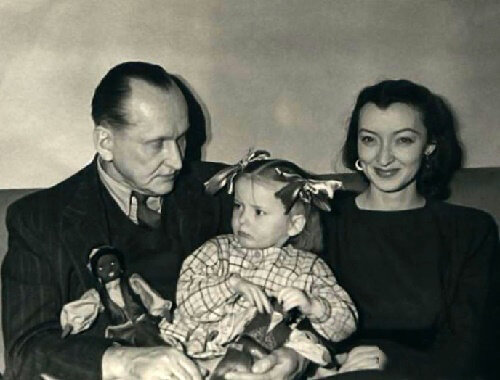 Night life made it possible for musicians like Oleg Lundstrem, a Russian converted to American jazz after listening to imported records by Duke Ellington, or Serge Ermoll, the Russian conductor of the Majestic Hotel, to make a living. Russian women, however, had sometimes no other choice but to work as taxi dancers to feed their families, consequently falling for many into prostitution (one out of four according to a study). For Vertinsky, singing old Russian melancholic songs soon became a trademark. Very few Russian émigrés in Shanghai were actually able to get good positions in the local racist and colonial society of the time, controlled by the British. Even the Chinese looked down upon he destitute Cossacks, often seen drunk on the street, or upon their female counterparts who operated in the gloomy bars of "Blood Alley" or shabby Hongkew. Nostalgia was therefore a general state of mind for Russians. In Shanghai, Vertinsky was most often to be seen in Russian mid level restaurants and cafes, accompanied by pretty ladies, among whom the most beautiful Bubi (thanks to Paul French and Katya Knyazeva to tell me). In 1938 he managed to open his own night club, "Gardenia", beyond the limits of the Foreign Concessions, near today's Yan An Elevated Road. In 1941, he married with Lidya Tsirgvava, a Georgian actress and painter, who gave him a first daughter called Marianna (Photo left).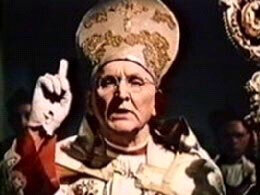 In 1941 however, when Nazi Germany invaded Soviet Union, it became difficult for many Russians to resist the temptation to come home to defend the motherland, whatever the political regime. At that time, Vertinsky was feeling so homesick (may be influenced by his own songs) that he wrote a heart breaking letter to Stalin himself, asking permission to return home in exchange of his full contribution to the Soviet Russia. Surprisingly, his request was accepted and Vertinsky actually taken to his own word. When getting back to URSS in 1943, he had to sing for every single kolkhoz or soviet factory for humble workers, travelling from Sakhalin to Kaliningrad. In total, Vertinsky gave two thousands representations in this time, sparing no effort to redeem himself from his so-called former "bourgeois" attitude. The Vertinsky figure was even used by soviet propaganda movie industry to play the vilains like in the "The Doomed Conspiration" where he played an anticommunist cardinal (Photo above)
In 1944, he had a second daughter, Anastasiya (Photo on the left), who later became a famous as a Soviet film actress. Funny enough (funny might not be the right word as Vertinsky practically tired himself to death in those years), the singer received the Stalin Prize in 1951 for his role in "The Doomed Conspiration". Vertinsky died six years later.
Alexander Vertinsky is still remembered as one of the greatest singers in Russian history. Like most of the fascinating characters of Shanghai 1930s, he went through many political and historical changes in his life. May be if you walk in Central Huaihai Road, yesterday's Avenue Joffre, you can still hear the dramatic accents of Alexander Vertinsky's voice or the screaming violins accompanying his songs. Melancholy is sometimes a wonderful feeling!