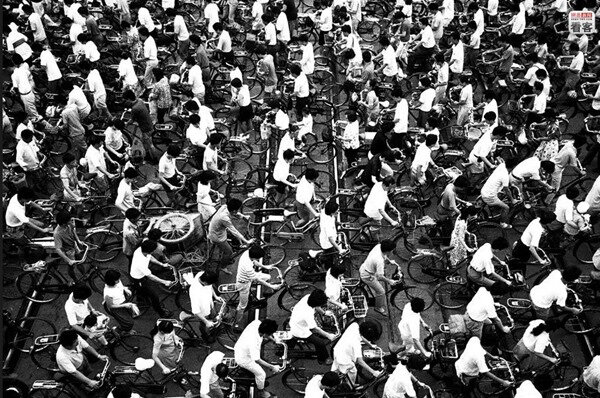 Among the first images I got from China, the thousands of Chinese workers riding bicycles is probably one of the most vivid of my teenage memories. In the 1970's, China was just waking up from the Cultural Revolution and was known in the world as the "Kingdom of bicycles" (自行车王国), representing 60% of the whole world production. Even after Mao's death in 1976, the dream of every family was "san zhuan yi xiang" (三转一响), meaning 3 spins and one sound, to describe a wrist watch, a sewing machine, a bicycle and a radio. In the 1980s, most workers had to pay the equivalent of four months salary to buy one bicycle, among which the 1936 founded brand and leader "Flying Pigeon" or the 1981 Shanghai based "Phoenix". Deng Xiaoping used to define prosperity as "A Flying Pigeon in every household". In 1995 China's fleet peaked at 670 million bicycles (430 today)!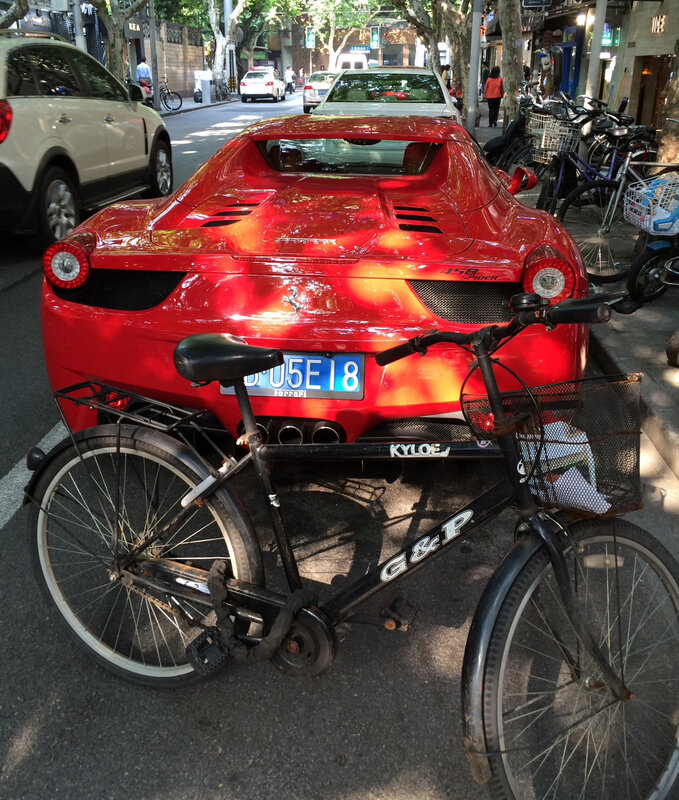 When I got to Shanghai, I wanted to fulfill my vision of Chinese dream by buying me one of the local little queens, a way for me to get closer to Chinese daily life. Shanghai, however, like most big cities, had already fallen into the car era by the time I settled there. Electric bikes had been long preferred to bicycles by Chinese who could not afford a car. Still, I was happy to ride my first bike, a Phoenix, discovering every single corner of Shanghai on it. When waiting at the traffic lights, I enjoyed to see surprise on people's faces at the view of a Westerner riding this traditional Chinese model. Some of them dared to tell me they considered "bicycles are for poor people". Nothing could make me happier however than to overtake one of the pretentious Ferraris when those were stuck by traffic in the narrow roads of the Former French Concession. The next minute, I could disappear into the hazy atmosphere of a local Chinese market. Another source of satisfaction was to change every part of my bike for almost nothing and within a minute at my repair shop in a Shanghai lilong alley. Today, I guess only the frame is original!
However I remained a resistant in a mechanized urban landscape, until recently. Who could indeed anticipate the traffic revolution that started during the last six months in Shanghai. For those who carefully observed, there were a few signs of the coming changes. Official reports on the exploding number of cars in big cities, causing more and more accidents, worsening air pollution and blocking the traffic during peak hours started to come out. The Shanghai Police engaged a tougher policy regarding enforcement of traffic regulations. Bad car drivers were charged heavy fines and electric bikes who had made a habit of using car lines were no exception. One day, I was even surprised to see a bike hanging at two meters high in a tree and I immediately posted a photo on Internet, thinking this was a joke made by a group of friends. I discovered later, when my own bike was turned upside down, that this was a new clever (and humorous) way for the Shanghai Police to indicate that you locked in the wrong place!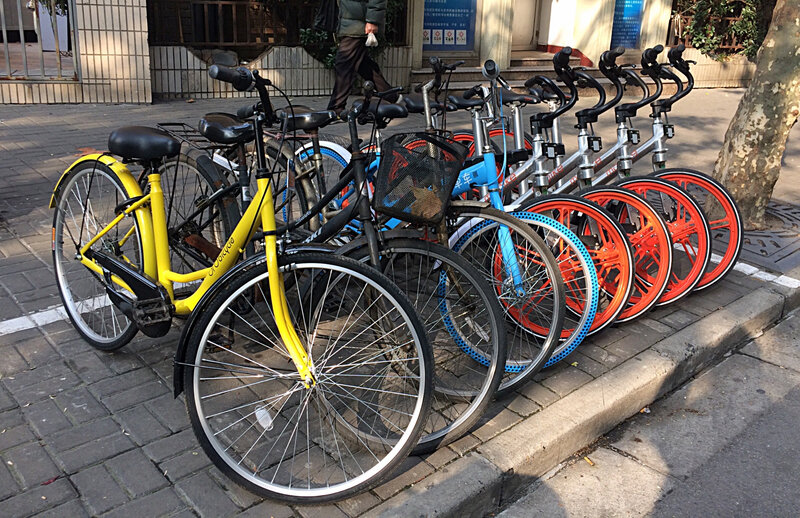 Times had definitely started to change, I said to myself. A few months later, there was this message from a good friend in a hurry to join me for a drink (you probably remember that Hugues) who told me he used for the first time a "shared-bike", Mobike, to be on time. He commented on how easy it was to find a bike, localizing it the with his phone from its GPS chip and paying as little as one yuan for the ride. Since this episode, shared-bike services have literally invaded Shanghai, with an even fierce competition between renting companies like Mobike (orange), Ofo (yellow) and Xiaoming (blue), on the same model as Uber (Youbu) and Didi Dache in the field of shared-car service. We now see students and even old Shanghainese riding those colored bicycles all over the city, sending selfie photos on Wechat with their trendy (and very cheap) new means of transportation.
Shared bicycles have become very popular, changing dramatically the scene on Shanghai streets in such a short period of time. Mobike declares 100 000 shared bikes in Shanghai for the end of 2016, Xiaoming 400 000 in Shanghai and Guangzhou, Ofo 200 000 for the whole of China. I am suddenly and surprisingly not considered as a "poor Westerner", but on the contrary, a rare specimen of bike owner. Although I am sorry to tell I have no sewing machine nore wrist watch, I am now part of the new Chinese dream!
Having tea in the "Da Ke Tang" is one of the most authentic experiences I had (and still have) in Shanghai. Da Ke Tang is an old Art Deco villa, which belonged to a top member of Chiang Kai Shek's Kuomintang party in the 1930s. Hidden in the back of an alley on Xiangyang Road, this is the kind of place you would never find by accident.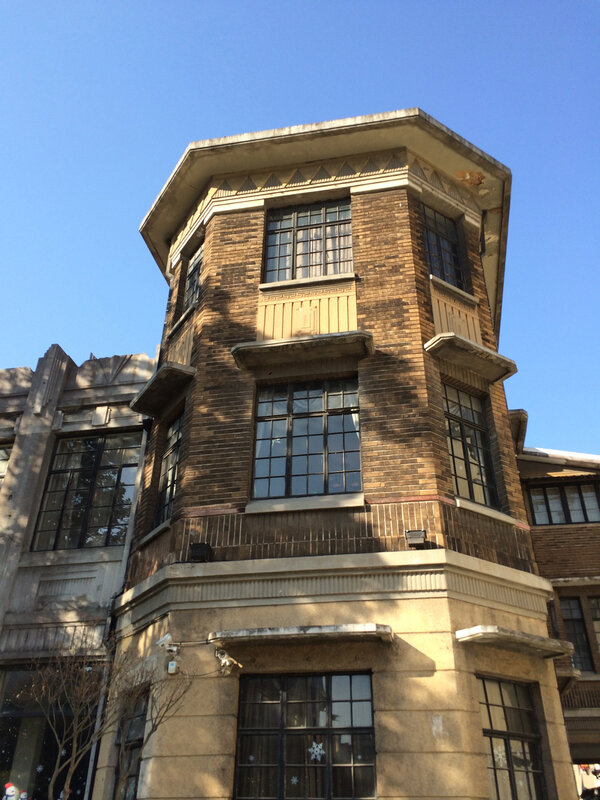 On the first time I went there, I could not believe my eyes: none of the original luxurious wood decoration had been changed. The floor, ceilings and door panels were all from the 1930s with pure Art Deco features! This was actually the first time I saw an untouched or nearly untouched villa dating from those years. Wood door panels are decorated with refined zigzag style patterns. Staircase plain wood balustrade is rounded on three floors, giving a light and smooth sensation when you climb up the stairs. Geometric shapes within the stain glss windows are definitely typical from the 1930s fashion. Young ladies welcoming you will introduce you the history of "Puer", the only kind of tea served there here. Puer tea is famous for its digestive properties. It was initially used as the only source of vitamins on Tibetan plateaus, as people living there lack vegetables for a large part of the year. Dried cakes of Puer are carried by horseback along dangerous trails from the Yunnan valleys. Horses had even to be tied with ropes to cross three major rivers. Some of the old teas are aged for more than one hundred years and therefore cost more than gold, just like the best wines! Hanging on the wall are pictures of famous clients among whom Jacky Chan and TV celebrities.
A VIP treat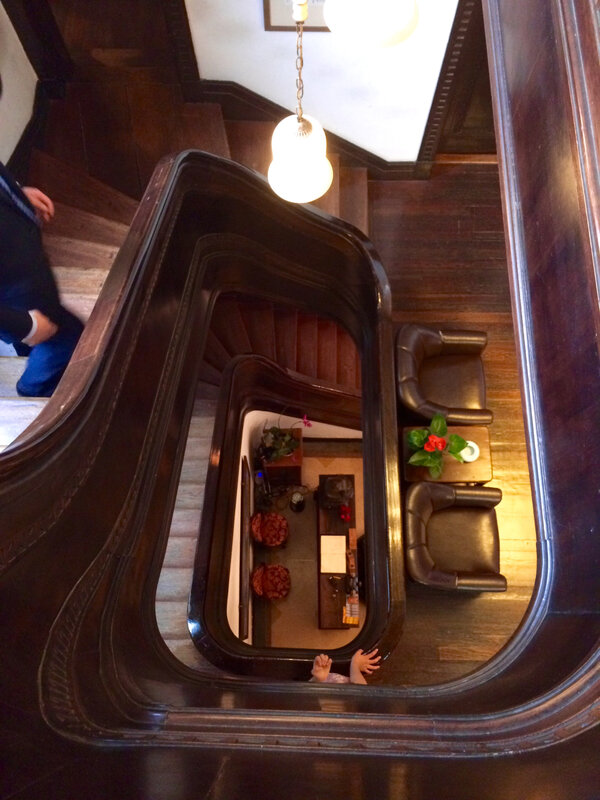 When having a look again he few dark black cars (black Audis are the trade-mark cars of government officials), parked in the wonderful garden of this architecture architectural gem, I really had the impression of being an intruder in an unfamiliar, even slightly unwelcoming, world. However, like the rest of Shanghai, you have to scratch below the surface to get to know the real character of a place. After a general visit of the villa, you are seated in the veranda to enjoy tea with some peanuts. After selecting your tea and checking its colour and smell, a little bit like testing a wine, the serving ladies, all dressed in 1930s' style qipaos (the famous Shanghai long dress with high collar and slit sides), returned again and again to pour hot water on the tea leaves. A fantastic feeling of slow-pace luxurious delight! Time definitely slows down to the point where you simply forget where you are. Like being in a deserted place where you hear no noise other than your own footsteps, so you then start focusing on yourself and the other person's words. New ideas come out in a clean and untroubled environment. You have the impression that conversations are never long enough, an idea bringing another one in a most relaxed atmosphere. Such a wonderful sensation of appeasement!
A travel in time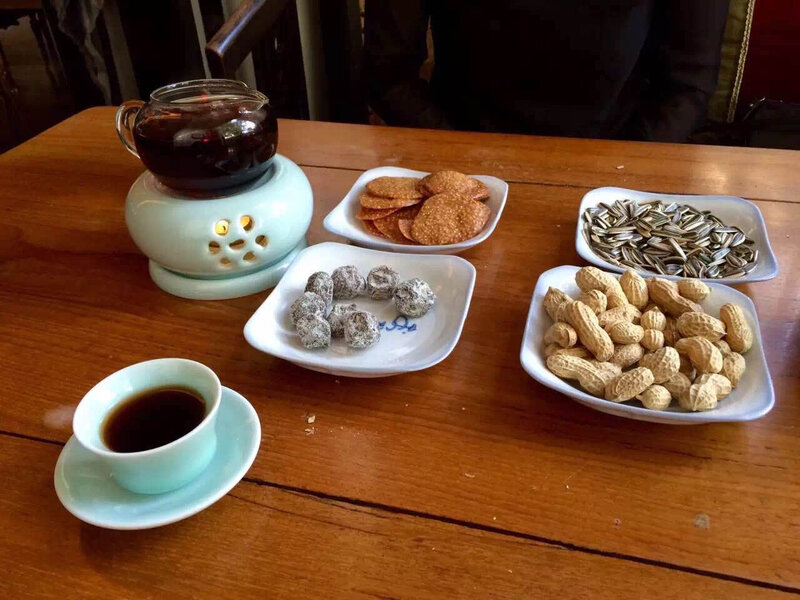 Then considering the place where you are seated, nothing seems to be really different from how it was in Old Shanghai times, as though you had been suddenly transported into the past. And what a past! A dream of the Shanghai 1930s elite, enjoying real Chinese traditions in a most exclusive place. Back to reality, this place has always kept its unique atmosphere of a mysterious clientele. On the day of my visit, some rooms where occupied by some special guests, listening to live performances of Chinese traditional music, while having tea. The hostesses were quite nervous as I accidentally opened that door and could nearly see who was there. However, afer a while, I did not feel at all uncomfortable anymore as it quicky appears that each client can find his comfort zone in this beautiful place. You soon become now part of the whole thing, enjoying the same refinement as the other mysterious guests or probably the Kuomintang top ranking politicians who built the house in the first place.
Once more, I could feel how Shanghai history still resonates in the present. I hope you have this chance too.
Da Ke Tang (大可堂) Tea House: XiangYang South Road 388 Lane 25, Shanghai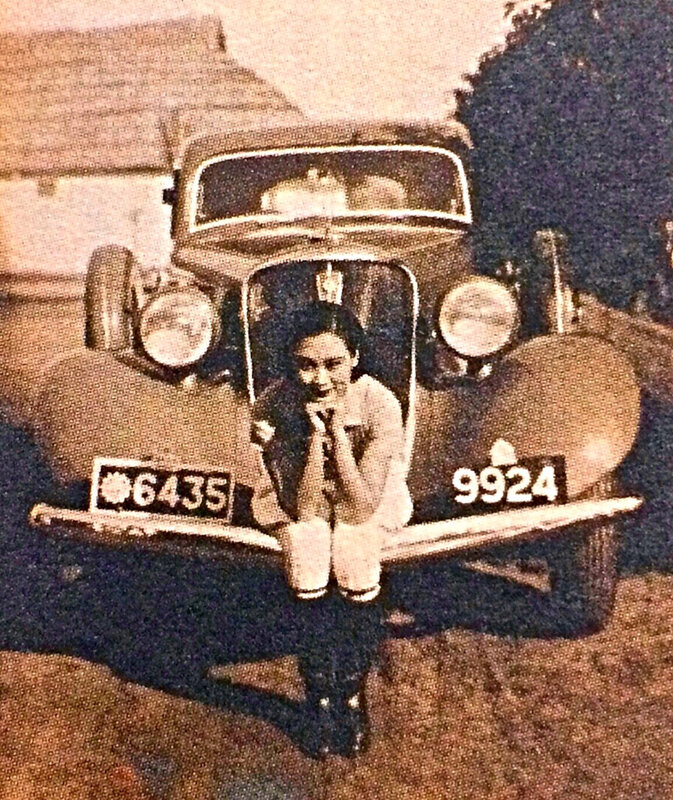 When recently flipping into Lynn Pan's wonderful book "Shanghai Style", I saw a picture of a lady sitting on the bumber of an elegant 1930s luxury car. She is gorgeous, staring at the photographer. She is dressed with Western clothes although she is undoubteddy Chinese and her hair is curled. She wears leather boots, in the maneer of an English Lady returning home after a fox hunt. This photo is the one of Hu Die, a prominent film star of Shanghai 1930s!
Hu Die (meaning butterfly in Chinese) or Hu Ruihua, her real name, was born in Shanghai in 1907 to a Manchu family. For this reason, she was able to speak perfect Mandarin, which was useful later to participate into the first speaking movies. When she was young, she accompanied her father, as a merchant first, then a railway inspector in several cities of Northern China. When they returned to Shanghai in 1924, she joined the first film school in China (Zhonghua), also being their first student. It was not long before she participated in her first movie called "Success", a predestined name in her case.
1930s Shanghai cinema scene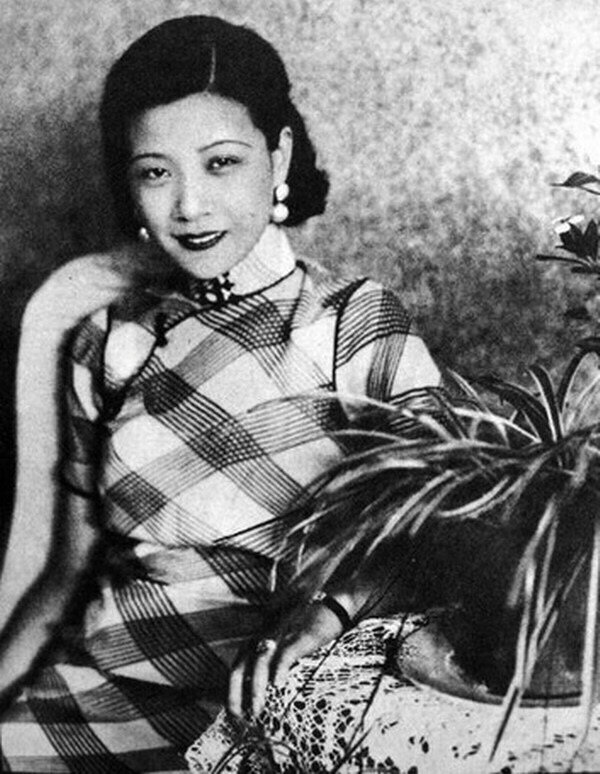 At that time, the cinema industry was thriving in Shanghai. First movies were shot in China in 1896, representing a Beijing opera scene, only one year after the Lumière brothers first world movie was seen in Paris. However, this is only in 1916 that the cinema industry developed after Chinese operators and film technicians had been trained by American film makers. At the beginning of the 1920s most Shanghai movies represented Shanghai city life. This was a rather new phenomenon in the history of cinema to promote a new way of life, driven by the idea of modernity. Actresses were soon associated with the idea of "Modeng Nü", a phonetic translation of the English word "modern", dressed in qipaos, the traditional Chinese gown which had become shorter and sexier than the original model. A specific press emerged at that time, making their cover with film stars and using the Art Deco letterage (another landmark for modernity) and layout to attract the readers' attention. This same industry used those images to denounce modernity in the mid 1930s with the emergence of Chiang Kai Shek New Life Movement, showing then the dark sides of prostitution or search for artificial paradises.
The rise of an icon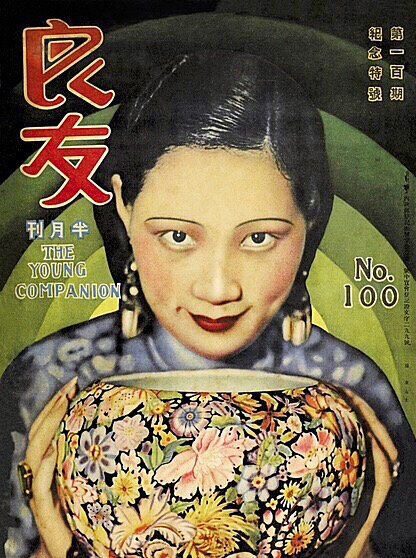 In 1928 Hu Die joined the famous Mingxing Film Company and signed for a monthly income of 1000 dollars, which was a considerable sum of money for the time. She played in "Tower in the White Clouds" and became friend with another famous star of these years, Ruan Lingyu (photo above). She starred in the Chinese first sound movie called "Sing-Song Girl in Red Peony". However she reached the stardom with the role of the Red Girl in "The Burning of the Red Lotus Temple"(click to watch), an early martial movie dating 1928! The year before, a jury of readers of the Star Daily (明星日报) had crowned her the "China's first movie queen". In 1934, she played the double role of twins with two different personalities in "The Twin Sisters"(click to watch). In 1935 she joined a European tour which included Moscow and London, where she met Charlie Chaplin accompanied by Opera singer Mei Lanfang.
Her unprecedented fame was followed by an emerging tabloid press which made it almost impossible for actresses to keep any secret on their personal lives. In 1931 for instance, rumors about her dancing with warlord and dandy Zhang Xueliang on the night of the Mukden incident, preventing him from responding to the Japanese attack, led her to buy pages in Shanghai Shenbao to try to restore her damaged reputation. Later this year, reports on her mariage with Pan Yousheng, an employee of a trading firm, became the news of the year for many, commenting the lavish wedding ceremony involving the whole of Shanghai movie industry. The same year, however, her 24 year old friend Ruan Lingyu's love affair with Cantonese tea merchant Tang Jishan created so much noise that she finally committed suicide (according to the official version) leaving the denouncing essay entitled: "Gossip is a fearful thing".
Advertising world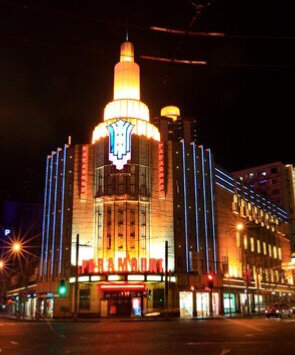 Hu Die is probably one of the most vivid exemple of the rising star system which implies that public image of movie stars is used in advertising. For fans of those years, it is still possible today to find thousands of advertisements for soaps (Lux), department stores (Sincere) or cigarettes showing Hu Die's face on them (Miss Butterfly). At some point too, trendy ballrooms would pay her to participate into special venues to position themselves as high class night-clubs. Paramount ballroom (nearby) near Bubbling Well road or Casanova, on avenue Edouard VII, were famous for welcoming movie stars. Magazines of course would tend to create a dream world around film stars. No wonder then that I was attracted by the westernized image of Hu Die posing with luxury car in the first place. Advertising professionals still consider 1930s Shanghai the world laboratory for almost every single modern selling technique, incuding neon signs and consumer credit.
When war occurred with Japan in 1937, however, Hu Die and her husband exiled themselves to Hong Kong. There they had one son and one daughter. In 1941, the Japanese also invaded Hong Kong and when they asked her to play for propaganda, she refused. She then undertook a land trip to Chongqing, the war capital of China, which took her two years to reach. She met with Chiang Kai Shek head of Secret Services Dai Li, which she started a relationship with. In 1946, she went back to Hong Kong to help her husband with his company till his death in 1959. In 1966 she retired, got married for the second time and joined her son in 1975 in Vancouver Canada where she remained till her last days in 1989. She was living a discrete and peaceful life under the humble name of Pan Baojuan, willing no publicity or reference to her past fame.
Today's legacy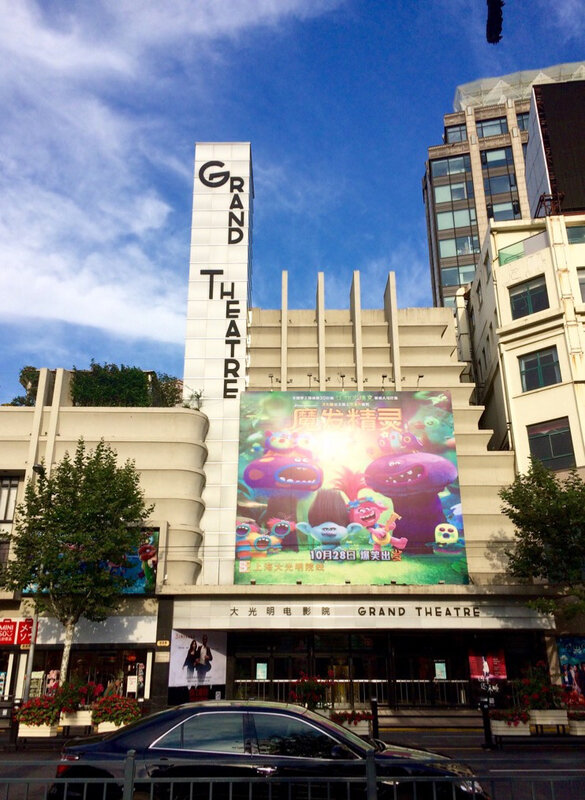 When visiting today's Shanghai, it is still possible to have an idea of those cinema years. Many Art Deco cinemas still stand , giving testimony of the entertainment industry of those years . Many of them have been renovated, sometimes in a better condition than the original one like Cathay Cinema on Huaihai Road, Grand Theatre (photo) on People Square, the Majestic, North of West Nanjing Road or the Huangpu Theatre on Beijing East Road. Some have been transformed like the Lafayette on Fuxing East Road (now a metro station), the Nanking Theatre (today's Shanghai Concert Hall) or the Capitole on Sichuan Road (offices now). Some others like the Metropole on Xizang Road, Chekiang Theatre on Zhejiang Road or Strand Theatre on Ningbo Road have more or less kept their original condition, making the visitor feel like a travelling in time.
In the field of film making, Shanghai has come back on the front scene after decades of Hongkong leadership . Directors like Ang Lee now make films in China mainland, sometimes shot in the 1930 decors of Shanghai Film Studios, like for instance Lust Caution, adaptation of Zhang Aileen novel, a fair return of things and tribute to Shanghai former glory incarnated by stars like Hu Die.
Sources:
- Shanghai Style, Art and Design Between the Wars, author Lynn Pan, Joint Publishing Co HK 2008
- Shanghai Dancing World, Cabaret Culture and Urban Politics, 1919-1954, author Andrew Fields, The Chinese University Press 2010
- The History of Chinese Film, website foreigncn.com, 15th March 2011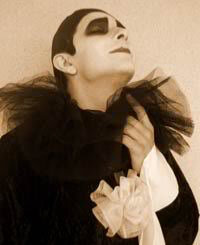 Among the famous characters who happened to live in Shanghai 1930s, one quite particular is Russian singer Alexander Vertinsky. Born in 1889 in Kiev, Vertinsky started his singing career as a in 1916 with a most memorable performance as "Black Pierrot", embodying Russian melancholic soul with an expressionist version of the famous Comedia Del Arte character. At that time, other European artists like Sarah Bernhardt used to dress in black and white to emphasize the expressions of the face and hand moves and then convey more emotion. Later, famous French singer Edith Piaf and mime Marcel Marceau will use black and white colors on stage for similar reasons.
Vertinsky was very popular during last years of the Csarist era for singing Russian love songs like "Tango Magnolia" (click to listen), which transported the listeners in a sort of pink-tinted exotic dream world. When WWI started, soon followed by the 1917 October Revolution, most of Vertinsky clientele, mainly the Czarist elites, left the country for other European countries and so did the singer in 1918. After touring in different European countries including Turkey, Poland and Germany, he finally settled down in Paris in 1923, where he performed in the numerous Montmartre cabarets. The Russian noble and rich merchants émigré community was indeed huge in 1920s Paris. French arts scene was actually very much influenced by Russian painters like Soutine, Kandinsky or Chagall or music composers like Chaliapine. No wonder than that Vertinsky stayed nine years in Paris, being assured of a regular audience in the group of nostalgic Russians. In 1926, he made one of the early recordings of "Dorogoi dlinnoyu", which was sung later under the title "These were the days".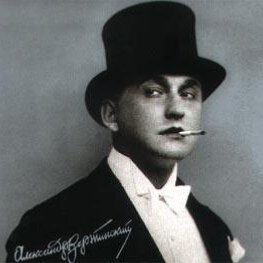 In 1932, he decided to follow the pack of his well off clientele to New York. There, he got close to the artistic circles of the time which included Rachmaninoff and Marlene Dietrich. The Great Depression of the early 1930s stopped his American dreams and carreer. He left for Shanghai in 1935 to join the large Russian community who had left the former Czarist ruled Harbin and Vladivostok in 1920 after the final victory of the Bolcheviks. The economic boom of Shanghai of the time gave those stateless Russians (they had no Russian passport anymore as their country had become the Soviet Union) an opportunity to make it again. In the French Concession, along the Avenue Joffre or in the neighboring roads, a new type of business thrived under the White Russian leadership, made of bakeries, beauty parlors and restaurants. The numerous cabarets and of "Little Russia", as it was called, included DDs, the "Renaissance", Arcadia or Tkachenko's.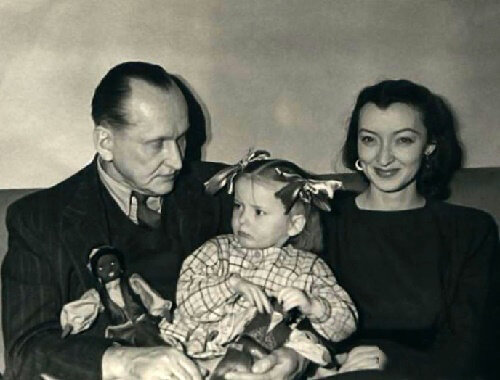 Night life made it possible for musicians like Oleg Lundstrem, a Russian converted to American jazz after listening to imported records by Duke Ellington, or Serge Ermoll, the Russian conductor of the Majestic Hotel, to make a living. Russian women, however, had sometimes no other choice but to work as taxi dancers to feed their families, consequently falling for many into prostitution (one out of four according to a study). For Vertinsky, singing old Russian melancholic songs soon became a trademark. Very few Russian émigrés in Shanghai were actually able to get good positions in the local racist and colonial society of the time, controlled by the British. Even the Chinese looked down upon he destitute Cossacks, often seen drunk on the street, or upon their female counterparts who operated in the gloomy bars of "Blood Alley" or shabby Hongkew. Nostalgia was therefore a general state of mind for Russians. In Shanghai, Vertinsky was most often to be seen in Russian mid level restaurants and cafes, accompanied by pretty ladies, among whom the most beautiful Bubi (thanks to Paul French and Katya Knyazeva to tell me). In 1938 he managed to open his own night club, "Gardenia", beyond the limits of the Foreign Concessions, near today's Yan An Elevated Road. In 1941, he married with Lidya Tsirgvava, a Georgian actress and painter, who gave him a first daughter called Marianna (Photo left).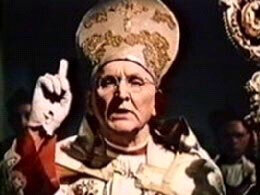 In 1941 however, when Nazi Germany invaded Soviet Union, it became difficult for many Russians to resist the temptation to come home to defend the motherland, whatever the political regime. At that time, Vertinsky was feeling so homesick (may be influenced by his own songs) that he wrote a heart breaking letter to Stalin himself, asking permission to return home in exchange of his full contribution to the Soviet Russia. Surprisingly, his request was accepted and Vertinsky actually taken to his own word. When getting back to URSS in 1943, he had to sing for every single kolkhoz or soviet factory for humble workers, travelling from Sakhalin to Kaliningrad. In total, Vertinsky gave two thousands representations in this time, sparing no effort to redeem himself from his so-called former "bourgeois" attitude. The Vertinsky figure was even used by soviet propaganda movie industry to play the vilains like in the "The Doomed Conspiration" where he played an anticommunist cardinal (Photo above)
In 1944, he had a second daughter, Anastasiya (Photo on the left), who later became a famous as a Soviet film actress. Funny enough (funny might not be the right word as Vertinsky practically tired himself to death in those years), the singer received the Stalin Prize in 1951 for his role in "The Doomed Conspiration". Vertinsky died six years later.
Alexander Vertinsky is still remembered as one of the greatest singers in Russian history. Like most of the fascinating characters of Shanghai 1930s, he went through many political and historical changes in his life. May be if you walk in Central Huaihai Road, yesterday's Avenue Joffre, you can still hear the dramatic accents of Alexander Vertinsky's voice or the screaming violins accompanying his songs. Melancholy is sometimes a wonderful feeling!
I recently sneaked into one of the most surprising buildings in all Shanghai: Hamilton House.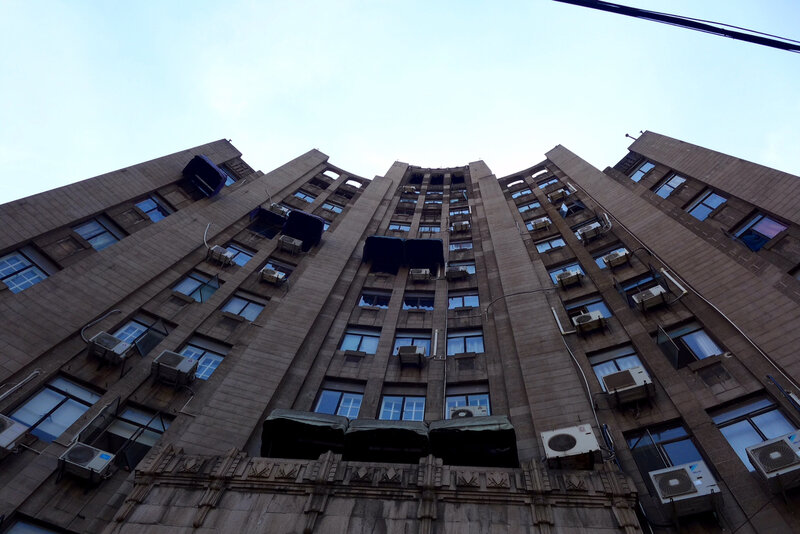 Hamilton House was erected in 1933 by architect office Palmer and Turner for real estate tycoon Victor Sassoon. Victor Sassoon was the heir of David Sassoon, a Sefardim Jewish who had fled Bagdad in 1829 after Dawud Pasha came to power. He settled in Bombay, today's Mumbai, where he created a business empire with help of other Baghdadi Jews. Although he never spoke English, he was made a British citizen to reward his unique contribution (hospitals. library, cotton mills, harbour facilities...). So when his grandson got to Shanghai in the early 1920s, he also tried to pursue a similar dream by firmly stamping his print into the urban landscape.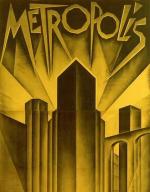 As most of Victor Sassoon properties in Shanghai, Hamilton House is designed with a business purpose as well as a will of impress his contemporaries. It is actually built in the same project with its twin sister, the Metropole Hotel on the other side of Fuzhou Road, which offered an easy accommodation for visitors of the offices or the lavish apartments in Hamilton House. This is the same practical idea which led Sassoon to build the Cathay Mansion on today's Maoming Road to propose luxury rooms to the guests of the opposite Cercle Sportif Francais in 1926. Same combination in 1928 in the Sassoon House on the Bund (Peace Hotel today) between David Sassoon & Co headquarters and the luxury hotel that we can still visit today. Hamilton House was definitely designed as a strong symbol of modernity.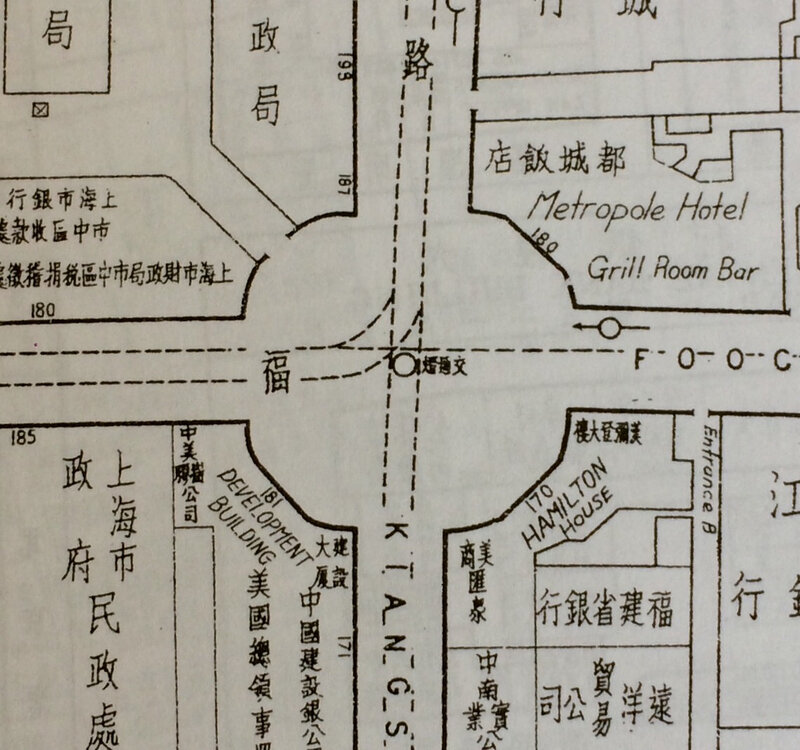 As they used for the first time aeroconcrete, a light type of bricks made of coal ashes from the power plants located in Henan province, the designers could finish the building in a very short timeframe and cope with the issue of soft ground of Shanghai to support such a massive construction. A smart shape including arches and balconies made it also possible to reach the actual height without adding too much weight to the structure. If you guys saw the film Metropolis by Fritz Lang, you will probably recognize the skyline of the futurist city imagined by the German Jewish director. Fritz Lang was actually a strong admirer of the Art Deco style, which inspired him for the making of his movie. Let us assume Palmer and Turner architects saw the movie in the first place before they built, this time for real, Hamilton House! Interesting enough, the crossroad of Fuzhou Road and Jiangxi Road is designed symmetrically. On the other side of Jiangxi Road, former Commercial Bank of China, by architects Davies, Brooke & Gran, complete the circle. Opposite to Hamilton House is the former Shanghai Municipal Council building, which should have initially been crowned by an Italian style campanile, like the one on San Marco Square in Venice. This plan was abandoned, leaving space to the only megalomania of Victor Sassoon! No surprise that the very modernist Emily Hahn chose to stay near the crossroad on Jiangxi Road to live her (for that time) scandalous love story with Chinese poet Shao Xunmei.
Village life on the roofs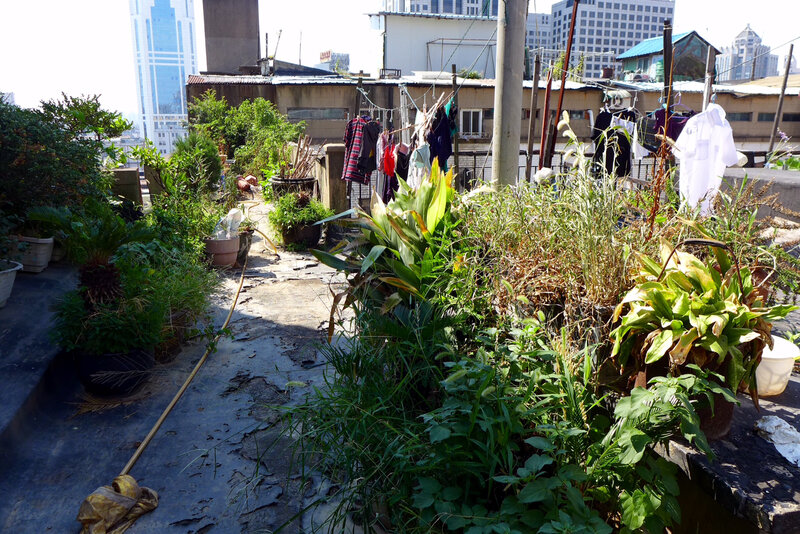 Like in most of Shanghai, luxury apartments of the 1930s have been turned later into more humble dwellings, being split between a far larger number of occupants. Although there were many immigrants and refugees in the 1920s and 1930s in Shanghai, western style apartments were only used by Chinese people after the communist takeover of 1949. This was the result of the industrialization of Shanghai by factories in the city and the heavy taxation burden imposed by Beijing. As there was no budget for new constructions, the loads of peasants who rushed into the city to work in the newly created factories had to pack into existing houses.
This phenomenon was emphasized during the Cultural Revolution era when model workers were given apartments previously occupied by the so-called "bourgeois" type. These occupants are still paying rents as cheap as 20 yuans (3 US Dollar) a month today! No wonder that, when I visited the place, it was crowded by thousands of people. It reminded me my of Embankment Building, another former Sassoon property along the Suzhou River which long "S" shape (standing for Sassoon) corridors are also full of people, with even hairdresser and grocery shop! This time, the exotic balconies and terraces of Hamilton House exceeded all my expectations. When reaching the top floor, I had the surprise to see a lady hanging clothes on the castle-type mezzanines. Then on the terraces overlooking the Huangpu River and the Bund Custom House, I found an amazing display of plants, aquariums for goldfishes and pigeons cages. Such a countryside atmosphere right in the middle of Shanghai!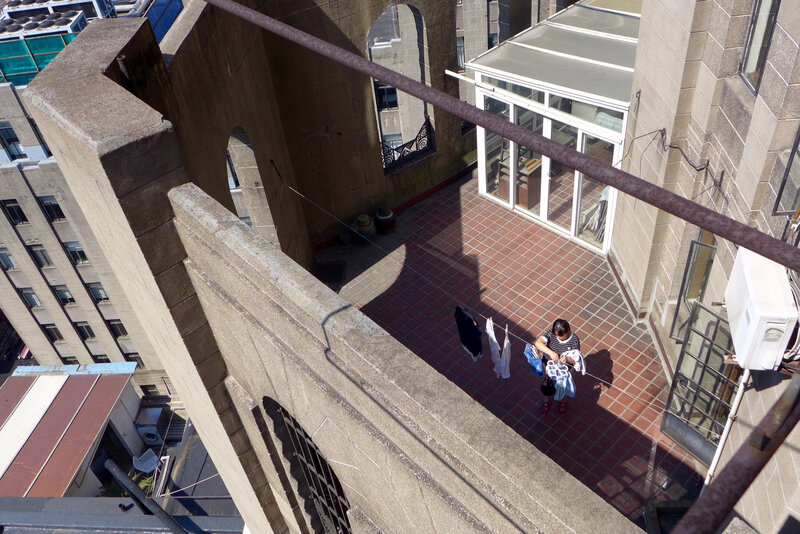 The most unexpected discovery was a small shrine dedicated to Chairman Mao. With so many low rent payers, I can understand that some still find nice sides in one of the most troubled and violent periods of Chinese history! When strolling in Old Shanghai and even in the French Concession, inscriptions dating from the Cultural Revolution era can still be spotted. I could actually never figure out if the red paint used at this period was so good that it lasted till now or if people did not dare to scrap off slogans mentionning Mao Zedong. May be both explanations are valid. However, this kind of tribute to Mao is still common in Chinese villages.
Inside the building, apart from the three first floors occupied by government offices (but not only as there is a tattoo shop on the first floor), the whole space is filled with people. Interesting point about Hamilton House is that its light structure gives a lot of light. I particularly appreciated the top corridors connecting the different wings of the building, which give the impression of walking in a aerial village. For Art Deco lovers, delicate geometric details can be found at almost every corner of the house, staircases, balustrades or ceilings. These decorations use a combination of black and yellow colors, sometimes separated by a light copper joint. So, if like me, you dare to enter this incredible building (the best is to take the elevator to the top floor without a word or look for the security guard, just as if you were coming home or visiting a friend), I am sure you will appreciate this unique mix of past and present in one of the most beautiful apartment house of Shanghai.
When recently visiting Bund 18, I was impressed by French chef Joel Robuchon's bakery on the ground floor. Inside, most products, like sandwiches or cakes are delicately prepared, showing high quality and surprisingly affordable. A croissant would sell at 15 yuan only and a tart at less than 30, a far better price for value than in other fashionable shops. This new venue is one of the surprises of Bund 18! So let me introduce this amazing place.

History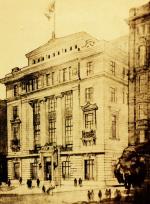 Bund 18 was built in 1923, designed by architect Tug Wilson and ordered by Chartered Bank of India, Australia and China. This bank is the oldest foreign bank in Shanghai, operating there since 1853! As many banks on the Bund, the owners took advantage of the opium trade and later from the real estate investments in booming 1920s Shanghai. At the end of the 1920s, almost every single country was representated on the Bund, a bit like in today's New York Wall Street. Shanghai was actually already competing with the famous American city at that time for the title of the most economically dynamic and attractive location. The change in political landscape during Mao era, however, froze the building in time for more than fifty years. Although it was used by various government offices, it was actually falling into pieces. Its renovation only started in 2004, together with the revival of the Bund. Italian designer Filippo Gabbiani led the project.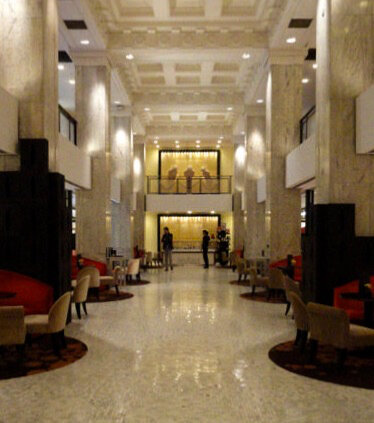 When entering Bund 18 today, one is surprised by the light, delicate though flourish fragrance. Like in a five stars hotel, nearby Peace Hotel for instance, a special perfume has been created, its recipe kept secret, to give guests the distinctive feeling of being familiar to the place, cultivate memories and entertain the impression of returning home after an afternoon of shopping. For a while, one could enjoy the sound of live classical music coming from the small balcony near the entrance, whîle having a nice cup of Swiss chocolate in the lobby, Hanging at the doorway ceiling, red Murano glass chandeliers remind us with the designer's Venitian origins (his family bought Marco Polo's house in Venice). The mosaics of the floor are original, also restored by Venetian craftsmen. Then, as one heads for the elevators, one notices the wonderful staircase balustrade on the left. It also dates from the original bank. No wonder, the renovation work was granted the UNESCO Heritage Renovation Award as one of the best exemples of combination between former glories and the latest trends.
Getting crazy
Most fascinating about Bund 18 is its ability to keep transforming itself. It is like Shanghai, a chameleon building, having its art galleries in perpetual move and changing regularly the activities within the different floors. A symbol of this modernity can be found with the long sculpture by controversial artist Ai Waiwei, right in front of the elevators. Ai Waiwei is known in the West for posting videos of himself standing naked on Tiananmen Square or filming his guards when at house arrest. His provocative style got himself into trouble many times with the Chinese authorities, since he uses his popularity to denounce corruption. However, this unusual citizen refused many times to leave China, claiming his love for the country and Chinese culture and prefering to raise conscientiousness from inside. Released from house custody, he was immediately accused of fraud by the tax administration! However, he still sells art in Bund 18, right in the heart of China's largest city!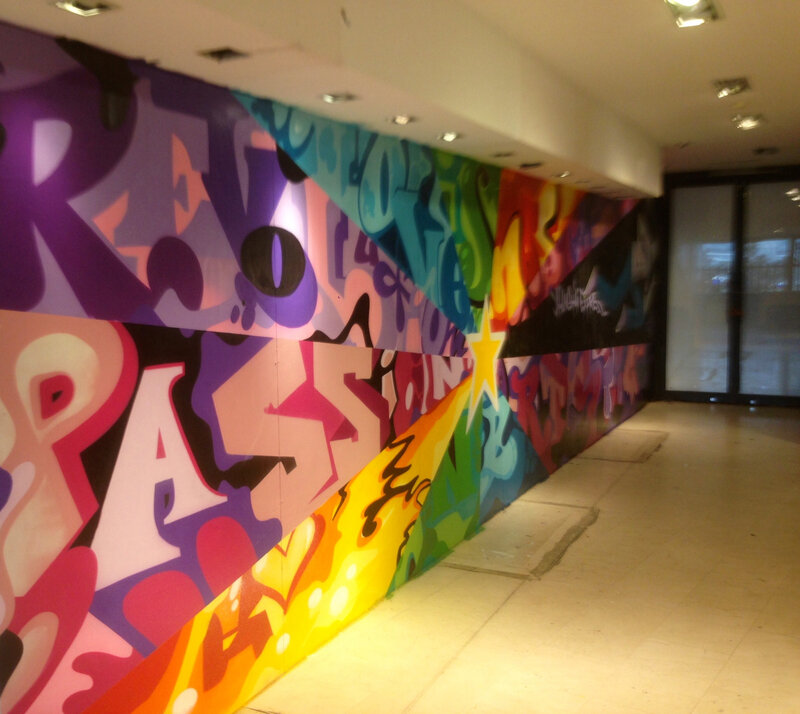 A couple of years back, I accidentally attended a most unusual exhibition on the ground floor, as one of the shops was under renovation. This was organized by Shanghai based street art expert Magda Denysz, and named "Look through Shanghai". Artists from New York, San Francisco and Hong Kong had been invited to make this available space a shining mirror of the world street art. During the two weeks of this great ephemeral expo, you had the impression that this usually luxurious space had been turned into a plain concrete artist's apartment of one of New York's alternative districts. Amazing experience! Today, in the same place now, a luxury bag shop displays Yves Saint Laurent or Gucci, reflecting the new Bund economic model. Most buildings actually get revenues from street level luxury industry, like expansive watches or leather bags. Trendy galleries or restaurants are most often situated in the middle floors and bars with views on the roof. This pattern is almost the same on the whole Bund as the attempt of the city to re attract the banks in the 1990 was stopped by the Asian financial crisis.
Piano and roof tops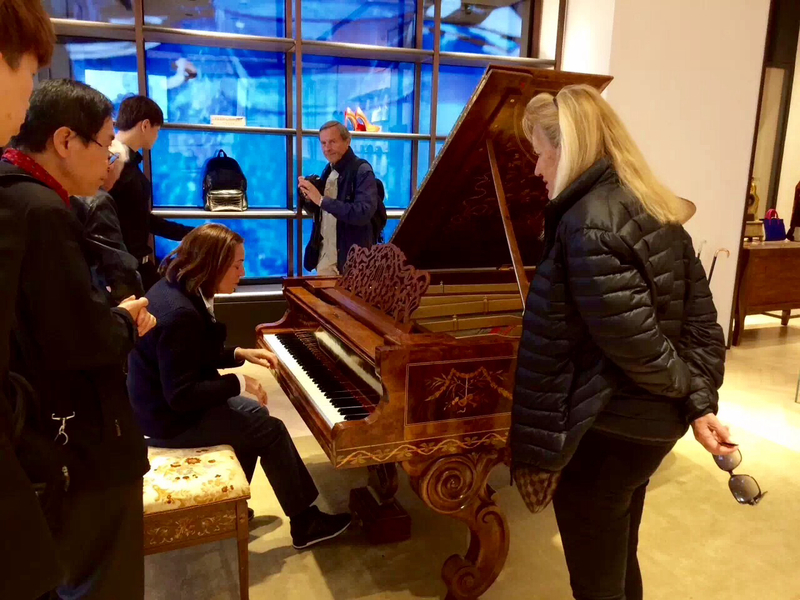 Interesting enough, in the same shop where you can buy (or torture yourself with not being able to afford) bags, you strangely find an old Steinway piano manufactured in 1866 in New York. Although this one is out of key, one of my visitors surprised me with sitting and playing "The Moonlight Sonate" by Debussy. If you saw "The Empire of the Sun", the 1987 Spielberg movie telling about a young English boy detained in Shanghai camps by the Japanese, you will probably remember this tune, as it is often used in the film staging the end of the colonial privileges. This performance was unexpected and my visitor was not aware of the connection between the melody and Shanghai. A unique moment!
Going back to the top floors, expat families are familiar the 6th floor French restaurant Mr and Mrs Bund, operated since 2009, by French chef Paul Pairet! Then the legendary Bar Rouge on top of Bund 18 is one of the most popular venues for young (or less young including me) people on the Bund. Apart from weekends, the most popular night at Bar rouge is Thursday lady's Night. In such an international city where loads of short-time assignment and sometimes single businessmen or internships, this kind of opportunities is rarely missed! Old timers like me, however, prefer enjoying sunsets at happy hour time with good friends!
Here ends my visit of one of the most interesting and also exciting buildings on the Bund. It is a perfect symbol for an ever changing and surprising city. Hope to see you there next time!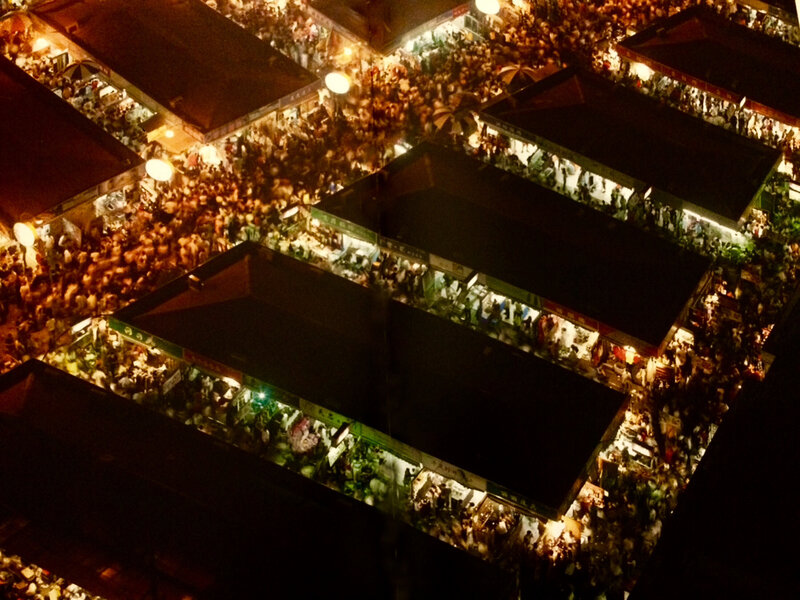 Halloween is coming, so let's talk about ghosts for a while. When I arrived I Shanghai, I bought a photo album in which there was a big night picture of the Xiang Yang market (photo left), a sort of open air market common in Asia where people get cheap clothes and copies. Unfortunately, at the time I bought the book, this place was already gone as construction of IAPM shopping mall had begun. This is one exemple among others of how fast Shanghai changes and how almost impossible it is to keep updated with its latest transformations when you leave it. Restaurants and shops keep changing names or owners. However, I think it interesting to focus on this part of the city for a while as it has a rich history.
Countryside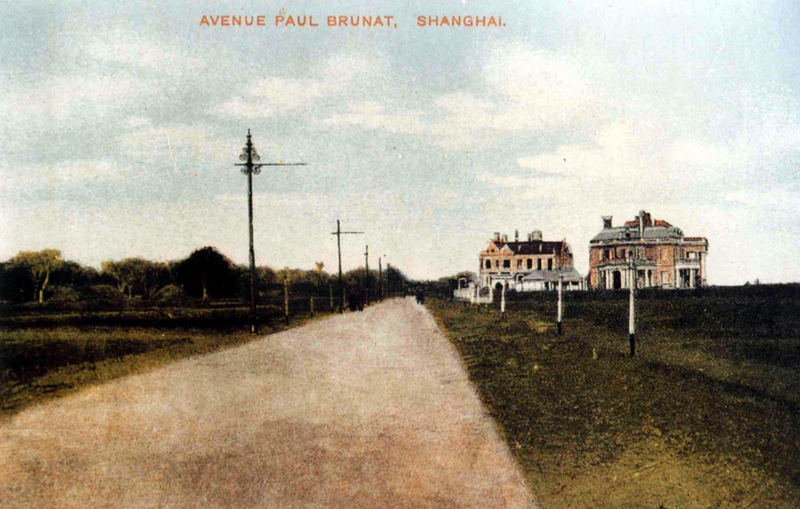 Let us go back to the early years of Western Shanghai and realize that there was no city at all there before 1914, the year of the last extension of the French Concession. At that time however there were country houses like the one of the Chinese Customs off Fenyang Road (still standing) or the German Country Club which was later replaced by the Cercle Sportif Français, today the Okura Garden Hotel. Close to today's Changle Road, there were a few private Chinese mansions and even farms, which some can still be spotted today, although there are now squeezed in narrow lilong alleys.
Little Russia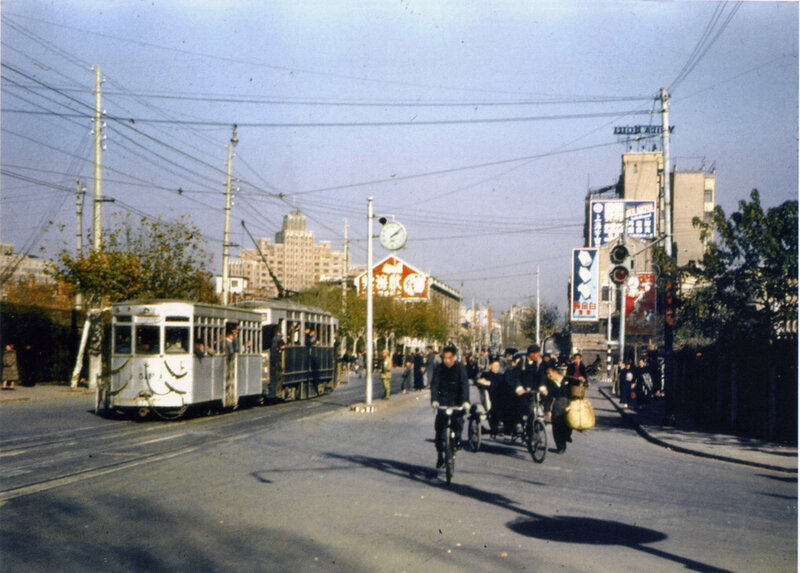 Then urban development really started in the early 1920s as loads of White Russians defeated by the Bolcheviks rushed into town. Most of the them could at least understand French which was spoken by the elites at the Czar court and therefore could easily adapt. This area soon became known as "Little Russia" and Avenue Joffre started displaying rows of wooden barracks on both sides including bakeries , beauty parlors, cafes or restaurants. In the 1930s, on the location of today's IAPM shopping mall, the Weida Hotel was built in Art Deco style by Chinese architect Paul Li Pan, also known for the Yangtze Hotel near the race Course (on the right on photo). It had eight floors, was decorated in elegant zigzag style, like style existing Yangtse Hotel and was famous for its both dancing hall on the first floor and the wonderful terrace overlooking Avenue Joffre. Most photos of this area in the 1930s 1940s were actually taken from there!
Entertainment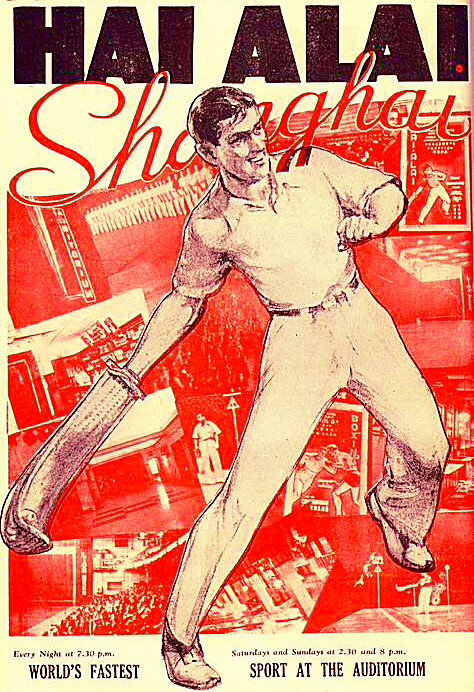 The main attraction of this section of avenue Joffre, however, was the Auditorium, a giant sports hall dedicated to Basque ball game also called Hai Alai and run by a French former accountant and now nicknamed by the British "The uncrowned French King of Shanghai", Felix Bouvier, who also owned the Canidrome, the dog racing track, today's Culture Square. This amazing place located at the junction with rue du Roi Albert (Shaanxi South Road) used to organize Basque ball games every single day of the week, showing Mexican, Filipino, Spanish or Basque players.The high speed of the hard ball, thrown with help of a chistera, a long basket (see on photo) and hitting the fronton made each game an exiting show for the large audience, protected by a high metal net from the potentially deadly projectiles. It attracted loads of gamblers, the most passionate being the Russians and the Chinese, who made the fortune of the owner. It has been later turned into a sports club and finally torn down to make way to "Paris Spring" (巴黎楚天)shopping mall some ten years from now.
Concerning Xiangyang Park, facing former Weida Hotel, I recently had online discussions with friends also passionated with Old Shanghai as this one has been renovated. On an historical sign at the entrance of the park, Shanghai authorities explain that there used to have tombs in it and that locals opposed the project of a children's playground by the French. The place was actually for long an open space in the middle of the expanding city. Late 1930s plans by the Conseil Municipal Francais to build there an administrative center designed by famous Shanghai architect Paul Veysseyre were stopped when Japan invaded China. There was indeed no more budget for new projects as uncertain times were ahead. It therefore remained a park during all these years, having its name changed several times according to the political context of the moment.
Like Jingan Temple area , this part of the city has definitely being turned upside down since the early years of Shanghai, to a point that it is hard to figure out its previous layout. However if you listen carefully, you might still hear the hammering sound of thick Hai Alai balls on the fronton under today's Paris Spring shopping mall or even the chanting of White Russians choirs coming from Mission Church on Xinle Road. Who knows? Ghosts are everywhere. Happy Halloween to all!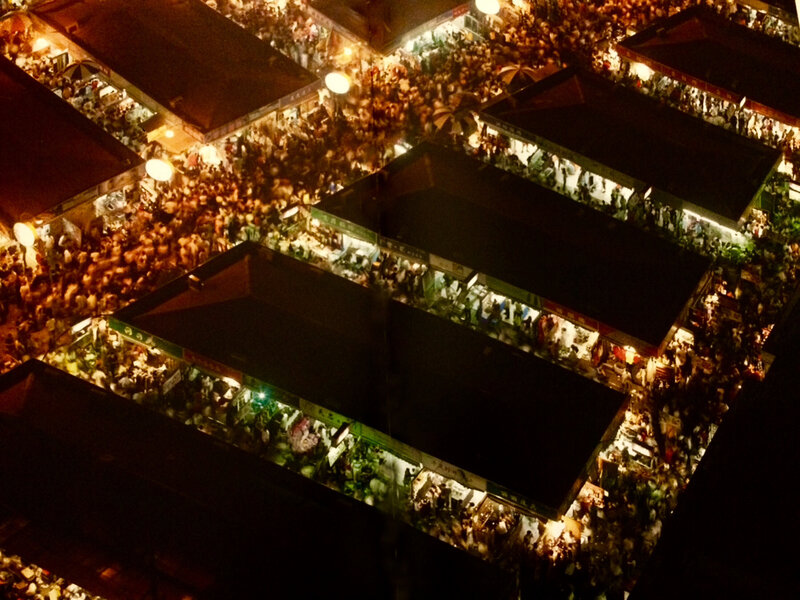 Halloween arrive, aussi parlons de fantômes. Lorsque je suis arrivé à Shanghai, je suis tombé sur un livre où se trouvait une photo de nuit du marché de Xiang Yang. Il s'agit de cette sorte de marché en plein air que l'on trouve en Asie avec des copies et des vêtements bon marché. Or, à la période où j'ai acheté ce livre, il avait déjà disparu, remplacé par les travaux du shopping mall IAPM. Ce n'est qu'un exemple des changements qui ne cessent de s'opérer à Shanghai et qui font qu'il est quasiment impossible de reconnaître certains quartiers après les avoir quittés. Restaurants et magasins changent de nom ou de propriétaires. J'aimerais pourtant m'attarder sur cette partie de la ville tant son histoire est riche.
Campagne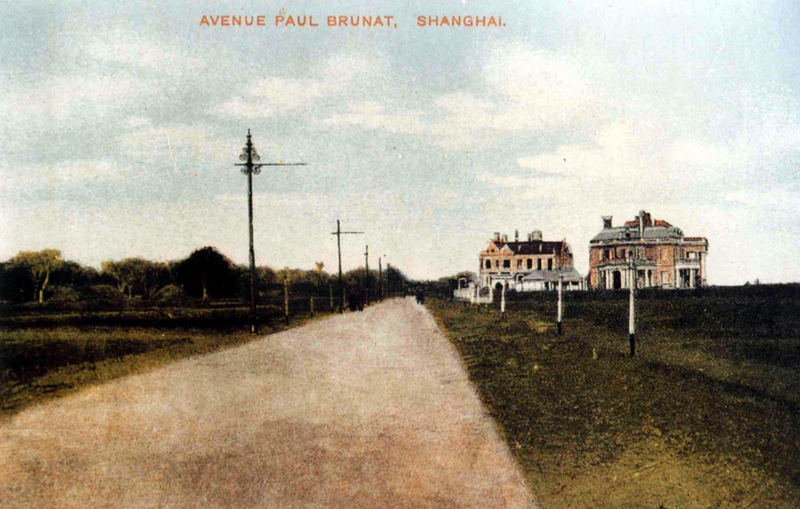 Si l'on remonte aux origines, on se rend compte qu'il n'y avait pas grand chose avant 1914, date de la dernière extension de la Concession Française. A cette période, seules quelques maisons de campagne rompaient la monotonie. Par exemple la maison de campagne, encore visible, des Douanes Chinoises, sur Fengyang Road ou le German Country Club, remplacé ensuite par le Cercle Sportif Français, aujourd'hui Okura Garden Hotel. Près de Changle Road, quelques villas Chinoises et même des fermes peuvent encore être admirées, bien que perdues dans les lilongs.
Petite Russie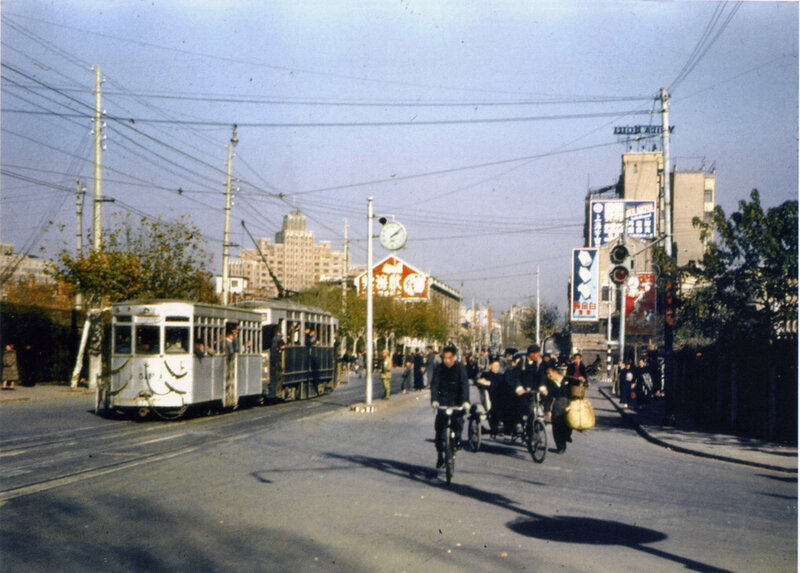 Le développement urbain a surtout commencé dans les années 20, lorsque les Russes Blancs vaincus par les Bolcheviks ont déferlé en ville. Comme beaucoup comprenaient le Français parlé à la cour de Tsar, il leur était facile de s'adapter. Cette zone devient alors connue sous le pseudonyme de "Petite Russie" car l'Avenue Joffre (Huai Hai Road) est rapidement bordée de barraques comprenant boulangeries, salons de beauté, café et restaurants Russes. Dans les années 1930, est construit à l'endroit même de la gallerie IAPM actuelle le Weida Hotel (à droite sur la photo), un batiment Art-Deco dessiné par l'architecte Chinois Paul Li Pan, connu aussi pour le Yangtse Hotel, près du Champs de Courses (People Square). Celui-ci s'élève sur huit étages, est décoré de motifs en zig-zag et devient réputé pour sa piste de danse au rez-de-chaussé ainsi que sa terrasse de toit qui domine l'Avenue Joffre. La plupart des photos de ce secteur prises dans les années 1930 et 1940 le sont de ce point haut!
Divertissement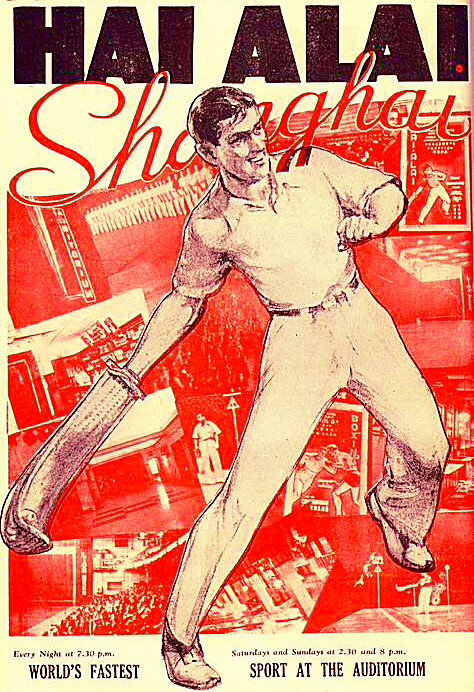 La principale attraction de cette partie de l'Avenue Joffre, cependant, est l'Auditorium, sorte de Palais des Sports à l'angle de la rue du Roi Albert (Shaanxi South Road) qui se consacre pour l'essentiel à la pelotte basque, appelée Hai Alai. Cet établissement est tenu par un Français, Felix Bouvier, un comptable reconverti dans les affaires et surnommé par les Anglais "The uncrowned French King of Shanghai", eu égard à sa nouvelle fortune. Cette salle aux dimensions exceptionnelles met en effet quotiennement en scène des joueurs Mexicains, Espagnols, Basques ou encore Philipins. La vitesse de la balle dure, lancée sur le fronton à l'aide de la chistera, sorte de panier long, produit un bruit sec et violent qui enflamme le public, principalement Russes et Chinois qui n'hésitent pas à parier des sommes folles. "La balle peut tuer", entend-t-on parmi les spectateurs massés derrière le grillage de protection métallique! Cet endroit deviendra par la suite un gymnase, puis sera remplacé, il y a une dizaine d'années seulement, par le magasin "Paris Printemps" (巴黎楚天).
Concernant le Parc Xiangyang, en face du Weida Hotel, j'ai récemment discuté avec d'autres passionnés du vieux Shanghai, rapport au fait qu'il vient tout juste d'être rénové. Il semble, si l'on en croit le panneau installé à l'entrée du parc, qu'il abritait autrefois des tombes et qu'à un certain point, les habitants Chinois se seraient opposés à la création par les Français d'un terrain de jeux pour enfants. En fait, cet espace est toujours resté vierge de batiments, au centre de la ville en plein développement. A la fin des années 1930, le projet d'édification d'une cité administrative par le célèbre architecte Paul Veysseyre pour le Conseil Municipal Français a du être abandonné suite à l'invasion de la Chine par le Japon. En effet, plus question de grandes réalisations dans un environnement devenu incertain. Cet endroit est donc resté un parc, changeant plusieurs fois de nom, au gré du contexte politique du moment.
Comme le secteur de Jingan Temple, cette partie de la ville a été complétement réaménagée depuis les origines de Shanghai. Toutefois, si vous écoutez attentivement, peut-être percevrez vous encore le claquement des pelottes basques et les cris des parieurs du Hai Alai dans le magasin Paris Printemps ou encore les choeurs des Russes Blancs provenant de la l'Eglise de la Mission Russe sur la rue Xinle. Qui sait? Les fantômes sont un peu partout en ce moment, alors joyeux Halloween à tous!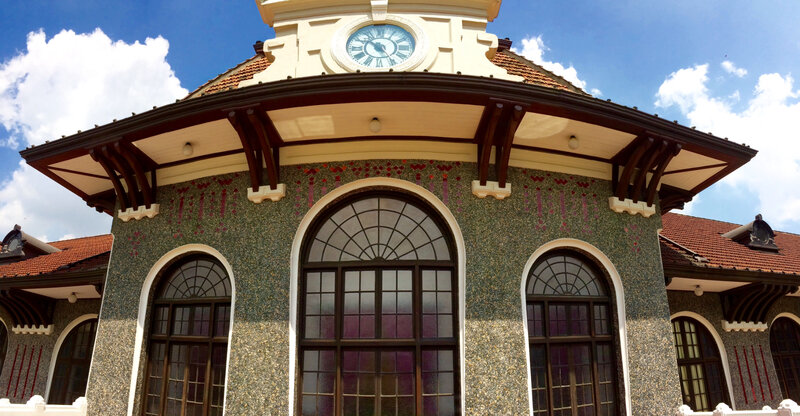 I sometimes wonder why I love Shanghai so much. This has probably something to do with nostalgia. Indeed when I compare Shanghai with other cities I equally (or let's say also) like, Istanbul will immediately come to my mind, then Tbilissi, Budapest, Paris, Rome, Mumbai, Berlin, Qingdao, Harbin,... quite a long list actually! All these amazing cities, although not as big as Shanghai, have all something in common: They tell us about history! In most of them, traces of the most often brilliant past still exist today and are part of a visible evolution, leading us to the future. I guess I like change but not the erratic kind. Integrating past culture heritage sites as a source of pride for the present in an harmonious way is what characterizes all cities.
When reading Orhan Pamuk's essay "Istanbul, Memories And The City", I noticed he frequently refers to the Turkish word "hüzün", which he says is definitely connected to the spirit of Istanbul. "hüzün" could be translated by "nostalgia" or "melancholy" but it has more to do, with memories of glory days. Definitely when you stroll in the streets of Yenikapi, on the southern side of Topkapi Palace, you feel the presence of the glorious past of the city while watching the wonderfully decorated, though sometimes falling into pieces, "yalis", those wooden houses built for noble families (photo nearby). Pamuk says that old Istanbulites like to think of themselves as invested of this past which they think will never return. The word "hüzün", coming from Arabic is often used in the Koran to define a feeling of a lost direction after a period of strong beliefs. This last aspect is probably specific to Istanbul.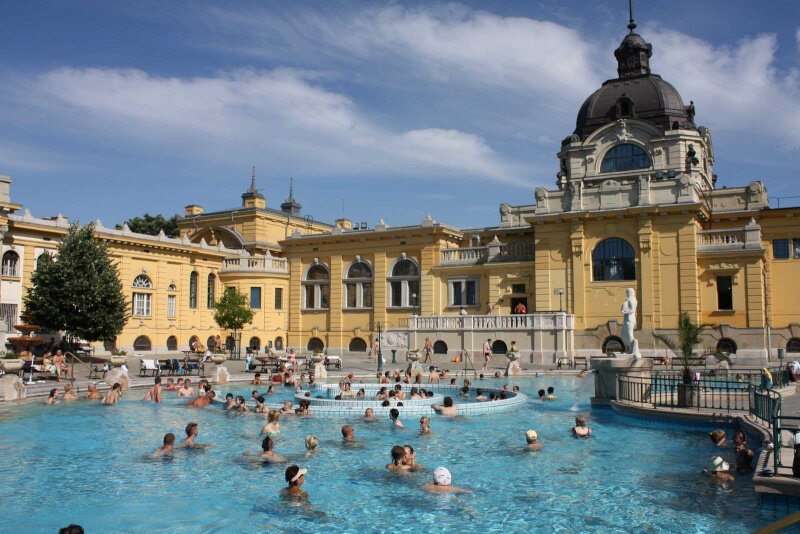 In Budapest too, you feel the past as a part of the daily life, when walking in the still bearing WWII bullet holes Art Nouveau buildings or when having a hot bath with friends at Széchenyi (left photo), this wonderful 1913 thermal resort. These places are definitely inspiring for today's Budapest residents as they are signs of their capacity to accomplish great things or stand up during difficult periods of history. At the same time, this past also brings beauty into their daily lives. Among the cities I recently visited, Tbilissi probably bears a specific status. Like Budapest or Shanghai, communist management tried to eradicate the city's specific history. Even the country of Georgia did not exist anymore at that time, being integrated in the Soviet Union and the names of the streets were all changed after Soviet heroes. However, It was not long for Georgian people to come over this episode and find again their identity. Georgian language was officially used again and many deteriorated monuments restored.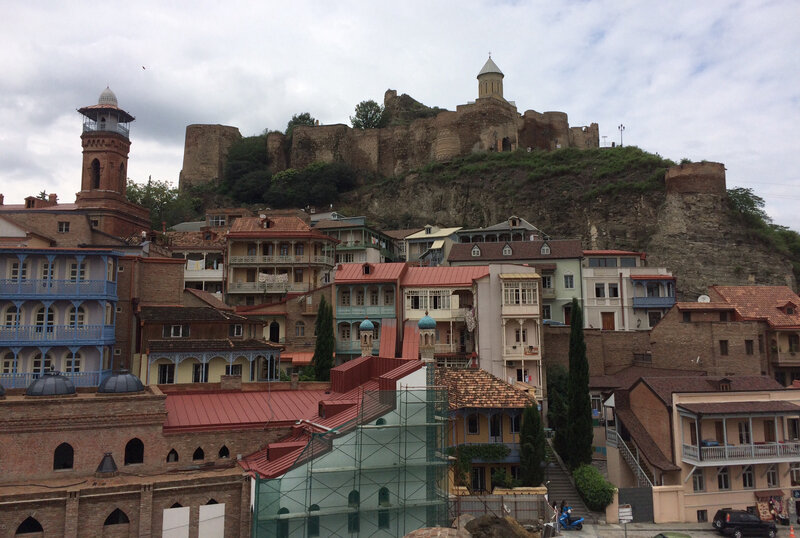 Today's Tibilissi is a confident and endeavoring city, where past, present and future do coexist. Old streets with caravanserails have been turned into pedestrians ones with cafes, open air jazz music, right at the the feet of the sixteen centuries old Nariqala fortress. Close to the oldest bridge in town on which Christians were thrown into the river by the Turks for refusing to convert to Islam, now stands a brand new computer-designed passerelle in the shape of a giant insect! Today, the "soul" of Tbilissi lies in the multiple churches, Armenian or Georgian, synagogues and old style stone houses on the hills as well as in the light and joyful way of life!
Coming back to Shanghai, I can see some dramatic changes, those not always to my taste, but I am still excited to live in a place where past is integrared into present. Peace Hotel on the Bund or Former French School (first photo) on Nanchang Road for exemple bring this old luxury beauty into today's nouveau riches environment. The city infrastructures of course keep improving for the benefit of all but this urban development preserves a large part of the existing historical wonders. Shanghai and the cities I mentioned are outstanding places where the newest trends and fashion can go together well with culture heritage.
So let's enjoy this wonderful feeling of mixture of nostalgia and excitement for modernity. As a good friend of mine who will certainly recognize himself here often puts it, "Nostalgia is not what it used to be"!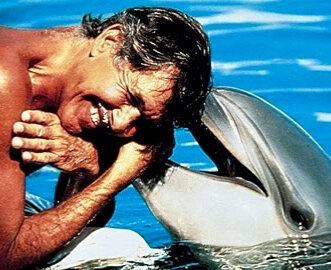 As the biopic on oceanographer Jacques Cousteau featuring Lambert Wilson in the main role, "L'Odyssée" is about to come out in France, I cannot help myself from thinking of another deep ocean lover who was born in Shanghai: Jacques Mayol. Jacques Mayol is known all over the world from Luc Besson movie "The Big Blue" (last photo) which was inspired by his life. He was the son of a French architect living in Shanghai, Laurent Mayol who used to work for the French delegation in the 1920s 1930s. I could not figure out if he was collaborating with famous French architect Paul Veysseyre who made the Cercle Sportif Français but they surely knew each other as the French community was a small one of merely 2000 people and the French architect group even smaller.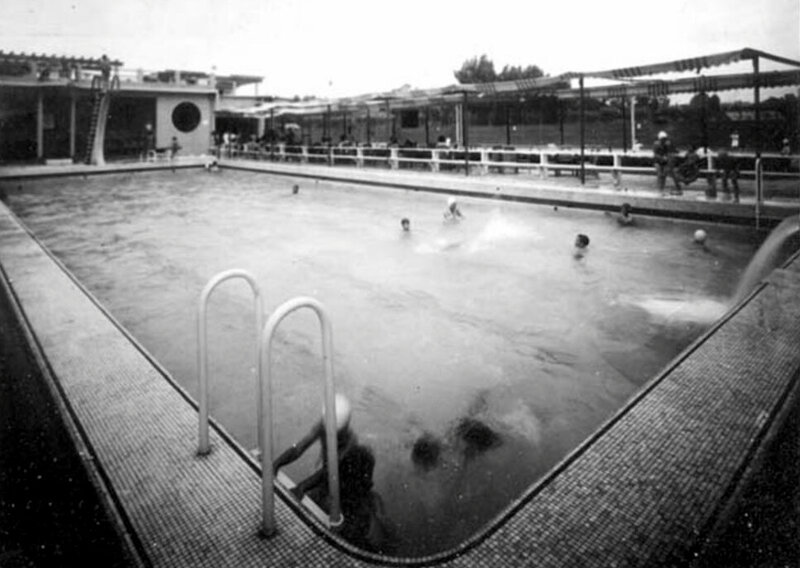 Jacques Mayol, the second son of Laurent Mayol, was born in 1927 on April Fools Day, which could be seen by some as a sign for his unusual character and destiny. As his family was making well, young Jacques Mayol was raised in a comfortable environment . He got his first swimming lessons at the age of 3 and used to train at the ASF Association Sportive Française swimming pool on 68 route Dufour (today Wulumuchi South Road, photo nearby) when this one was created in 1936. As I went there two years ago, all traces of it had disappeared and the former swimming pool had been turned into the basement of a brand new luxury residence. Jacques Mayol however discovered ocean diving at the age of six when his parents took him on holiday to Karatsu, a Japanese seaside resort, North of Nagasaki, where he would swim everyday at the long sandy beach bordering the Niji-no-Matsubara pinetree forrest.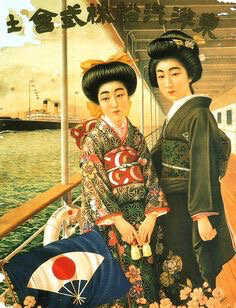 This is there that he saw his first dolphin as he was swimming near the seven caves of Nanatsugama. The Mayol family used to go regularly there as there was a regular ocean liner (see nearby poster) serving Shanghai and Nagasaki which was used by wealthy foreigners to visit cities in South Japan. The family used to rent a wooden ryokan-style room near the beach in Azuyama hotel. When the military regime became more unfriendly to Westerners in Japan at the end of the 30s, the Mayol however stopped going there.
In 1939 they went back to France, pushed by the Sino Japanese war, which made most of French administrative construction projects come to a standstill (the project of a new Conseil Municipal Francais building on today's Xiangyang Park was given up at that time). When they arrived in Marseilles, the final destination port from Shanghai in France, they had no other choice than stay there because of the war starting with Germany. Their life became much more difficult than during the Shanghai expats easy days. At that time, Jacques used to dive with his brother using old tires to make masks and bring back some fresh fish for the family. On these occasions, he got acquainted with Albert Falco, another experimental diver in Sormiou Callanque near Marseilles. This one would later become famous for being the Captain of the Calypso RV, Jacques-Cousteau's oceanic exploring boat.
At that time, Jacques Cousteau, 17 years older than young Mayol, was precisely sent to Shanghai on a mission as a French Navy Intelligence Officer. He then made it back to Marseilles to fight against the Italians on a French warship. I am particularly excited by the fact that the two cities of Marseilles and Shanghai that I love so much are connected to the destinies of two men I admire. In 1944, Mayol left France for Morroco to enlist in the Air Force and pursued his free diver career when the war was over. He lived in Sweden for a while where he met with his wife then in Florida where he experienced living among dolphins. He started to dedicate his life to research on connections between sea animals and men, discovering the "bloodshift", the capacity for human blood to resist high pressure without damage, just like dolphins and seals do.
He used yoga meditation techniques to improve his own body performances (he could lower his heart beat from 60 to 27 beats/min while diving, like sea mammals do by reflex), searching to develop the full potential of human aquatic origins. In 1976 he became the first man to reach 100 meters without air. It is not clear whether he ever returned to Shanghai but he surely went back several times to the ocean diving sites of his childhood in Japan. There, he became close to the local divers community. A memorial plaque is still to be seen in Yonaguni, where he helped on the exploration of a historical undersea site. Jacques Mayol comited suicide in 2001, in Elba, Italy, his last retreat. Those who met him remember a agreeable and patient character, fascinated by nature and dolphins which he actually could communicate with.
To become a homo dolphinus, as he used to call himself, Jacques Mayol pushed his physical and mental limits to a point that was never achieved since.