You are probably already familiar with the crowd of street vendors, food stalls and all kinds of repair activities in Shanghai. This definitely contrasts with the most modern quarters like Pudong or brand new shopping malls then again gives this city its unique appalling charm.
A millenary tradition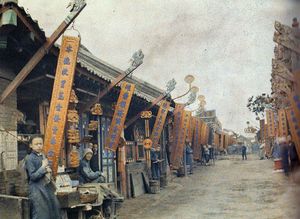 Autochrome plate by Albert Kahn
In China, these street businesses can be traced up to Song dynasty in Chinese paintings such as Qing Ming He Shang Tu representing street life of present Kaiping. Later, when photography was invented, Albert Kahn's first autochrome plates also showed street merchants in Beijing.
Back in the 20's and 30's, numerous foreign and Chinese cartoonists living in Shanghai pictured these people, like the Russian caricaturist Sapajou or painter Feng Zikai. French Captain Jean Malval also made hundreds of watercolor paintings about street activities.
Drawing by Sapajou (North China Daily News) Jean Malval watercolor: Ambulant canteen
Eight adjectives for street businesses
Despite the frantic economic development of Shanghai, very little has changed today. Of course, some businesses fit more recent requirements like electronic repairs but services rendered are more or less the same that one thousand years ago.
I hereby have decided to pay tribute to those tireless workers in a ludic way with proposing you to play with me. Please read the following list of adjectives and try to reconnect them with the corresponding street businesses. Are you ready? So steady, go! :-)
A-Acrobatic

E- Strong

B- Ambitious

F- Cute

C- Resourceful

G- Perfumed

D- Sweet

H- Fast
1-Cardboard collectors: They can pile cardboards, plastic or polystyrene boxes up to several meters on top of their carts
2-Electonic repair: They roam along alleys with this "Bingxiang, Kongtiao, Diannao, Shouji" call. They gather in some Old shanghai streets to sell spare parts or second-hand electronic devices
3-Balloons sellers: On Sundays at the entrance of parks or in the streets of Former French Concession when the weather is nice, they are children's delight
4-Sugar cane juice sellers: At the proper season, they will crush the long stems of sugar canes to treat you with a sweet and refreshing beverage.
5-Wicker chairs carts: The impressive mountain of wicker chairs and tables can be as long as seven meters on a single handcart
6-Watermelon delivery men: In shanghai lilongs, they will carry heavy products like watermelons or rice bags to old people's houses.
7-Bicycle repair: To fix a flat tire, only two minutes are required for these amazingly skilled people and no need to unscrew the wheel off the bike! This service merely costs two yuans (30cts)
8-Flower sellers: On morning markets, they propose all varieties of seasonable plants and ready-to-grow flowers making your day even more colorful.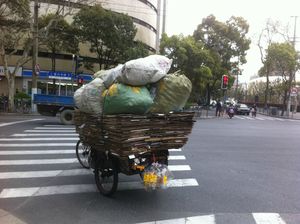 So could you correctly find a proper adjective for each business?
You are definitely welcome to add characters to this list based on your own experience, either in China or another country. Please refer them to me in a short note. I would be happy to receive your comments.
I hope you liked this article and hope you will read the others
To make sure to receive my articles, feel free to register for the newsletter
Feel free to follow me on facebook or visit my website
Cultural or historical visits in Shanghai: didier.pujol@chinaworldexplorers.com or +86 15021769130
Do not hesitate to post comments or questions