For many art-deco lovers in Shanghai and around the world, the recent restoration at Lazlo Le Hudec residence is a major event.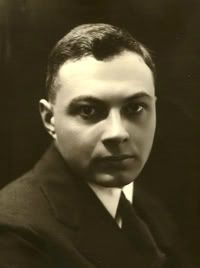 A man of his time
Shanghailander Hungarian born architect Lazlo Le Hudec is a symbol of the destiny of many migrants coming to the 20's vibrant Shanghai in hope of a better future. At the outbreak of WWI, Lazlo Hudec volunteered into the Austro-Hungarian army to fight against Russia. Wounded and taken prisoner, he could eventually escape through jumping from the train that was taking him to Siberia. Then he made his way to Shanghai and became an architect.
He soon got a reputation for modern and innovative projects in the city. Those have dramatically changed Shanghai's skyline until now. Among the average forty buildings, villas, hospitals or churches, the famous Park Hotel (People Square) or Normandy Appartments (Huai Hai Road).
Park Hotel Normandy Appartments
A long-time abandoned house
Unfortunately Hudec's own house on 129 Panyu Road (former Columbia Road) was falling in ruins by lack of maintenance. But when reading Historic Shanghai founder Patrick Cranley's report about a renovation, I wanted to check by myself. I eventually could visit the house from cellar to attic.
The most valuable part of the house is its magnificent art-deco stained-glass windows. First, the entrance decorated arch is worth the glance. Then the upper floor ceiling is also a master piece.
The mix of styles and influences is symptomatic of Le Hudec's architecture. Old Europe shapes are associated with more modern paterns like in the dinning room. Wood paneling and middle-age like iron door-hinges neighbour art-deco in the corridor.
In the main room, photos and notebooks which used to belong to the architect can be examined. They include blueprints of major projects and client interiors photos. I particularly appreciated the original pictures of Jean Beudin and M. Medier houses as they both can be visited today on Fenyang Road ( Ambrosia restaurant and Shanghai Handicraft Museum)
I was also amazed by the countryside landscape in the background of photos. Le Hudec buildings have now been integrated in the dense network of modern Shanghai and his own residence is no exception. The original large piece of lawn in front of his house has been transformed into a primary school concrete playground!
Shanghai tribute to Le Hudec
J.Beudin residence (150 Fengyang Road) Dining room
I would like to mention that this restoration seem to be supported by both architect's family and local district. This definitely proves how much Shanghai has recently been involved in history heritage projects. The surprising fact is foreigners like Le Hudec are today praised as major contributors to the city heritage.
Let's appreciate this attitude which I already commented in former articles about Chinese people and their history.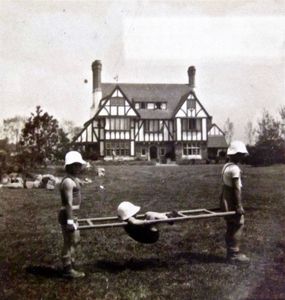 Hudec's daughters playing in front of the house
Important remark: As the restoration work was not fully completed at the time of my visit, access to the house cannot be guaranteed. Though you can still try out as I did myself. Otherwise you will have to wait for official opening !
I hope you liked this article and hope you will read the others
To make sure to receive my articles, feel free to register for the newsletter
Feel free to follow me on facebook or visit my website
Cultural or historical visits in Shanghai: didier.pujol@chinaworldexplorers.com or +86 15021769130
Do not hesitate to post comments or questions