I have recently published an article in the French newspaper Le Petit Journal about the 1926 Cercle Sportif Français. This place was indeed one of the most popular of Shanghai 20s and 30s because of its ballroom. As the opium trade was officially banned from the city at the creation of the Republic of China in 1911, dance halls and cabarets became commonplace in Shanghai, replacing the once numerous opium hulks. Demand for always new entertainments was a major driver in the vibrant and very rich Shanghai of the 20's.
The ballroom at the Cercle Sportif Français
More than 30 dancehalls were then competing with each other to attract an always growing mass of patrons in demand of entertainment. This was made through heavy promotion or lavish investments in both decoration and innovations.
Jazz and qipao
Jazz music was definitely the hype of those years. Wannabees of both sexes and all communities had to learn how to dance. The myth of the "modern woman" soon developped with the rising of new public images like Chinese film stars and "wunu" (舞女 dance hostesses). Those most fashionable women were actually wearing the "qipao" or flag-dress, a cleaver variation of the traditional mandchu dress, fit to your own dimensions and a long slit open on the leg to make you it both comfortable and sexy. The "haipai" was born, the Shanghai style which is extensively described by Eleen Chang's novels like "Love story in a dying city" or Mu Shiying's "Black Peony" (Hei Mudan ).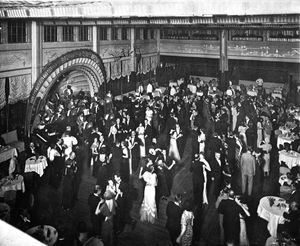 The Canidrome jazz orchestra
Dancing rapidly also became a way of making a living for newly emancipated women. Taxi-dancing which means paying money for a dance with a professional made the relation between leisure and prostitution rather thin. Though the price for a dance ticket could vary dramatically according to the place or the reputation of your partner. Film actresses like the Liang sisters or the famous Hu Die (Butterfly Wu) would sell their time at the highest price in town.
One says dancing with the latter was a weird experience as she would hardly smile to you and therefore make it even more intriguing (and expensive) to dance with her. Some patrons would nervously align matches on their tables to make sure they could afford going on. Dancehalls were indeed often controlled by the mafia (the Green Gang) and there was always a chance of being badly beaten up or even shot for not paying your debts.
Hu Die Paramount Ballroom
Shanghai most popular ballrooms
The Cercle Sportif was certainly reputed for its Sunday afternoon ball, as it gave a unique opportunity to European and Chinese communities elites to mix, being the only foreign club open to Chinese people. Luxury hotels also had their own dancing hall to attract always more demanding customers, sometimes making it the main attraction. For instance, the Park Hotel built by Hungarian architect Lazlo Hudec was fashionable for its "Sky-Terrace ballroom", offering to dance on top of Shanghai's tallest building under the stars thanks to its removable ceiling. The Metropole Gardens hotel (close to today's Plazza 66) was also famous for its open-air colonnade that allowed dancers to get fresh air during summer evenings.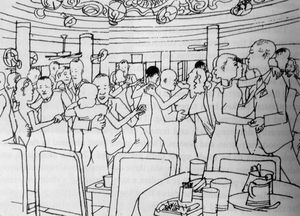 Dancing at Metropole Gardens
Some specifically dedicated places were famous like Ciro's on Bubbling Well Road (nowadays West Nanjing Road) or mythic Paramount outside of the Foreign Concessions in a zone called "Badlands". This peculiar location made it difficult for the foreign settlements police to catch and therefore identify you if anything was to happen there. Paramount had two different dance halls, the upper one was lit from the ground in order to give dancers the curious impression of flying. This had also a reputation of making it easy to look through the sexy dress of your partner.
Shiff's drawing of hostess and client Buck Clayton in Shanghai
The French Concession dog-race ground called Le Canidrome (now Culture Square) was also equipped with the largest ballroom in town. In 1934, the board of director decided to hire the black American Jazz orchestra, "Buck Clayton and his Harlem Gentlemen". Although admired by the Chinese people for his tremendous success, Buck Clayton was nevertheless despised by his own fellow citizens, American sailors stationed on the Huangpu river for being a colored man. He later made a career playing in the famous New York Count Basie Big Orchestra and accompanying world-star Franck Sinatra in the 60s.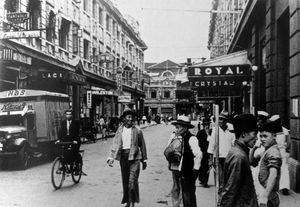 Blood Alley
To complete this landscape of the 30's "swinging Shanghai", one has to tell about the more shadowy places like "Blood Alley", which was located just a few steps off the Bund. This street, now Xikou Lu, got its infamous reputation after the sailors who came there for alcohol and cheap pleasures and often ended in knife-fighting on the street, those sometimes being lethal. The dance tickets could be bought only a few cents there and hostesses were clearly prostitutes. Some of them were Russian but the majority was Chinese girls coming from the poorest suburbs of Shanghai.
No need to mention that patrons of Blood Alley and members of the Cercle Sportif Français were not the same kind of people.
I hope you have enjoyed this article and that you will like the other ones.
I recommend the reading of Andrew David Field "Shanghai Dancing World", published at The Chinese University Press
To make sure to receive my articles, feel free to register for the newsletter
Feel free to follow me on facebook or visit my website
Cultural or historical visits in Shanghai: didier.pujol@chinaworldexplorers.com or +86 15021769130
Do not hesitate to post comments or questions