The crime at the Rue du Consulat
On 13th June 1941 at 9 am, when Baron Auxion de Ruffé leaves his home at 54 rue Massenet (Sinan Road), heading for his office in St Anne building, near Quai de France, at 46 Rue du Consulat (today's Jingling Road), he has no idea of what is about to happen. On that day, the elevator was out of service and there was no light either, since the Japanese had restricted electricity.
46 rue du Consulat The staircase
Two Chinese dressed like Europeans had followed the Baron in the stairs leading to his office on the third floor. Just before he could reach his office door, they shoot him in the back three times. Then they rushed out of the building and ran in nearby Rue Laguerre (Yong An Road) towards the Chinese city.
A series of dramatic murders
The French community was shocked by this event because the Baron was a well-known personality in the French Concession. Though this murder was not an isolated one.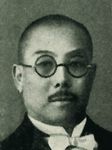 Fu Xiao'an
On 10th October 1940, Shanghai Mayor and Auxion de Ruffé's good friend Fu Xiao'an himself was assassinated. This was done in a most spectacular way since his own cook beheaded him during his sleep.
Only one month after, Counselor Edouard d'Hooghe was killed a few minutes before getting home at Rue Lafayette's (Fuxing Road) Magy Appartments. He was actually in charge of negotiating the transfer of two Chinese courts from the French Concession jurisdiction to the Japanese puppet administration.
Alfred Magy Appartments Edouard d'Hooghe death report
One month before Baron de Ruffé was killed, WASP Police Inspector Ying Zanjing was also murdered by two fake Chinese students in front of his home of Wenzhou Road. His job was to take the WASP (Western Area Special Police) into Japanese ways and procedures.
The last personality of the deadly list happened to be Deputy Commissioner Akagi Chiyuki who met his fate less than one week after the Baron. His execution by two men took place while he was driving his wife to the hospital.
So who did actually commit all these crimes?
To be Continued : The Blue Shirts of General Chiang