The Blue Shirts of General Chiang
Since 1938 already, the Society of Blue Shirts (Lan Yi She), a facist group created by Chiang Kai Shek and the Military and Statistics Bureau (JunTong), his secret services headed by General Dai Li, hunt down collaborators of the Japanese occupying forces.
Chiang Kai Shek Dai Li Du Yuesheng
Previously used to fight the communists, these secret organizations count up to fortyprofessional killers in 1940's Shanghai. These highly trained professionnals can dress up like locals to approach the targets designated by Chongqing headquarters. According to historians, they are definitly responsible for both May and June 1941 assassinations.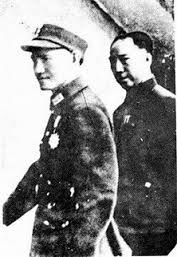 Chiang Kai Shek and Dai Li in 1940
These groups are also helped by famous Shanghai gangster Du Yuesheng, who used to control the traffic of opium and is now weakened by the Japanese occupation. He therefore had to hide in Hongkong and Chongking since he got no more specific protection from the French police in the French Concession.
Account settlements
At the end of the war, furtefer purges were ordered against former collaborators. Roland Sarly, the chief of the Political Service of the French Police was accused of having transferred to the Japanese authorities the Chinese spies he had caught. He was eventually released under request of Consul De Margerie but still others were victims of personal revenge under cover of politics.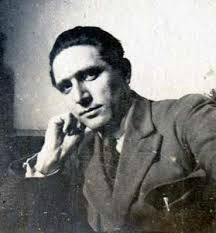 Alexandre Léonard
In 1946, the architect Alexandre Léonard who was associated with Paul Veysseyre in the building of the Cercle Sportif Français, mysteriously disappeared during a manhunt. He was probably assassinated by some French Police recently involved in collaboration. As history sometimes repeat itself Léonard was living in Magy Appartments where Edouard d'Hooghe also lived in 1940.
I hope you have enjoyed this article and that you will like the other ones.
Back to the begining of article
Bibliography :
- "Le Journal de Shanghai" et "North Daily China" of 14th June 1941"
- "Spymaster, Daili and the Chinese Secret Services" by Frederic E Wackeman,
- "The Shanghai Green Gang: Politics and Organized Crime, 1919-1937" by Brian G. Martin
- "The Shanghai Badlands: Wartime Terrorism and Urban Crime, 1937-1941" by Frederic E. Wakeman
- "L'épuration à Shanghai (1945-1946): l' affaire Sarly et la fin de la Concession française" by Marie-Claire Bergère
To make sure to receive my articles, feel free to register for the newsletter
Feel free to follow me on facebook or visit my website
Cultural or historical visits in Shanghai: didier.pujol@chinaworldexplorers.com or +86 15021769130
Do not hesitate to post comments or questions