I haven't written for a long time since I had many tours going on recently. Please excuse me. Today I would like to share with you some of my most interesting moments from the last two weeks related to Old Shanghai.
Visiting French College with Lily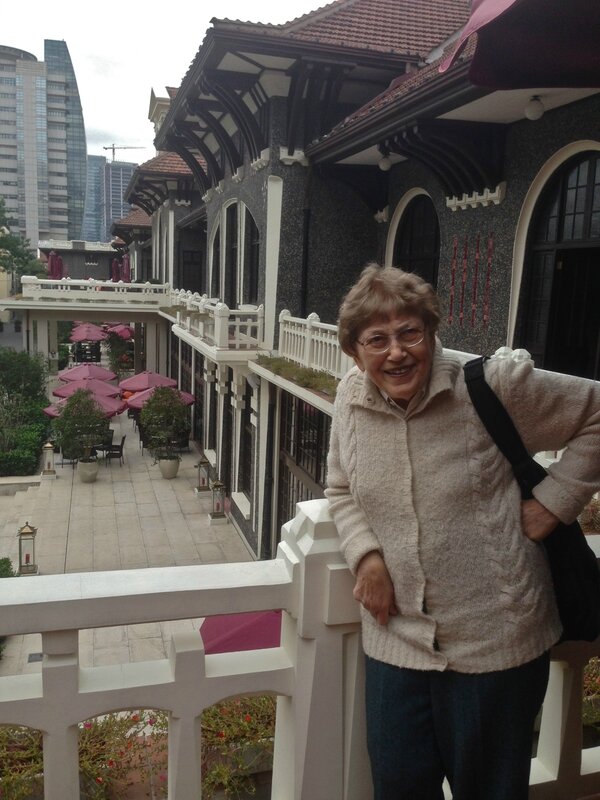 The first of these exceptional moments was the rediscovery of the Collège Municipal Français with Lily Willens, author of "Stateless in Shanghai" and my guest for one month in Shanghai. This school has been entirely renovated and turned into a most fashionable high class restaurant, the JE. There you can enjoy meals in a most charming atmosphere. Or if you wish, have a glass of wine at the French bar.
Lily was a student at the Collège in the 30's and 40's as she indicates in her book. She and I were deeply moved by this visit. Lily explained how, when she talked too much in class, she had to stand outside of the classroom. She showed me the large ballroom where prizes were granted to students at the end of the school year and also where all the students celebrated in January La Fête de la Saint Charlemagne (the patron saint for French schools).
I was really pleased to note how Shanghai endeavors to make its most glamorous heritage sites come alive again. According to Lily, the College is much more attractive now than in the past. I strongly recommend that you pay a visit to that renovated school!
Jazz at the Peace Hotel
The other unique moment was when I went to have a drink at the mythic Jazz Bar of the Peace Hotel (former Cathay/Sassoon House). I have already commented on this art-deco gem in a previous article (6th February 2013) but it is the first time that I experienced inside that building the real 30's ambiance with jazz music. This was really something!
First of all the Jazz Bar conveys a special magic. It resembles a British countyside cottage with oak panels and gothic columns. The orchestra is worth describing: It consists of a group of old men - in their 70's and 80's - wearing 1940's style shiny white suits. They sat behind desk-like music stands and playing on old instruments. This jazz band captured the atmosphere of the Russian orchestras which performed at the Astor Hotel, the Metropole Gardens in the 1930's and 40's (see my article about Swinging Shanghai). This orchestra performed many old Shanghai tunes composed by Zhou Xuan like Ye Shanghai (Shanghai at night) and also songs by Frank Sinatra.
So you can understand why I did not hesitate to order a second cocktail. I hope next time, I'll see you there and even buy you one!
If you want to know more, please contact me didier.pujol@chinaworldexplorers.com