Although I have visited many times the Peace Hotel (read 25/10/2013 article and 6/2/2013 article), I still had no occasion to see the real heart of it, I mean the apartments of Sir Victor Sassoon. As it is now the case, I would like to share with you this unique experience.

Who is Victor Sassoon?
Heir of a rich Jewish Sefardim family from Bagdad, Victor Elice Sassoon is the second generation of Sassoon living in Shanghai. Quite of figure of a man, Sir Victor Sassoon was fond of parties, women and horse racing. At the same time, this cleaver businessman invested in real estate at a period when Shanghai was fast developing. Nowadays Shanghai skyline owes a great deal to Sir Victor's vision.
In 1926, he created the Cathay Hotel, also called Sassoon House, a luxury complex with hotel and shopping galleries. He chose to build it between the Palace Hotel and the Concordia Club (read my 11/12/2013 article), probably to impresss the very selective Shanghai British community.
The specifications of Sir Sassoon to Palmer and Turner, his architects were very clear: Build higher than the Hong Kong and Shanghai Bank and provide customers with the finest accommodation and luxury services as possible. The cost of the project reached five million dollars but the result was beyond people's expectations. This amazing art-deco gem soon became the place for both elites from business and cinema worlds to gather. Stars such as Douglas Fairbanks or Charlie Chaplin used to stay in the hotel as Sir Victor's personal guests and the British nobility were regular visitors too.
More than a hotel, a monument to Sir Victor!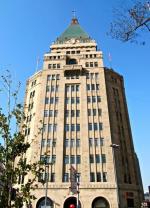 When you look at its design, you understand than the Peace Hotel has been built as a temple to Victor Sassoon's lifetime glory. First evidence of this is the "V" shape of the building between Nanjing Road and Dianchi Road. It actually stands for the first initial of Victor Sassoon! People had to see his name printed in Shanghai when arrive by plane. Of course there is also a "S" somewhere. This is to be found in the shape of Embankment Building on the Suzhou River. This building was meant to accommodate Sassoon's employees!
At the end of the V shape, there is a small balcony overlooking the Bund. There, the tycoon could to contemplate the Huangpu River and the Bund at the precise point of the curve of the river. This spot also gives a very good fengshui to the hotel as it catches the energies from both sides. When you climb into the heights of the Peace Hotel, you understand even better Victor Sassoon's the state of mind when building it!