Looking for a place to swim last summer, I got into the idea of looking for old swimming pools in Shanghai as a habit from my time back in Paris. Actually there were a few swimming pools in Shanghai during the 30's, most of them related to foreign clubs.

The longest in town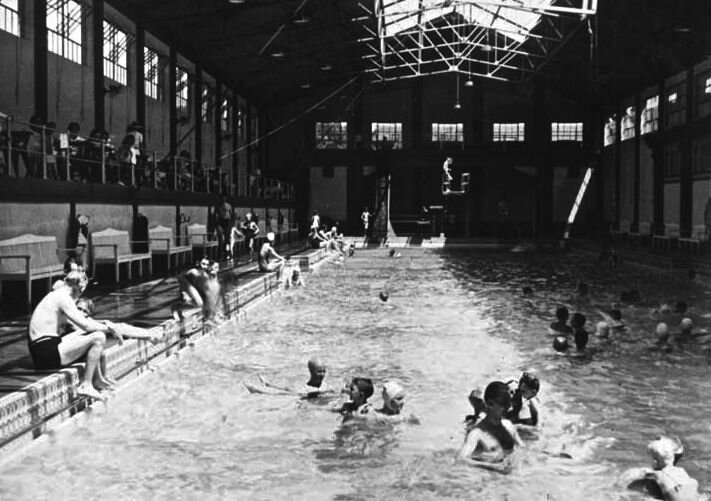 The longest swimming pool could be found inside the Cercle Sportif Français on Rue du Cardinal Mercier (today Maoming Road). A 54 meters long swimming pool covered by white and blue tiles and overlooked by a bar (left photo).

Indoor swimming pools could also be found in the YMCA in today's People Square (first photo). This one was the training ground for many Russian Cossaks coming into town. Many became policemen, bodyguards or sports teachers. Another one was built inside the Rowing Club on the bank of the River Suzhou and a last one inside the Navy WMCA on Hongkong Road.
Outdoor swimming pools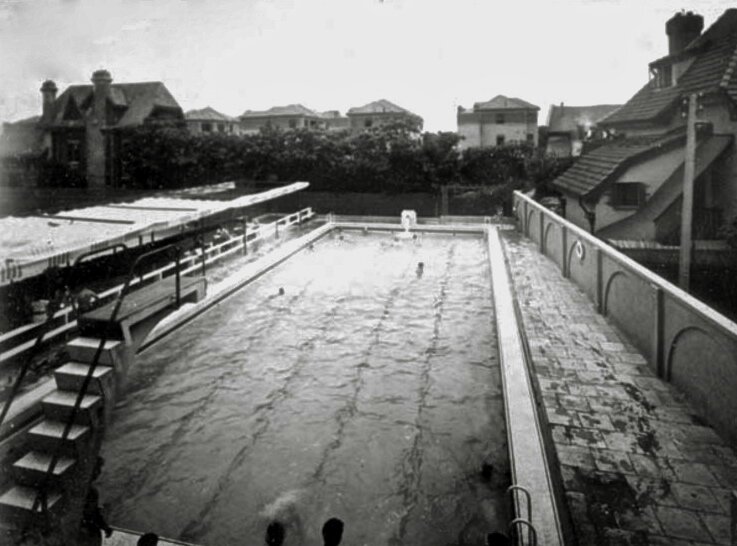 An interesting outdoor swimming pool was the one in the Columbia Country Club on Great Western Road (now West Yan An Road). This vast sports complex used to include swimming pool, tennis and even squash courts. It was mainly frequented by the American gentry living in the nearby Columbia Circle area.
The German Country Club might also have one on Avenue Haig (today Huashan Road). Then there was the Association Sportive Française on Route Dufour (today's Wulumuchi Road) which had an outdoor swimming pool (photo on the right).
What is left now?
The better preserved one is probably the one in People Square in the former YMCA. It is now part of a gym club. I was also amazed to discover that the Columbia Country Club swimming pool is still in perfect working order, although it now belongs to pharmaceutical research Group and therefore is not open to public (photo on the left).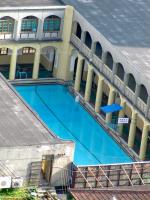 The Cercle Sportif Français pool has been destroyed to make way for the catering trucks in today's Okura Garden Hotel after 1980's renovation work. You hardly can figure out there used to be a swimming pool there. As for the one in the former Rowing Club along Suzhou River, it has recently been rediscovered during the remastering of the neighborhood by urbanist and architect Ben Wood. But only the starting blocks remain! The place is most famous for wedding pictures now!
Nothing seems to be left of the Association Sportive Française on Wulumuchi Road, or the swimming pool in the Navy WMCA. The former German Country Club has been turned into a school and I could not find anything like a swimming pool there. So any recent clues about those places are welcome.
If you want to know more, contact me at 15021769130 or didier.pujol@chinaworldexplorers.com