Today I would like to share with you some of the pleasures of Shanghai winter. It is true that temperature can go down to 2 degrees Celsius some day but winter gives Shanghai a unique charm.
Art Deco unveil itself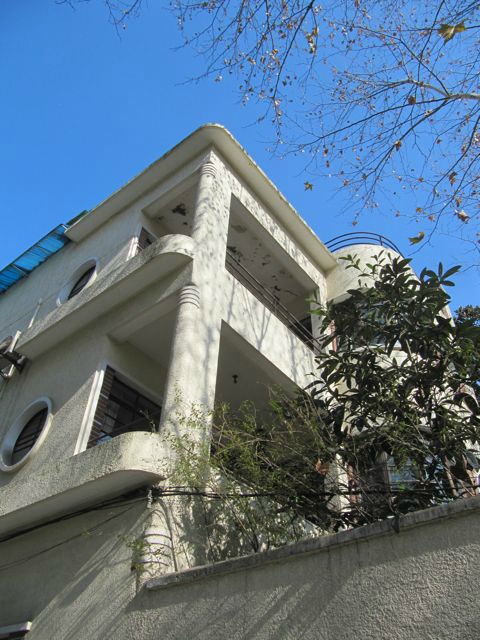 Shanghai has a world reputation for its Art Deco architecture. In 1925, the Paris Salon des Arts Decoratifs would launch a new style for designers and construction builders, featuring progress and modernity. As Shanghai's economy was booming in the late 20's up to mid 30's, this style was rapidly adopted by the wealthy people and successful companies to stand out from the rest of the Shanghai society. On the Bund, the famous Peace Hotel is one the world gems for Art Deco and further West in the French Concession, the 30's real estate frenzy materialized itself into some of the finest Art Deco high rises and villas.
As plane trees have no leaves during winter, many hidden colored details and finely carved panels would reveal themselves at this period, contrasting with the plain blue sky of some of the best days. The visiting or revisiting of Former French Concession alleys in winter is definitely worth it as a new city will come up to your eyes. At the end of the year, Shanghai will be the organizer of the 2015 Art Deco World Congress.

Have a coffee on Nanchang Road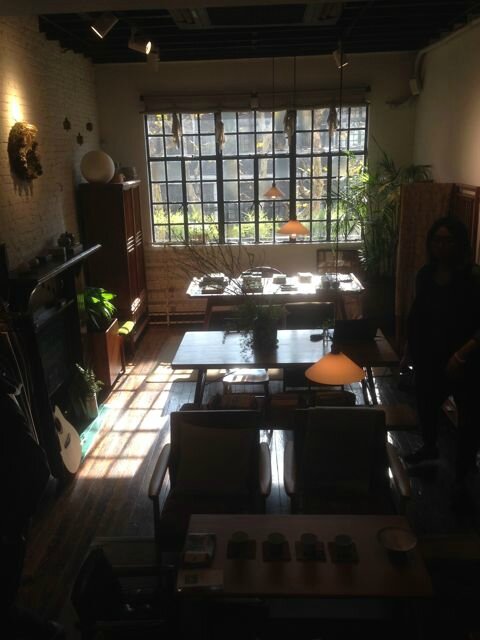 Among my favorite places in Shanghai, Nanchang Road, the former Route Vallon was named after a French aviator who crushed his plane during an exhibition in 1911 on today's People Square. Very different from neighboring Avenue Joffre (Huaihai Road) and straight boulevards of the Forner French Concession, this charming little street curves its way into lilongs, numerous small shops and cafes. There you can enjoy the winter morning sunrays after a jogging or a morning walk.
One of these cafes is actually a shop of Japanese design furniture located right in front of the former French College. You can get yourself a warm cup of tea or coffee in a most authentic Shanghai old house among rather delicate decoration. So relaxing! Then why not indulge yourself with a youtiao from close street sellers or a cake from the former Russian bakery at the crossroad with Ruijin Road? If you are patient enough to wait up to 30 minutes, you will join the daily queue out the a handmade "congbing" shop (ciboulette cake) close to Maoming Road. These are famous for good reason all over Shanghai and beyond!
The sausage tour
Shanghai winter has also the taste of Chinese New Year. In January, the city is full of hanging food, let dry in the winter sun on the trees or even electric wires. They are snacks that Shanghainese would prepare for family gatherings, including duck, fish, pork meat and of course the famous Shanghai sausage or xiangchang. The later is rarely eaten as a whole like western sausages but cut into thin slices to spice some vegetable dishes!
Markets and streets are decorated with products that we hardly any se during the rest of the year. Some would definitely hurt the taste of Westerners like the wide open ducks drying on hooks. The streets and alleys are also colored by the numerous sheets and bed covers let outside to get the few rays of the winter sun. Such a fiest for eyes and even all senses! If you consider that tourists are fewer in winter and that wandering among Chinese dressed in thick pyjamas is a rather authentic experience, you will definitely indulge yourself in the wonderful Shanghai winter!
To contact me 15021769130 or didier.pujol@chinaworldexplorers.com