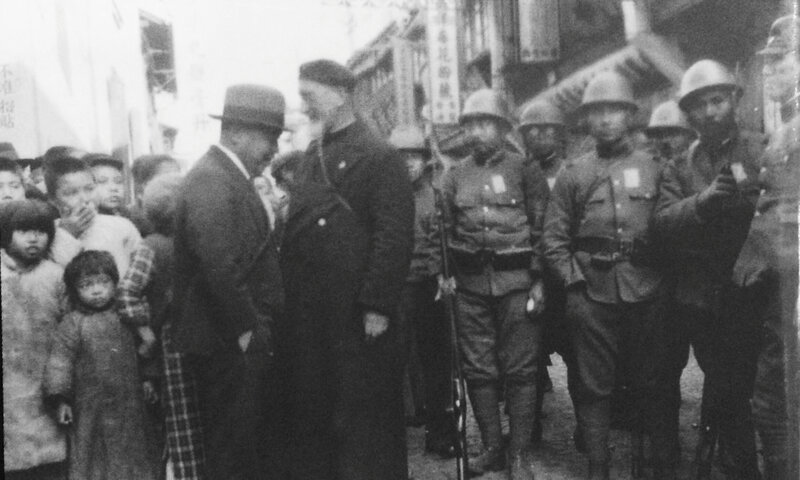 In April 1927, communists and nationalists fought each other in Chapei resulting in a 5000 people massacre by Chiang Kai Shek men. Father Jacquinot saved 200 children and 400 nuns who had found shelter in the Holy Trinity Convent, right in the middle of the combat scene. Doing this, he received several wounds by bayonet and grenade shrapnel. This episode is the first of a long series of acts of bravery and dedication in favor of innocent victims of the disasters and conflicts that shook China during those years. In 1931, as the Yangtse River flood killed 140000 people and destroyed one year's crops, 30000 refugees rushed into Shanghai. Jacquinot then turned to TV Soong, Chiang Kai Shek's brother-in-law, to create a National Flood Relief Commission with a donation of 10 Million dollars to provide food, clothes and shelters. De Bessange supervized the distribution and efforts himself, having even a movie been shot to draw oversea's Chinese attention and collect more funds. However, China's misfortunes were just about to begin.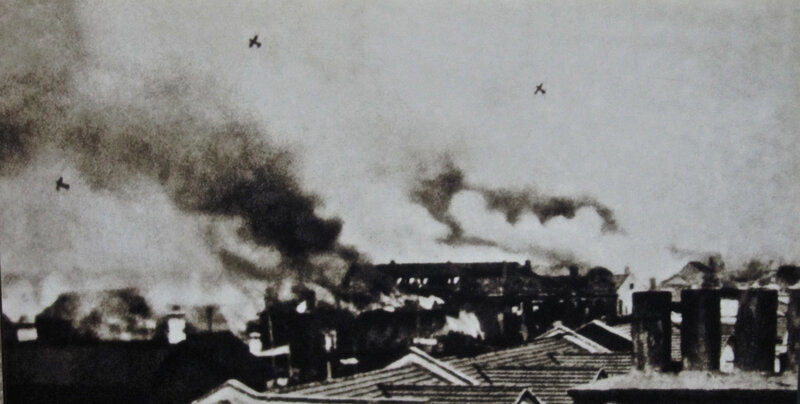 In January 1932, Chiang's army and Japanese soldiers started the "28th January Incident" in Hongkou, Father Jacquinot's parish. The fights lasted one month, killing 20000, mainly civilian, victims of Japanese bombs. Not only was the priest every day assisting in hospitals but he also negotiated a truce to evacuate civilians who were caught between the war parties crossfire. With the help of his contacts within the Shanghai Volunteer Corps, he successfully got 2000 people out of the frontline, mainly women and children, using trucks, ambulances and whatever possible means of transportation, This individual initiative created unease among his hierarchy, which was not used to the energic methods of the daring Father Jacquinot. However he gained respect from authorities and the status of both good diplomat and excellent organizer. In 1936 again, he helped out victims of another Yangtse flood and in 1937, with the invasion of China by Japanese, he finally faced his life's challenge!
The Jacquinot Safe Zone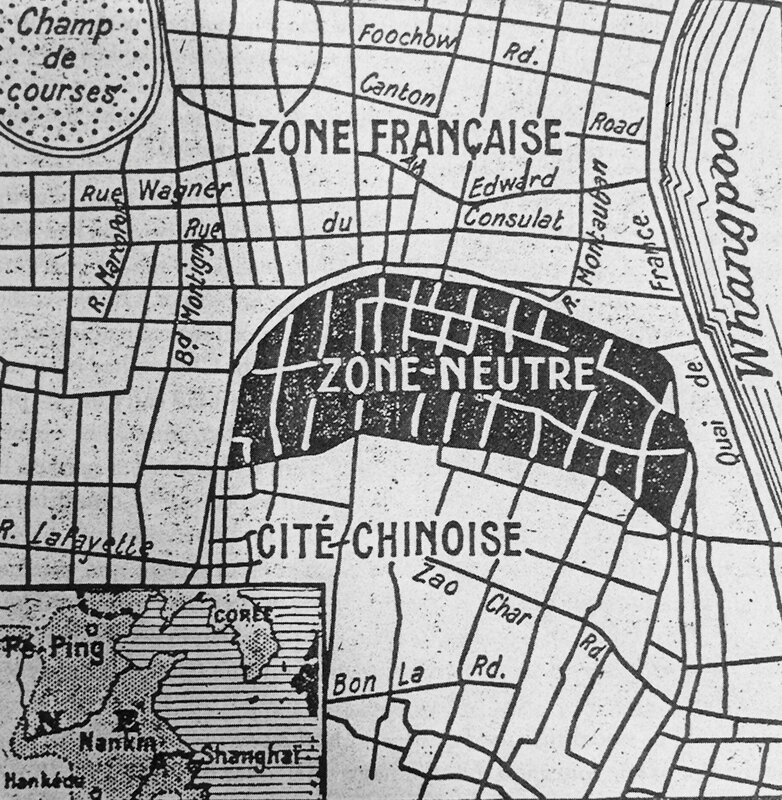 The battle for Shanghai lasted three months in a bloody street combat, causing the death of some 300000 people. Fierce bombing from both sides (above) killed many civilians and almost entirely destroyed Chapei. The Chinese city of Nantao also suffered heavy shelling. So when some 500000 refugees tried to find security within the limits of the foreign settlements, they got overwhelmed. Around forty refugee camps were improvised, offering rather harsh living conditions. The most difficult part however came when the Chinese army retreated, leaving civilian populations without any protection. There was an important risk of retaliation from the Japanese army. Jacquinot then made a decision to create a demilitarized zone for non-combatant, which would cover one half of Nantao (map on left). He had to meet with every party and use his diplomatic talents as well as his political connections, but he eventually succeeded in convincing the Japanese.
The Jacquinot Safe Zone, as it was soon to be called, would serve of example for other cities equally facing Japanese attacks: Nanjing, Hankou (Wuhan), Xiamen, Hongkong, saving the lives of a total 500000 people. Today, Father Jacquinot's initiative has become a part of the standard measures proposed by the United Nations to safeguard civilians during conflcts.There are named "white zones" or "Geneva zones". During three long years, the daring priest personally supervized his safe zone, which soon became a city within the city, with its own sanitary service and police force. It welcomed up to 250000 people. Jacquinot also travelled to America to collect funds, securing a monthly budget of 45000 dollars! In 1940, however, his hierarchy sent him back to Europe. He died in 1946 in destroyed Berlin, another city ruined by war and facing the homeless refugee issue.
!
There are few men who did as much as Father Jacquinot did for others in Shanghai. More than a Jesuit priest driven by his faith, we keep the memory of a strong independent character and an incredible bravery!
Bibliography:
- La guerre à Shanghai, Albert Londres, 1932
- The Jacquinot Safe Zone, Marcia R. Ristaino, 2008
- Les Français de Shanghai, Guy Brossolet, 1994
Cartoon by Russian caricaturist and friend of Jacquinot Sapajou published in the North China Daily