As I was having xiaolongbao, a Shanghai type of dumpling, in a tea house called Lao Shanghai on East Fangbang Road, my attention was caught by an exhibited 1930s Art Deco magazine cover. It showed a young lady wearing a bikini-type swimming suit. This outfit is not common on Shanghai magazines as ladies often wear qipaos. However, swimming was quite fashionable, representing modernity in the 1930s. So I thought that this cover was just another way to attract the readers attention with the new type of healthy beauty (jianmei), a mark for woman emancipation, influenced by Hollywood. At this time, Tarzan movies, starring olympic swimming champion Johnny Weissmuller, were very popular. His female partners playing Jane on screen also wore bikinis. Considering the swimming pool in the background, I was intrigued as I had been looking for historic pools but could not recognize this one. From the floor tiles and the Art Deco letters behind the girl, I first thought of the YMCA near the race course, but when I compared with the photos I took there, those would not match. Then I realized that this could be an outdoor pool, from the balustrade on top of the arches.
Hongkou swimming pool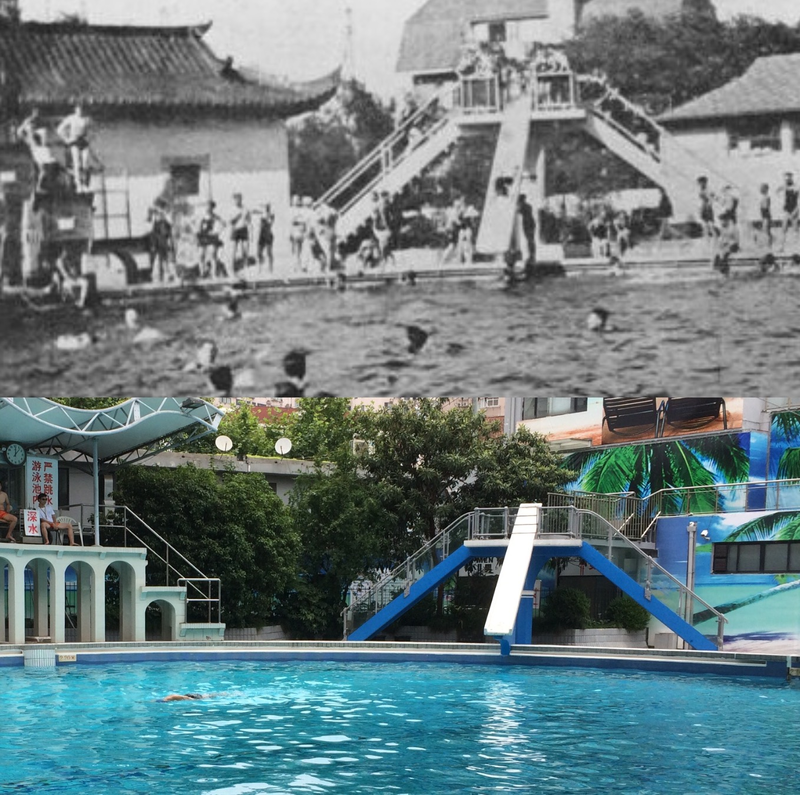 Coincidentally this week, I had the opportunity to discover the only remaining historic outdoor swimming pool in Hongkou, dating 1922. Hongkou swimming pool was initially built by the British and called Municipal Council Swimming Pool. There were two swimming pools in this area, the other one located on North Sichuan Road. A famous story tells us a lot about the atmosphere in those years. One day, two Chinese youngsters tricked the British guards with speaking Japanese words at the entrance. They were expelled later from the pool because of shouting at each other in Chinese. There was indeed a harsh racial prejudice against the Chinese, which apparently did not apply to the Japanese. From 1937 on, the Japanese army precisely took the swimming pool for themselves after invading China. In 1946, it became the territory of the Chinese Republican bourgeois elite before opening to a larger public with the New China era.
The Hongkou swimming pool remained for a long period the largest open air swimming pool in Shanghai and also a famous place for athletes to train. When I was swimming there, it reminded me of my visit at the Piscine Molitor in Paris, although the latest renovation transformed the place into a far more luxurious venue than Hongkou. However, they have in common the large size, the fact that both were turned into ice skating rings during the winter season and that many famous athletes showed up in both pools, including Johnny Weissmuller in Paris where he was a swimming teacher! Unluckily for my research, the configuration of the site did not quite resemble the one in the swimming goddess picture.
China's little mermaid
The mystery was partially elucidated when I found the name of the lady: Yang Xiuqiong written in small characters below the picture. Yang Xiuqiong was born in Dongguan near Canton in 1918. Her father taught her swimming, for which she showed some talent. She moved to Hong Kong in 1928 where she could improve her training and won two gold medals with 50 meters and 100 meters freestyle at the Hong Kong Swimming Open in 1930. In 1933, she participated in the Nanjing fifth national games and set four new national records.
She was then only 15 years old and made such a great impression that she was invited to meet with Chiang Kai Shek and wife Soong Meiling, who adopted her as foster daughter. She had already earned the nickname of "China's Mermaid" (meirenyu), spread by media, looking for symbols of national pride. Her fame was at its utmost the next year, when she participated in the 10th Far Eastern Games in Manila. There, she won three individual gold medals and one together with her team. She got her picture on the front page of Liangyou, popular among the new bourgeois-type Republican elites.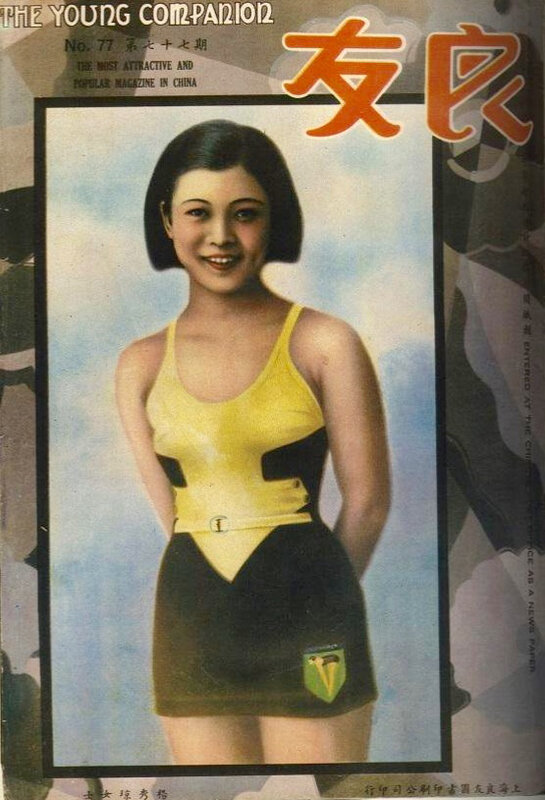 She was quoted as one of the ten most outstanding women of the day. The year after, she participated in demonstrations in Nanjing, Nanchang or Xiamen for Chiang's New Life Movement. The monthly magazine Zhong Hua on which I spoted her picture was issued in October 1935. My final guess is that the swimming pool is in Nanjing (fourth picture). In an online Chinese article however, the Art-Deco depth sign is visible on a photo (above), taken at the Manila games, they say, which I doubt would have used Chinese characters! The luck of the little mermaid was about to change however. In 1936, she set out from Shanghai for the Berlin Olympic Games. As the journey took her 17 days, she had no time to train on arrival. The outcome was a series of failures. On her return to China, the same press that had made her a national hero, bashed her, angry at her results. With war starting with Japan, her carreer was put to a halt. However, she could join a competition in Chongqing where she won eight gold medals! Unfortunately, this performance attracted a warlord's attention, who forced her into becoming his 18th wife! Unhappy with this union, she went into opium to the point that her body became unrecognizable. This led her husband to abandon her. She lived in Shanghai (photo at Hongkou pool below) before leaving for Hongkong then Vancouver, where she died in 1982.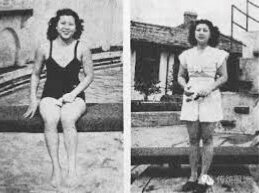 This sad story reminds us of those of other female celebrities of these years, the most tragic being film star Ryan Lingyu committing suicide at only twenty-five years old after the Shanghai press had damaged her reputation. Another similar destiny is actor Hu Die, forced into a sex relation with Chiang Kai Shek's head of secret police Daili. She eventually immigrated to Vancouver, exactly like our "China's mermaid".
Those stories show how ephemeral was the fame in those years and the rising role of mass media. Just like in Hollywood, 1930s Shanghai press could make stars in one day and throw them away the minute after!