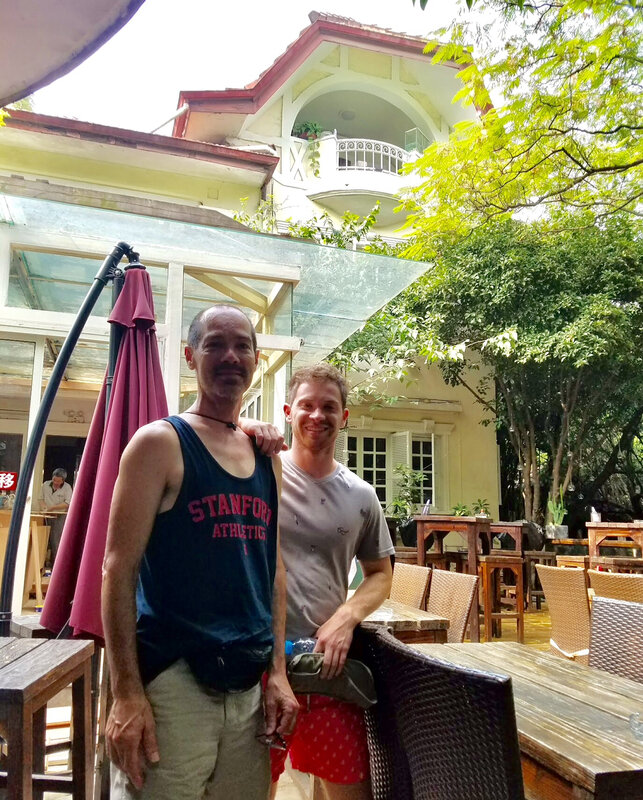 When I received a message from James McCabe, asking for help into tracing his family roots in Shanghai during a visit with his son Andrew, I was more than excited.
James lives in Santa Fe New Mexico but his Portuguese origin family used to live in Shanghai from the 1880s to 1949. Of course, I knew that many Portuguese migrants had settled in Hongkew at the end of the 19th century, following the opening of Shanghai treaty port. There might have been some 1300 "Macanese", as the Macao originated Portuguese were then called, living in Shanghai at that time. However, the growth of this community came at a relative standstill at the beginning of the 20th century, compared to the loads of Japanese flowing in the North part of the city. Then, I knew that Father Jacquinot, the daring French priest who saved hundred of thousands Chinese lives during the sino-Japanese war, worked as the leader of the Sacred Heart parish of Hongkew between 1914 and 1924. His signature can still be found on baptism acts of former Shanghai Portuguese families. This is the first time, however, that I met with descendants of this community.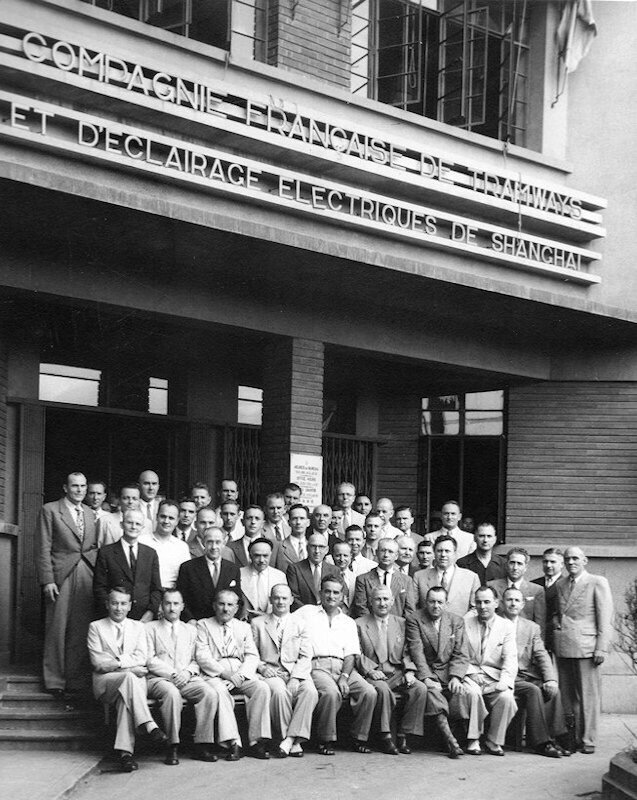 James' grandfather, Carlos Lubeck, was baptized in the same parish of Hongkew Sacred Heart on 8th September 1892. His father, Henrique Lubeck, was son to a Swedish sailor who settled in Portuguese colony of Macao, but he was raised by a Portuguese family after this one died during a typhoon. He came to Shanghai in 1880, after a first period living in Hong Kong where he got married with his Portuguese wife. In 1914, Carlos joined the French Concession based Compagnie Française de Tramway et d'Eclairage Électriques de Shanghai, the largest French company in Asia at that time. The company employed 80 foreigners including 40 French, 15 Russians and an identical number of Portuguese. There were also 1700 Chinese affected to field execution tasks. The company ruled over 25 kilometers of tram lines, power stations and water supply equipments in the entire French Concession. Within ten years, Carlos made his way to the head of the secretary department, changing position almost every four years. In 1922, his family was able to build a villa in the wealthiest part of the settlement, by famous architect Paul Veysseyre at 132 Kaufman road, today's Cotton's Bar.
Life in the French Concession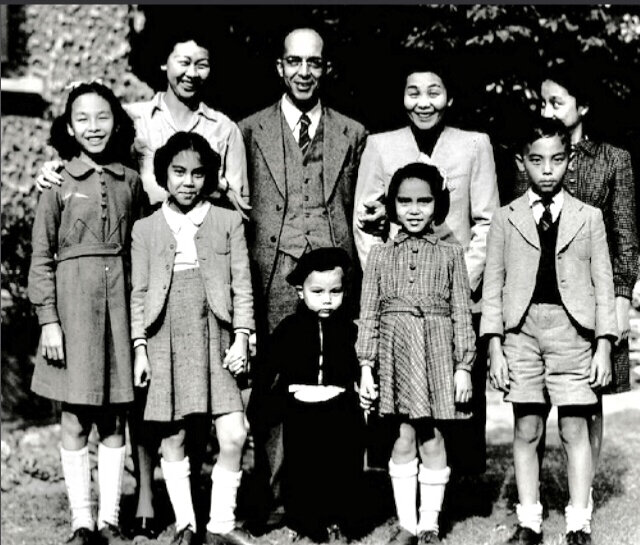 Carlos was married twice, the first time with Lucy Zi and later with Chinese Yang Te-di, James' grandmother, after Lucy had died of typhoid fever. The family altogether had four sons and six daughters, including Dympna, James' mother (second left on photo). Mixed mariages were not common in those years, so Carlos and Te-di's families first hesitated to give their consents. However, both were Catholics and Carlos position was steady enough to silence remarks. He prefered, however, to ask his colleagues' opinion before making his official demand, which gives a taste of the atmosphere back then. Dympna was born in September 1937 at Hopital Sainte Marie maternity (today inside Ruijin Hospital on the photo we took with James below) as war with the Japanese was raging in Shanghai.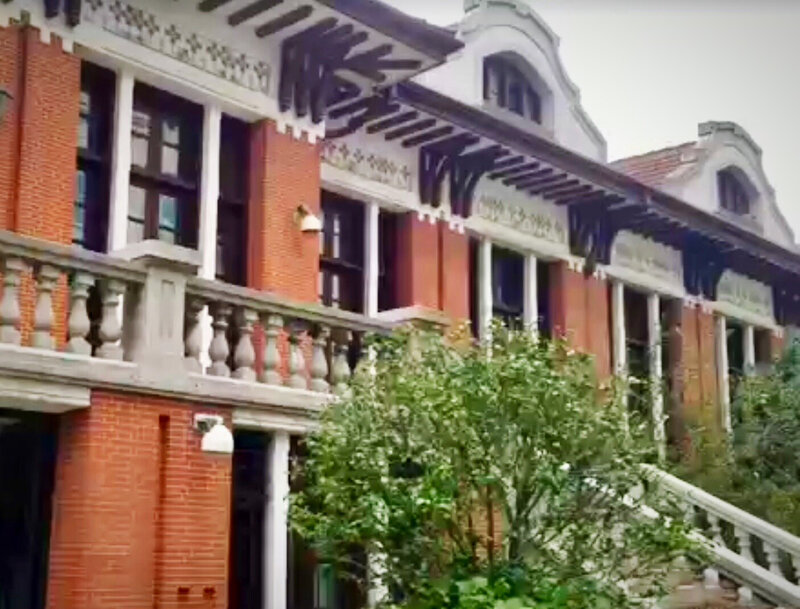 One month before, a bomb accidentally fell from a plane in Nanjing road and another one in front of the Great World, killing 2000 civilians. At this period, one of Carlos' elder daughters was inspired by Father Jacquinot's example and decided to become a nun. In 1940, she left Shanghai to join the Sisters of Loretto in Kentucky, which revealed decisive when the family wanted to leave China in 1949. At that time, she could intervene to allow everyone to move to Denver. This is in this city that James's mother married with Bill McCabe, descendant from early American settlers. Today, James' child memories are split between his Chinese grandmother stories and the cowboy culture from father's side.
Looking for memories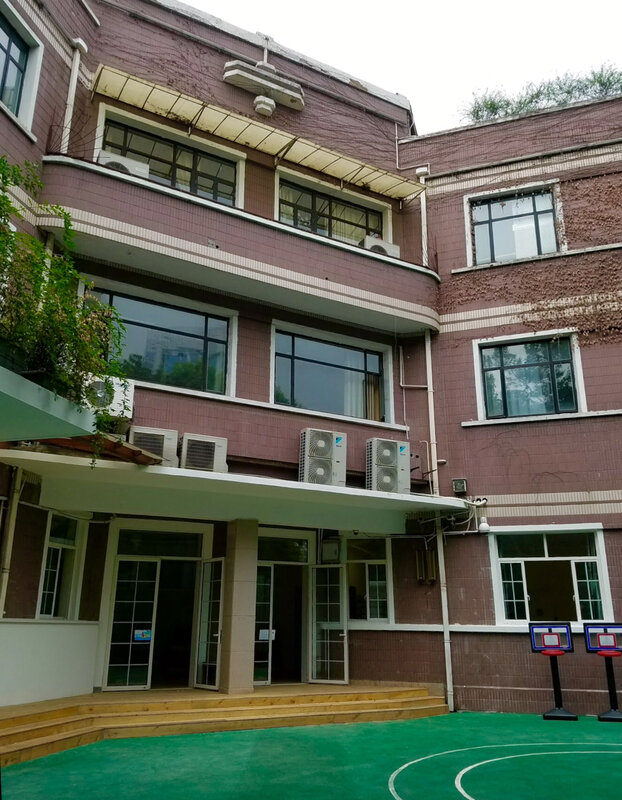 Our first stop was at the family house on Anting Road (first photo). As renovation work was underway, it was possible to visit the entire building. The inner layout has remained identical to the original blueprints by Veysseyre. The original light yellow color of doors and frames can still be seen in the kitchen. Then the search for Carlos' office building was more tricky as the 1935 maps and other adress books I used all mentioned the tram depot at a location which is now the new Shanghai city bus parking! Light came by accident as I remembered old photos from a French engineer, Henri Cordier, working for the French tram company in the late 1940s (above). When we had almost lost every hope, I suddenly recognized the Art Deco building of the picture above the thick canopy of the plane trees on Jiangguo Road. It appears that the company office building is now used as the administration building of a school complex. I realized that this structure was probably built in 1935, just after my map had been published! Encouraged by this discovery, I spent more time comparing maps with aerial views and could finally locate the former Hongkew Sacred Heart parish (below and last).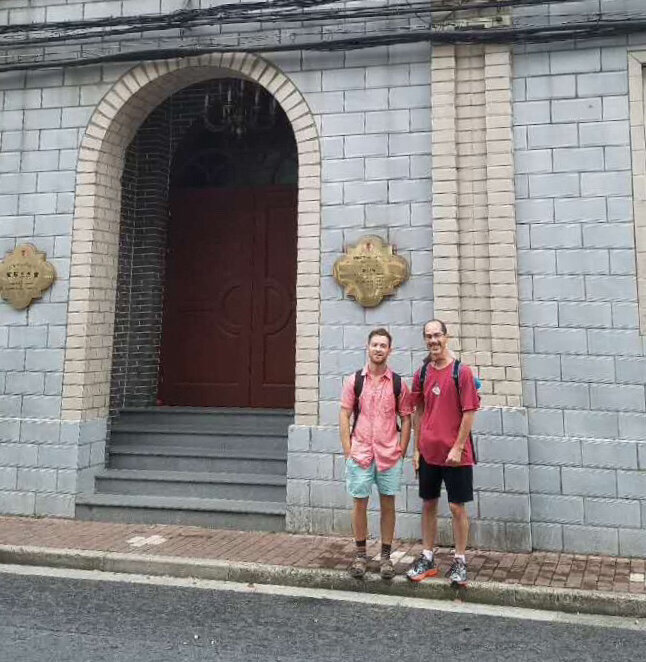 Surprisingly, it had not being bombed as I initially thought or even destroyed during the recent modernisation of the quarter. The church is still used as such and the school frequented by Chinese children. We were even more thrilled when we realized that the next day was the exact 125th anniversary of Carlos baptism, this news coming as a divine sign to us! Our other walks would take us to Saint Joseph Church, near Jingling Road, where Carlos and Te-Di were married and to Dongjiadu Cathedral, which is Te-Di's baptism place. This church now stands in the middle of a field of ruins as the entire neighborhood is facing transformation. The South bank of the Huangpu River was long populated by Christian Chinese, those often involved in the boat business like Te-Di's parents, originated from Wuxi. In this area is still to be found the Boat Merchants Guild Hall, built by Fujian merchants during the late Qing dynasty to represent their corporation.
Later James told me that in the American rancher culture, possessing the land if you cultivate it, makes you feel belong to the place. Still, Shanghai appeals to its remote children as another part of themselves!