A lot of things have already been said or written on Victor Sassoon, the founder of the Peace Hotel in Shanghai. Recently the wonderful book by Taras Grescoe "Shanghai Grand" gives an extensive account of his love relationship with American author Emily Hahn, a woman he had to share with Chinese dandy and poet Shao Xunmei. After reading this amazing story, I wanted to know more however, about this extravagant character and decided to travel to Dallas to dig into his personal diaries which are kept there. Elice Victor Elias Sassoon (EVE are the initials he also used to name his many houses, cars and horses) remained a bachelor almost all his life but he eventually married with his Texan nurse in the Bahamas where he stayed at the end of his life. After his death in 1961, his diaries were donated to the DeGolyer Library of Dallas Southern Methodist University. They were 35 of them, including photos taken by Sir Victor himself, multiple notes commenting them as well as collected newspaper articles, depicting both his socialite life and the historical events he went through.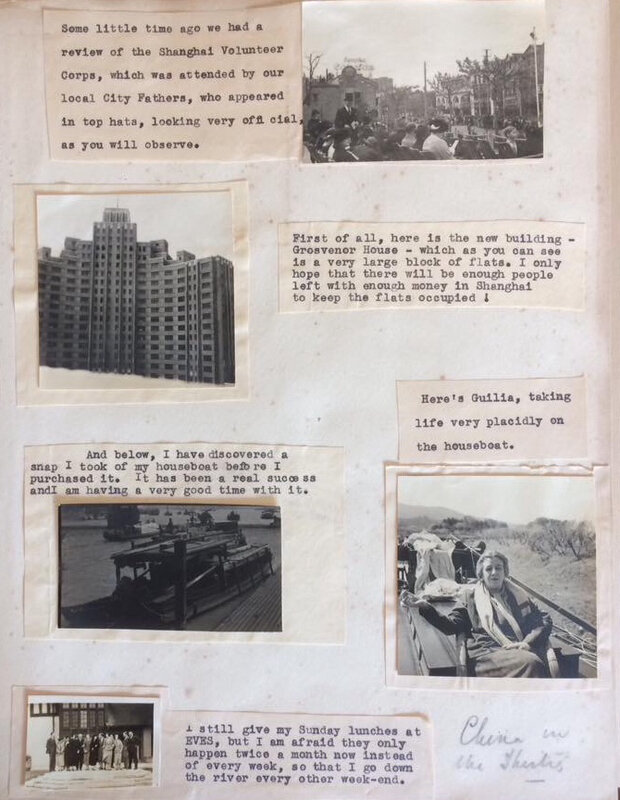 The great grandson of David Sassoon, once the treasurer of the Bagdad sultan and later living in India, Victor was educated in England before moving to Shanghai in the early 1920s. At the head of the colossal fortune built on opium and textile by his family, he decided to invest into real estate after the ban of opium trade by Republican China. His most notorious architectural legacy comes with the Peace Hotel on Shanghai Bund and other great Shanghai buildings like Broadway Mansions, Metropole Hotel or Cathay Mansions in the French Concession of Shanghai. Launching lavish parties at the Cathay Hotel ballroom or his country cottage in Hongqiao, his personality remains a mystery for many, his social extravaganza probably hiding his inner shyness. A clue for this might be his learning acting and his taste for masquerades. So the reading of his personal notes was a way for me to try to know him more intimately. The other interest of those diaries is to get an eye witness testimonial of the historical episodes happening in the 1920s and 1930s. Most important events came with the Japanese violent agression bringing war in the heart of an incredibly prosperous city competing with New York for the leading economic role.
A great traveller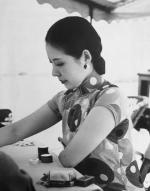 The first impression from Sir Sassoon journal is that he kept travelling during all his life, meeting movie stars in Hollywood or attending race horses in Indian Puna. When we know how travels could take long in those years, we get a sense of his commitment to the world discovery. He obviously was familiar with plane travels as we have comments of several airport arrivals but most journeys were by boat as sealiners tickets and collected menus indicate. Of course, every time, he would take precious photographs, documenting landscapes and people as well as parties with famous guests. Let us not forget that Victor Sassoon was quoted as the fourth largest fortune in those years, which explains that he was always staying in the most luxurious hotels of his time. Photos of the Copacabana Palace or the Taj Mahal Palace in Bombay give a flavor of the upper class type of life.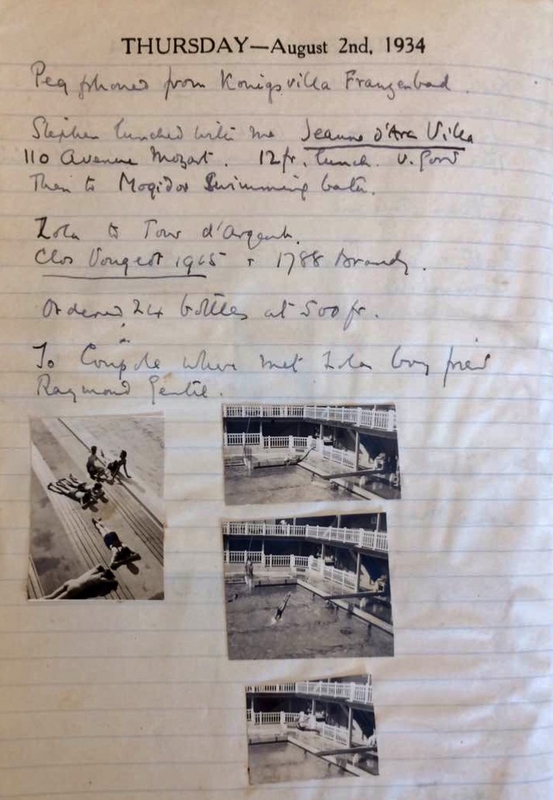 In his diaries, Victor Sassoon gives precise comments on every single person he met, probably a way not to forget names and circumstances of encounters. Some names are underlined in red or blue, depending on it was the first time they met or if there was a running debt with this person. Precise sums that he spent or lent are also recorded. In addition to travels, horses were of premium interest to him. He was often to be seen on the world race course and he took many photos of horses he was keen to buy, wether in India or in England. In Shanghai, his horses often won races, along his competitor Eric Moller (Moller Villa on Shanxi South Road), another horse addict.
Last but not least, women are Sir Victor's life long passion. In his book, Taras Grescoe explains that he was denied marrying his young age love, a British girl, as her parents did not find him fitting their standards. For this reason, he never really committed himself to further female partners and basically collected adventures during most of his life. Talking about photos, the passion for female beauty is obvious as most beautiful women he met got their portrait in his album, some taken during mahjong plays or dinners and other posing for him. Some of his models would pose nude for him, so that we find in his journal very professional pictures of them.
One day with Victor in Paris
Then among the hundreds of pages I read, one particularly caught my attention as it narrates Victor Sassoon's one day in Paris on 2nd August 1934. The pictures of this page are very familiar to me as they show Molitor swimming pool (above). This place was inaugurated in 1929, symbolising the Parisian way of life of those years, a very light type of! World swimming champion and actor Johnny Weissmuller, who got famous for playing Tarzan on the screen, was hired to promote this new swimming pool to attract the elites. It looks like Sir Victor Sassoon made no exception. In his story of his visit to Paris, en route to Lyon and Switzerland as the next pages indicate, our socialite also dined at famous restaurant La Tour d'Argent with a lady called Lola, who later accompanied him to La Coupole. Interesting to me is his reference to the wine, a Clos Vougeot 1925, which he obviously liked as he ordered 24 bottles at the price of 500 Francs. I suppose he would recommend this wine to his captain at the Cathay when he would be back in Shanghai. I am pleased to see that Victor and I have the same type of priorities for spending time in Paris, even if he was on a higher budget!
A real estate anecdote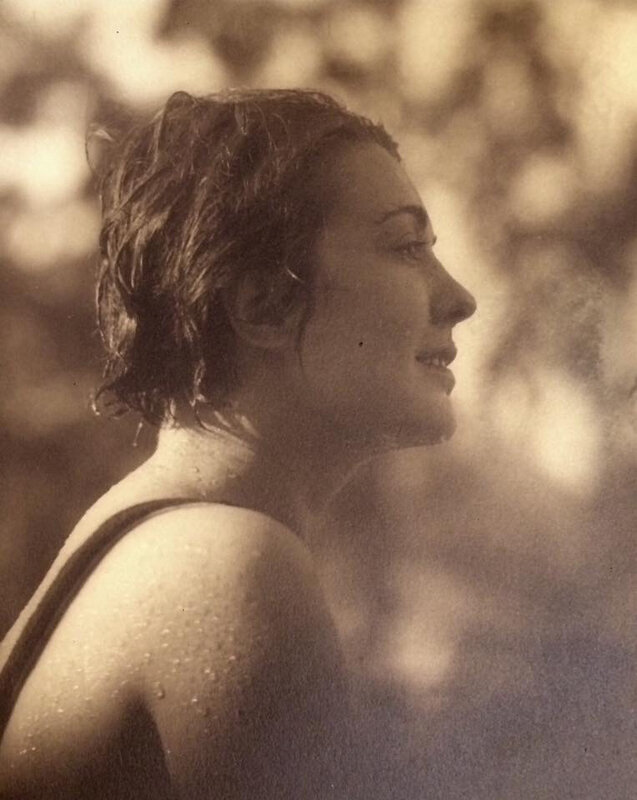 Another funny story by the famous tycoon comes with a letter (second picture) telling about his building Grosvenor House, one of the most luxurious apartment buildings in the heart of the French Concession. Lavish wood floor decoration can still be seen today in some of the large state owned flats, offering a full view on the neighborhood and overlooking the Cercle Sportif Francais (today Okura Hotel). Sassoon writes that he is not sure "there will be enough people with enough money left in Shanghai to keep the flats occupied", as the military pressure of Japan on the city was deterring investors. In her fiction "My Shanghai 1942-1946: a novel", British author Keiko Itoh imagines that a Japanese family lived there in 1942, right after Japan had invaded the International Settlement. In the Hongs adress books, we definitely find many Japanese names in town in those years! Sassoon's prediction revealed right just after he left Shanghai in April 1941. Three months later, Japan would start the Second World War, meaning the end of a complete era, the Sassoon Shanghai golden years! In a late newspaper clipping glued in his diary, the tycoon calls for England to stand against the Axis powers. After WWII, however, the world would never be the same again.
DeGolyer Library curator says that Sassoon diaries will be progressively digitalized, allowing more people to read them. Still, touching the pages written by Sir Victor gave me the feeling of living history from inside!