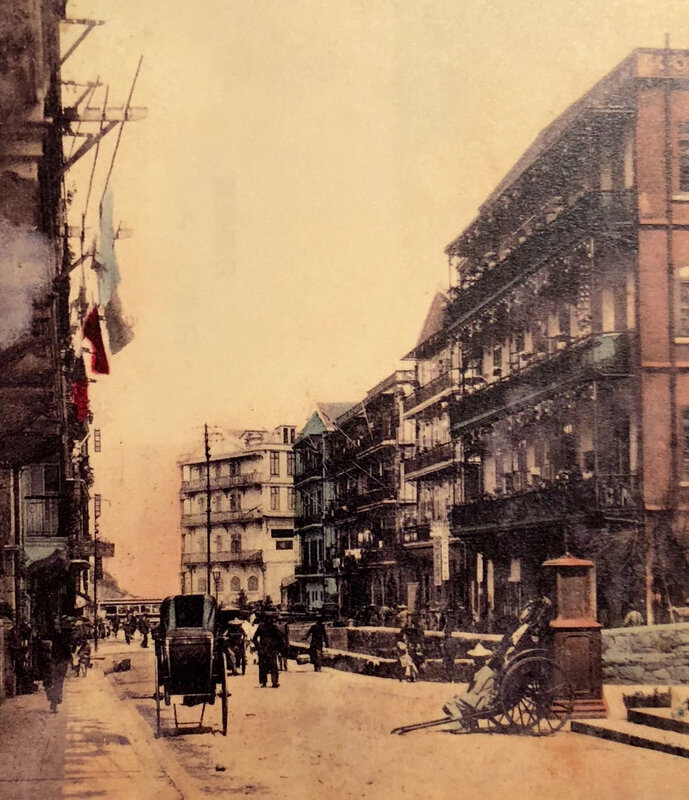 After my articles on North Point and Happy Valley, I take you to a journey West of Hong Kong Island, in Shek Tong Tsui. This district is located between Sai Ying Pun and Kennedy Town and was for a long time not well connected with transports. Until 1910, one would use sedan chairs or rickshaws to visit it, then there were motorcars and finally buses in 1923. The meaning of Shek Tong Tsui is "mouth of the rocky pond" and a Cantonese expression, "good times West of the pond" comes from this name. The reason is Shek Tong Tsui was famous for its brothels and restaurants. The four most high-class brothels in whole of Hong Kong were actually situated next to each other on Hill Road, at the crossing with Queen's West Road: Foon Tak, Choi Fa, Wing Lok and Yee Hung. Their story begins in 1903 when governor Nathan decided to move the prostitution industry away from Sheung Wan. The famous four brothels settled in brand new buildings (right on the photo nearby) near the existing Gas Works Co, which was supplying Hong Kong since 1864.
Next to the brothels stood restaurants in which Chinese patrons would launch lavish parties involving girls, musicians and singers. Smoking opium as well as drinking alcohol were part of the decorum, on the model of Shanghai singsong houses or the Geisha quarter of Kyoto Japan. Girls were called Young Grass, Golden Branch or Magnolia Flower, for whom clients would spend large sums of money to try to content them. However, they were never assured to ever share their couch. They sometimes received most exotic nicknames like "square hats" if they were finally unsuccessful with a courtisane, in a reference to a Chinese opera character. Some other were called "glutinous rice balls", meaning they were particularly easy to manipulate. With so much money flowing in, second class brothels soon flourished along nearby Queen's West Road. During the 1920s, the neighborhood employed up to 2000 prostitutes in fifty different brothels and more than 4000 workers in some twenty restaurants!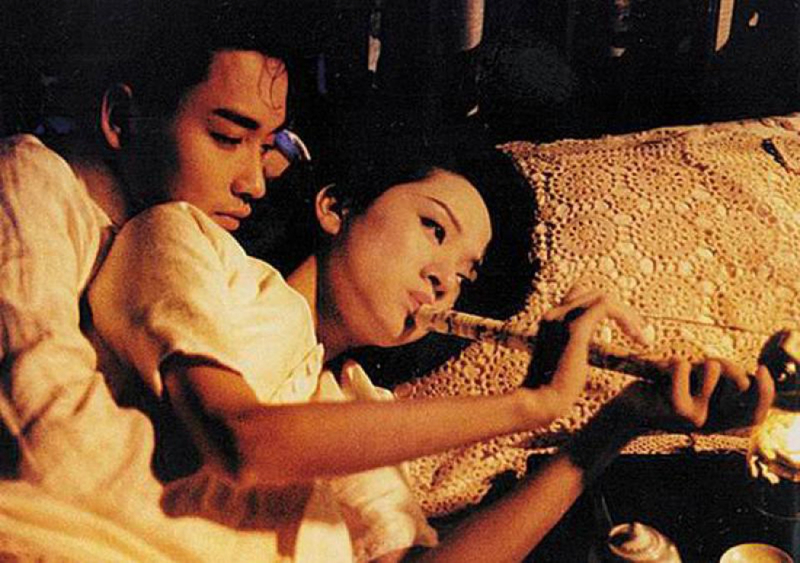 In the famous Hong Kong movie "Rouge" (胭脂扣) with Leslie Cheung and Anita Mui, the characters meet in Shek Tong Tsui Yee Hung brothel. The androgynous movie star plays the "12th master" (clients called themselves surnames, most of the time associated with the rank in their family), the heir of a merchants' family, falling in love with "Mui Fa", Prune Flower. In reality, there was a girl called Hung Mui, "red prune", working at Yee Hung, who might well have inspired the character of Mui Fa. Their relationship will end dramatically with Mui comitting suicide as her lover's parents object to their union and the young man abandoning himself into opium.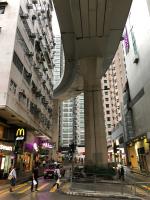 Mui's ghost will continue to haunt the streets of modern Shek Tong Tsui in a quest for her lover's lost soul. Where the houses of pleasures and dining halls once stood, she will find nothing but concrete elevated roads and supermarkets. Yee Hung brothel has indeed been replaced by Cheung Fat Mansion today and the Queen's West Road Mc Donald's restaurant (photo) stands right where a series of second choice brothels operated. The courtisanes era ended in 1935 when legal prostitution was banned by the British government, resulting in the closing of Shek Tong Tsui high class houses. A cheaper type of prostitution emerged on the harbour front of Central and Wan Chai, whereas Yau Ma Tei, which was always ranking behind Shek Tong Tsui, extended to nearby Mong Kok. American sailors after WWII also contributed to the development of prostitution along tram lines as well as "guided tours" on Hollywood Road.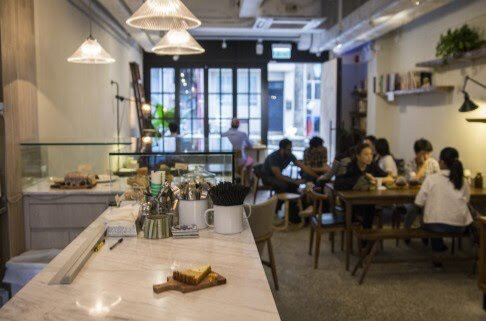 Joseph Kessel's book "Hong Kong et Macao" or Hollywood blockbuster "The World of Suzie Wong" both describe this miserable post-war situation, which is miles away from the lavish athmosphere of 1920's courtisanes world. Recently, however, the extension of the Island Line to Hong Kong University has shaken the sleepiness of Shek Tong Tsui. A new type of life style spaces and hipster trendy cafes for have attracted a well-off clientele in places like Ethos or Teakha. Finally, one can enjoy "good times West of the pond" again, even if the definition is slightly different today.
If one day, you find yourself having tea with courtisane Mui's ghost in one of Shek Tong Tsui cafe, like in the movie "Rouge", please make a selfie with her for me!
References
Early Hong Kong Brothels, by Cheung Po Hung, University Museum and Art Gallery, The University of Hong Kong 2005
Rouge (胭脂扣 in Mandarin), by Stanley Kwan, 1988 movie starring Leslie Cheung and Anita Mui
There goes the neighborhood: Hispter takeover in sleepy Shek Tong Tsui, by Christopher DeWolf, South China Morning Post article, 12th November 2015
Hong Kong et Macao, by Joseph Kessel, Gallimard 1957
Hong Kong Island Coastline(港島海岸線) by 余震宇, Chung Hwa Books Co 2014 - in Mandarin
The World of Suzie Wong, by Stanley Kwan, 1960 movie starring Nancy Kwan and William Holden