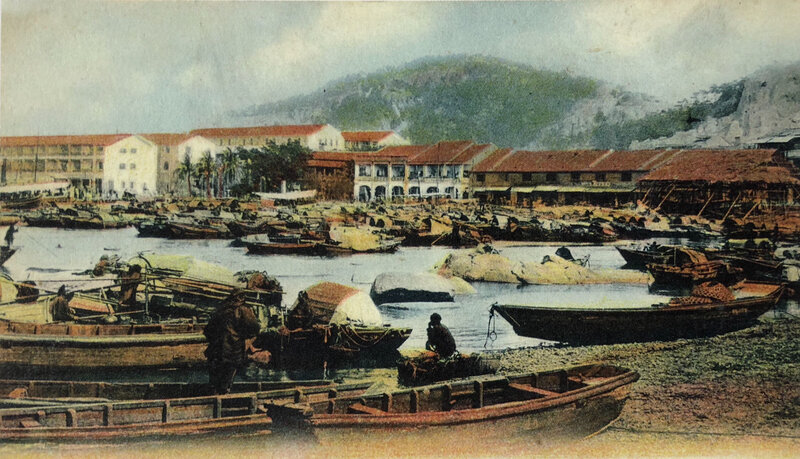 Yau Ma Tei is famous for its night market and seafood restaurants, giving visitors a very contrasted impression with the neat Victoria Island. Its history is even more tumultuous one, due to its lower class origins. In the 1860s, a police station, a market place and a licensed casino were built, using a regular ferry boat to Victoria. The coastline was then some 900 meters inshore from where it is today, along Shanghai Street. Hongkongers would even swim on Yau Ma Tei's beach, the longest of Victoria Harbour at that time (nearby)!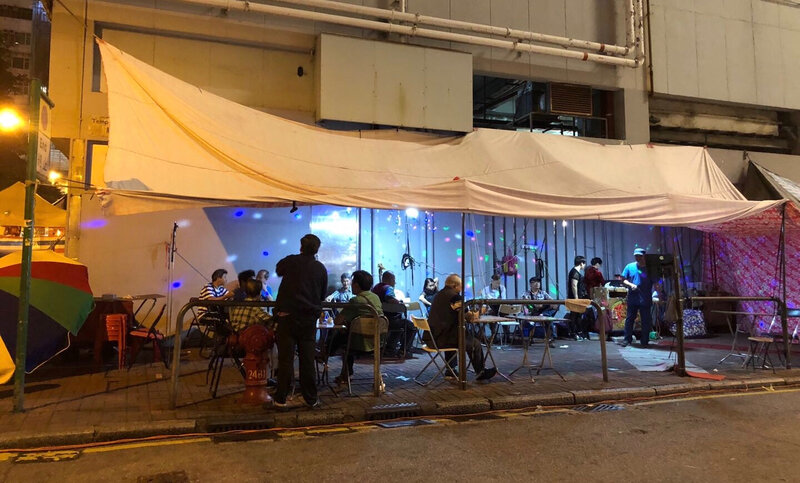 The large square next to Tin Hau temple was facing the sea, whereas fortune-tellers had already settled on Temple Street, yet not mixed with open-air karaokes like today. Around 1880, a large piece of land was reclaimed, setting the foundations for present Yau Ma Tei district. From the beginning, it attracted a sizeable number of brothels, becoming a continental version of Shek Tong Tsui. Upper brothels were called "two-four" as 2,4 Tael was the price for a night-stay. The prostitutes were often from the "Tan-ka" group or "boat-people" who used to live in the bay and looked-down by the Cantonese origin Chinese.
Salted water girls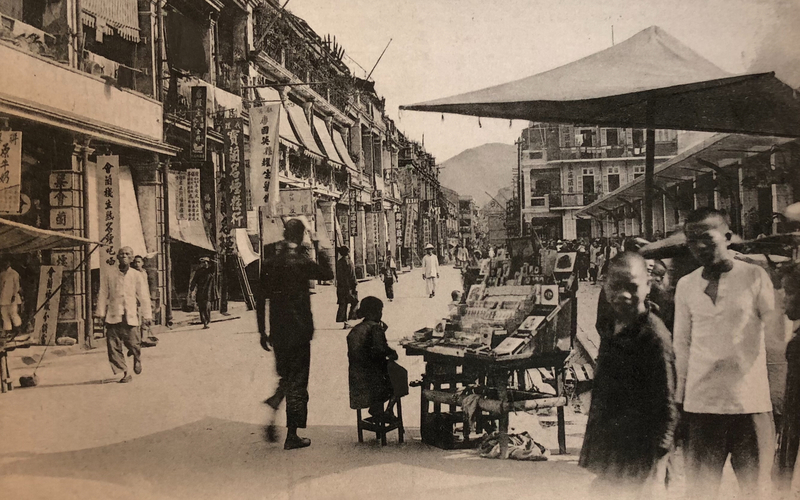 They would be nicknamed "ham shui mui" or "salted water girls" because they had sex intercourse with sailors. In 1925, however, the first prostitute strike in Hong Kong history took place in Yau Ma Tei when the Madams tried to increase their pourcentage of the girls business. Some 1000 women occupied the Tai Koon restaurant and with help of some of their customers finally won their case in justice. Prostitution developped all the way till now with a peak in the 1960s due to the influence of Honk Kong triads. In the sauna parlors of Mong Kok and Yau Ma Tei, it became possible to choose the nationality of hostesses, ranking from the Chinese which were the cheapest to the Russians, who were the most expensive. Coming from Shanghai, I was surprised to learn about this situation because it was the other way round back there. Destitute Russian countesses would actually occupy the lowest categories of prostitutes until the 1950s whereas Chinese mistresses were always the most valued!
In his memoirs which take place in Yau Ma Tei for one part (his family staying at the Fourseas Hotel on Waterloo Road, where today stands the Metropole Kowloon), Martin Booth mentions a very peculiar character, called "Queen of Kowloon" by the Chinese. She is a White Russian who fled the Bolchevik Revolution, her husband being killed. She stayed in Shanghai for a while, like many of her fellow countrymen. She worked as a piano teacher and occasionaly a courtisane, becoming the mistress of a Chinese gangster. When the Japanese invaded Shanghai, she traveled to Hong Kong. When young Martin met her, she looked miserable, dressed in ripped clothes. She asked his mother to handdle her two hundred Dollars in exchange of a small ball of tissue. The paquet would eventually contain a very valuable diamond. The old woman later exchanged Russian style jewels in a Yau Ma Tei pawnshop, attracting burglars' attention. Those however, never found the remains of her treasure.
Triad stories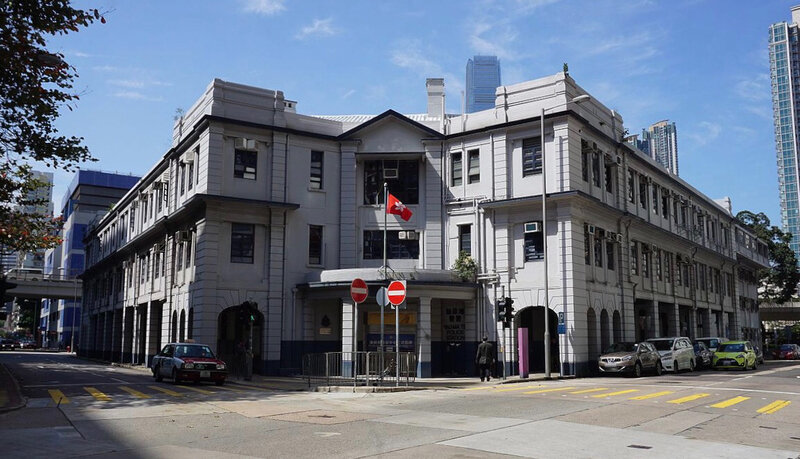 In 1922 a new police station was built at the intersection of Canton Street and Public Square Street in an Edwardian neoclassical style. Several few Hong Kong gangsters movies took place there, one of the figures associated with the police station being ill-reputed Lee Rock (Lui Lok in Cantonese 1920-2010), often portayed on screen by Andy Lau (below). He was first a rickshaw puller before joining Hong Kong police forces in 1940, then made his way up to the enviable position of Detective-Sergeant. In 1958, he came to Yau Ma Tei and later slowly extended his influence on other parts of Hong Kong by receiving bribes, or "tea-money" to turn a blind eye of the the triads crimes. "500$ Million sergeant", a reference to the amount of money he raised, will eventually spend the rest of his life abroad without turning back any of his booty.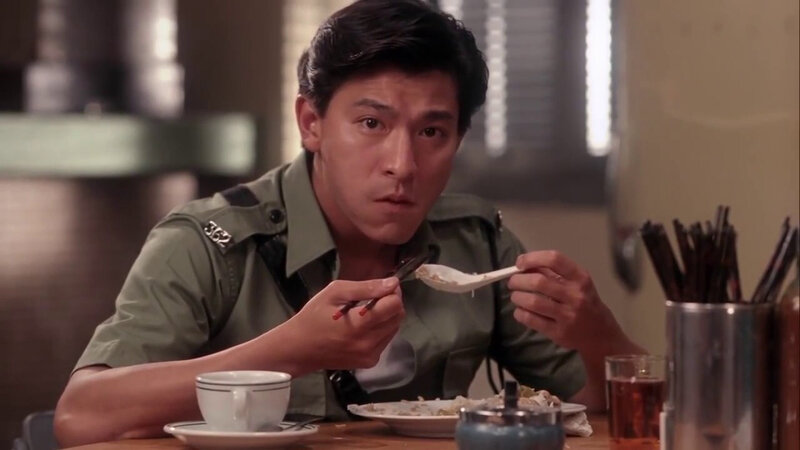 Triads would continue to racket shop keepers, control prostitution networks, gambling and drug traffics. In 1974 however, the creation of ICAC, the anti-corruption brigade blew a first hit at them, leading to several police officers to prison in the process. The development of video surveillance led to a further drop of illegal activities on the street. In February 2014, as well, 46 triad members were trapped in a Yau Ma Tei district building after some police moles had infiltrated their gang. In 2016 though, a spectacular knife attack took place in the famous 1913 Yau Ma Tei historical fruit market, known for its iconic Dutch style frontons but also for the heavy gambling and cocain trafficking in the 1970s. After investigation, it appeared one of the gang bosses involved in this affair was Kwok Wing-hung also called "Shanghai Boy"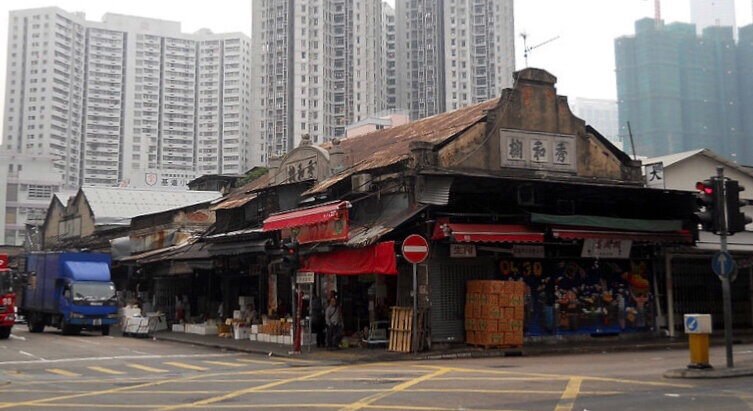 As fruit cages were manipulated by hooks, this lethal weapon was often used in fights, shop sellers remember, bringing memories of some of the most violent kungfu movies of the 1960s. This troubled heritage is threatened to disappear today as questions of moving the historical market from this area are raised in a concern of maling a better use of the space. Like Kowloon City, torn down a couple of years back to eradicate its illegal traffics and poor living conditions, the century-old arches of the fruit market could soon disappear!
In an article about early Hong Kong beaches, I found this quote from Paris May 1968 revolt "sous les pavés la plage". I guess if Yau Ma Tei cobblestones could speak, it might be highly instructive!
Sources:
Gweilo, Memoirs of a Hong Kong Childhood

, by Martin Booth, Bantham Publishers 2004

Early Hong Kong Brothels, by Cheung Po Hung, The University of Hong Kong 2005
Coastline of the Kowloon Peninsula(九龍海岸線) par

余震宇, Chung Hwa Books Co 2014 - mandarin

Lee Rock, movie by Lau Kock Cheong starring Andy Lau, 1991
By their fruits, you shall know them, by Ming Yeung, China Daily Hong Kong 20/12/2013
ICAC seeks frozen millions of dead corrupt officer, South China Morning Post article 22/5/2010
Brutal knife attack at Hong Kong fruit market linked to triads revenge hits, SCMP 22/5/2016