The history of Hong Kong has for centuries been linked to that of piracy. Indeed, the proximity of the Pearl River and trade along the coasts of southern China combined with the many bays and islands which offer natural shelters and hideouts for pirates, have favored its growth. It reached a peak rather recently, however, with the emergence of some exceptional and colorful characters, probably due to the the presence of Portuguese, Dutch and English merchants in the region, which has further increased the possibilities of attacks and seizure of valuable cargoes. Although reality and legends are intimately connected when coming to pirates, here are some of the most striking stories about them.
The Red Flag Fleet
The largest fleet ever assembled by a pirate is undoubtedly that of Zheng Yi (1765-1807), who gathered up to 70000 pirates and some 600 junks. This was possible due to a network of alliances between pirates in the Hong Kong region and those from Canton. This true armada, which was named "Red Flag Fleet", was most often anchored in Junk Bay, just East of present-day Victoria Harbor. It is difficult to imagine such a fleet today, as this bay is largely filled by Tseung Kwan O's land reclamations! At the head of his pirate army, Zheng Yi played a decisive role in the conquest of Vietnam by China in the early 19th century. It is also in this country that he died, the victim of a typhoon according to some and a murder according to others!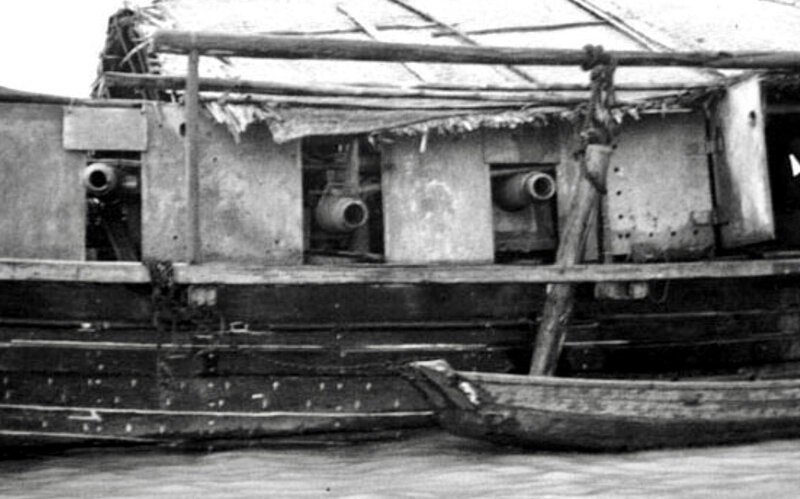 War junks were the favorite boats of Chinese pirates. They were often of small size, equipped with only one or two sails made of woven reeds and bamboo frame, and therefore very manoeuvrable. The butterfly wing-shaped sails were almost indestructible as cannon balls would fly through them without altering their overall structure, rigidity being provided by the bamboo sticks. A junk could surge from behind an islet and cut the road to larger ships, turn tight to avoid shots and rapidely take aim from the opposite side. Her armament consisted of eight to twelve light cannons.
Pirate Queen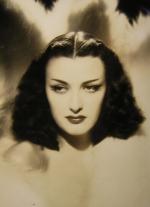 It is actually a woman, Ching Shih (1775-1844, first illustration) who finally succeeded the best in this industry. A former prostitute in Canton known for her intrigues, she married Zhen Yi in a sort of pact where her network would be added to the reputation of the pirate. When he died death, Ching Shih took control of the fleet with the help of her adopted son Cheung Po Tsai. Establishing a code of piracy by which any refusal to obey and order or unapproved rapine was punished beheading and throwing of the body at sea, she became master of the South China Sea, going so far as to extort the imperial government for her protection. In 1810, she signed a treaty by which she renounced piracy with the assurance of keeping all the goods stolen by her and she even was made a noble. Taking her official retirement at only thirty-five years, she continued to run a brothel and gambling house and finally died in her bed at the age of 69!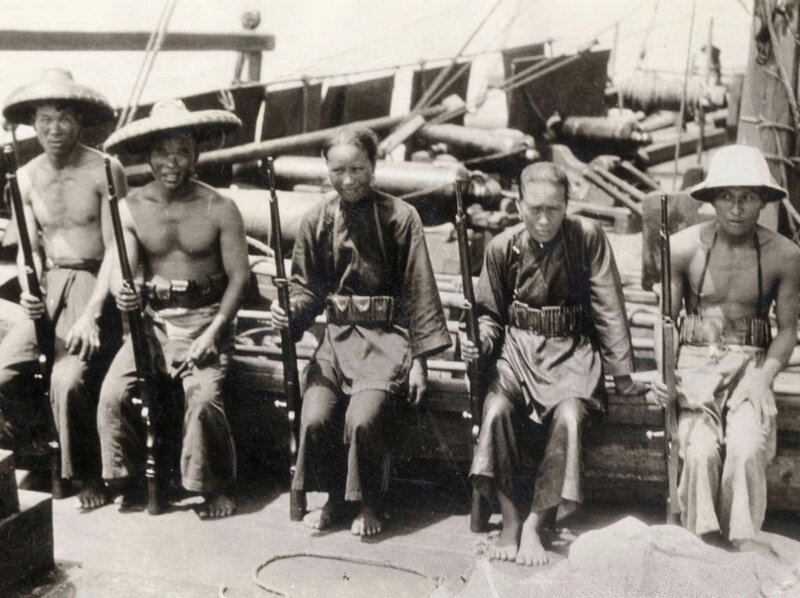 In the 1920s, another woman made a name for herself in piracy, originated from Macao and called Lai Choi San. She is suppoded to have commanded a fleet of twelve junks and have a double life of pirate and protector of merchant ships. This character inspired to Milton Caniff the cartoon "Terry and the Pirates" in 1934, which became a film in 1940 (video) in which the role of "Dragon Lady" was played by Sheila Darcy (above). The duality of the character was even accentuated by staging a vamp dressed in a silk gown when in the city and a ruthless fighter once at sea. The reality was definitely less glamorous as one can see from the attached picture of the real Lai Choi San surrounded by her guards (second from the right).
Kidnapping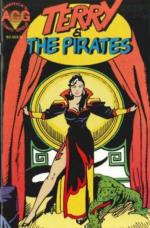 On January 29, 1935 an incident made the newspapers frontlines when pirates seized the British ship SS Tungchow and captured 70 children of missionaries and their teachers, occasionally killing one of the Russian guards in charge of their protection. The kidnapping of Western children came as a shock to the public, so that everything was undertaken to solve this crisis and recover the young prisoners. They will be located nine days later in Daya Bay, a ill-reputed place for pirates East of Hong Kong. The kidnappers decamped at the sight of the reconnaissance aircraft and the children were eventually escorted to Hong Kong. Following this event, the hunt for pirates will further intensify. Finally in 2000, "Sister Ping", aka Cheng Chui Ping, was arrested in Hong Kong for piracy after being engaged for more than twenty years in smuggling and trafficking of Chinese migrants into the United States. At her death in 2014, thousands of people would follow the cortege through the streets of Manhattan, talking of a "modern Robin Hood"!
References:
I Sailed with Chinese Pirates, by Aleko E. Lilius, published for the first time at Appleton and Co, 1931
Terry and the Pirates, by Milton Caniff, a weekly comic for Chicago Tribune in December 1934
Hong Kong the Pirate Capital, article in three parts by Ryan Kilpatrick for the blog Zolima, Oct 2017
The Chinese female pirate who commanded 80000 outlaws, Urvija Banerji, 6/4/2016, Atlas Obscura
The Hong Kong Maritime Museum permanent collections, Victoria Harbour, Central Pier 4, first floor
Hong Kong, the Island of Thieves, and the pirates who ruled the South China Sea, Doris Wai, 2018