Dès qu'il fait beau en Chine, on voit sortir d'un peu partout des photographes et des couples de futurs mariés. Ce phénomene de la mise en scène du mariage est un indicateur de l'importance de celui-ci dans la societe chinoise.
En effet, après l'université, l'une des premieres préocupations des jeunes filles chinoises est de trouver le mari idéal. La pression familiale est forte car de la stabilité du mariage des enfants depend la situation des parents qui ne travaillent plus, le système des retraites étant très limité.
Des exigences (yaoqiu) très élevées
Une émission de télévision particulièrement populaire consiste a présenter à un parterre de jeunes filles des maris potentiels qui tentent souvent vainement de conquérir le coeur des belles à grand renfort de présentation de leur situation personnelles: voiture, travail, maison…
Le marché aux célibataires de Shanghai
Il faut dire que le niveau d'exigence est élevé, tant le modele de societe dépend des conditions materielles des actifs. Le résultat est que beaucoup d'hommes me peuvent aujourd'hui trouver d'épouse, tant les demandes des jeunes femmes sont difficiles à satisfaire.
De nombreux laissés-pour-compte
Une étude sociologique récente confirmait qu'à la course aux exigences, de nombreux chinois et chinoises ne peuvent aujourd'hui trouver leur moitié. Ainsi, si l'on divise les groupes de revenus en A, B, C, A désignant la catégorie sociale la plus riche et C les plus pauvre, les femmes A et les hommes C n'ont pratiquement aucune chance de trouver leur partenaire. Les hommes A ne souhaitent en effet pas de femme gagnant autant qu'eux. Quant aux hommes C, ils ne peuvent intéresser les femmes C qui recherchent les catégories plus riches. Un vrai casse-tete!!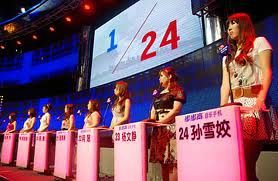 Le programme de dating "Fēichéng Wùrǎo"
Pour recevoir régulierement mes articles et reportages, abonnez-vous a la newsletter
Vous pouvez aussi suivre ma page facebook et visiter mon site internet
Visites historiques et culturelles de Shanghai: didier.pujol@chinaworldexplorers.com or +86 15021769130
ENGLISH VERSION
As soon as the weather is nice, you will see photographers and young future couples going out for shooting. This funny phenomenon is a good indicator of the importance of getting married in Chinese society.
As a matter of fact, the first preoccupation of young girls after graduating from University is to find the ideal husband. Family pressure is high as elders' financial situation will depend a great deal on the stability of the marriage of their children.
A high level of expectations (yaoqiu)

A very popular Chinese TV program stages a long row of young ladies who have to select potential candidates for wedding. Those will exhibit their qualities, mainly material properties like apartment, car or salary.
The level of expectation is indeed quite high since the whole model of society relies on financial condition of the active population. Direct consequence of this situation is that many men cannot get married because they don't fit the ever growing expectations of young women.
The many losers of the wedding game
A recent sociological survey confirms that more and more Chinese have difficulties to find a partner in life. If active population is split in 3 groups ABC, going from richer to poorer, women from A category and men from C category will be the great losers of the wedding lottery. For A men will never look for A women that they consider their competitors for power in the couple and C women will not consider marrying a C man who brings no social promotion to them. Such a nightmare!
To receive my articles automatically, subscribe to the newsletter
Follow me on facebook or visit my internet website
Cultural or historical visits in Shanghai: didier.pujol@chinaworldexplorers.com or +86 15021769130