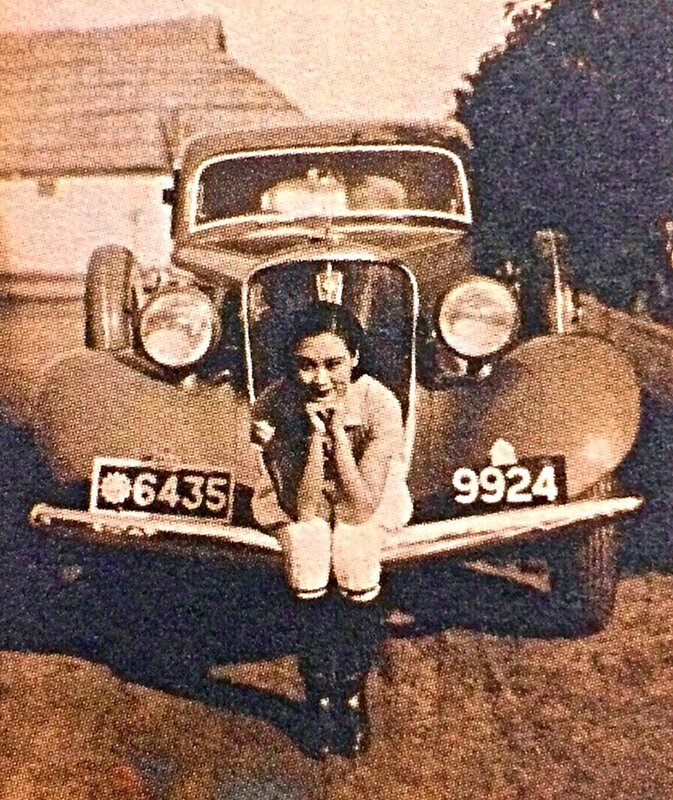 When recently flipping into Lynn Pan's wonderful book "Shanghai Style", I saw a picture of a lady sitting on the bumber of an elegant 1930s luxury car. She is gorgeous, staring at the photographer. She is dressed with Western clothes although she is undoubteddy Chinese and her hair is curled. She wears leather boots, in the maneer of an English Lady returning home after a fox hunt. This photo is the one of Hu Die, a prominent film star of Shanghai 1930s!
Hu Die (meaning butterfly in Chinese) or Hu Ruihua, her real name, was born in Shanghai in 1907 to a Manchu family. For this reason, she was able to speak perfect Mandarin, which was useful later to participate into the first speaking movies. When she was young, she accompanied her father, as a merchant first, then a railway inspector in several cities of Northern China. When they returned to Shanghai in 1924, she joined the first film school in China (Zhonghua), also being their first student. It was not long before she participated in her first movie called "Success", a predestined name in her case.
1930s Shanghai cinema scene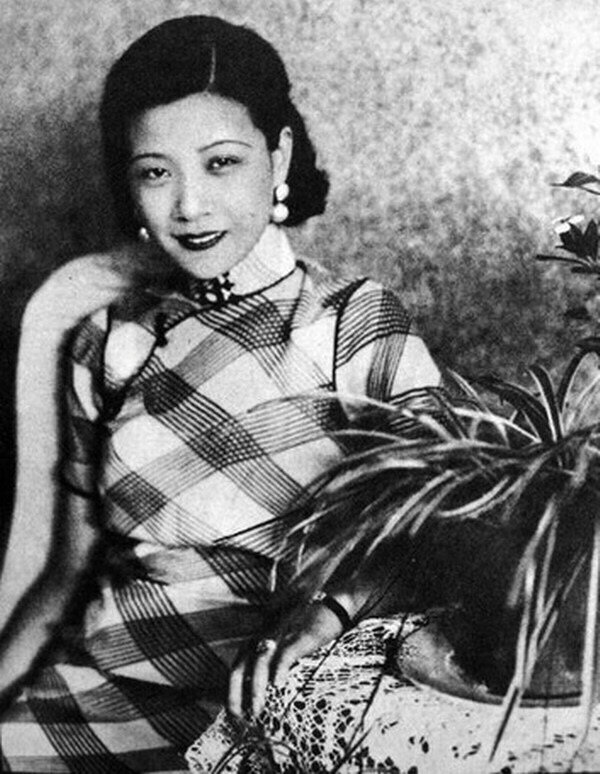 At that time, the cinema industry was thriving in Shanghai. First movies were shot in China in 1896, representing a Beijing opera scene, only one year after the Lumière brothers first world movie was seen in Paris. However, this is only in 1916 that the cinema industry developed after Chinese operators and film technicians had been trained by American film makers. At the beginning of the 1920s most Shanghai movies represented Shanghai city life. This was a rather new phenomenon in the history of cinema to promote a new way of life, driven by the idea of modernity. Actresses were soon associated with the idea of "Modeng Nü", a phonetic translation of the English word "modern", dressed in qipaos, the traditional Chinese gown which had become shorter and sexier than the original model. A specific press emerged at that time, making their cover with film stars and using the Art Deco letterage (another landmark for modernity) and layout to attract the readers' attention. This same industry used those images to denounce modernity in the mid 1930s with the emergence of Chiang Kai Shek New Life Movement, showing then the dark sides of prostitution or search for artificial paradises.
The rise of an icon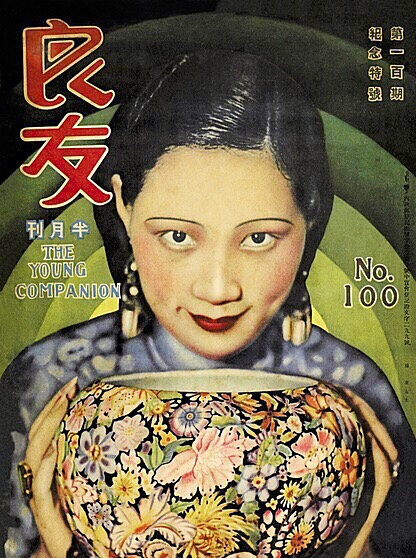 In 1928 Hu Die joined the famous Mingxing Film Company and signed for a monthly income of 1000 dollars, which was a considerable sum of money for the time. She played in "Tower in the White Clouds" and became friend with another famous star of these years, Ruan Lingyu (photo above). She starred in the Chinese first sound movie called "Sing-Song Girl in Red Peony". However she reached the stardom with the role of the Red Girl in "The Burning of the Red Lotus Temple"(click to watch), an early martial movie dating 1928! The year before, a jury of readers of the Star Daily (明星日报) had crowned her the "China's first movie queen". In 1934, she played the double role of twins with two different personalities in "The Twin Sisters"(click to watch). In 1935 she joined a European tour which included Moscow and London, where she met Charlie Chaplin accompanied by Opera singer Mei Lanfang.
Her unprecedented fame was followed by an emerging tabloid press which made it almost impossible for actresses to keep any secret on their personal lives. In 1931 for instance, rumors about her dancing with warlord and dandy Zhang Xueliang on the night of the Mukden incident, preventing him from responding to the Japanese attack, led her to buy pages in Shanghai Shenbao to try to restore her damaged reputation. Later this year, reports on her mariage with Pan Yousheng, an employee of a trading firm, became the news of the year for many, commenting the lavish wedding ceremony involving the whole of Shanghai movie industry. The same year, however, her 24 year old friend Ruan Lingyu's love affair with Cantonese tea merchant Tang Jishan created so much noise that she finally committed suicide (according to the official version) leaving the denouncing essay entitled: "Gossip is a fearful thing".
Advertising world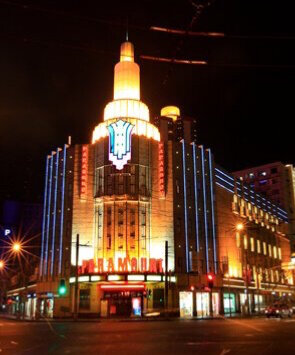 Hu Die is probably one of the most vivid exemple of the rising star system which implies that public image of movie stars is used in advertising. For fans of those years, it is still possible today to find thousands of advertisements for soaps (Lux), department stores (Sincere) or cigarettes showing Hu Die's face on them (Miss Butterfly). At some point too, trendy ballrooms would pay her to participate into special venues to position themselves as high class night-clubs. Paramount ballroom (nearby) near Bubbling Well road or Casanova, on avenue Edouard VII, were famous for welcoming movie stars. Magazines of course would tend to create a dream world around film stars. No wonder then that I was attracted by the westernized image of Hu Die posing with luxury car in the first place. Advertising professionals still consider 1930s Shanghai the world laboratory for almost every single modern selling technique, incuding neon signs and consumer credit.
When war occurred with Japan in 1937, however, Hu Die and her husband exiled themselves to Hong Kong. There they had one son and one daughter. In 1941, the Japanese also invaded Hong Kong and when they asked her to play for propaganda, she refused. She then undertook a land trip to Chongqing, the war capital of China, which took her two years to reach. She met with Chiang Kai Shek head of Secret Services Dai Li, which she started a relationship with. In 1946, she went back to Hong Kong to help her husband with his company till his death in 1959. In 1966 she retired, got married for the second time and joined her son in 1975 in Vancouver Canada where she remained till her last days in 1989. She was living a discrete and peaceful life under the humble name of Pan Baojuan, willing no publicity or reference to her past fame.
Today's legacy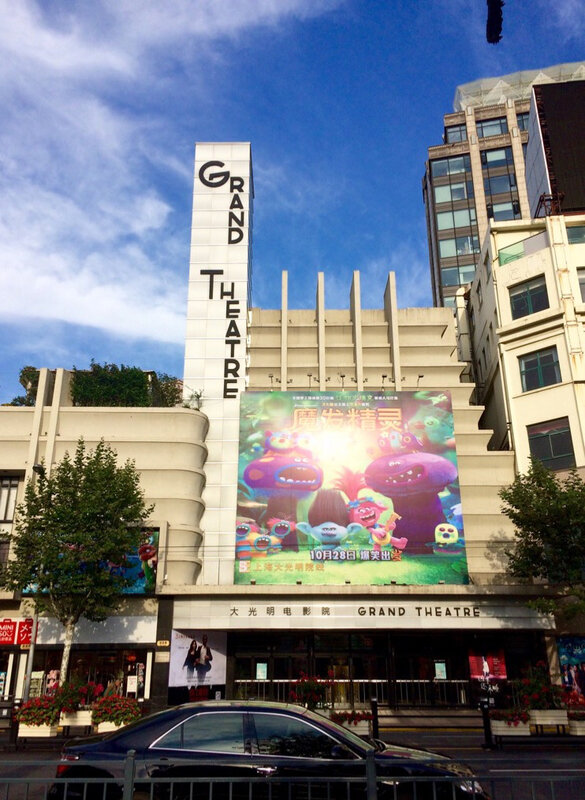 When visiting today's Shanghai, it is still possible to have an idea of those cinema years. Many Art Deco cinemas still stand , giving testimony of the entertainment industry of those years . Many of them have been renovated, sometimes in a better condition than the original one like Cathay Cinema on Huaihai Road, Grand Theatre (photo) on People Square, the Majestic, North of West Nanjing Road or the Huangpu Theatre on Beijing East Road. Some have been transformed like the Lafayette on Fuxing East Road (now a metro station), the Nanking Theatre (today's Shanghai Concert Hall) or the Capitole on Sichuan Road (offices now). Some others like the Metropole on Xizang Road, Chekiang Theatre on Zhejiang Road or Strand Theatre on Ningbo Road have more or less kept their original condition, making the visitor feel like a travelling in time.
In the field of film making, Shanghai has come back on the front scene after decades of Hongkong leadership . Directors like Ang Lee now make films in China mainland, sometimes shot in the 1930 decors of Shanghai Film Studios, like for instance Lust Caution, adaptation of Zhang Aileen novel, a fair return of things and tribute to Shanghai former glory incarnated by stars like Hu Die.
Sources:
- Shanghai Style, Art and Design Between the Wars, author Lynn Pan, Joint Publishing Co HK 2008
- Shanghai Dancing World, Cabaret Culture and Urban Politics, 1919-1954, author Andrew Fields, The Chinese University Press 2010
- The History of Chinese Film, website foreigncn.com, 15th March 2011