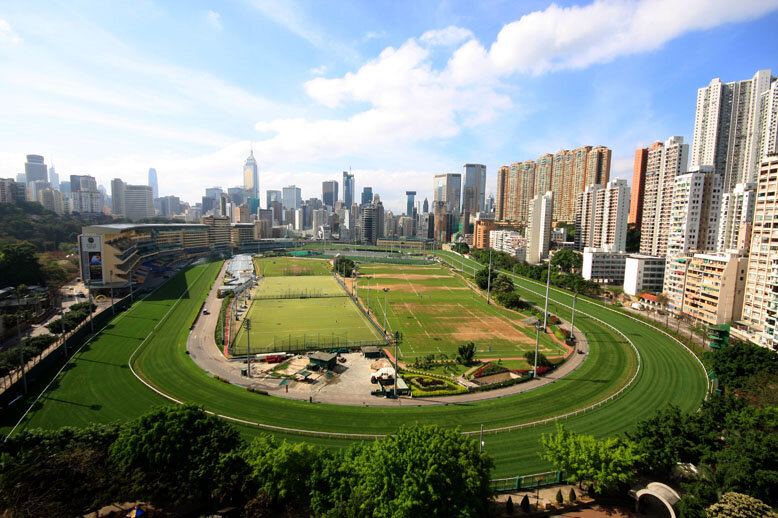 After publishing on Little Shanghai, I found it challenging to write about Happy Valley. This part of Hong Kong is indeed unusual, containing a race course and three cemeteries. The name Happy Valley is a British euphemism to name burial grounds, chosen after a sizeable number of soldiers had died from malaria in the 1840s. Then other nationalities like Portuguese, Indians and Chinese used it to burry their own dead. The former name was Wong Nai Chung (黃泥涌) meaning "yellow muddy river". This should have rung a bell about the sanitary risks but it obviously did not. This river was later canalized towards today's Wan Chai Canal Street, precisely.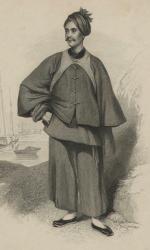 When visiting Hong Kong Cemetery (formerly Colonial Cemetery), where the protestants and military are buried, I found one of the oldest graves in Hong Kong bearing a familiar name: Karl Gützlaff (1803-1851 nearby). This German Lutheran missionary indeed gave his name to the signal tower on the Bund. He accompanied William Jardine's clipper ships along the coasts of South China as an interpreter during the 1830s, a rather controversial role when one knows that Jardine whom the Chinese called "iron-head old rat" by the Chinese and the others "prince of merchants", was illegally trading opium into China. The shrewd Scottish actually contributed to maintain two third of the Chinese population under opium during the first half of the 19th century and later pushed Britain into the First Opium War. However, Gützlaff found in this collaboration a way to convert Chinese populations to Christian faith each time ships went ashore in the numerous islands and bays of this part of China. His reputation was further stained when big sums got misused by native missionaries he had appointed.
In Shanghai, however, the column and time-ball built in 1907 by the French Jesuits missionaries wanted to pay tribute to his spreading of the Christian faith among the Chinese. Other famous Hongkongers buried in Happy Valley include Paul Chater (1846-1926, nearby with one of his horses at Happy Valley race course), the wealthy Armenian businessman who gave is name to the square in Central. Another big shot is Sir Robert Hotung (1852-1956). He was the first mixed-blood Chinese to become the head comprador at Jardine's. He also made remarkable contributions as a philanthropist, board member of the Tong Hwa Hospital and founder of the Chinese Club, which was a response to the colonial policy of excluding Chinese from the Hong Kong Club. Last but not least, Dorabjee Naorojee (1852-1898), the man who created the Star Ferry service in 1888, rests in the Parsee cemetery, right North of the Hong Kong one.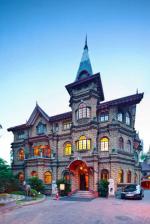 In 1846, the race course was created in Happy Valley, as this was the only available flat land was on Hong Kong island (the land reclamation policy had not started yet). This race course is very similar to Shanghai's one, on today's People Square, which opened just four years after Hong Kong (not in the present location). As in Hong Kong, Shanghai race course plaid the role of a green lung right in the middle of the city. Horses and owners would of course frequently travel from one place to the other to participate in derbies during the year. A 1910 observer noticed than the largest stable at Shanghai racecourse was the Jardine one, called Tartan. Hong Kong based Paul Chater was also member at the Shanghai Race Club. Shanghai tycoon Eric Moller, a Swedish origin shipmaker and great horse lover - his legacy is still visible today with the fairy tale villa (nearby) at the intersection of Shaanxi Road and Yan An elevated road-, became famous when his champion « Silkylight » won the Hong Kong Derby in 1938.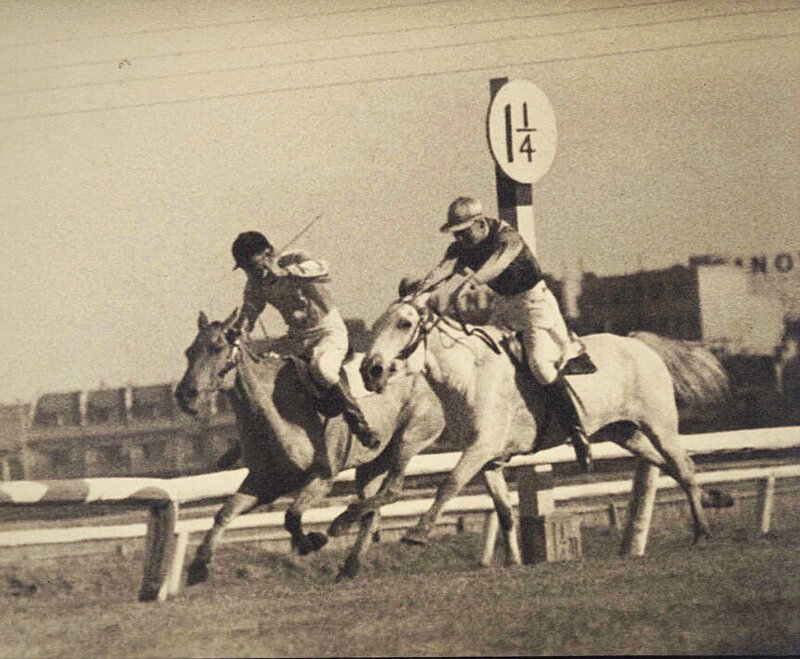 I haven't check if Victor Sassoon, the author of the nearby photo and another tycoon fancy of races, attended Happy Valley derbies as he often did in Shanghai or in Indian Pune, but he most probably did, as a lifelong competitor of Eric Moller. On 26 February 1918, one of Happy Valley's stands caught fire killing 614 people, mainly Chinese. As betting was equally popular among the Chinese in Hong Kong and Shanghai, the Happy Valley grand stand revealed too small to welcome all race lovers. It was decided to add a temporary bamboo structure. No need to precise that the poorest bidders were packed there whereas the best permanent seats were occupied by the elites. In Shanghai, however, Chinese bidders were simply deprived the right to sit in the main stand!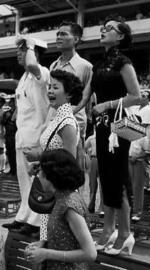 The largest share of bettings and therefore race course revenues, however, came from humble Chinese players, making it indispensable for organizers to accept them. Although 90% of the revenues came from Chinese, they were the only category that could only access the race course during derbies. This rule did not apply to Indians or Black people. Horse races ceased in Shanghai in 1949, being a strong symbol of the colonial system but they went on in Hong Kong until today. With gangs controlling Shanghai during the 1930s and 1940s, there are numbers of stories about fixed races like this one told by former Shanghai French Concession chief inspector Joseph Shieh in his memoirs: Starting from 1932, I began to get acquainted with horse races[...]. I had become friend with the head of jockeys nicknamed "Captain". When he saw me approching, he whispered to my ear " Bet on the 9!""but it is a wreck", I replied."No, it has been doped this morning..."[...]. I pocketed 6000 or 7000 yuans[...]. In those days, one could buy an imported car for 2000 yuans[...]. Of course I could not play this trick every Sunday. No need to say that with so much money at stake, excitement for horse races was massive!
It is not clear weither Hong Kong triads are involved in fixing races but they might well have been as recent Wong Jong's biopic "Chasing the Dragon" about drug lord Ng Sik-ho (Criplled Ho) suggests. At some point, the mobster bribes all the jockeys to make sure his horse wins a race. In 2007,the discovery of a sophisticated device to throw darts in the turf of Happy Valley bore the mark of the triads. However, Hong Kong Jockey Club contributes to community projects, which was not the case in Shanghai when investors took it all. Shanghai race season was Spring and Fall with events twice a week.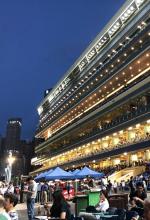 Hong Kong Jockey Club introduced a third venue on Wednesdays. As I was attending this year's French May's "Happy Wednesday" at the Hong Kong race course, I was amazed to see how popular horses races still are today. I was actually sitting next to a very simple kind of players, wearing flip flops, heavy smoking cheap cigarettes and anxiously reading the turf press. They most propably were small shop keepers, delivery workers or small employees. Excitement was visible on their faces when horses were unleashed and during the whole race. At the same time, on the top levels of Happy Valley stands, private rooms would accommodate a far wealthier type of guests, who throw parties or company events while using computer sweepstakes.
Like no other part of Hong Kong, Happy Valley takes us into a larger cultural and historical journey revealings its origins as well as part of its soul.
Références:
Hong Kong et Macao, by Joseph Kessel (French), Gallimard 1957
The heritage hiking guide to Hong Kong, by Pete Spurrier, FormAsia 2012
Foreign Mud: Being an Account of the Opium Imbroglio at Canton in the 1830's and the Anglo-Chinese War that Followed

, by Moris Collins, Faber 1946

Policing Shanghai 1927-1937, Frederic Wakeman Jr, First Edition 1996
Hong Kong Jockey Club Museum sweepstake tickets and photos
Around the race course, Cabarets, Christians and Champagne Day, by

Tina Kanagaratnam and Patrick Cranley,

Final Five Shanghai Walks 2017
Personal diaries and photos of Sir Victor Sassoon, De Golyer Library, Houston Texas from my 2017 visit
Dans le jardin des aventuriers by Joseph Shieh and Marie Holzman (French), Seuil 1995
Silky Light wins the turf classic, Hong Kong Daily Press article 22nd February 1938
Chasing the Dragon, by Wong Jing staring Andy Lau and Donnie Yen, 2017
A mystery at Hong Kong race track, by Keith Bradsher, The New York Times article, 27th March 2007