English version bellow
Dans les annees 20, le CMF était considéré comme l'un des meilleurs établissements de la ville, aux côtés de la Kaiser Wilhelms Schule pour les Allemands, de la Public School for Girls ou de l'International Thomas Hanbury School for Boys pour les anglophones. Il accueillait envoron cinq-cent élèves. L'autre école en langue francaise de l'ancienne concession est l'Ecole Rémi, dont on peut encore admirer le batiment art-deco dans l'actuelle rue Yongkang. A partir de 1931, le directeur du Collège Municipal est Monsieur Grosbois, une figure de l'ancienne Concession. Il avait en effet perdu une main lors de la Grande Guerre et jouait du violon à l'aide d'une prothèse.
The Grand Ballroom restored Hall chandeliers very similar to the originals
Le batiment du College Municipal Français a également hébergé l'Alliance Française qui donnait deux fois par mois des conférences et dispensait des cours à quelques deux-cent soixante dix étudiants, la majorité chinois.
Espérant vous avoir fait découvrir quelque chose, je vous dis à bientôt.
Pour recevoir gratuitement mes articles, abonnez-vous a la newsletter
Vous pouvez aussi suivre la page facebook et visiter le site internet
English version:
Back to college
You probably remember my article about the reopening of former College Municipal on Nanchang Road. On this occasion, many readers including Liliane Willens who used to study there, sent me pictures of the College before its restoration.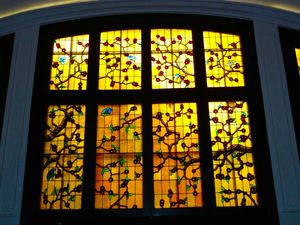 Stained-glass

I was finally given an extensive access to this unique place of memory. The inside is just stunning since all lights, stained-glass windows, wood carvings have been greatly valorized. The result should definitely please every Shanghai-culture lover. Here are a couple of photos from the school attended by two decades of French but also Chinese, Vietnamese, Russian students completed by citizens of the former French colonies.
During the twenties, the Collège Municipal Français was considered one of the best schools in Shanghai, along with the Kaiser Wihelms Schule for Germans and the British Public School for Girls or International Thomas Hanbury School for Boys. It was attended by some five hundred students. The other French speaking school in the French Concession was the Ecole Remy in nowadays Yongkang Road. Starting from 1931, the director of the Collège Municipal Français was Mister Grosbois who was single handed as a consequence of the WWI. He was nevertheless famous for being able to perform violin using a prosthesis.
The building was also used by the Alliance Française where two hundred seventy students. Most of them Chinese, were able to learn French and attend conferences about French culture twice a month.
I hope you learned something from this article. You can follow me for free on:
See you later for new articles
Cultural or historical visits in Shanghai: didier.pujol@chinaworldexplorers.com or +86 15021769130