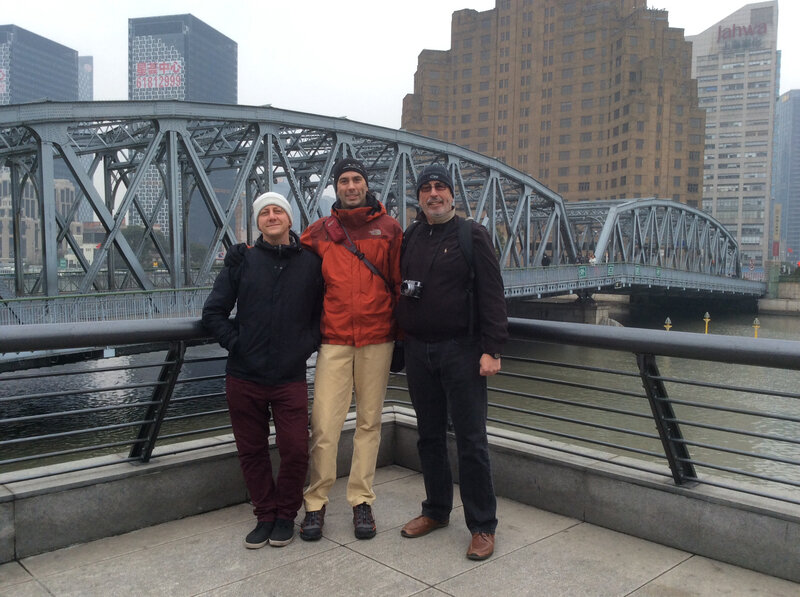 I recently received the visit of Bob King, a retired Canadian high school administrator (right on the photo, his son in the center with partner) whose father worked in the Shanghai Municipal Police during the 1930s. Like many people with Shanghai roots, Bob told me many stories, some of them joyful and others sadder as related to the internment of American and British citizens by the Japanese. Interesting enough, Bob's visit came at the moment of the publication by Betty Barr, an eye witness of the Japanese camps, of the detention diary of her mother. Betty and her parents stayed in Longwa camp together with JG Ballard who wrote "The Empire of the Sun", the novel turned into a movie by Stephen Spielberg.
Mark and Tulita story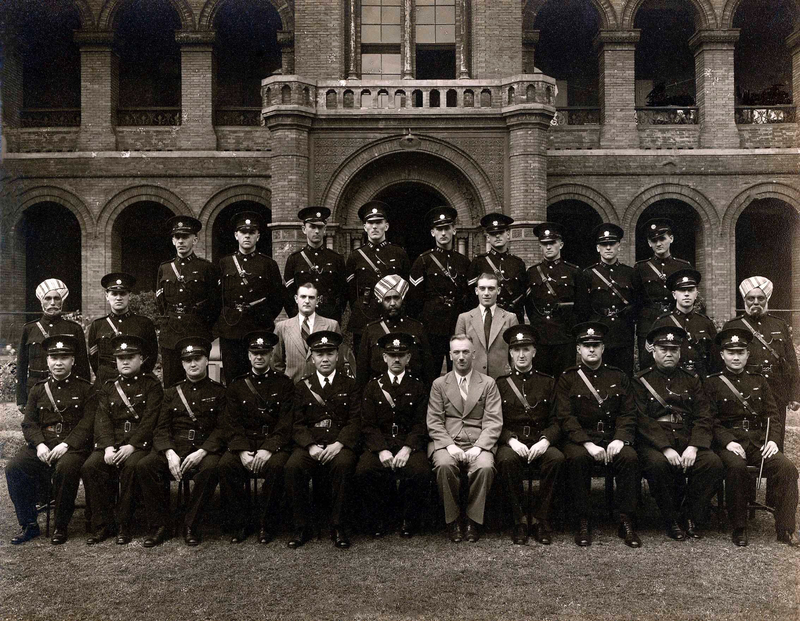 Bob's father, Mark King came to Shanghai in 1933 from Canada. As many young people, Mark was attracted by roaring Shanghai. He joined the Shanghai Municipal Police after responding to an ad in the newspaper. As a new recruit, he probably received his instruction at the Gordon Depot, named after famous Charles "Chinese" Gordon. This place also became the training grounds of the world's first "riot squads" created by William Ewart Fairnbairn. Mark King was eventually promoted to a sergeant, based at Bubbling Well Road Police Station, at the end of today's Nanjing West Road, right in front of the Paramount dance hall (Photo next second row second from the right). As a member of the "vice squad" dealing with night life criminality, this location near "Shanghai badlands", on the West border of the International Settlement was clearly relevant. In December 1937 Mark married with Bob's mother, Tulita True, a Philippines American whose parents had come to Shanghai when she was quite young. Well educated, Tulita first worked as the secretary to the US district attorney at Shanghai American consulate before becoming China's first Asian American woman deputy marshal, a source of pride for Bob!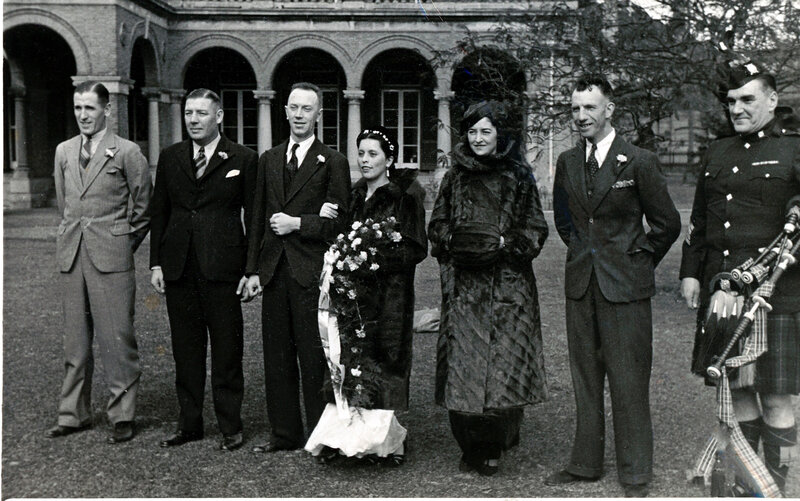 The American Consulate, where Tulita worked, was located on the North side of the Suzhou River along with the Japanese one. Tulita was a real China lover, Bob remembers, and used to play with Chinese children in her young age, which was not so common as racial prejudice was the standard back then. The family stayed on Nanjing West Road at Majestic Apartments, an Art Deco heritage building still standing today. The invasion of China by Japan late 1937 however made the situation of Westerners more difficult. The Japanese military had gone up to the Suzhou River that played the role of a natural border (read my article "a Bridge too close"). During the years of confrontation, Mark was involved in a dispute on the Garden Bridge (first photo) between drunken Japanese soldiers coming from the "trenches", one of the brothel area North of Suzhou Creek. This ended dramatically for Mark was badly beaten by the Japanese soldiers and therefore sent to hospital.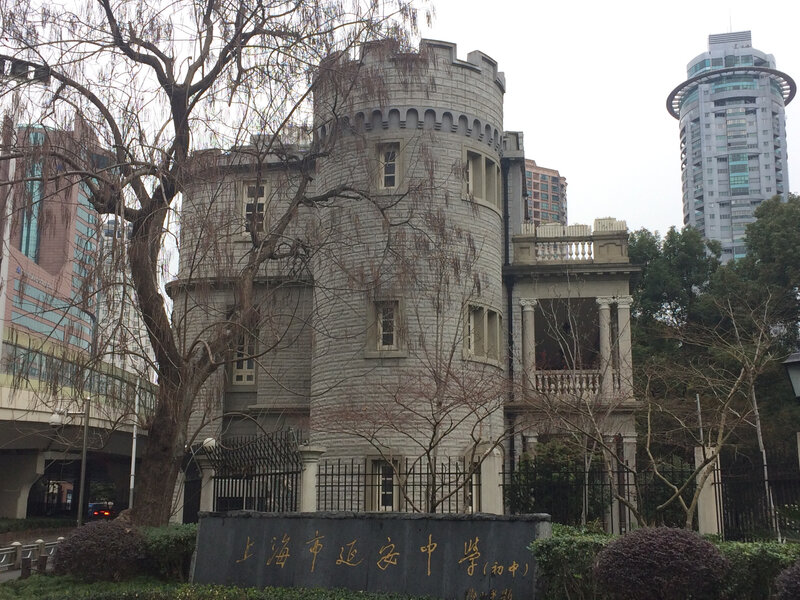 After the Japanese attacked Pearl Harbor on 8th December 1941, starting a war with US, the situation got worse for Mark and Tulita. Westerners had to identify themselves according to their country of origin, wearing a red arm band in the case of British and American citizens. Starting from 1943, they were sent to prison camps. Bob's mother was interned in Ash Camp (remaining building on photo nearby), along today's Yan An Road along with some 450 civilians as Mark had already been put into custody in 1942 in Haiphong Road camp, a special camp for police and military who were considered as potential spies or fighters by the Japanese. The treatment back there was tougher as detainees were regularly dragged to the Kampeitai (political police) center located in Bridge House (photo below) for interrogation. Reports of tortures, beatings and even deaths made the place of ill memory. Bridge house still exist today, although it has been turned by the communist authorities into the living quarters for thousands of Chinese, who probably have no idea of the terrible things that happened there.
Tracing memories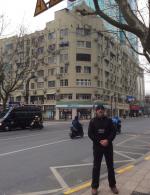 Before Bob arrived, I researched the informations that he sent to find current addresses of the places where his parents stayed. With help of old maps, I could successfully find all these places. Haiphong camp was destroyed to make way to cheap community apartments in the 60s and Ash camp grounds are used by a school today. However Bob insisted to see those places. Bridge House came as a shock to everyone as the heavy atmosphere is still everywhere. US Consulate on the Huangpu and Bubbling well Road Police Station are long gone, both replaced by more recent buildings. The most emotional moment for Bob and his son was visiting Majestic Apartments. Although we had the original number of Mark and Tulita King's apartment, those have changed during the Mao era with splitting of places to accommodate more Chinese families.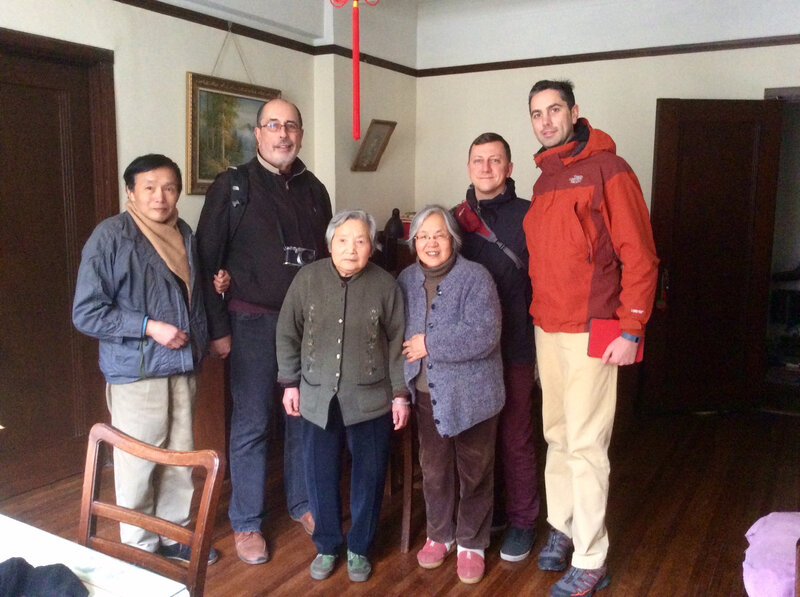 Next to the new numbers however, we could find some of the original ones on the old doors. After asking around, we finally located Bob's family's apartment. We knocked out the door untill an old Shanghainese lady opened. With help of neighbors who could speak Mandarin and one even English, we were admitted in. To our great surprise, the apartment was untouched. The neighbors explained that this one was the only apartment in the whole building not to have been split, with the same family living there since 1952. When we compared the dates, we suddenly realized they actually occupied the house not long after the King family had left it in. Both Chinese and Canadians were so moved by this reunion after some 65 years of parallel history that everybody went for a group photo. The lady who helped us with translating said she remembered playing with a Western boy. As Bob was three back then, "this might just have been you" she said!
Fascinating Old Shanghai stories still echo into present times and trenscend language or cultural barreers!