Among my preferate books about Shanghai, Albert Londres "War in Shanghai" ranks top of the list. a series of articles written during the 1932 shanghai incident. Albert Londres came to shanghai between November 1931 and April 1932 to comment the events of the invasion of Manchuria by Japan. When he arrived, he was eventually caught in the first battle of Shanghai between Japanese Marine Corp and Chinese Republican Army. His report of these dramatic episode is a unique insight on Shanghai communities of the time at a key-point in Chinese history. Albert Londres would die only one month after these events!
Who was Albert Londres?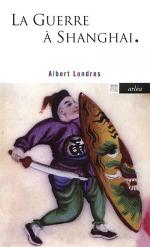 Albert Londres is often considered as the inventor of investigation journalism. He became notorious for denouncing social injustice and inhuman conditions of some categories of the society. His most famous reportage on the French penitenciary of Cayenne resulted a couple of years later in the abolition of it. Albert Londres is definitely a trouble guy as he quite often takes a combative stand again mainstream ideas and elites. His comment on Shanghai 30's situation is therefore corrosive and ironic, describing a nearby war that almost no Westerner understands. Through his writting though, it is possible to predict the next fifteen years coming trouble with Japan and within Chinese parties. He would eventually interview fighters from both sides, get insights from westerners or Chinese civilian population, being at all time close to the action (see above behind Japanese lines).
Shanghai in 1932
When Albert Londres arrives in Shanghai, the city is in the middle of a huge transformation process. In the 20's, Shanghai's economy was thrilling because of the WWI blocade of European ports. Weaving industry and armament plants flourished all along the Suzhou Rivers strands or the Huangpu sides in the Former American sector. Loads of migrant workers coming from the countryside rushed into the city and soon were seduced by the rising communist ideas. Thousands of White Russians fleeing the October Revolution as well as adventurers from almost every country participated in the development and exciting life of Shanghai of the time, most of the time living in lilongs in the French Concession.
The coming to power of Chiang Kai Shek in 1927 brought some kind of stability in the political landscape by eliminating the communist leaders from the city by communist agitators were still all over the place, as the journalist seizes it in his reportage. The current Chinese government does not really control the situation as Japanese could invade some China's provinces, resulting in the uprising of the young Chinese following Luxun ideas (read my article abou Japanese in Shanghai and Chang Chongren)
Nearby the Greater Shanghai Cityhall