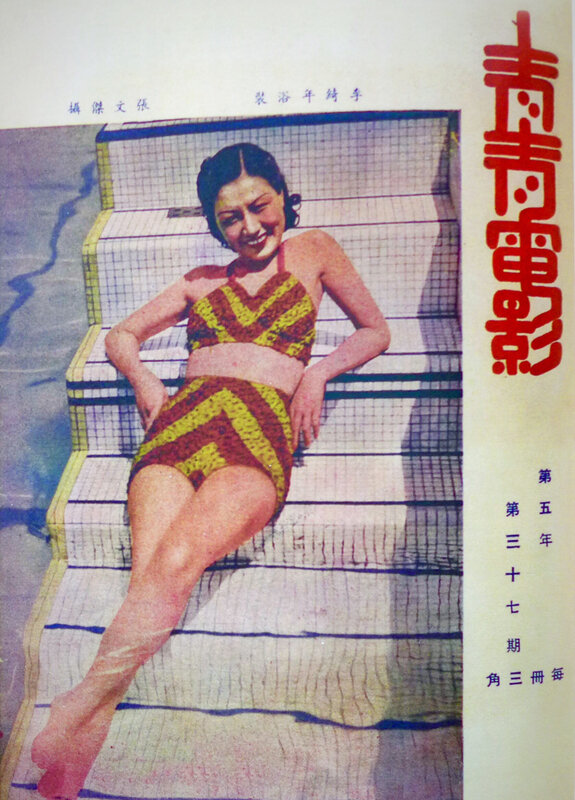 As I was flipping in the pages of "Chin chin" (青青电影), a Shanghai late 1930s cinema magazine, I was attracted by the many pictures of movie stars photographed at the swimming pool. I have already written the story of Yang Xiuqiong, the famous Chinese mermaid, who won swimming competitions during the 1930s. I did not realize, however, how much swimming was in style in those years. Actually almost every life and culture magazine had a section dedicated to pool activities, portraying young beautiful ladies in swimming suit or even male celebrities at the pool.
After China organized the 6th national games in 1935, olympic-sized equipments were available in Shanghai. I finally discovered that Yang Xiuqiong in my previous article was pictured at the 1935 Jiangwan swimming pool, this one still operating today. After indulging myself with a 50 meters long swim there, I was pleased to climb up the original copper ladder to get off the pool. Art Deco depth signs were still visible on the two sides of the pool as well as the iconic three arches. strictly identical to their 1935 shape. Such a treat! Only difference is the pool is now covered by a roof whereas it was an open air one back in the 1930s.
The "Isolated island"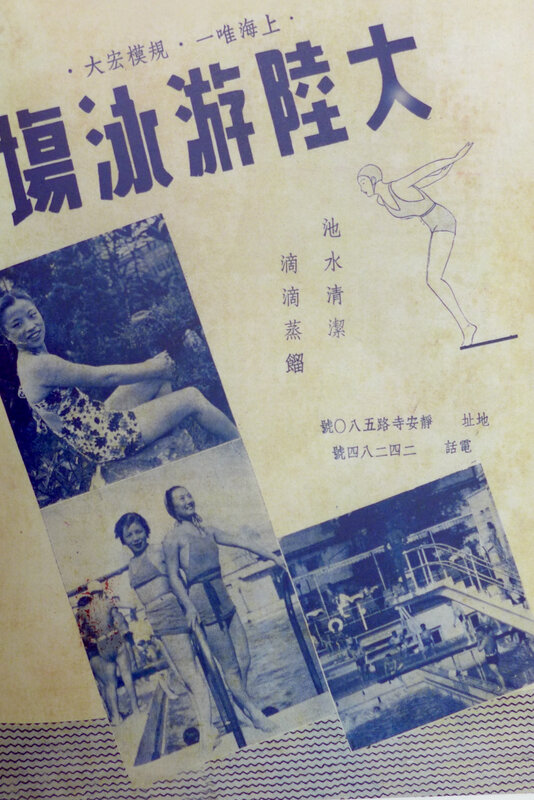 In late 1937, when Japanese invaded China, most of these equipments were in the Shanghai occupied part and therefore used by the Japanese themselves. Chinese cinema industry suffered from the war when filming studios were destroyed during the bombing of Zhabei. Some more lucky filming companies, however, were located in the foreign settlements like Xinhua Studios of Zhang Shankun (张善琨). The period was later called, the "Isolated Island" ("gudao" 孤岛), as all of Shanghai was occupied, except for the foreign settlements. With less competition and an urging need of the Chinese people to forget about war hardships, Xinhua activities simply boomed. In the sole year 1939, they produced 24 films!
New movie stars emerged like Bai Yang, Li Hong or Li Zhuozhuo. In order to promote their films, cinema studios sponsored a new type of press dedicated to this industry, film fanzines telling about movie stars gossips and featuring a dream world very much inspired by the American exemple of Hollywood. Luxury cars and new sports like golfing, horse riding and swimming were definitely part of this decorum. In August 1938, the Head of Shanghai Municipal Police Chinese Squad and Green Gang member Lu Liankui (陆连奎) launched a swimming pool right in the middle of the settlement at 580 Bubbling Well Road, today Nanjing West Road.
Paramount on water
Lu Liankui logically called it Dalu or Dalo swimming pool (大陆) in Shanghainese, after his own name, meaning "Great Lu" and also "Continent". (Advertising above). The swimming pool was a lavish one, equipped with a diving platform, 50 meters long and 20 meters large, bordered with a restaurant, a concrete stand able to accommodate 400 people, two round shaped shallow water areas with fountains and a large piece of grass to lay in the sun. The policeman and gangster, whatever you name him, survived only two months to his creation as he was stabbed to death, victim of his most dangerous activities. His son inherited the swimming pool but was such a bad manager that he had to sell it in June 1941 to Zhang Shankun, the Xinhua Studio tycoon, who made it a natural extension of his existing businesses. Zhang renamed the place "Zhang Garden" (张园)and added to the existing premises a dance floor to launch parties till five in the morning. This new trendy venue was inaugurated by "Chinese movie queen" Chen Yunchang (Nancy Chan).
She wore high heels and heavy make-up for the occasion, her bodyguards said to protect her even in the swimming pool! The place soon became nicknamed "water Paramount" in a comparison with the famous ballroom located in "Shanghai badlands", the western limit of the international settlement. In the pages of Chin Chin magazine, I found several photos of swimming female film stars and also male celebrities exercising on the diving platform. Interesting enough is a photo of a young White Russian photographed there in Hennie Warinner's bio. This is obviously the Dalo Swimming Pool diving plateform but the 1934 date seems incorrect, so I will have to check this later. Among other fashionable swimming pools of the time was also the Lido, located 306 Medhurst Road (today Taixing Road), which opened in July 1936. We find many photos taken there too in cinema magazines of the "isolated island" period of Shanghai. After the Japanese had taken over the International Settlement, the Dalo Swimming Pool remained open for two more years but Zhang Shankun filming company was merged into in a Japanese propaganda group. This led to his arrest by the Guomingdang in 1946.
Zhang eventually emigrated to Hong Kong. In 1953 the swimming pool reopened under communist rule. It was available for public use in very different conditions. Students could swim there during summertime if they presented "health coupons" for one hour time and it was only filled with only to the half. No need to say that the shallow areas were not covered nor the fountains working. The concrete stand had disappeared and the restaurant turned into a ping-pong hall. The former glory of the place was long gone! In 1993, it was definitely destroyed to make way to a commercial building, until recently the Nanjing Road fake market! Last year, the fake market was closed and the future project is still unknown.
Shanghai is always full of interesting surprises for one eager to dig them out. There, personal stories do meet with larger history, making every single destiny a reflection of changing times and cultural habits.